My Outdoor Life: 3 Big Reasons I Choose It
As I write this, our friends from Illinois are pulling out of our driveway to head back home. After spending the last few days exploring Wyoming via kayak and ATV, they've officially caught the mountain-life bug. I think it is safe to say that they will definitely be back next summer. This marks our half-way point for scheduled visitors this year, and with each group of guests the theme remains the same; sharing this amazing outdoor life that we are blessed to live.

Redefining Life is sponsored by Volquartsen Firearms
Outdoor Life
It's not for everyone, but I honestly wouldn't know how else to live. I need to be able to see the stars, to breathe fresh air, and to look as far as my eye can see without masses of people or towering buildings blocking out the blue skies. These experiences are as vital to me as food and water.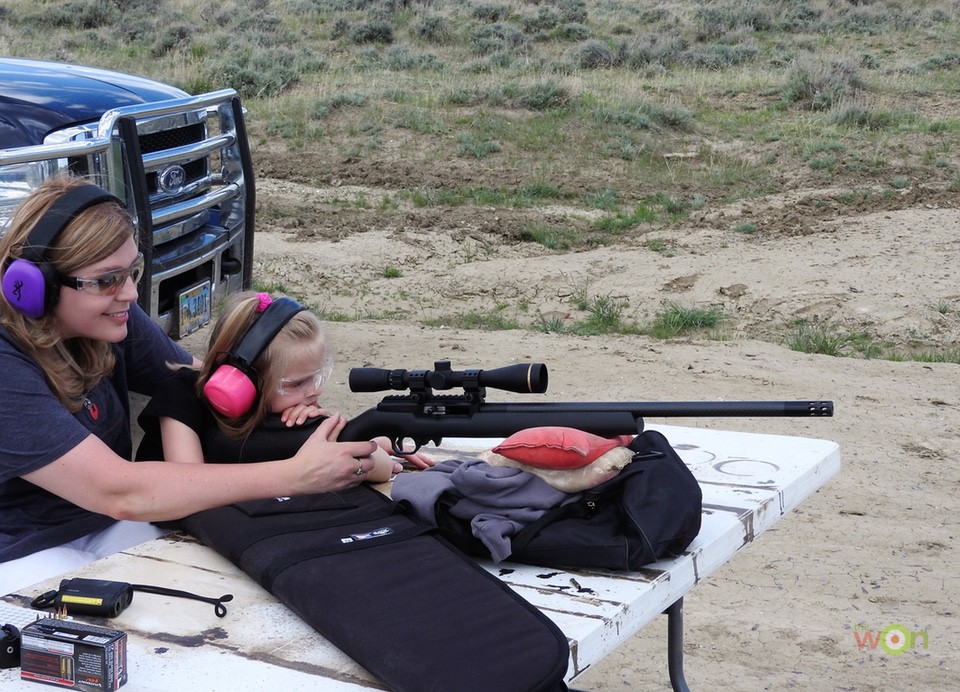 Those who don't live this outdoor lifestyle don't understand its draw. Maybe this comes from differing basic needs, personality variances, or just the lack of opportunity to experience adventures. Regardless of the cause, I often find my self explaining to others the multiple benefits of getting out of the city and raising your children in the great outdoors.
Physical Health
As a person living with a disability, I am already facing more health issues than an able-bodied person. For me, living an active lifestyle is vital to maintaining good physical health. It's important to keep my muscles strong, my joints limber, and my organs free of the smog and pollution that threatens to strangle urban dwellers. There is no better place for me to accomplish this than the great outdoors. Fortunately, Wyoming offers an endless list of activities, regardless of the weather or season. Forget the gym; I would much rather "get my sweat on" in the mountains.
Our choice to hunt and fish also allows us to strengthen our physical health. One of my daughter's first introductions to protein was ground elk that I had hunted. I always grin when I see big city restaurants boasting of free range, cage free, organic, all-natural offerings as if they invented the field-to-fork movement that seems to be sweeping the nation. Outdoorsmen and women have been living this lifestyle for centuries, and it's certainly not a fad that will burn out as the tastes and whims of the public ebb and flow. Being a hunter, a gatherer, a grower – these titles are parts of my soul.
Mental Health
Along with the painful statistics of the physical state of our country come negative mental health numbers; unfortunately, America needs a serious wake-up call to unplug from electronics and get outdoors. Medical studies are even using a fancy term from Japan, "forest bathing," to show the positive mental impact that comes from spending time in a wooded environment. Are you looking to rid your life of the stress, noise, and constant grab for your energy and attention? Get outdoors – no matter what you call it.
I've met many people, regardless of their physical abilities, that have accepted the mental attitude that they can't be active. Whether this comes from something inside themselves or an outside influence, the result is the same. When people continually hear that they can't do something, they eventually begin to believe it. I love that the outdoors can dispel that lie, break down barriers and allow people opportunities to see and believe that they can be active and find healing and peace in nature.
Relationship Health
Relationships drive our lives, whether we realize it or not. For myself, one of my most important bonds is with my husband, Russ. I never planned it, but I am so thankful that I fell in love with a man who not only understands my need to be active in the outdoors, but who also encourages it and shares that same need. Most of our date nights, anniversary trips and special adventures revolve around some kind of outdoor activity. Looking back over our 12 years of marriage, most of the highlights and favorite memories involve the mountains.
As a parent, I strive to find ways to encourage this outdoor lifestyle in my young daughter. When I think back to my childhood, I don't remember my parents having to talk me into going outside to play. In fact, it was just the opposite! My mom was usually dragging us inside to eat something before we broke free and escaped again to the backyard. Addison has never known any other lifestyle, but we still battle the constant pull of technology and other distractions that notably cause her to lose focus and become irritable and sluggish. Often, we ask her what she likes to do outdoors and what she would like to accomplish during her vacations from school. We bought Addison her very own kayak this spring, and she has spent the last few months breaking it in. By giving her a say, she owns her decisions and loves to teach her friends how to have fun outside. I hope it's a lifestyle choice she continues to make for herself and future generations, and that her memories of her childhood are filled with mountain adventures.
I love introducing others to the outdoors. Whether it is a lifestyle that they choose to maintain, or just a week-long mental holiday to survive the rest of the year, I'll take what I can get. If you don't already incorporate regular outings and outside activities into your routine, I would highly encourage it. Not only will you have a wonderful time, it will improve your physical health, your mental health, and the health of your relationships. And who doesn't want that?
About Ashlee Lundvall

Ashlee Lundvall writes a blog titled "Redefining Life,"  that follows her rise from a debilitating injury as a teenager to Ms. Wheelchair USA in 2013. Her first book, "A Redefined Life," was published in February of 2016, and she is on National Pro Staff for Mossy Oak and the NRA's Disabled Shooting Sports committee. Ashlee is also the recipient of the 2017 SCI Foundation Pathfinder Award. Ashlee truly shines as a keynote speaker at outdoor industry and disability related events and conferences. She is passionate about mentoring newly injured patients, and loves to pass on her love for adapted outdoor recreation! View all posts by Ashlee Lundvall →