Springfield Armory Announces 25 Days of Concealed Carry Giveaways
In conjuction with the brand-new release of their Springfield Armory XD-S Mod.2® in 9mm, Springfield Armory has another giveaway in the works bringing you the ultimate concealed carry package in exclusive partnership with eight premium industry partners: Crossbreed Holsters, Viridian Weapon Technologies, Federal Ammunition, AR500, Propper, Short Round Supply, Identilock, and Walker's.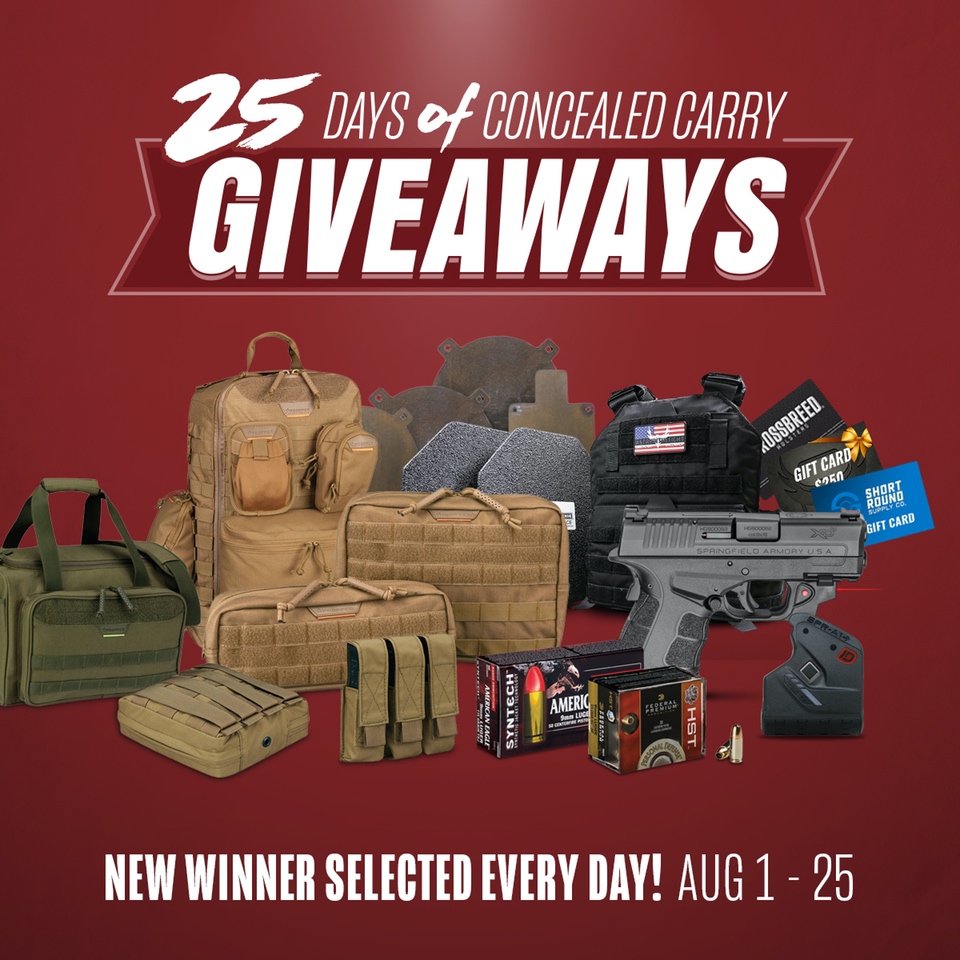 The giveaway will run from August 1, 2018 to August 25th, 2018 with one lucky winner per day scoring the ultimate concealed carry prize package. Prize packages will be changing throughout the giveaway period.
August 1, 2018 through August 5, 2018 packages include:
Springfield Armory
XD-S Mod.2 9mm – MSRP: $524
Viridian Weapon Technologies
E-Series Red Laser Sight – MSRP: $132
Federal Ammunition
1000 Rounds Federal American Eagle Syntech 9mm Luger 115 Gr 1000 rounds – MSRP: $400
Crossbreed Holsters
$250 Gift Card – Valid at CrossbreedHolsters.com
Propper
Range Bag – MSRP: $59.99
SOF Medical Pouch – MSRP: $48.99
U.C. 2 Pack Assault Kit – MSRP: $49.99
U.C. Pack – MSRP: $99.99
Pistol Mag Pouch – Triple – MSRP: $34.99
$500 Gift Card – Valid at Propper.com
AR500
1/2" Steel Targets 4-Piece Bundle with Stand – MSRP: $275
(2) Chain Hardware Kits – MSRP: $18 each
Testudo Gen 2 Plate Carrier & Level III 10"x12" Body Armor Plates – MSRP: $421
$250 Gift Card – Valid at AR500.com
Short Round Supply
$500 Gift Card – Valid at ShortRoundSupply.com
Identilock
XD-S Mod.2 Trigger Lock – MSRP: $239
Walker's
XCEL 500BT Electronic Muffs – MSRP: $125
To enter, visit: www.25DaysOfGiveaways.com.
Winners will be announced daily.

The Springfield Armory XD-S Mod.2 9mm proves that capacity never trumps reliability in your handgun. Withstanding a torture test of 25,000 rounds without failure, the XD-S Mod.2 9mm is a choice that allows for peace of mind, the hallmarks of superior performance and time-tested reliability when your life depends on it.

For more information about the new Springfield Armory XD-S Mod.2 9mm, please visit www.springfield-armory.com.

About Springfield Armory®

In 1794, the original Springfield Armory was designated as our national armory by General George Washington, and began manufacturing muskets for the defense of our young, free Republic. This monumental institution went on to serve as a think tank for developing innovative firearms concepts and producing some of the most storied rifle platforms in our country's history. The Armory functioned as a firearms supplier for every major American conflict until 1968 when the government sadly closed its doors. In 1974, two centuries after its inception, Springfield Armory Inc. in Geneseo, IL revived the iconic heritage of the Armory to carry on its legacy and restore the Springfield Armory name.

Springfield Armory Inc. engineers, manufactures and assembles their high-quality 1911, 911, SAINT® AR-15 and legendary M1A™ lines of firearms in Geneseo, Illinois. Since 2001, Springfield Armory has enjoyed a strategic, collaborative partnership with the state-of-the-art factory in Croatia working hand-in-hand to develop and engineer the multiple award-winning line of XD® polymer pistols that have become staples in the US marketplace. We strive to honor this responsibility as guardians of the original Springfield Armory legacy by manufacturing the highest quality firearms to enable responsible citizens to preserve their right to keep and bear arms in the defense of life, liberty and the pursuit of happiness.

With an unmatched emphasis on craftsmanship, performance and exceptional customer service, our mission is to forge superior firearms and provide the tools necessary to defend individual freedoms and equality for those who embrace the rights and principles secured by our Founding Fathers. For more information, please visit us at: springfield-armory.com.
About The WON

The Women's Outdoor News, aka The WON, features news, reviews and stories about women who are shooting, hunting, fishing and actively engaging in outdoor adventure. This publication is for women, by women. View all posts by The WON →