RetroWON: How to Prep Before you Head out Dove Hunting
As fall creeps in on us, that means one thing for hunters everywhere—it's time to fill our weekends with watchful time in the woods and fields, hunting whatever game is in season. September brings the much-anticipated dove season. I absolutely love dove hunting, and anticipate this time of year with an excited mind and itchy trigger finger. But I don't just jump headfirst into dove season cold. Dove hunting requires some prep; here's a rundown so you can be ready.
So, what's first? Whichever gun you plan to use during dove season, make sure it's clean and in working order. You don't want to head straight into the field and not have realized that your gun's firing pin isn't working properly. A little bit of prep work on the gun itself can make or break your first hunt (and, potentially, your whole season).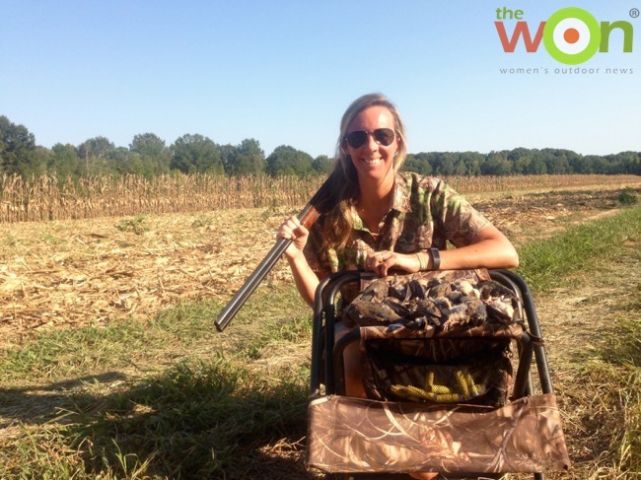 Now that your gun is clean and in working order, it's time to get yourself ready. Unless you shoot sporting clays on a regular basis year-round, odds are that it's been a while since you shot the gun you use for dove hunting. I have a 20-gauge over-under that I absolutely love; it's my go-to for dove (and quail) every year. My summertime is spent on the water, and the last gun I've wielded was my 12-gauge during turkey season, which also saw a hefty amount of use during duck season. My 20-gauge has been tucked away in the gun safe, and is aching to get back in the field.
I always like to shoot at least one round of sporting clays before dove season, just to get my body back in the swing of using this particular gun. It's lightweight, with a slightly different fit than my 12-gauge, and the over-under mechanism can sometimes take a few shots to get used to. Once I do it a few times, it becomes second nature between shots, and ultimately just part of my natural movement. Still, I don't want to waste time on my first hunt because I opened the chambers and a shell flew out and hit me in the face. I'm not saying that has ever happened, but you see where I'm going with it.
During my practice round of clays, I like to take shots that mimic the way doves fly. Of course, there's no way you can anticipate every single dove's flight pattern, particularly the ones that start juking and jiving with the wind, but just getting the general motion down of raising your gun and following a bird in flight will trigger your muscle memory and bring all of your dove-hunting skills back to the fore.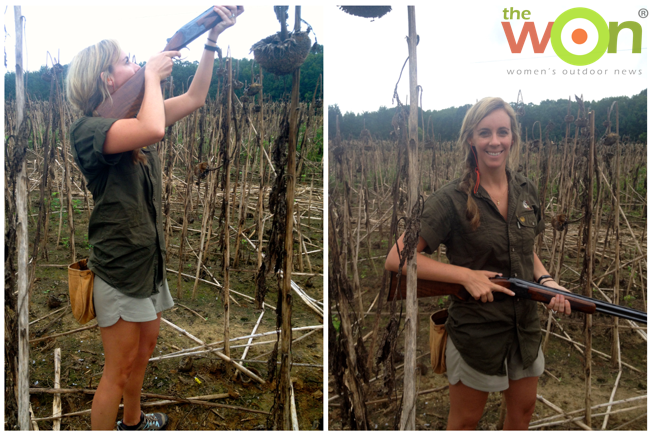 Once your gun is clean and your mind and body are in tune with the upcoming hunt, it's time to get dressed and ready. Starting from our feet and working our way up, the first thing I make sure to have is snake boots. You may live in a cooler region, so you might not run into this problem, but here in South Carolina we sometimes have unwanted guests on our hunt—rattlesnakes. Particularly in fields where we hunt over corn or sunflowers, you can bet your bottom dollar that a rattlesnake is nearby. So, the first order of business? Snake boots. It doesn't matter where they come from or what they look like, so long as they will deter a snake from taking a stab at your leg.
Next, although you don't necessarily need to be as stealthy as you do when you're deer hunting, clothing that blends into your surroundings is still important. This time of year is still sweltering hot here in South Carolina, so I almost always dove hunt in lightweight, breathable shorts, which I top off with one of my camouflage or light-color fishing shirts.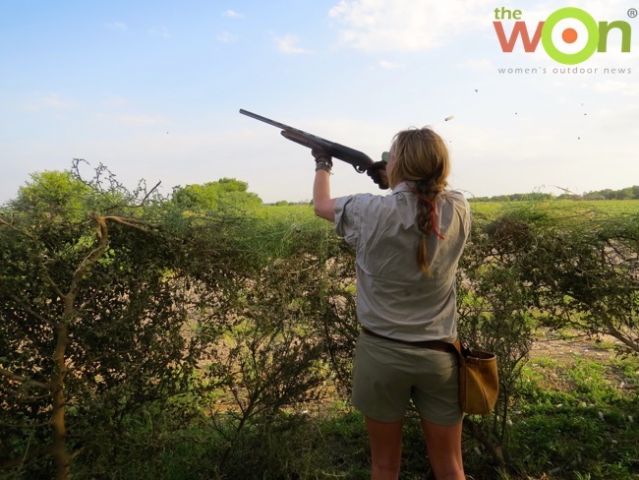 When it comes to gear, the first thing I reach for once I get to the dove field (or, really, anywhere I'm shooting) are my earplugs. The squishy orange ones will do the trick, of course, but I have some that fit my particular ears and filter out noises over about 80 dB. That means you can still hear a fellow hunter call "bird," but the constant boom of the shotgun won't ring your bell.
Eye protection is always a good idea when you're shooting, too, whether the day is bright and sunny, cool and windy, or hot and still. Gunpowder residue and dust from the field can find their way into your eyes in any weather, which can really hinder you on a hunt.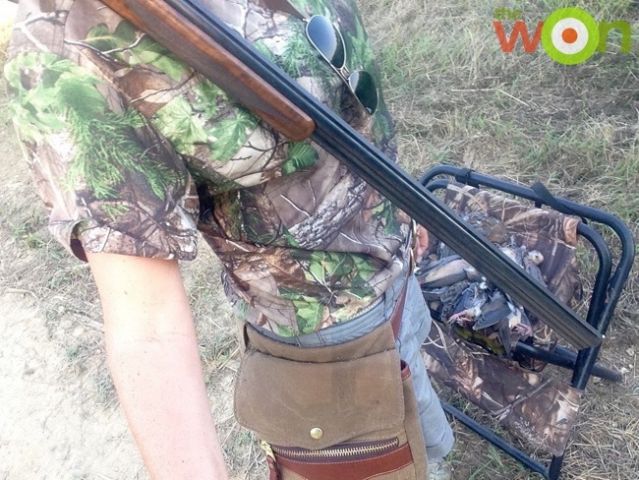 Putting on my shell belt is one thing that always puts me in the mindset of hunting. It's like the final piece of gear that puts me into wingshooting mode, ready to get started. Until recently, I've always worn a shell belt that my grandfather made ages ago, but it's seen it's better days and I want to preserve it as much as I can. Thankfully, the fine folks over at White Wing Label hooked me up with a killer new game belt (pun definitely intended). I can't say enough good things about this belt (MSRP: $140), and it has helped me eliminate a lot of hassle in getting out in the dove field.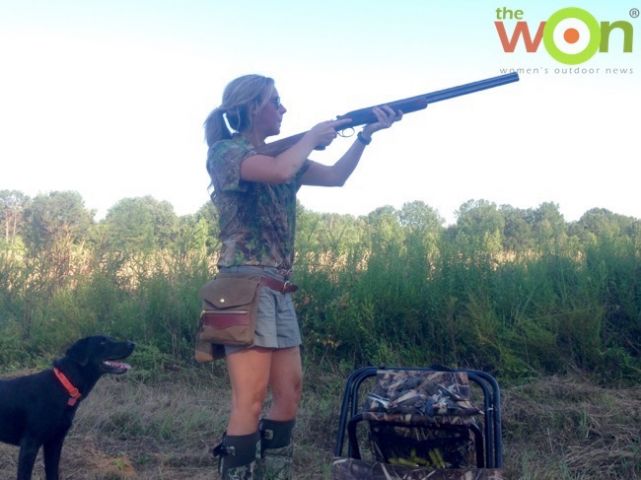 Between hunts I keep my ear plugs in the belt's zippered pocket so they won't get misplaced. With two sets of pockets on either side, and a game bag at the back, this belt means I can essentially wear everything I take with me out in the field. There's ample room for shells, spent hulls and my limit of birds.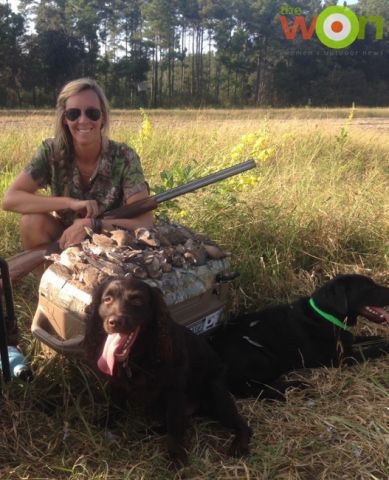 Once I grab my dove stool and head out into the field, the only thing between me and a limit of doves is my (hopefully not too shabby) shot!
Share your dove hunting stories and photos with us on our social media!
This RetroWON, "How to Prep Before you Head out Dove Hunting" first appeared Sept. 27, 2016.
About Hollis Lumpkin

Hollis Lumpkin writes that she is a "simple girl living in the Lowcountry of South Carolina, but I happen to have a great love for the outdoors, particularly hunting and fishing." She is a duck-hunting freak. Hollis pens an exclusive version of "The Bright Side of the Road," for The WON. View all posts by Hollis Lumpkin →