Fishing Nets 2 Million More Participants
While Americans are collectively checking their phones more than 8 billion times a day, a new industry report shows that they are increasingly fishing for actual fish (instead of just likes and follows). More than 49 million Americans took to the water to cast a line in 2017, demonstrating a year-over-year increase of nearly 2 million anglers according to the Recreational Boating & Fishing Foundation's (RBFF) 2018 Special Report on Fishing
"These are exciting figures that reflect the sustained growth in our industry," said RBFF President and CEO Frank Peterson. "Getting more Americans to spend time outdoors is a crucial part of protecting our natural resources for future generations. Anglers and boaters help protect our natural aquatic places and the wildlife that lives there through fishing licenses, boat registrations, fishing gear, boat fuel sales and much more."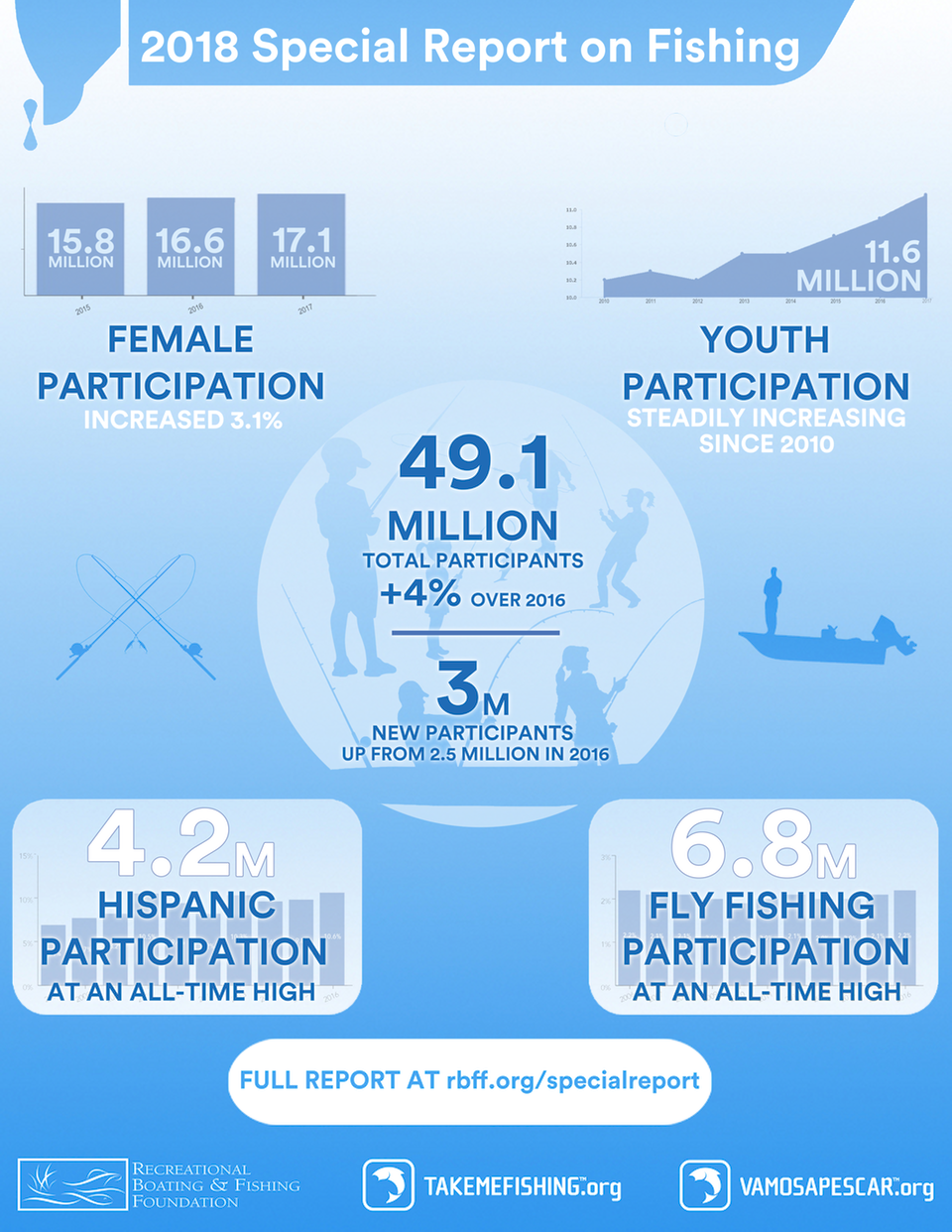 Created in partnership with The Outdoor Foundation, the Special Report on Fishing provides one of the most comprehensive looks at the state of U.S. fishing and boating participation. Key findings from the 2018 report include:
16.5 percent of the US population participates in fishing.
Americans took 885 million total fishing trips or an average of 18 trips per participant.
New fishing participants accounted for 6 percent of total participation and tended to be young.
11.6 million youth participated in fishing, a 1.2 percent increase.
4.2 million Hispanics went fishing in 2017 – a 400,000 person increase and the highest participation rate since the report was created in 2007. On average, Hispanic anglers went on four more outing per year than the general market.
84.2 percent of fishing trips resulted in a catch, up slightly from last year.
30.1 million people were interested in taking up fishing or rejoining the activity. This is the highest number of Americans interested in fishing since this figure started to be recorded in 2010.
"It's clear fishing continues to be a pillar of America's thriving outdoor culture," said Ivan Levin, deputy director of The Outdoor Foundation. "This is good news for the greater outdoor industry, as fishing is known to inspire people to try other outdoor activities."
The full 2018 special report on fishing, along with an accompanying infographic, is available at the RBFF Resource Center.
About The WON

The Women's Outdoor News, aka The WON, features news, reviews and stories about women who are shooting, hunting, fishing and actively engaging in outdoor adventure. This publication is for women, by women. View all posts by The WON →