Gun Review: Volquartsen American Flag Scorpion
I've been looking for a handgun that would be appropriate for my 8-year old daughter to try for her first time. She's shot a few rifles now, and enjoyed the experience, so I wanted to ensure that this was pleasurable for her as well. I couldn't have made a better selection than the Volquartsen American Flag Scorpion .22 LR pistol. Not only is this an absolutely gorgeous firearm, it's so enjoyable to shoot.

Sponsored by Volquartsen Firearms
Immediately after opening the hard case and unwrapping the plastic, a huge grin split my face. The American flag paint scheme just screams patriotism and liberty and the Second Amendment and all things that are good in this world. You can feel the quality as soon as you handle this gun. The gun's 6-inch upper is constructed of anodized aluminum, with a standard profile, multi-port compensator. With target sights and a black accessory rail, the potential for success in target competition with this firearm is unlimited.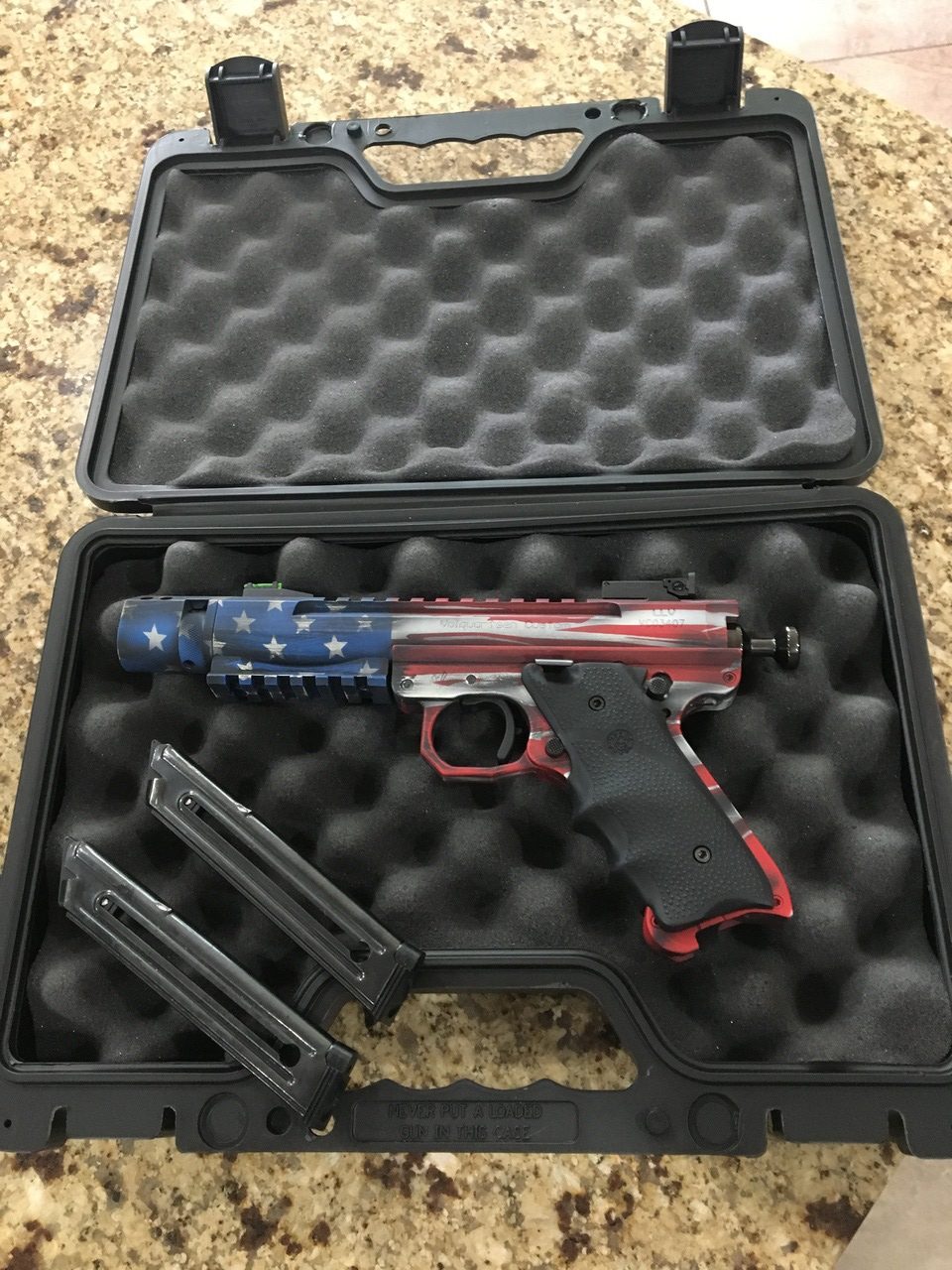 The frame of the Scorpion is also anodized aluminum, with black Hogue grips. I usually don't find the 1911 style to fit my hand as well as others, but this pistol was an exception. It felt just right in my grip, and I didn't find myself constantly readjusting as I fired through the 10-round magazine. I had never shot with a competition bolt before, but it was smooth and incredibly easy to work with. The mag release and safety were both also simple to operate. All of these quality parts come together in a 2-pound, 2-ounce package.
After familiarizing myself with the manual and the unloaded pistol, I packed it and my NRA range bag and headed up to our family cabin in the Sunlight Valley of northwestern Wyoming. My husband had drawn a bull elk archery tag in the area, so Addison, I and my mother-in-law held down base camo while Russ hunted with his stepdad. I was excited for Addison to shoot the Scorpion, but I wanted to run through some of the Remington .22 Thunderbolt High Velocity ammunition on my own first before bringing her outside to shoot.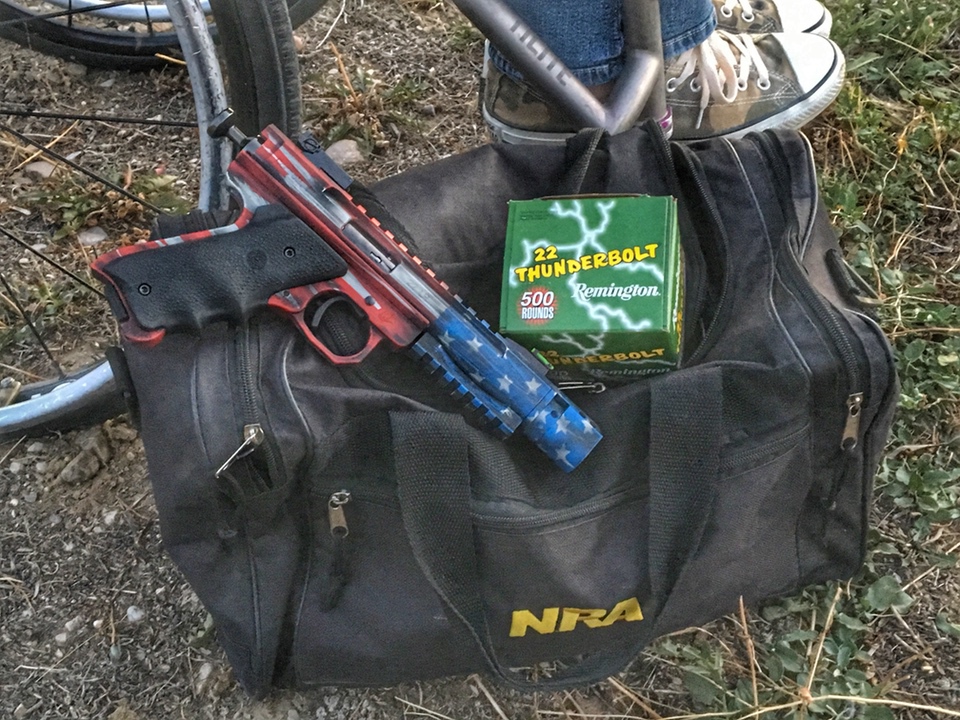 The magazine was easy to load, and after setting up a paper target on a wooden backing next to a natural berm outside the cabin, I donned my ear and eye protection and prepared to shoot the Volquartsen at 5 yards. I inserted the mag, pulled back on the bolt, and slipped the safety from the "S" position to "F." The trigger was crisp and light, and I quickly fired through the entire magazine. My grouping was tight but slightly down and left of the bullseye, so I reloaded and adjusted my grip for the next set of shots. These rounds stayed closer to the center of the target.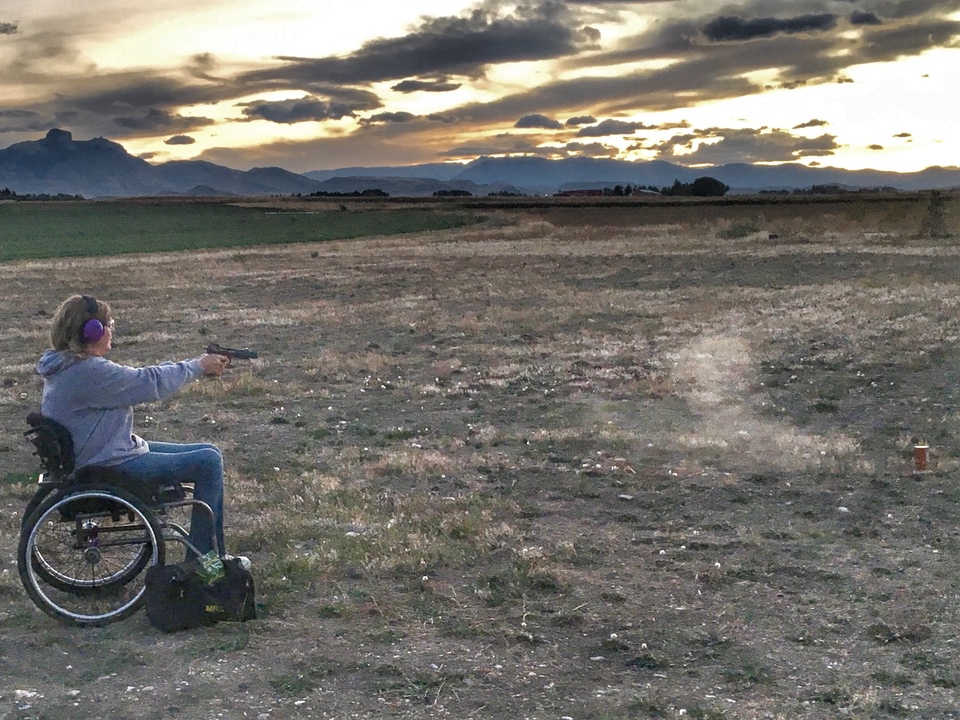 I moved back to 10 yards and fired several mags with similar results. There was no recoil, and the pistol was a pleasure to shoot. I made sure the magazine and chamber were both emptied before getting Addison from inside. We worked first with the unloaded pistol, making sure to cover hand positioning, the mechanisms of the gun, as well as what to expect when it came time to fire. I loaded a single cartridge and made sure she had on her eye and ear protection before allowing her to pull back the bolt and switch off the safety. Addison held the gun as I had shown her, and when she had her target in sight, she slowly squeezed the trigger.
Addison looked incredibly shocked that she had not only hit the target, but she also barely knew the gun had fired! She flipped on the safety and handed it to me before pulling off her ear protection and running to the target to see where she had had hit it. Beaming, she quickly returned and asked to shoot the gun again; a sure sign that her first pistol experience was a success.
We spent the next week enjoying company from Indiana, and before they left to head back home, we had to let them experience shooting this amazing pistol. We set up a few empty cans in the backyard as the sun dropped behind the mountains. Even in the fading light, the Hi-Viz sights allowed us to accurately see the cans and enjoy running dozens of more rounds through the gun. We were speeding through our box of 500 rounds, and we hadn't had a single misfire or jam. We all agreed – this Volquartsen was a keeper.
The Scorpion is a great gun for target practice and fun rounds of plinking, and with the proper accessories, it would truly shine on the competition field. This is the type of firearm that you would be proud to pass on to future generations, and with the obvious quality and craftsmanship, it would be an investment well made.
Find more information on the Volquartsen American Flag Scorpion .22 LR pistol, here.
The pistol comes with 2 identical 10-round magazines.
Volquartsen American Flag edition MSRP: $1596.50
About Ashlee Lundvall

Ashlee Lundvall writes a blog titled "Redefining Life,"  that follows her rise from a debilitating injury as a teenager to Ms. Wheelchair USA in 2013. Her first book, "A Redefined Life," was published in February of 2016, and she is on National Pro Staff for Mossy Oak and the NRA's Disabled Shooting Sports committee. Ashlee is also the recipient of the 2017 SCI Foundation Pathfinder Award. Ashlee truly shines as a keynote speaker at outdoor industry and disability related events and conferences. She is passionate about mentoring newly injured patients, and loves to pass on her love for adapted outdoor recreation! View all posts by Ashlee Lundvall →