Nevada Foodies: Succulent Elk Roulade with Creamy Gorgonzola Sauce
Succulent Smoked Elk Roulade with Creamy Gorgonzola Sauce might sound tedious and overly complicated, but really it's a very simple dish to prepare and the outcome may sway your traditional ways for cooking up some of those cuts of elk you have in the back of the freezer.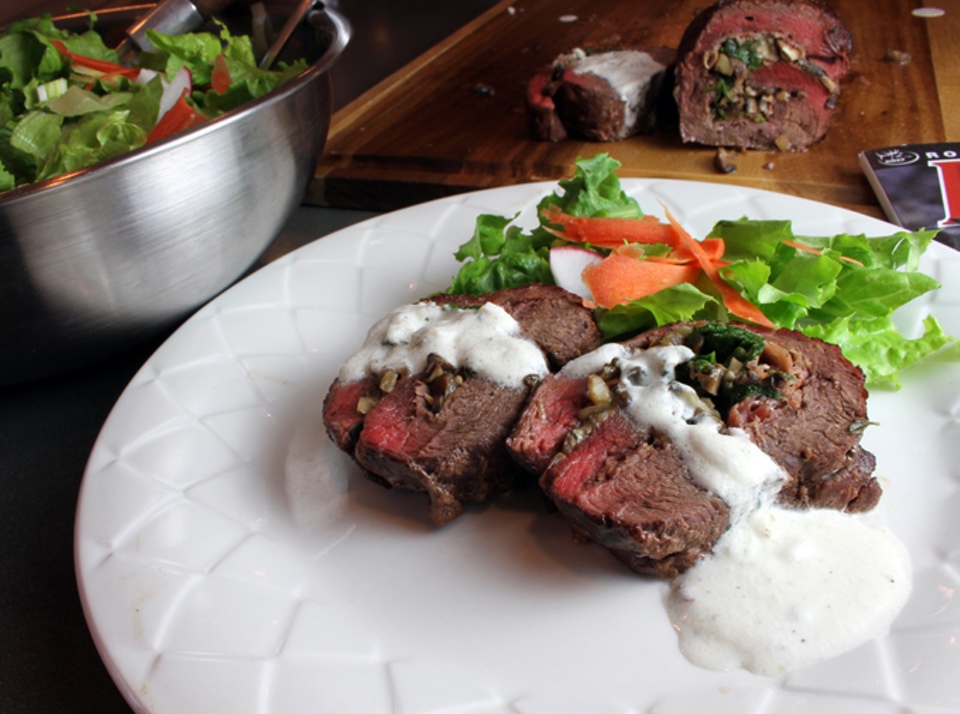 Originating from the French word "rouler" meaning "to roll", the roulade is simply a filled and rolled dish, secured closed with the use of toothpicks or string, cooked and then sliced in rounds and served. Traditionally found in several European cuisines, various savory roulades have been made using beef, pork, chicken or veal and then filled with combinations of cheeses, vegetables and sometimes other meats.
Now, I've made this recipe with multiple cuts of elk meat including tenderloins, the bottom round, flat iron steaks and even a few slices of backstrap. The secret is to keep the meat balanced with a combination of ingredients that not only flavor the meat from the inside but also work to keep everything moist during the cooking process.
When combining the delicate flavor of shallots, hints of garlic, sautéed mushrooms, wilted spinach, the saltiness from prosciutto ham and hints of the sharp Gorgonzola cheese you have yourself a succulent blend of flavors that work well together appealing to any palate.
Succulent Elk Roulade with Creamy Gorgonzola Sauce
Serves 4-6
Preparation Time: 45 minutes
Cooking Time: 70 minutes
Ingredients
1 elk loin roast, app 1.5 – 2 lbs
2 tablespoons unsalted butter
1 shallot, finely chopped
2 cloves garlic, finely chopped
2 cups mushrooms, diced
1 teaspoon fresh thyme
2 cups baby spinach
4 slices prosciutto
1/4 cup crumbled Gorgonzola cheese
2 tablespoons olive oil
1 teaspoon Kosher salt
Fresh ground black pepper
Butchers twine
Creamy Gorgonzola Sauce
1 tablespoon unsalted butter
1 shallot, finely chopped
1 pint heavy cream
1 cup crumbled Gorgonzola cheese
Salt and pepper, to taste
Preparation
Heat a skillet over medium heat adding butter, shallots and garlic. Cook until the shallots soften and begin to turn a caramel color. Add the mushrooms and continue to cook about 8-10 minutes. When the mushrooms have reduced down, stir in the fresh thyme and remove from heat setting the mushrooms aside in a bowl. Add the spinach to the skillet and cook until wilted about 1-2 minutes. Remove from heat.
Carefully cut and butterfly open the roast using a flexible boning knife similar to a fish filet knife. This will allow you to open up the roast and tenderize with a meat mallet to ensure the overall thickness is roughly ½ inch thick. Working in layers, add the prosciutto, mushrooms, spinach, crumbled Gorgonzola cheese, kosher salt and fresh ground black pepper.
Continue reading the directions for "Succulent Elk Roulade with Creamy Gorgonzola Sauce" from Nevada Foodies here.
About The WON

The Women's Outdoor News, aka The WON, features news, reviews and stories about women who are shooting, hunting, fishing and actively engaging in outdoor adventure. This publication is for women, by women. View all posts by The WON →