Women Who Hunt: Girls with Guns' Jen O'Hara
The face of hunting is changing. In some ways, it is aging. Hunters and anglers are steadily getting older, with fewer younger people entering into this outdoor lifestyle. In other ways, it is becoming more "urban," with the trend toward a locavore and field-to-plate clean eating. And, in still others it is becoming more acceptable, with the growth of women who hunt. Which brings us to my recent conversation with Jen O'Hara, the co-host of the TV show "Girls with Guns® TV," who is spirited and passionate about conservation and hunting.

The Flame is sponsored by AZFirearms
Jen is the co-founder and CEO of the successful apparel company, Girls with Guns®, along with her best friend and business partner, Norissa Harman. Proud of her small town, country-girl heritage, Jen O'Hara is best known for her strong work ethic and her drive to make things happen. She stands strong for her beliefs and supports just causes. She is active and skilled in her sport and career and is impassioned to share and empower others.
Cheryl: Tell us about the trend in women hunters. Have you recognized a rise or a fall in the prevalence of women hunters?
Jen: More women are entering into hunting. And, it's really amazing to see the rise of the woman hunter. When I was a teenager, I used to tag along with my dad and brother. I was a little tomboy and I always wanted to be outside shooting and running around with them. They included me in all of their adventures, but not hunting. It just wasn't as common in the '80s for a little girl to be out hunting. My brother has since told me that once I started hunting all over the world that he would trade his hunting in the younger days for the hunting life I have now. It's amazing to see these young girls getting out there and hunting with their dads and their moms. A lot of kids don't have a huge opportunity to hunt here in California, especially since we are always under attack by the anti-gun people and the anti-hunting people. Right now, I run an organization called Kids Outdoor Sports Camp. It's a nonprofit that takes kids on a 5-day adventure at our local Red Bank Outfitters. We teach them how to properly handle firearms; they go through classes to pass their Hunters Safety Classes. They also fish, shoot archery and learn the fundamentals of hunting. There is also an advanced camp and we added in hunting opportunities, This year we took 8 kids to South Africa on a hunt.
Cheryl: Why would you say that more women are getting involved with hunting?
Jen: Woman have become bolder in the past 20 years. We don't want to stand around to let a man bring home dinner, literally. I love filling the freezer and I feel like "field-to-plate"e is a movement. We love organic everything in our society, so why not go out and get the most organic meat possible – wild game? Hunting, processing and cooking your own game is a huge accomplishment and something that I love doing. My specialty is my wild turkey enchiladas.
Cheryl: What kind of game are women hunting the most?
Jen: Most women keep their hunting here in North America. I am one of the women who love to travel all over the world, but my heart is still all about deer season. There's something to be said for hunting a big mule deer here out west. Turkeys seem to be very common as well. I started hunting dove, waterfowl and then graduated to turkeys before moving on to hogs and my first Blacktail deer.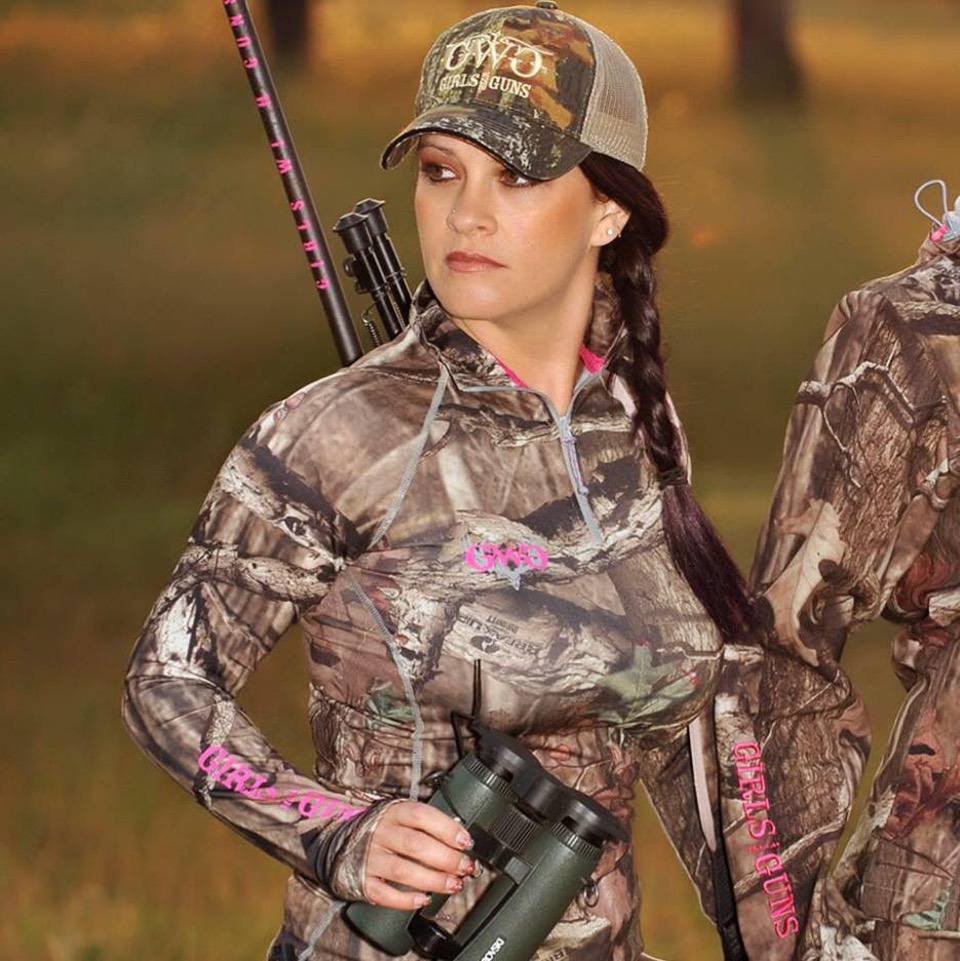 Cheryl: Are women more prone to hunt with other women or with their male significant others?
Jen: It seems like a lot of women are hunting with their significant others at first, which is a great opportunity to learn. I was single when I started hunting over 10 years ago, so I didn't have that luxury. I did have my business partner, Norissa Harman's husband, who mentored me. He taught me so much and was always there to give me a hand or teach me what I didn't know. There is also a lot of information available on the Internet. If you don't know how to call turkeys, you can just Google it. Google was my friend back in the day. Now I love to create the very content I was seeking in my early days for women to use in their own journey into the outdoors.
Cheryl: What game is a good gateway to hunting? Dove? Small game, like rabbits?
Jen: I always love hunting rabbits or squirrels. The farmers in my community love it, too, because those particular critters can be very destructive to crops. Hunting small game like rabbits is a great start with a rifle, since you shoot a small caliber such as a .22 or a .17 with no recoil. This can help women who may be intimidated by larger calibers to get comfortable shooting. If you're a shotgun girl, then I definitely recommend dove or waterfowl. Dove season is short, but our opener here in California always falls on September 1st and I haven't missed one in 10 years. It's one of the most fun shoots because of how many dove come into our fields. As a bonus, bacon-wrapped dove on the grill are amazing. You also don't need a lot of gear with dove hunting. I have hunted in my shorts and flip flops because of the heat here in Northern California. Waterfowl hunting is a blast and one of my favorites, but it does require more gear and it does get cold. Some ladies struggle with the cold, but it's one of my favorite hunts.
Cheryl: Is the new movement toward cleaner eating opening the door to people who might otherwise not identify with outdoor sports?
Jen: Absolutely. And it is so important it is to eat what you hunt. Field-to-plate, or field-to-freezer, is a HUGE movement all over the US. It's so awesome to scout, hunt, skin, process and then cook your wild game. I can't explain the feeling of accomplishment it gives me. I remember the first time I had to cape (or skin) a deer with no one who knew how to do it around. I was terrified. I didn't want to make a mistake. I also didn't want anyone around me to know that I didn't know what I was doing on my own, so I jumped in and tried to remember everything I was taught. After that first time, it's been easy ever since. I have friends who call me to come and help them skin their deer now.
Cheryl: What am I forgetting that is important?
Jen: Anyone can start hunting. Get your hunters safety certificate and a license and find a mentor. I mentor youth hunters and there are a ton of programs for ladies out there. Go to your local Fish & Wildlife website and look for them. Pheasant hunts, dove hunts, deer hunts, you name it. It's an exciting industry to be a part of and us ladies have to help and support each other.
Find out more about Girls with Guns' Jen O'Hara here.
To find organizations that will teach you to hunt and shoot and take you hunting and shooting, check out our free download.
About Cheryl Todd

Cheryl Todd is the executive producer and co-host of "Gun Freedom Radio," owner of AZFirearms Auctions, Pot Of Gold Auctions and founder of the grassroots movement Polka Dots Are My Camo. Cheryl is the Arizona state director for The DC Project and travels the country speaking as a champion for our Second Amendment rights. She is a driving force in preserving the legacy of freedom for generations to come. View all posts by Cheryl Todd →