Camping on Moutcha Bay
I watched my youngest granddaughter transform from a baby to a toddler. I experienced the high tea of a lifetime. And, most importantly, I enjoyed quality family time that included many experiences, including camping on Moutcha Bay.
Those are the highlights of the summer trip Carlos and I took with our 3 children, their spouses and our 5 grandchildren. We went to Moutcha Bay Resort in Nootka Sound, British Columbia.

Sponsored by Vera Koo
Moutcha Bay is known for its salmon fishing, and my husband loves it for that. But to say this was a fishing trip doesn't capture its meaning. It was a chance for the 12 of us to connect. The outdoors was the vehicle to bring us together.
This was my first trip to Moutcha Bay. Carlos has been there several times, and our oldest daughter, Christina, had been before, too.
Carlos told me tales of Moutcha Bay, and he showed me photos. I am not a bit interested in fishing, but the photos made me curious about the place, because I could see my husband had so much fun on these trips. I always thought, "If I ever get the chance, I want to go, too."
Before I retired from competitive sport shooting after this year's Bianchi Cup, I never had the opportunity to go with Carlos to Moutcha Bay. Anytime he went, I was at a competition or training for one.
I don't have any regrets with my shooting career. It empowered me. It motivated me. It healed me.
But, like any high-level athlete knows, my career came with sacrifices. One was missing out on some family time – and getting to experience more family time is one of the top perks of my retirement.
We flew from California to Vancouver and continued our journey in rental cars from there. We headed to Tsawwassen Ferry Terminal to get to Vancouver Island. We traveled there to have high tea the next afternoon at The Fairmont Empress Hotel in Victoria. Tea has been served daily at the hotel's Lobby Lounge since 1908.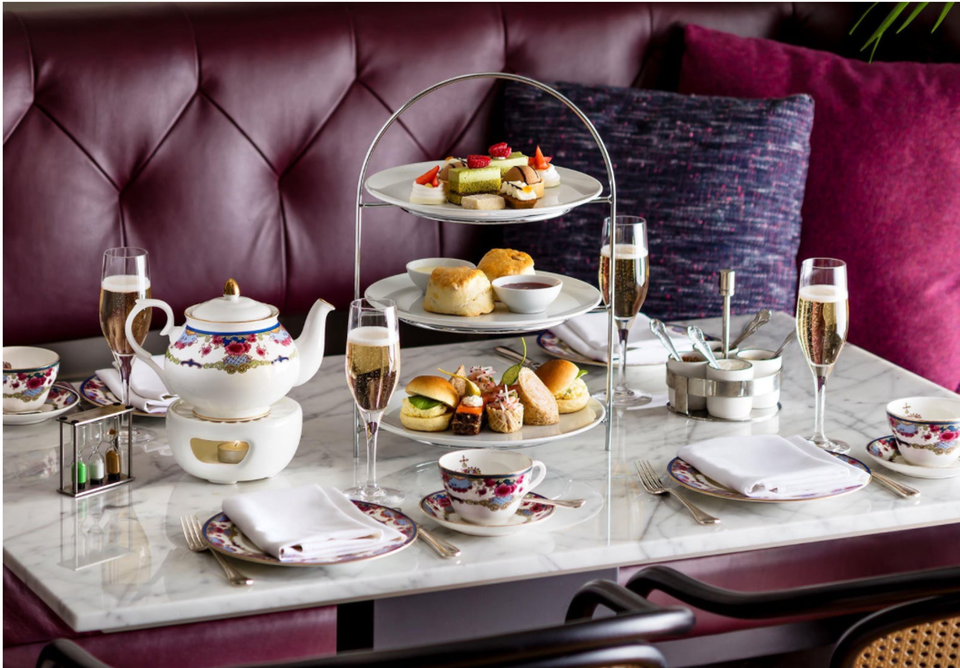 Christina wanted to get everybody together for tea to celebrate her 46th birthday. We all dressed up for the occasion, with the women putting on heels, makeup and formal wear. Sometimes getting dressed up feels good.
We enjoyed sandwiches, tea and dessert – the scones served with house-made clotted cream were a highlight – in an unparalleled dining experience using English china. Candles warm the tea, and you can enjoy a light, medium or strong brew. We went through 10 pots of tea of several varieties.
The level of elegance and sophistication made you feel like royalty.
That's not to say the whole trip was highbrow. While on Vancouver Island, we camped overnight at Nanaimo Bay. This gave me a sense of nostalgia. Carlos and I have long enjoyed camping, and we took our kids on camping trips when they were young.
This was a chance to camp not only with our adult children, but also with our grandchildren. Our daughters made clam chowder, and we enjoyed walking on the beach. It was serene.
Before reaching our destination of Moutcha Bay, we stopped at Campbell River, also on Vancouver Island. There, we went to a sushi restaurant and ate the best tempura shrimp. Visiting Campbell River was another walk down memory lane. Carlos and I used to travel there with our children to fish for sockeye salmon. On those trips, we camped our way through Oregon and Washington en route to Canada.
After leaving Vancouver Island, we continued to our destination of Moutcha Bay. The photos I had seen did not do it justice. That place is a slice of heaven on earth.
I have camped at a lot of places and stayed at a lot of waterside resorts, but I don't think I have ever seen anything so beautiful. And it combines beauty in its natural state with the resort's modern conveniences.
The resort's yurts are a fitting structure to be alongside the water. My younger daughter, Shane, wanted an even closer experience with the outdoors, so she set up a tent on the deck and slept there as a bit of makeshift camping.
Unfortunately, the fish weren't biting, and our group caught just one salmon. Shane tried her luck on the open sea and caught a rockfish and a lingcod.
The grandkids went swimming in the bay, where they were the subject of seals' curiosity.
All 12 of us could squeeze around a dining room table in the yurt, and mealtime was a highlight. My son and 2 daughters are better cooks than I, so they took turns preparing meals. My job was to serve fruit. Perhaps it is my background as an art major, but I enjoy selecting fruit and cutting it in a stylish fashion to make it look ready for presentation.
My granddaughters often will say, "I want some of Popo's fruit today."
Adrianna, our youngest granddaughter at 1½ years old, basically lives on fruit. Throughout the trip, she grew up in front of my eyes. She got taller, became more verbal and expressed ideas.
She left San Francisco a baby and returned a child. This was precious to see.
Although our trip involved a lot of travel, it was relaxing. No one was rushing. We had no deadlines. This is an unusual concept after my detail-oriented shooting career. I enjoyed it.
Already, plans are being discussed about the possibility of the 12 of us traveling to Greece next summer.
I never put a fishing line in the water throughout our trip, but this was still an outdoors trip. And the chance to experience nature's beauty with loved ones brought our family together for a memorable journey.
About Vera Koo

Vera Koo is a first-generation Chinese American woman. She's a wife and mother, author, entrepreneur and retired competition shooter. Along with two published books -- "The Most Unlikely Champion" and "Wisdom and Things: Essays From an Unlikely Champion" -- she writes her column, Vera Koo, at "Women's Outdoor News." View all posts by Vera Koo →