Review: Backcountry Elk Hunt with Danner Wayfinder
This fall I went on my dream elk hunt in the backcountry of Idaho. An early season hunt in southern Idaho meant the weather would be hot and my gear would need to be much lighter than my typical Minnesota whitetail hunt gear. That said, I needed uninsulated boots that would deliver me over the mountains and back, bow in hand, on my trek for an elk. I felt excited to try the new Danner Wayfinder boots, specifically designed for women that hunt and, at $140, they don't break the bank.
Sponsored by Danner

Boot Basics
When I first began researching women's hunting boots for my elk hunt, I knew I was looking for a very specific boot. First, I wanted to be sure that the boot I wore was supportive. I found that the 8-inch height of the Wayfinder was perfect for the type of hiking and the high desert terrain. Some of the climbs were seriously steep. Being able to go up, down, and over rocks without feeling insecure about my footing was important. The height of the Wayfinder was also to my advantage when crossing shallow streams; no water went over the top of my boots.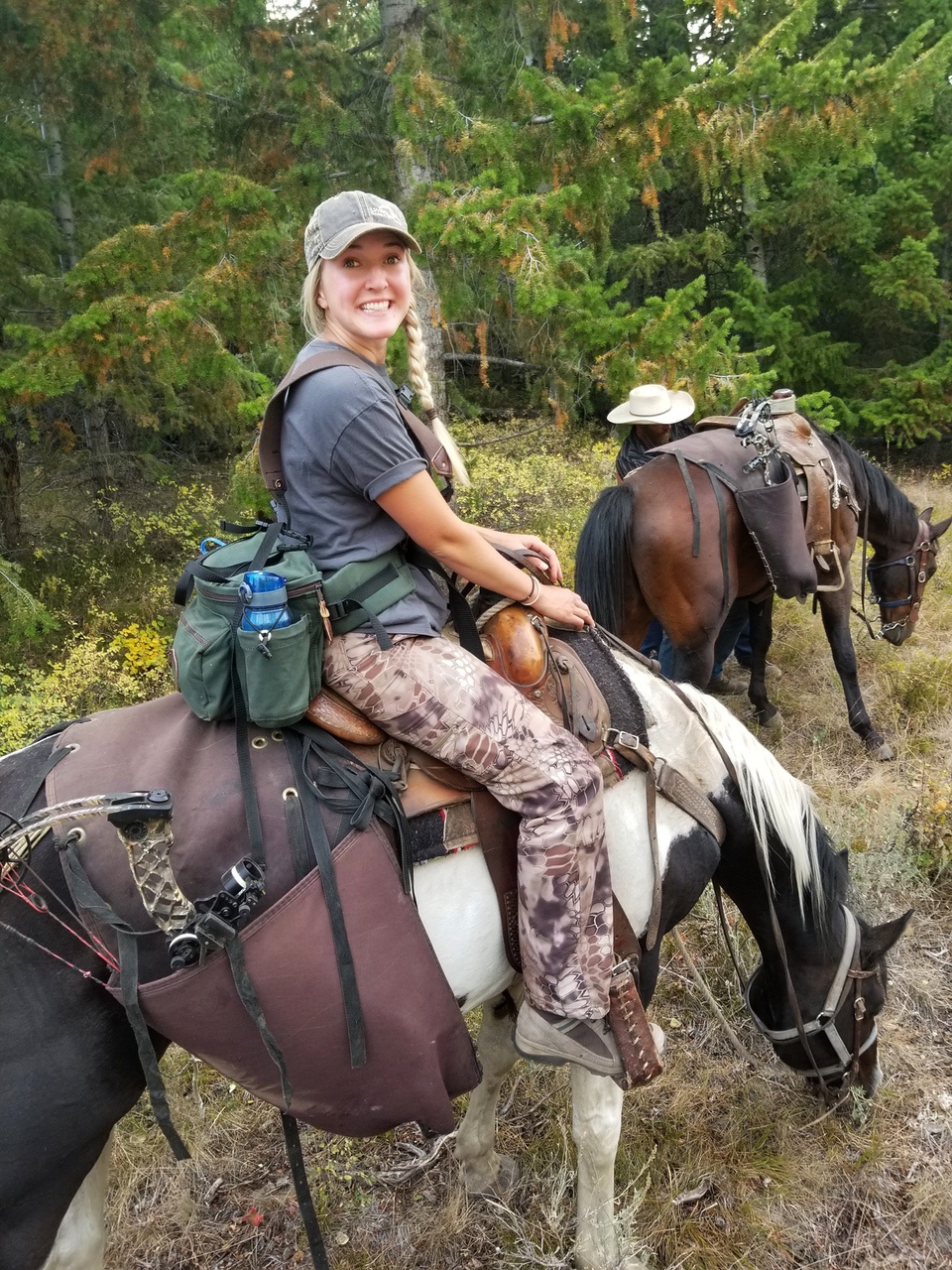 That said, no water went through my boots either. I tested it. The Danner Dry waterproof lining held true. I took it a little further by standing in a creek for about 4 minutes. In that time, I could feel the coolness of the water since they are uninsulated boots, but my feet stayed completely dry.
As far as weight goes, they are light as a feather, weighing only 35 ounces per pair. When you're hammering out nearly 60 miles in one week, every ounce of weight counts. The next thing that I looked for was a sturdy sole with plenty of traction. The Danner Plyolite midsole is designed to be supportive and comfortable. It is definitely comfortable and sturdy, but not a stiff. It has some bend, so if you're looking for a super stiff boot, this probably isn't for you. I appreciated the combination of having a little freedom of movement while still feeling secure in its structure. It also made the break-in process easier and much quicker.

Breaking In
A new pair of hunting or hiking boots, in general, need to be broken in. Right away after I received the Wayfinders, I wore them throughout my morning training hikes up a local ski hill. This was pretty much the best mountain training I could manage living where I do in the Midwest. During the break-in process, I found that if my feet were a little narrower at the toes, they would have been extremely comfortable, right out of the box. However, my feet are more like "flippers" (hey, I'm a strong swimmer), so it was a bit tight around the toes at first. The saving grace was that the material around the foot is suede leather and stretches. The more I wore them, the more comfortable they became in that area. Otherwise, I had no issues with blisters or heal slipping and, at this point, they fit like a glove.

The Fit
As I just mentioned, wider feet may have a little longer break-in period. However, a typical woman's foot shape tends to be on the narrower side, so I don't see this being an issue for most. Danner also accommodates a women's fit in the Wayfinder by creating a narrower heal. Having a heal that actually fits me well made all the difference in not getting blisters. Also, with my wider feet, I slightly loosened the area around my toes and it made a huge difference in comfort. Yet, I could still tighten the speed hook lacing system around my ankles and all the way up, keeping my boots secure, yet adjustable.

Rugged Fashion
It is a serious bonus that the Wayfinder is a really good looking boot. Having previously worked in the women's fashion industry, I've seen the value in having functional wear that actually fits and looks good, too. While it's design is certainly sleek, the fact that there are 2 color options – brown suede with green accents ($140) and mossy oak camo ($150) – is refreshing. Remaining feminine while hunting doesn't have to mean the color "pink" is included on everything. Personally, I don't need a specific pink or purple to indicate to others hunting that I am a woman; the fit and function should speak for themselves, period.

The Stories that These Boots Could Tell
If my boots could talk, they would tell tales of how they pounded the high desert terrain of southern Idaho backcountry. They would recount the 8 to 15 miles per day that we spent creeping over rocky summits, covered in sage brush and grasshoppers. They'd relive the splashes of passing through streams that were so close to the source that you could drink it right there. If they could talk, they would proudly be able to say that they carried a woman through a hunt of a lifetime.
Learn more about the Danner Wayfinder here.
See inside the Danner Factory in a previous post here.
About Ali Juten

Ali Jutenis an outdoor enthusiast, hunter, writer and host of Empower Outdoors Podcast. She previously worked in corporate communication in women's fashion but, has since transitioned to the world of freelance as an outdoor writer and digital media content strategist. Besides her Journalism degree, Ali also has a bachelor's degree in International Studies and has traveled to a total of 11 different countries. Her background gives her a unique perspective with the hope to inspire other women to participate in all things outdoors. Ali reviews products for us the old-fashioned way. She puts them to the ultimate tests and give us her honest, thorough opinion. View all posts by Ali Juten →