Project ChildSafe: Safety Tips for Hunting with Firearms
Many families across the country are getting ready to head to the woods for hunting season and we want to review a few safety reminders for everyone hunting with firearms. Whether you hunt with family or your best friends, make sure that you follow the 4 rules of firearms safety, so that you end the hunt safely, with food for your freezer. Tree stands and fences are 2 common issues we deal with when our family hunts, so my youngest and I share some demonstrations in the video of how we navigate fences and the ladder to the tree stand.

Sponsored by the NSSF and Project ChildSafe
Get a Plan
One of the main ways to make your hunt safe and enjoyable is to start by looking at your state's hunting regulations. For us, we can go online and read the Wisconsin Hunting Regulations, and see any updates or changes specific to the season and type of hunting we are doing. Check out your state's hunting regulations and make sure there are no new changes that you need to know. We can also check the hours of daylight in the chart and map of the area we are hunting to make sure that we are following daylight hours.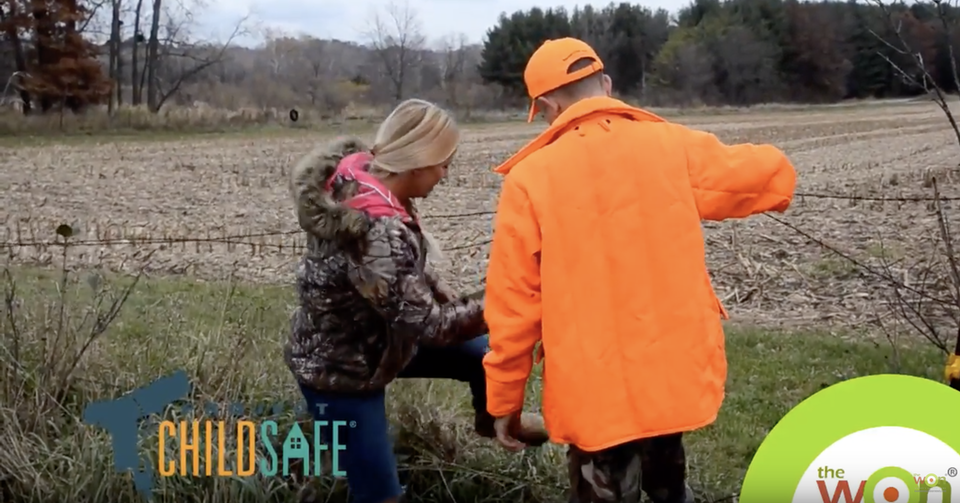 Don't Fence Me In!
When we go to our stands on our land, we often have a path raked so that we can be quiet and won't disturb the deer with rustling leaves or snapping twigs. But we sometimes have to cross fences when we track deer, or when we make a drive. Knowing the best way to do that is important. Our Wisconsin Hunter's Education website has some great how-to pages on specific items, like crossing obstacles. We unload guns and remember the 4 rules of gun safety while we cross an obstacle by considering the direction we point the guns, and the need to unload them. But handing guns back and forth, and climbing through or over an obstacle is not something to do with a loaded gun. So unload your firearm in a safe direction, verify that your hunting partner's guns are empty, cross your obstacle, and then reload and go on with your hunt.
Hold on when you climb high!
Climbing into a tree stand or elevated stand is a place to pause and use caution. Sure, it's just a ladder, your gun is unloaded … what's the big deal? Well, the potential to fall because you are wearing clunky boots, gloves, bulky clothes, and toting a gun make the chance of falling a real danger. Taking steps to make sure you cannot fall or have a harness on could be the difference between enjoying a hunt or enjoying the ER. I personally know hunters who have fallen from their deer stands and lay on the ground for a long time before they got any help. Safety here is about more than guns, it's about navigating heights too!
My family hunts from an elevated stand that my boys helped my dad build in our woods. There is a short ladder, and it sits on the side of a hill, making it closer to the ground on the uphill side. There are handrails installed at the top of the ladder to help the hunter get from ladder to deck with 2 hands holding something. We generally hunt in pairs, so we hand the guns up to each other after unloading them. But the general rule on any ladder is to always have both hands holding on. I tend to remove my gloves and establish strong hand-holds, if I am alone. If you are taking young or old hunters with you into an elevated stand, stay in pairs and be patient. There is going to be plenty of time to sit in the stand! If you hunt from an elevated stand that requires a harness, practice with it and use it. So review safe practices for hunting from an elevated stand before you hit the woods!
Little things that matter.
Two things we bring with us in the deer stand that help keep us safe are hearing protection, and a cell phone. The hearing protection is pretty obvious, it's for protecting our ears when we have to shoot, especially in an enclosed stand. The phone is a valuable tool because you cannot only call for help if you fall, cut yourself field dressing game, or get lost, but you can communicate with your hunting partners to see if they need help. Ever hear a shot ring out so close that you are sure it was your buddy?
Before you head out to the woods with your family, make sure you refresh each other on the rules of safety, rememberhing the firearms you will be using and the type of hunting you are doing. Make sure that your hunt ends with happy memories by doing a little planning, following the rules and by using a lot of patience. Happy hunting!
About Becky Yackley

Becky Yackley primarily competes in 3 Gun, USPSA, Bianchi pistol, but has competed in shooting since 1989 in disciplines from service-rifle, to NCAA Air Rifle and Smallbore, air pistol and a little bit of long range rifle. She shoots guns and cameras at competitions around the country, and writes in her fictional spare time. View all posts by Becky Yackley →