Review: Crossbreed's 'The Reckoning' Holster Offers Adjustable Retention
If you don't know by now, I'm a big fan of CrossBreed Holsters. My every day carry for the past several years has been the Mini Appendix IWB, which I love! When I heard that CrossBreed was coming out with a new cutting-edge holster, which they've dubbed "The Reckoning," I felt a tinge of excitement, yet couldn't imagine how it could be better than the products they currently have available. After scheduling a time to visit with the fine folks at CrossBreed, I now understand.
So what's all the hype about?
She Shoots 2 is sponsored by CrossBreed Holsters
Retention Adjustability
To start with, this is the first CrossBreed holster that has an adjustable retention shell. This means that a user has the ability to tighten the Chicago screws mounting the Kydex pocket to the leather backer for an overall custom fit.
Next, a retention device installed directly under the trigger guard allows additional retention adjustment. Using a hex key, which is included with the holster, the retention can be either tightened or loosened.
Typically, retention is fairly standardized when a holster ships from the factory. Retention is subjective to body type and preference, so now customers can adjust their holsters to fit their needs. Women often have a more difficult time drawing from their holsters due to a shorter length for grip and draw, with retention playing a big part. By creating a user-friendly, multi-retention adjustment, an individual can personalize the feel based on their preference, from not much retention at all, to extremely tight.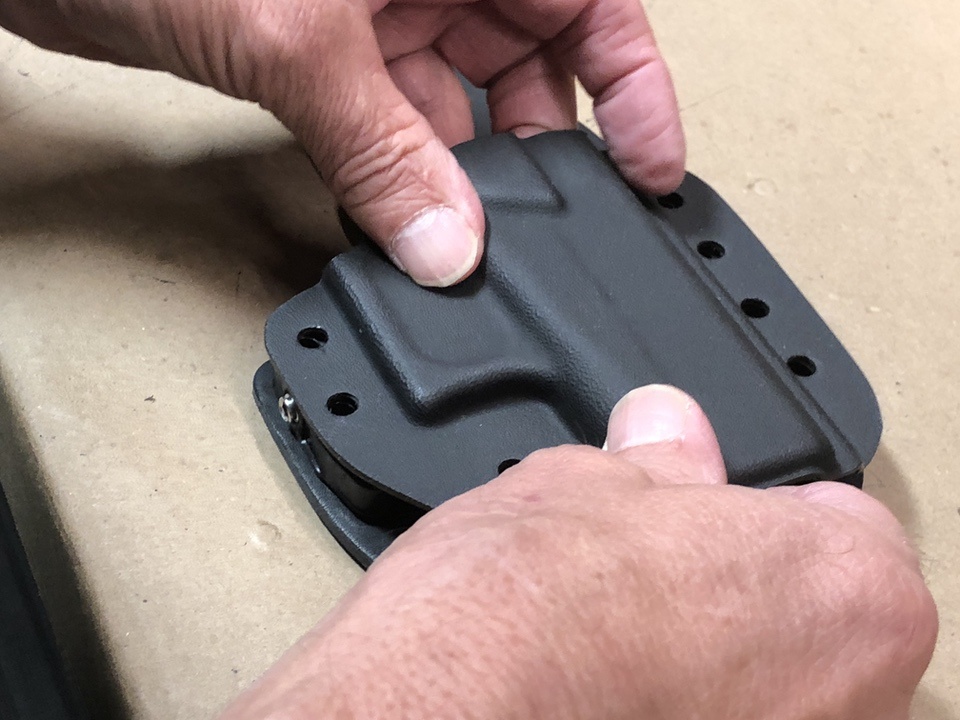 Additional Features
The familiar CrossBreed leather options for The Reckoning Holster include black cowhide, premium horsehide, or Founder's Series 100% vegetable tanned. The Founder's line is as stiff as the current line of CrossBreed holsters. It has a softer feeling which conforms easier to your body. The reason for the stiff leather on the traditional holsters is because the retention must be the same for each holster when it leaves the factory. Instead, the soft leather for this new holster was chosen purposefully so that it will have extra "give" to make the retention adjustable.
The Reckoning is a straight drop holster, meaning it has zero degrees of cant. The gun is held vertically, pointed at the ground, rather than being tilted. This works well for appendix carry or cross-draw, yet is also ideal for wearing at the 3 or 4 o'clock positions.
Powder-coated steel clips are more narrow than the traditional SnapLok clips that come with the SuperTuck and other CrossBreed holsters; however, the quality and strength remain the same. These clips come with 3 mounting holes rather than 2, which has never been done before, allowing the holster to be worn higher or lower on the waist. The clips are also designed for a slimmer fit, while still having the tuckable feature, such as the SnapLok clips. Plastic clips, as shown in the photo below, will also be offered for sale.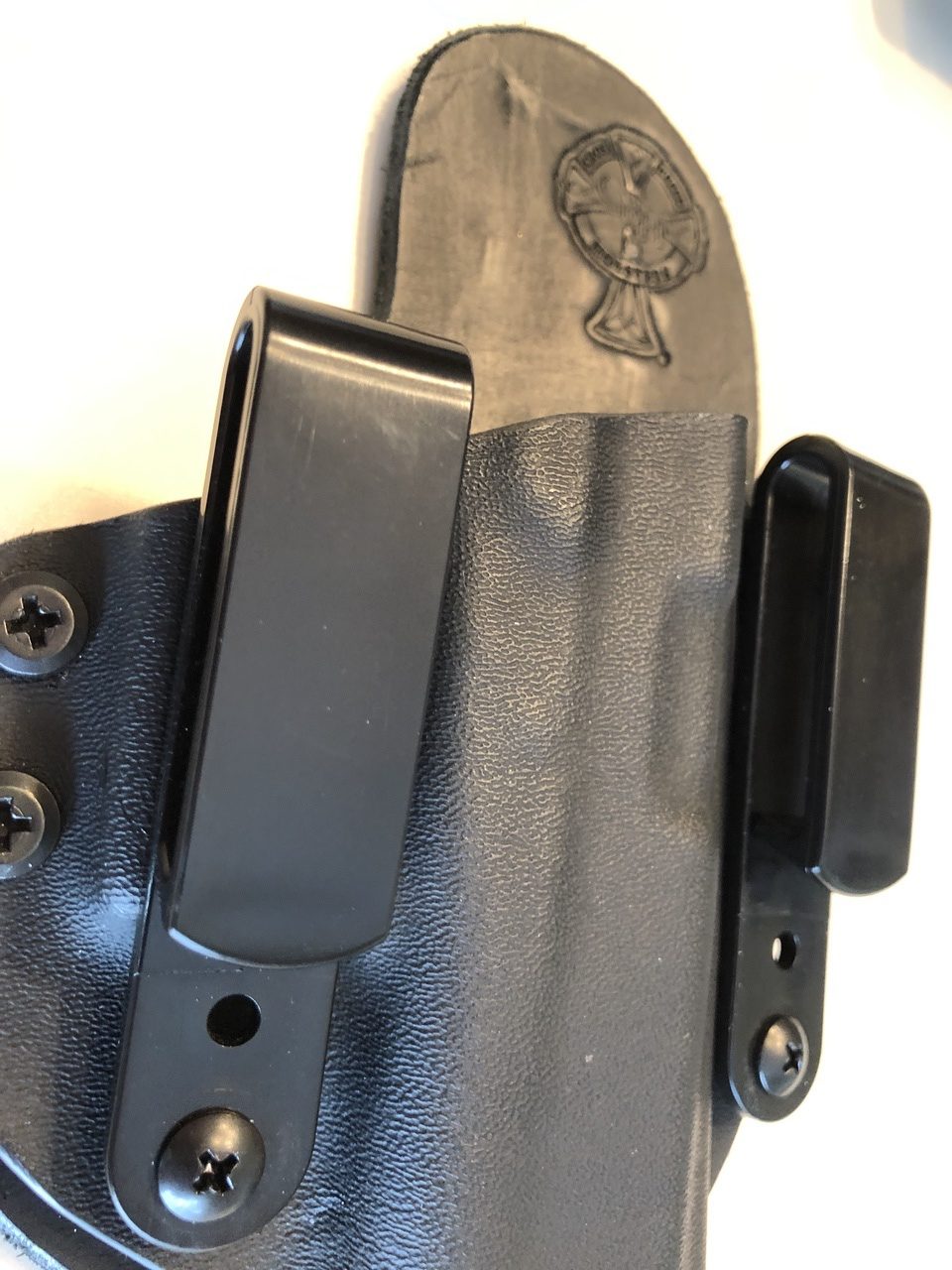 Speaking of clips, an outside-the-waistband (OWB) hardware kit also is available for purchase and can be easily installed by removing the inside-the-waistband (IWB) clips and attaching the OWB clips the back of the holster, enabling the user to transition to OWB. Same holster, 2 ways to carry!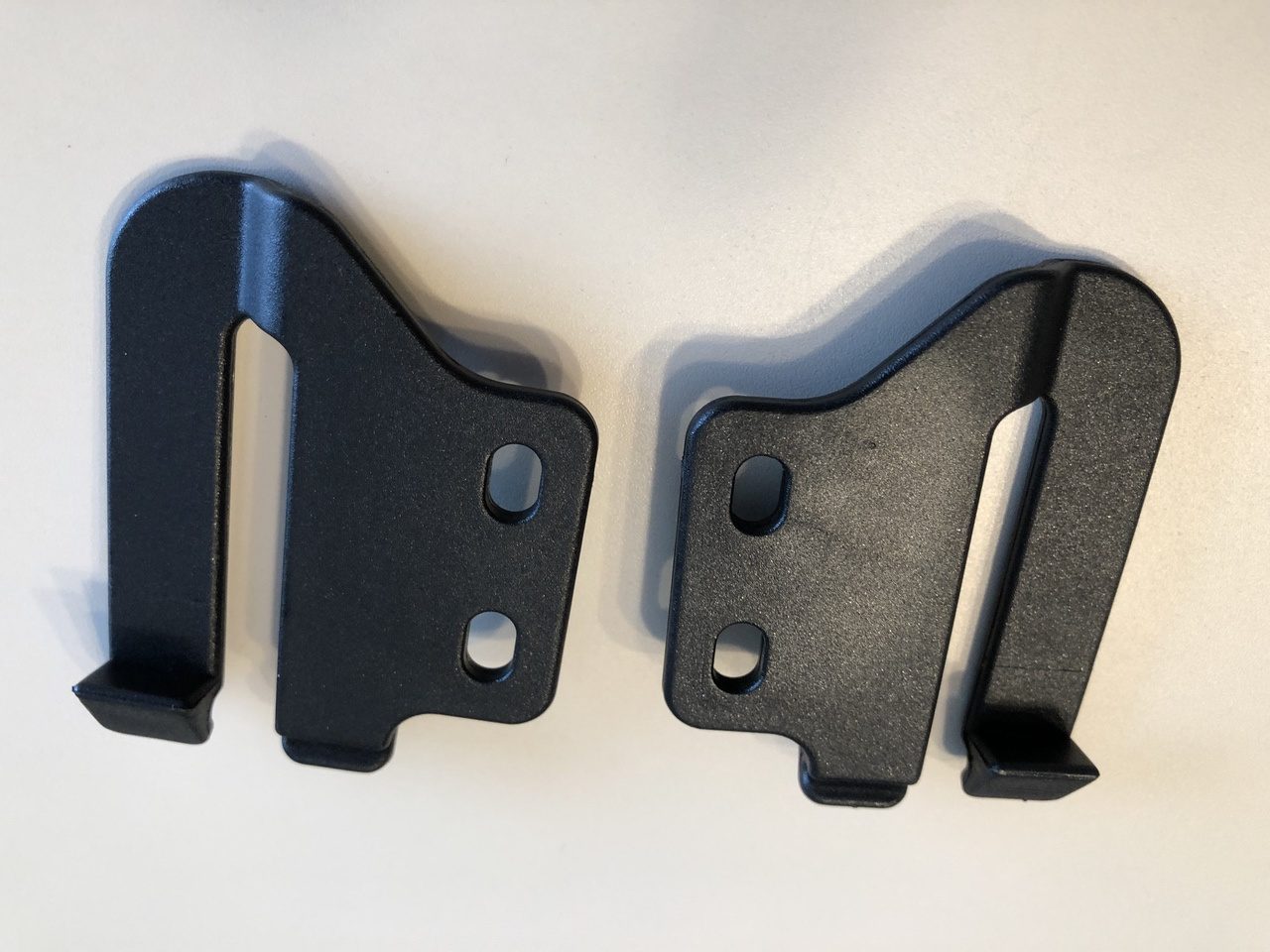 Available Firearms
As of right now, The Reckoning Holster will be available for the following gun models:
Glock 17/22, 19/23, 43, 26/27/28/33
Smith & Wesson M&P Shield 9mm and 40 S&W, M&P Shield M2.0 9mm and 40 S&W
Walther PPS M2

Sig Sauer P365, P320 Compact 9mm, 40 S&W, .357 Sig
Springfield Armory XD Mod. 2.3" Sub Compact 9mm and 40 S&W
Ruger LC380/LC9/LC9s/LC9s Pro
1911 3" Barrel – Round Trigger Guard
1911 4" Barrel – Round Trigger Guard
1911 5" Barrel – Round Trigger Guard
Models that will be coming soon includes these guns:
Glock 42
Springfield Armory XDs 3.3, XDM Full Size, XDM 3.8
Kimber Micro 9mm
Smith & Wesson M&P Shield .45 ACP
HK VP9SK
Sig Sauer P320 X-Carry & P320 X-Five Full
Other models will be coming in the near future, as well as accommodating laser/light models.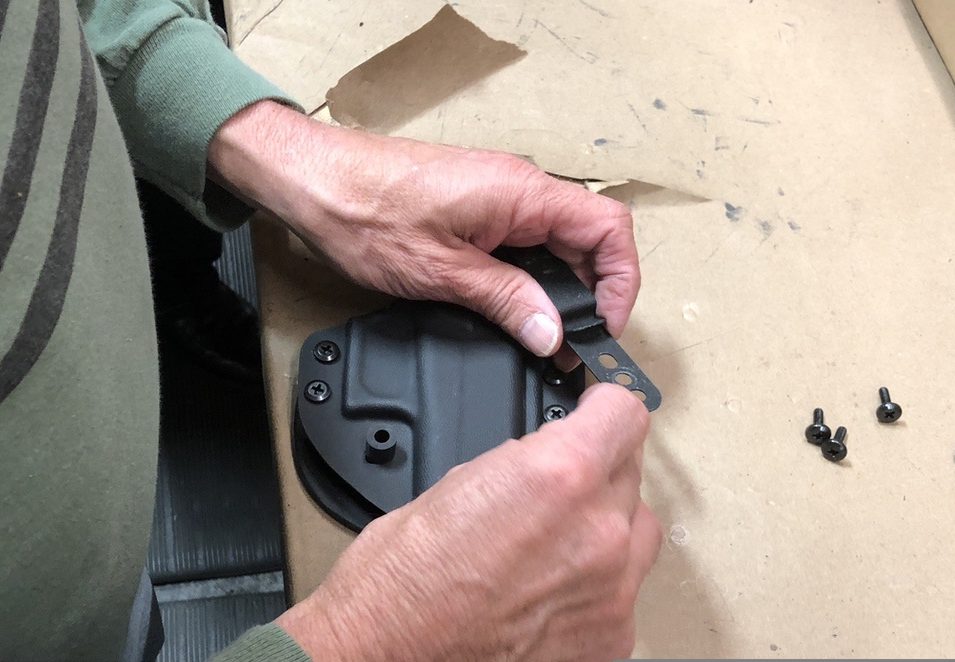 Future Enhancements
In the future, CrossBreed plans to release a new magazine carrier. This mag carrier can be worn as a stand-alone convertible IWB/OWB single mag, or attached to the holster like a sidecar.
CrossBreed is also in the early development stages of a synthetic material backer that is breathable and padded for comfort. This backer will only be available for The Reckoning holster, although an estimated time of arrival is not known yet.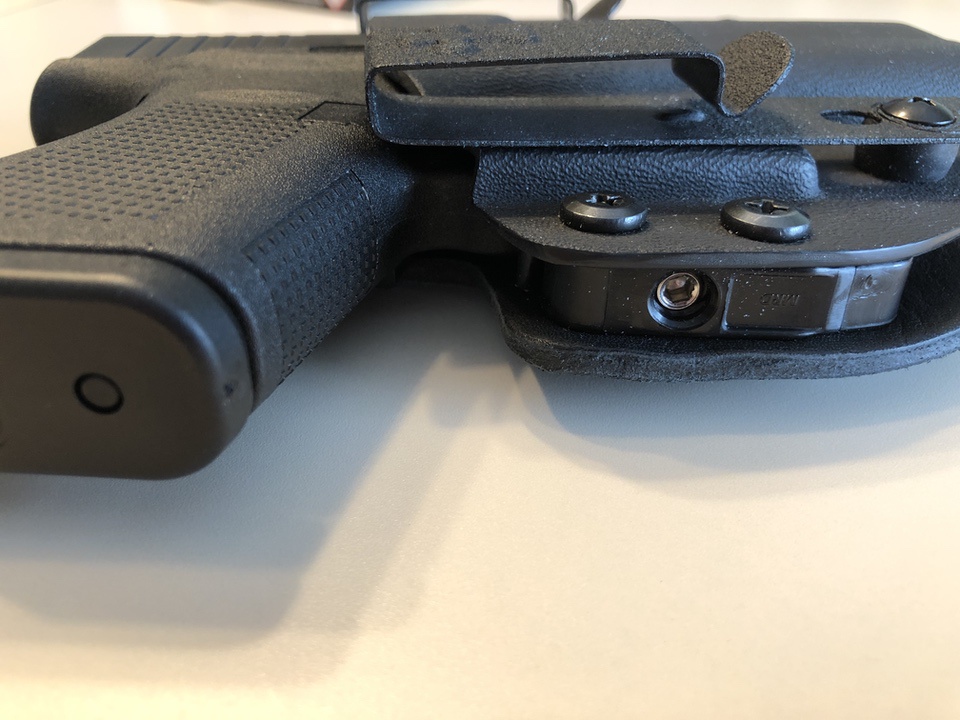 Old Meets New
The Reckoning Holster still has the Old-World craftsmanship such as the hand-finished Kydex pocket and premium leather that CrossBreed is known for, but with some New-World features built in for retention adjustment.
As with most of CrossBreed's current products, The Reckoning will carry a 2-week trial period and lifetime warranty.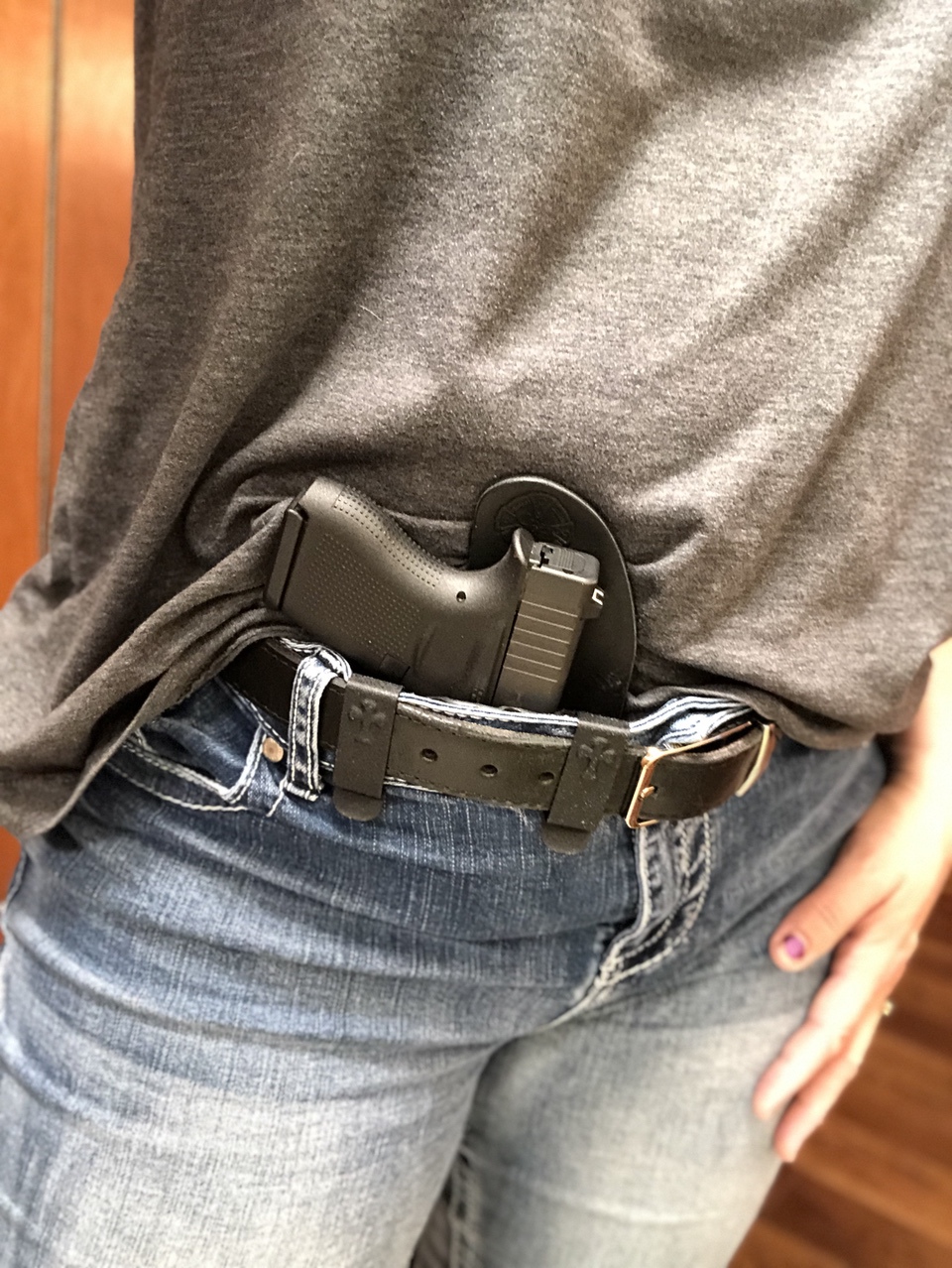 My Thoughts
From the minute I put this holster on, it felt like it was made for me. Normally, I allow a couple weeks for the holster to mold and shape to my body. This time the "break-in" period wasn't necessary.
I think it's important to note that I also switched my every day carry firearm from a small .380 to a single-stack 9mm. The slightly larger frame of the gun, as well as weight, is hardly noticeable when I'm carrying it in this holster. The 2 clips keep it balanced and secure on my waist.
As far as retention, I prefer it to be barely felt when drawing, not too tight. Using the hex key that's included, I adjusted the holster ever so slightly to my desired preference.
The holster gurus at CrossBreed have made another spectacular product, always seeking to provide the very best for their customers.
MSRP: $59.95 for standard cowhide leather option
Visit Crossbreed Holsters here.
About Stacy Bright

Freelance writer Stacy Bright holds instructor certifications from the NRA in Pistol & Rifle, as well as being an Range Safety Officer and Refuse to be a Victim instructor. In addition to her NRA credentials, she also is a Missouri CCW instructor and teaches various other home and personal defense courses. "In a field dominated by men, I feel I bring a unique perspective to firearms and training, especially to women. I'm passionate about educating, empowering and developing confidence in those I train. In November of 2014, I started the Southwest Missouri chapter of The Well Armed Woman," said Stacy. Stacy lives in southwest Missouri, and has been married for 20 years. Visit TWAW Facebook page: The Well Armed Woman-Springfield, MO Chapter. View all posts by Stacy Bright →