Retro WON: 20 Quality Prepper Gifts Under $20
Are you looking for gifts for the prepper in your life? I know there are a few items on this list I would like to find under the tree. ~MC
Most preppers have so many things on their wishlist that it may seem like only those with a lot of spare money can manage it. Starting out, most of us have purchased cheaply made items, not realizing just how low-quality they really were. Imagine being in a severe emergency only to find that the gear in your bug out bag either breaks the first time you use it. That's a nightmare scenario, for sure.
You don't have to be a victim of cheap and poor quality survival gear and supplies — not when your life could depend on it!
We've combed through dozens of online products that we either use ourselves or have been recommended to us by others. Each of these prepper gifts is under $20, but the are still solid quality items, not cheap dime-store items.
These items are a solid foundation to get started and they make great gifts and, in some cases, stocking stuffers. They're also a excellent upgrades for anyone who has been preparing just a bit longer and wants to improve their kit. Have kids or grandkids? These inexpensive gifts are also a great way for them to get started. I still remember getting my first pocket knife (a knife I still own) as a kid, and my eldest loves his new mess kit.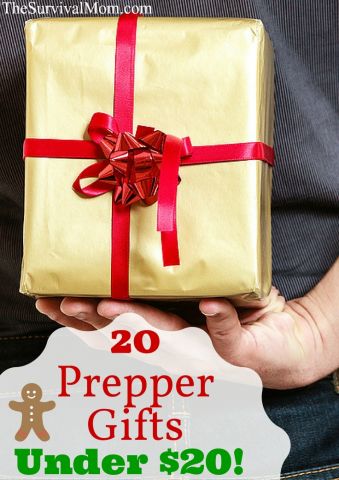 Food and Water
1. Herb Terrarium – Small, portable, easy to use, and herbs are good for both cooking and (sometimes) herbal medicine. What's not to love?
2. LifeStraw Personal Water Filter – The LifeStraw is only for one person, but provides water immediately, no need for boiling water, adding bleach or anything else. It's easy enough that even very young children can safely use one.
3. Mess kit – In addition to the standard bowl, cup, and utensils, this kit has a small cutting board and container for spices. My teenage Scout loves having the spice shaker and there are 7 colors to choose from — even pink!
4. Pie Iron Sandwich Cooker – I'll admit it. I just like hot sandwiches, as detailed in this article. This makes it easy to make them over a campfire. It's just like when I went camping as a little girl.
Continue reading "20 Quality Prepper Gifts Under $20" here and be sure to follow The Survival Mom blog.
This Retro WON first appeared December 5, 2016.
About The WON

The Women's Outdoor News, aka The WON, features news, reviews and stories about women who are shooting, hunting, fishing and actively engaging in outdoor adventure. This publication is for women, by women. View all posts by The WON →