Concealed Carry and the Ruger SR1911 Commander
The 1911 was designed by John Browning in 1911. Of course, that's where the name originated. It's a single-action pistol that uses a firing pin. The "Commander" size typically has a barrel length from 4 to 4.25 inches, as opposed to the longer "Government" barrel length of 5 inches or shorter "Officer" barrel length of 3 inches. While the most common caliber used in 1911s is the .45 ACP, the SR1911 is chambered in 9mm and suits me better, since most of the guns I own are also 9mm. The 1911 has a manual thumb safety as well as a grip safety, and the single stack magazine holds 9 rounds plus one in the chamber.
She Shoots 2 is sponsored by Crossbreed
On the Range
I recently acquired a Ruger SR1911 Commander chambered in 9mm. This gun has been at the top of my wish list for quite a while and I plan to carry it. Now that the cold months are upon us, it's a good time to talk about things to consider when carrying a larger gun, but first let me tell you a little bit about this specific gun and what I like about it.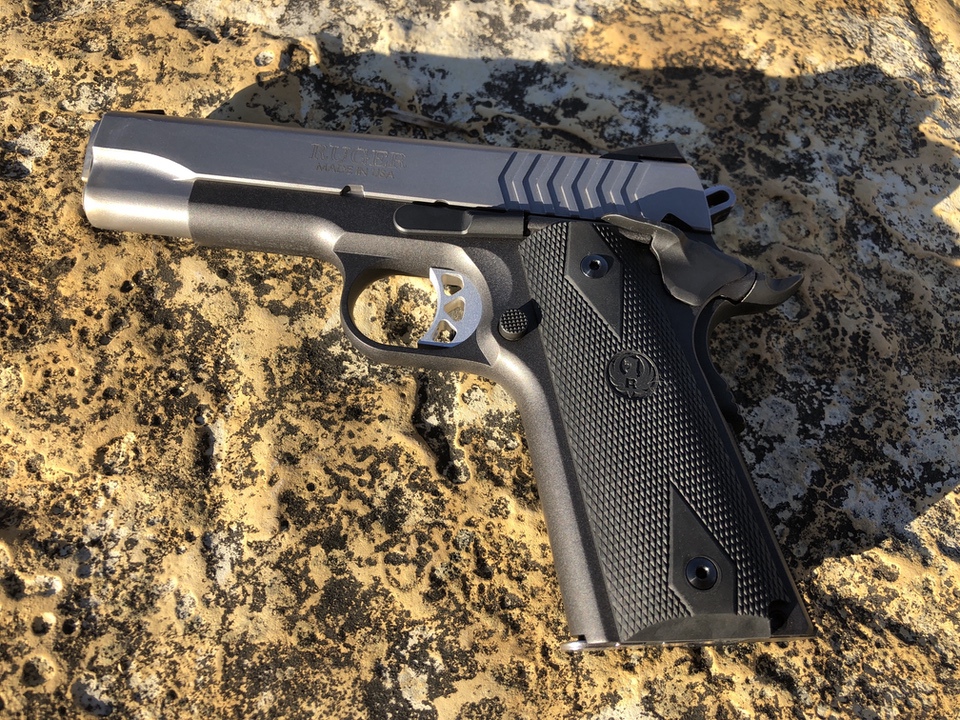 I couldn't wait to take this bad boy out to the range as soon as I had it in my hands. I set the target up at 7 yards since I'll primarily be carrying this firearm for personal protection. Using Federal FMJ ammunition, I ran several drills firing two-handed, first slowly and then as quick as possible to see how the gun responded. I had zero issues with the gun cycling properly and thoroughly enjoyed the crisp trigger. Recoil is minimal due to the aluminum frame, and is easy to manage even one-handed, as I experienced while shooting strong-hand and off-hand only. I blew through 200 rounds in a short amount of time with no malfunctions.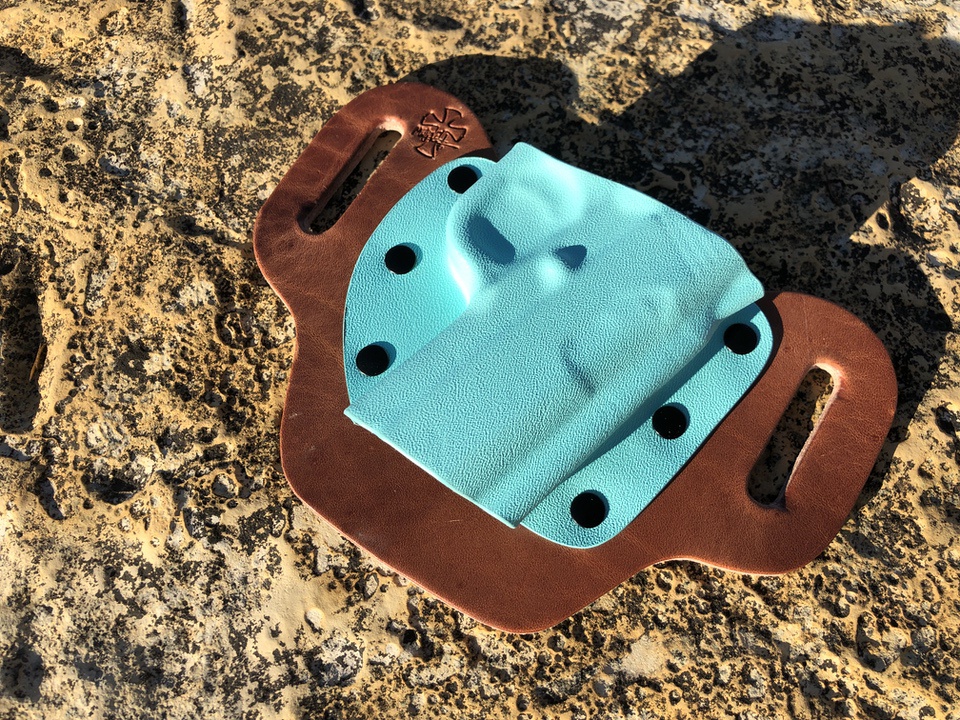 Carrying OWB
Convinced that the Ruger SR1911 would be a good gun to carry, especially while working outside around my property, I turned to my good friends at CrossBreed Holsters for an outside-the-waistband (OWB) holster. I decided on their Founder's Series DropSlide OWB with a Tiffany Blue Kydex pocket. It's gorgeous! The DropSlide features 1-¾-inch belt slots that work well with the cobra buckle on my belt. The holster feels tight and secure to my body and the holster's Kydex pocket has good retention, so I'm not worried about the gun moving around. The lower ride of this holster also helps me get my cover garment out of the way more quickly. As with all CrossBreed holsters, this one doesn't disappoint!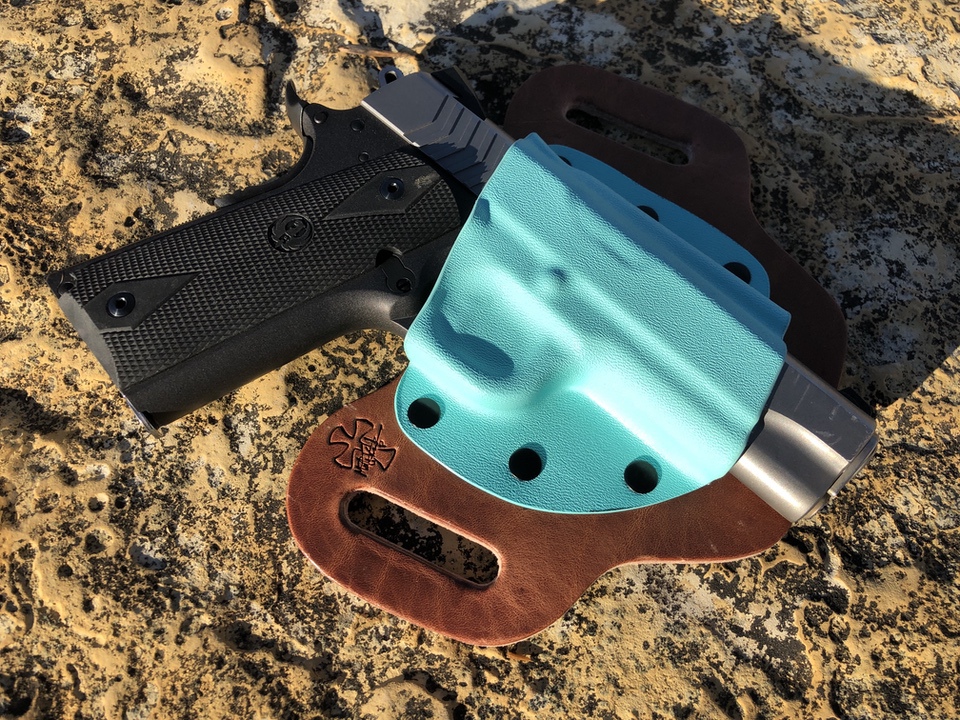 Winter Carry
Now back to the topic of carrying a larger gun. Let me say, it's easier to conceal in the winter – thanks to bulkier clothing or layers. Concealing any firearm under a puffy jacket or oversized sweatshirt does have its drawbacks as well, so let's discuss the do's and don'ts of winter carry.
DO look at yourself in the mirror. Even with heavier clothing or multiple layers, check to see if your firearm is visible. Is it printing? When you raise your arms above your head does the clothing still cover the firearm?
DO practice drawing from your holster while wearing layers. For safety, practice with your firearm UNLOADED (aka, dry fire) and all ammo out of the area. Can you get to your firearm under all the layers? Are you able to move your arms enough to draw or to get the garment out of the way?
DO practice drawing and shooting while wearing gloves (if you normally wear them). Are you able to get a good grip on the gun? Does your trigger finger fit inside the trigger guard? Find a pair of gloves that will work with your gun and wear them when you carry.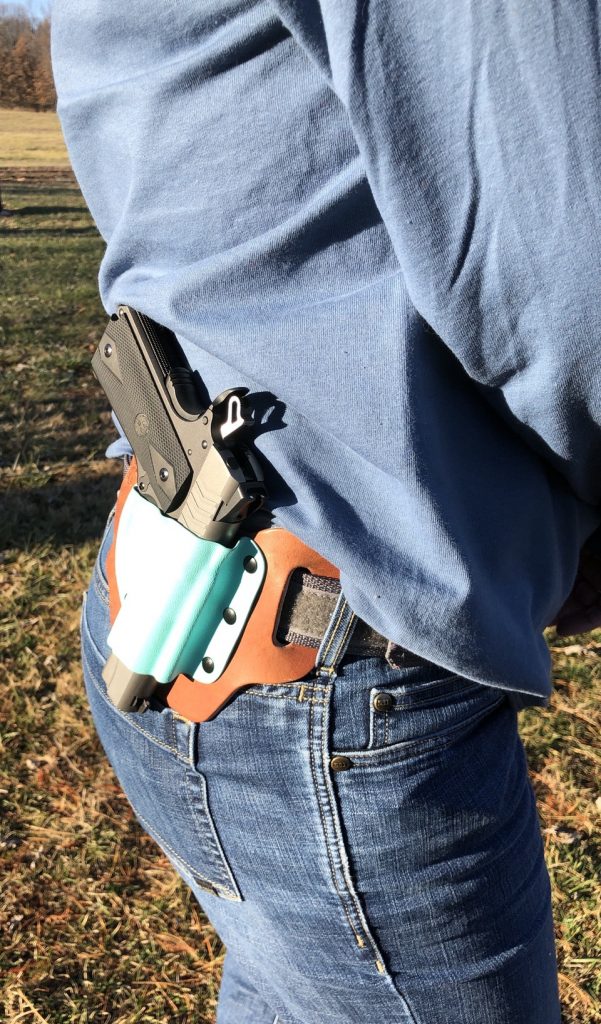 DO practice shooting with cold hands. Even if you normally wear gloves, know that there are limitations, and fine motor skills are diminished when your hands are cold.
DON'T carry in a different location on your body without practice drawing. If you're used to carrying inside-the-waistband at the appendix location and now you're switching to OWB on your hip (4 o'clock location), make sure you practice drawing from that spot. Otherwise, muscle memory will cause you to reach for your gun at the appendix location and slow your reaction time.
DON'T wear clothing that would affect your ability to see potential threats. Does your coat hood or beanie hinder your peripheral vision? Situational awareness can be hindered by winter clothing.
Lastly, DON'T get lazy during the cold months. Concealing a firearm in the winter is easier, but doesn't mean it's without a different set of challenges. Practice, practice, practice.
Stay warm and stay safe!
Ruger SR1911 Suggested Retail: $979.00
CrossBreed Founder's Series DropSlide Holster: $71.95
About Stacy Bright

Freelance writer Stacy Bright holds instructor certifications from the NRA in Pistol & Rifle, as well as being an Range Safety Officer and Refuse to be a Victim instructor. In addition to her NRA credentials, she also is a Missouri CCW instructor and teaches various other home and personal defense courses. "In a field dominated by men, I feel I bring a unique perspective to firearms and training, especially to women. I'm passionate about educating, empowering and developing confidence in those I train. In November of 2014, I started the Southwest Missouri chapter of The Well Armed Woman," said Stacy. Stacy lives in southwest Missouri, and has been married for 20 years. Visit TWAW Facebook page: The Well Armed Woman-Springfield, MO Chapter. View all posts by Stacy Bright →