Gear Review: Sling Backpack GTM-108
We know that you're on the lookout for great gift ideas for the guys in your life, and so, we're going to run a series of reviews on GTM Original bags that men can use for CCW, too. Meet our new contributor, Army officer and now, English teacher Ian Richardson. We think you'll enjoy his style of reviewing and find integrity and information in his reviews. Welcome to TeamWON, Ian! ~BB
Sponsored by Gun Tote'n Mamas
Finally, gentlemen, we've got something headed in the right direction at the tips of our fingers. As the way of the prepper has moved to the forefront of what it means to be ready and to take ownership of the unexpected, so too has the gear that catalyzes our confidence. The nature of concealed carrying has evolved into a myriad of decision points. Having a gun has evolved into a symbiotic network of choice regarding weapon status, position, placement and now, style and comfort designed for ease of access, efficiency and intuitive features. The GTM-108 is a stylish and practical balance between EDC on the body and carting around a full-size pack. Rightfully mixing what works and what is current, this sling backpack blends the historical speed of the bandolier with a 21st-Century focus. After toting this bag around, here's what I've concluded.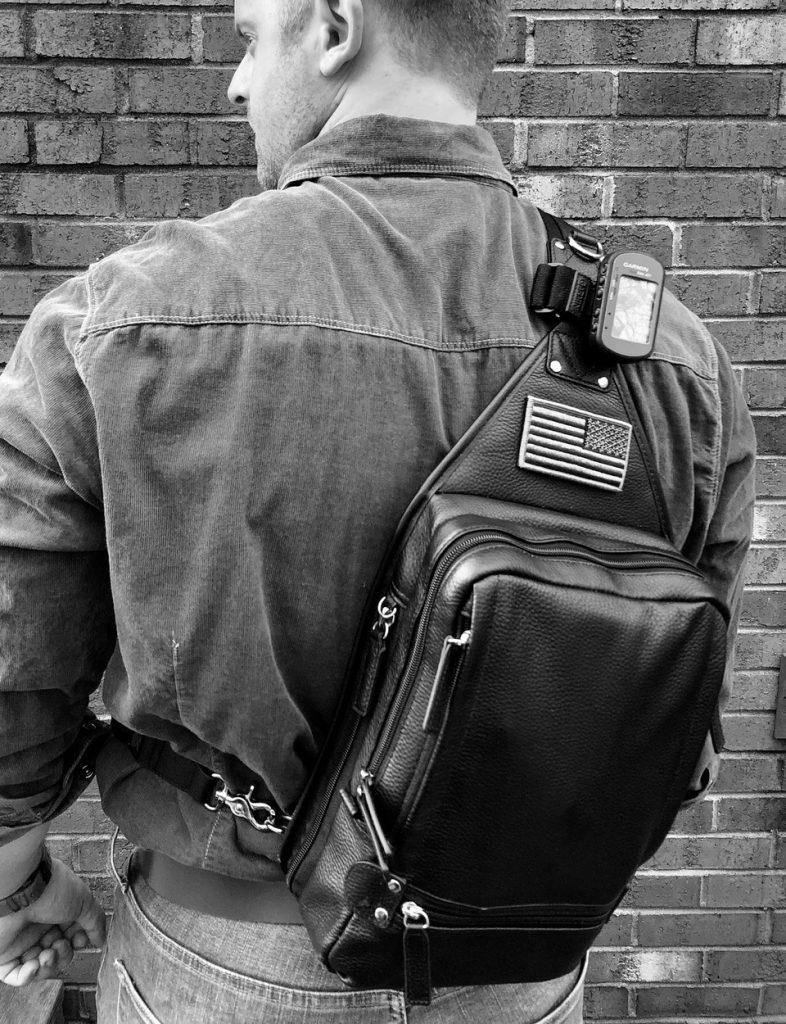 Review of Sling Backpack GTM-108
First and foremost, going into this review, I wanted to know what this bag's weaknesses already were. Pinch points in the remainder of the bag (upon utilizing the concealed carry pouch) were previously addressed. I carry an M&P9c and store it slide down so that on negotiating the pack from the slung position, I immediately have firm hand control. In this configuration, there were a few areas that made the compartments a little tighter than expected; however, it must be kept in mind that where the sling backpack lacks in cumbersome storage space, it makes up for in smooth maneuverability.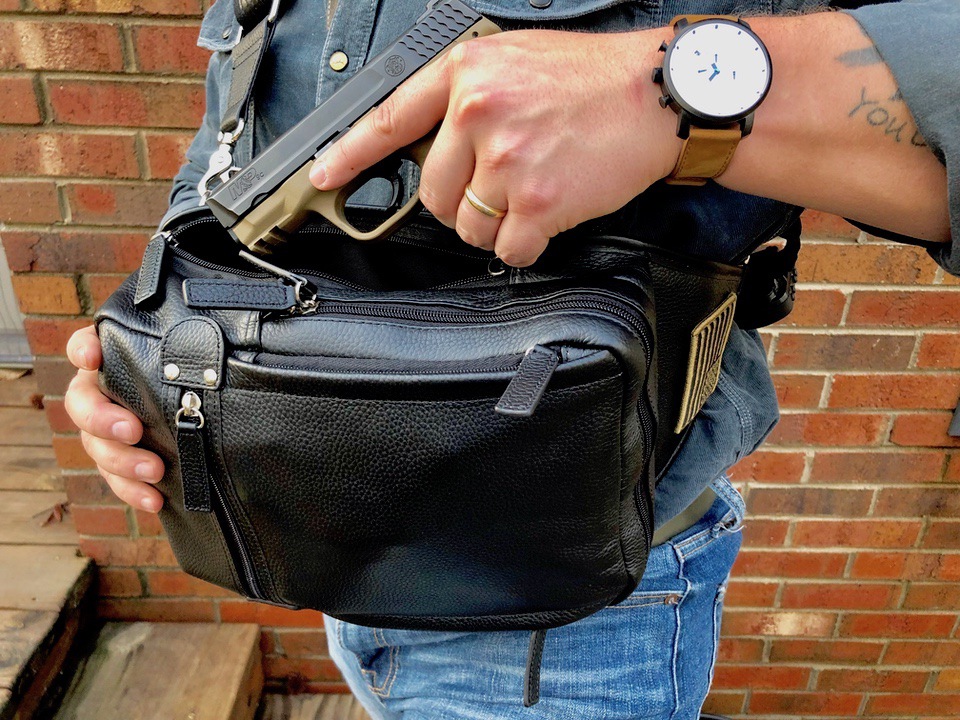 Homage is paid the adage, "slow is smooth, smooth is fast," simply by Gun Tote'n Mamas eliminating snag points and restrictive material. Repeatedly, whenever I look at the Sling Backpack, I immediately see craftsmanship in the construction of this piece. It is evident that standards in leather and design were considered carefully.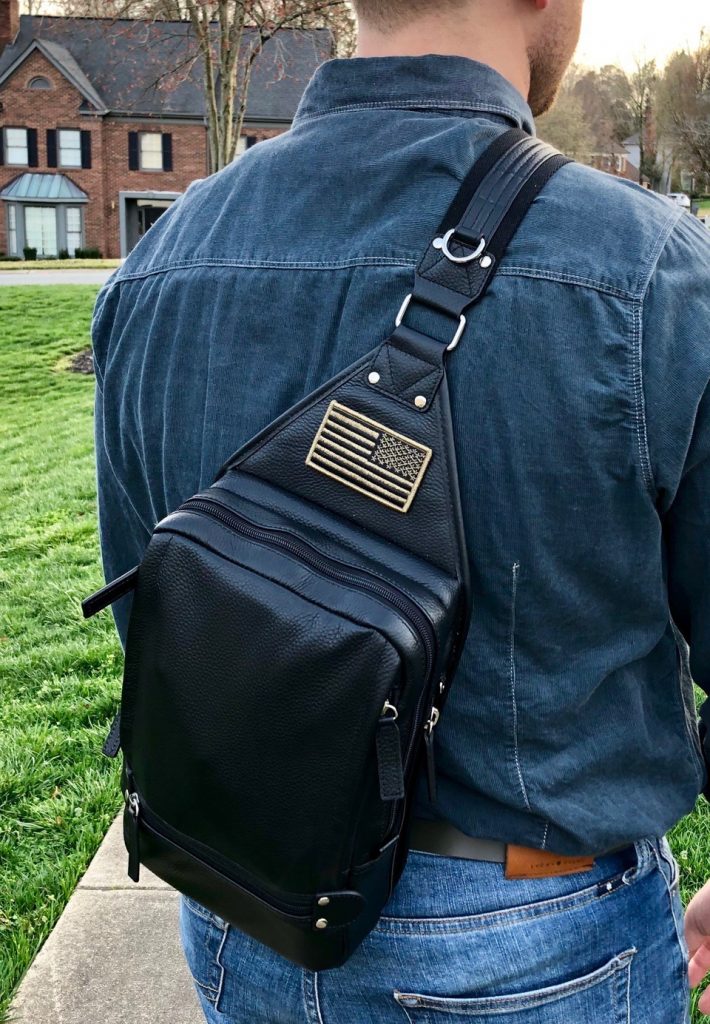 Perhaps, one of the greatest attributes of this bag is its versatility in hanging over either the left or right shoulder. As a leftie, I've spent a lifetime making accommodations for right-handed individuals and just let it roll like water. Now, I can spend less time learning to wear a new bag and more time refining my everyday carry. After reviewing my short-list of items already carried on the body, I began to play with what else would empower me further down my journey. Considering a long-overdue hike, I packed the basics and found myself unbridled by whole-day necessities on a half-day trek. I was able to prioritize and still account for worst-case scenarios. Additionally, limiting the amount of equipment on my hips and legs made moving quickly and quietly an unconscious feature of the hike. This pack made an already good day, even better.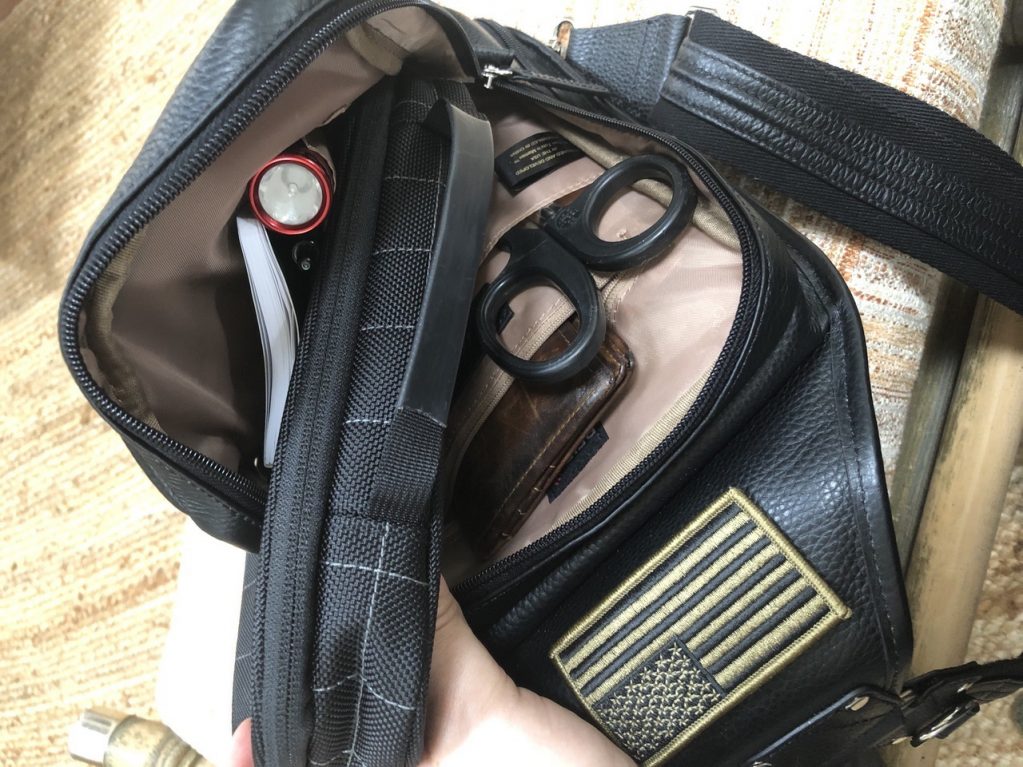 One sticking point for me is the bag's limited material and finish styles. Craftsmanship is a non-issue and the MSRP price of $149.95 is more than appropriate given the amount of reinforced leather and hidden stitching present. While, as a motorcycle enthusiast, I can appreciate the timelessness of black leather, this design's unique versatility deserves a finish that fades into the dressed-down user. As it stands, the GTM-108's polished zipper pulls and clasps marry up most succinctly with business casual and more formal men's attire. Keep in mind, this bag is for the prepper, for the gentleman, for the veteran, for the father and for the wanderer. Stressed browns and subdued metals are what I hope to see when I recommend this bag.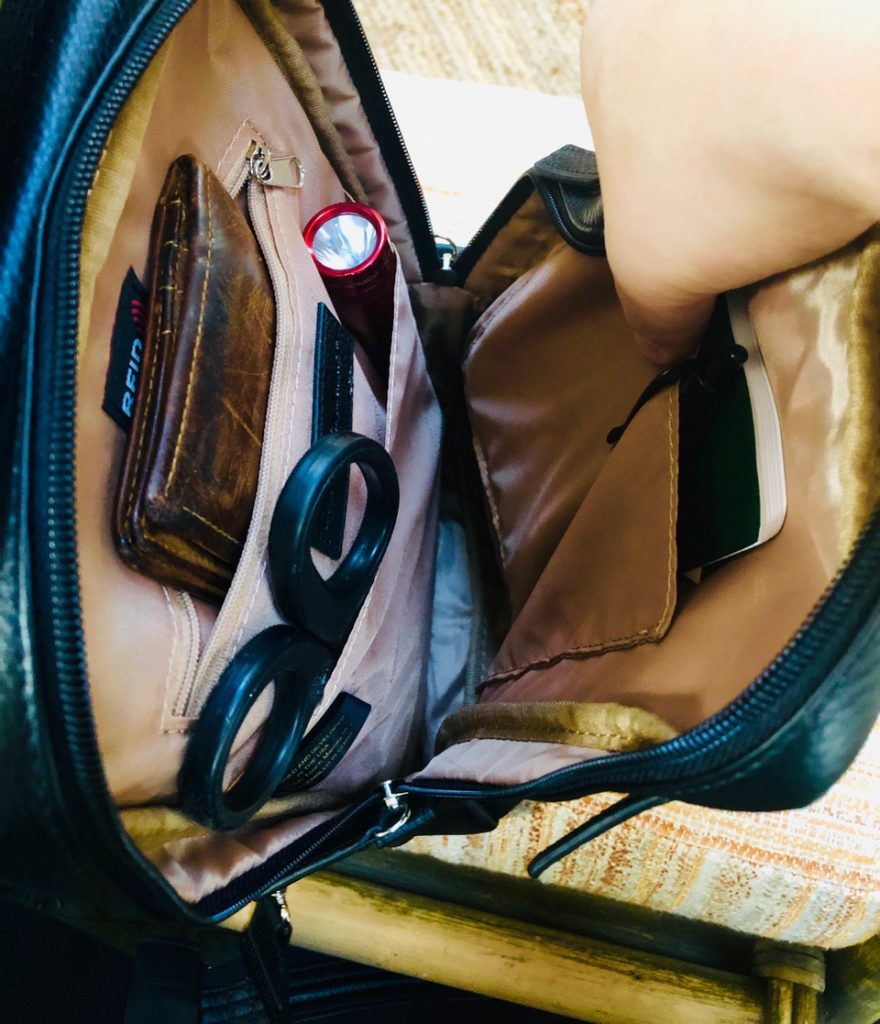 More about the sling backpack's construction
While not extensively discussed but certainly important, here are some fast features about the construction that tip the scales from functional to practical. The sling is reinforced with a steel wire to prevent sling failure, especially when handled by either the user or an aggressor. I'm all for it. In order to protect against the technologically savvy, an RFID protected pocket ensures that critical banking information is not seized by those in close proximity. Finally, a morale patch option allows the wearer to add a little custom flair.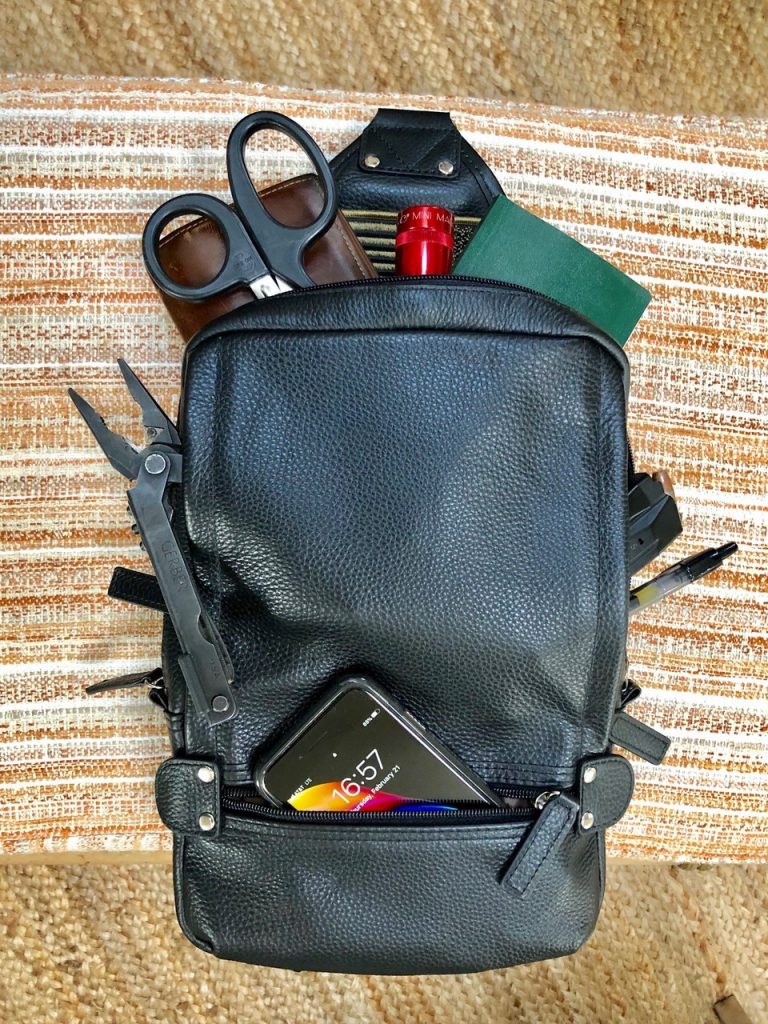 EDC is about harmony and knowing individual strengths and weaknesses. Each tool is an extension of the body that is rehearsed for proficiency and economy of action. While gear firmly affixed to the body offers the advantage of short muscle movements, it can put the unsavory individual on notice. To the wearer this matters to, this sling pack is a dynamic solution for men on the go.
This GTM-108 bag is available at the GTM website.
MSRP: $149.95
About Ian Richardson

Ian Richardson lives in North Carolina with his wife, pets and chickens. He is an outdoor and gun advocate, English teacher and an Army veteran. He also enjoys prepping, carpentry and reading about philosophy and mythology. In general, Ian loves trying to be as alive as possible! View all posts by Ian Richardson →