Best Camping Mugs: The Top 6 of 2019
After performing heat and ice retention tests on six of the best camping mugs, using them in our daily lives for over a month, and field testing them on a car camping trip along the California coast, we think the Yeti Rambler is top option — especially for weekend warriors who want a mug that's just as suited to the morning commute as it is to hanging out around camp.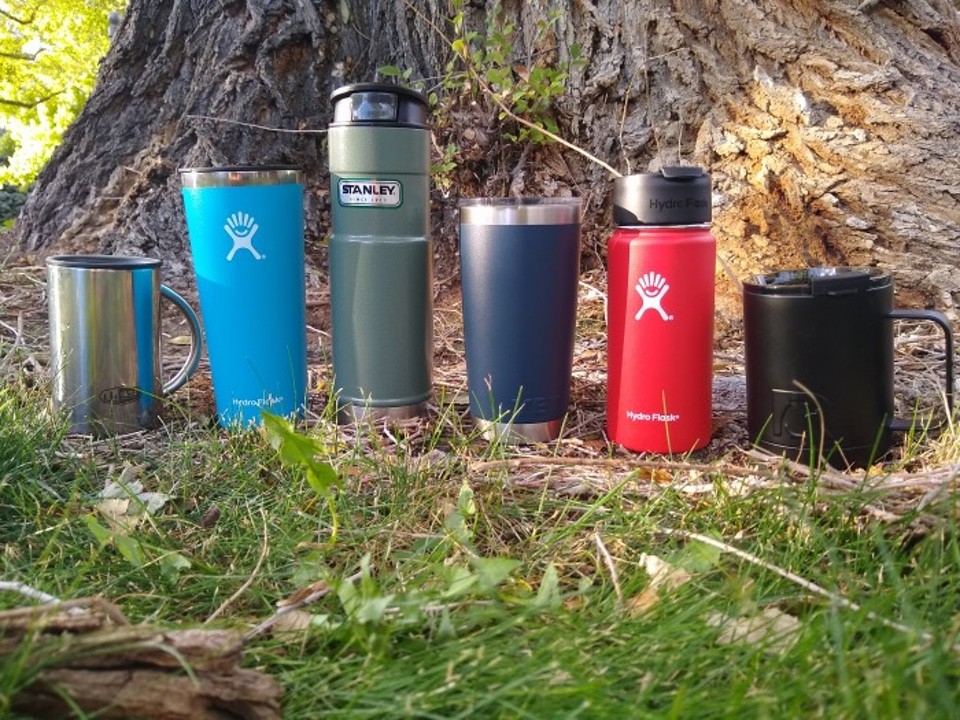 The Rambler is rugged, insulates exceptionally well, and offers some protection against spills. Plus the lid design was our favorite out of all the mugs we tested.
Alternatively, for people who want the camp mug that insulates the best, we recommend the Stanley Classic One Hand Vacuum Mug. It kept our coffee steaming hot for over 11 hours and was completely spill-proof.
Read on for our full reviews.
If you're looking for lightweight mugs you can take backpacking, check out our guide to the best backpacking mugs.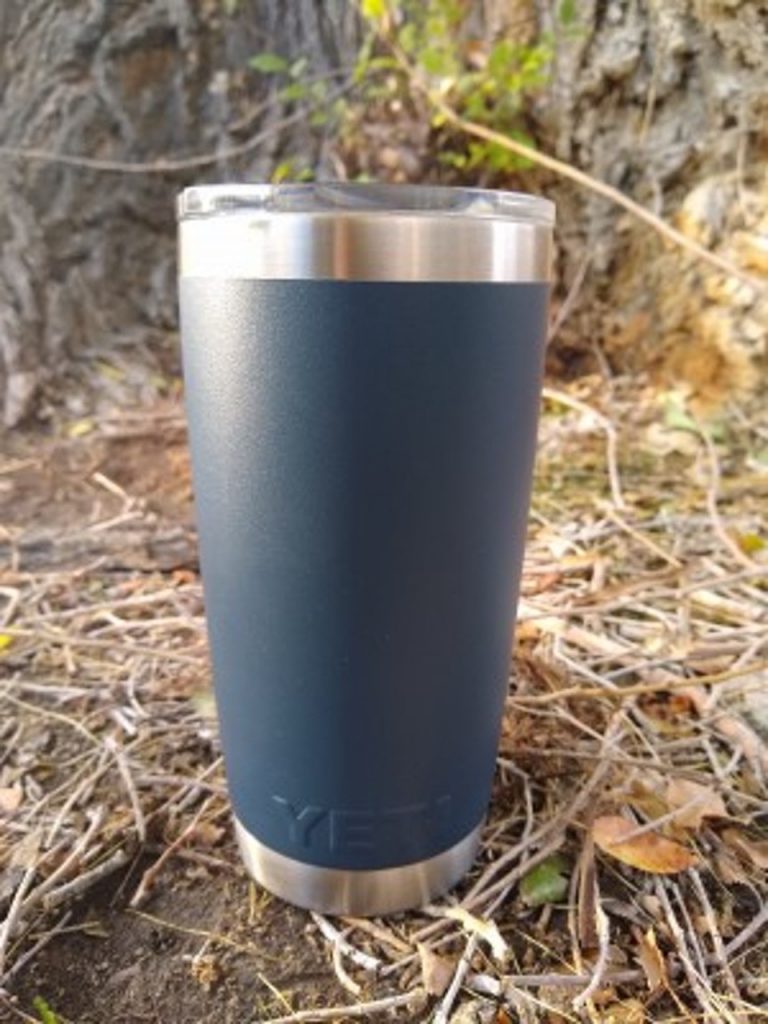 The Yeti Rambler struck the perfect balance between excellent insulation, spill-resistance, and usability.
This was the mug we found ourselves wanting to use every day, whether commuting to work or hanging out around camp.
The stainless steel construction feels durable and solid, as does the plastic lid. The color coating provides a little extra grip and — despite being knocked around quite a bit during our adventures — has yet to show any signs of wear.
While it wasn't the top performer in our insulation tests (that honor went to the Stanley Classic One Hand Vacuum Mug), it still did excellent, keeping water hot for well over 7 hours, and ice for over a full day.
Our favorite feature of this mug was its lid — the magnetic tab was easy to open and close, but held securely when shut.
It's definitely not spill-proof, but we found that, even when left tipped over on its side for a few minutes, only a small trickle of liquid spilled out.
Really, we couldn't find anything to criticize about the Yeti Rambler. It's durable, spill-resistant, does an excellent job at insulating, and was our favorite mug to actually drink from.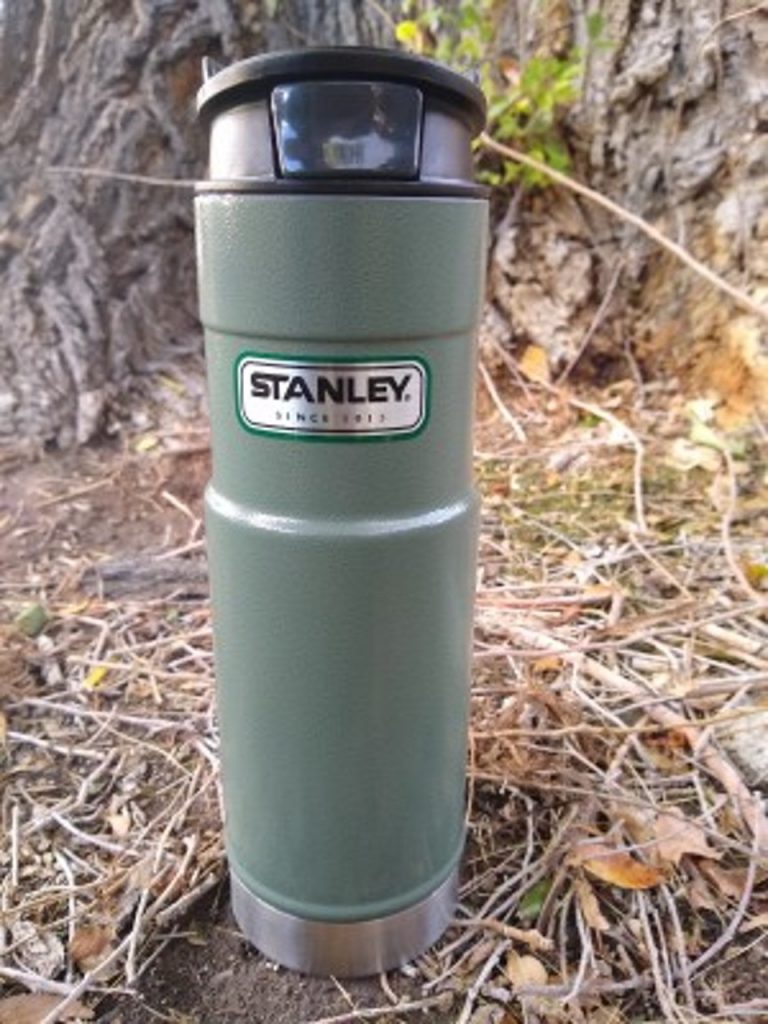 We love that Stanley kept their iconic design and classic olive green color. This mug looks and feels bomb-proof.
When it comes to insulation, the Stanley One Hand Vacuum Mug blew the competition right out of the water.
In our heat retention test, it took this beast over 11 hours to drop from boiling down to 120 degrees — almost 3 hours longer than the next in line.
It fared almost as well in our ice tests, with 3.7 oz of ice left after 28 hours at room temperature.
A full two days later, there were still a few small chunks of ice knocking around. This was also the only mug we tested that was completely spill-proof.
So why wasn't it our Top Pick?
Our issue with this mug was the lid. The design requires that you push a button on the side of the lid, which activates a spring mechanism that lowers a small foam tab, allowing liquid to flow out.
To drink, you have to hold the mug at the top and keep the button depressed. This comes down to personal preference, and we were split between not minding it and finding it awkward to drink out of.
The lid is by far the most complex mechanism of any that we tested, and other reviewers have had issues with one of the many moving pieces breaking after a few weeks or months of use.
While we personally didn't experience this, we could certainly see it being an issue. (It does seem that Stanley will send a replacement lid under their lifetime warranty if this happens.)
We also found that this mug was so good at insulating that it was hours before our morning camp coffee was even drinkable. The only way to let it cool down faster was to completely remove the lid — a recipe for a major spill.
In the end, we preferred to sacrifice a bit of insulation performance for the comfort and ease of use of the Yeti Rambler. But if you want a mug that's airtight and guaranteed to have your coffee still piping hot after your day of adventuring, this is your mug.
Find out from our friends at 99Boulders what the other 4 Best Camping Mugs are here .
About The WON

The Women's Outdoor News, aka The WON, features news, reviews and stories about women who are shooting, hunting, fishing and actively engaging in outdoor adventure. This publication is for women, by women. View all posts by The WON →