Retro WON: The Apparel of Female Hunters Throughout the Ages
In honor of Women's History Month, we are celebrating strong and historic women from all walks of life. Some of the most influential women were those who dared to break societal barriers, cross into uncharted territory, and question the longstanding gender norms. While women like Cleopatra, Annie Oakley and Susan B. Anthony are known for making a loud and obvious mark on history, far more women quietly made history by providing for their families—in a nontraditional role as hunters.
Female hunters throughout history wore garments that differed greatly from the technical apparel available to us in 2017. Let's look at how women's hunting gear has evolved:
12,000 Years Ago
There is little evidence of women participating in the hunt during prehistoric times, but one very solid artifact depicting a woman-like figure has been unearthed in Grotte de la Vache, France. According to evoanth.net, a 12,000-year-old carved antler depicting a reindeer being hunted by 3 humans has been discovered deep in a cave.
Jean-Pierre Duhard, an archeological gender identification expert, has reviewed the artifact and notes that one of the human forms appears to be female. While she is not hunting alone or carrying a weapon, the woman on the carving suggests that women played a more prominent role in the harvesting of animals than we originally believed. Evidence has shown that most prehistoric women wore draped furs or crudely fashioned skirts made from scraped animal hides. It would be safe to assume that the female hunters wore their daily garments to hunt in, as well as additional layers when hunting in a colder climate.
200 Years Ago
By the 1800s, women's clothing had evolved considerably from the Stone Age styles of our ancestors, but the women of both eras had one thing in common: They wore their daily fashions to hunt in, incorporating longer sleeves and additional layers for warmth, and different textiles depending on their environment (i.e. wool skirts for wetter conditions). Augusta "Gusty" Higgins, well known for her hunting skills, didn't let heavy skirts or wide-brimmed bonnets get in the way of her harvesting large mule deer.
100 Years Ago
Starting in the early 1900s, many female hunters decided to forgo the long skirts and daily attire in favor of pants and long-sleeved shirts. The 1920s through the 1950s was a time of incredible change in women's fashion, allowing more women to step outside of our gender's traditional apparel and don clothing more comfortable and better suited for outdoor activities.
70 Years Ago
In the 1950s, more women were getting outdoors but they still made up a very small percentage of hunters. Women got little recognition in the big-game-hunting circles, so there was still no commercially available hunting apparel made for them. That didn't stop women from breaking records and spending more time in the field.
Pants and stylish jackets paired with long-sleeved tops and active headwear were still the norm for huntresses.
30 Years Ago
With the advent of stick-and-limb camouflage patterns like Mossy Oak and RealTree and more technical research into the needs of hunters, women finally had the opportunity to wear hunting-specific apparel. There was still no hunting gear directly marketed to women, but women were one step closer to having an equal playing field by being able to wear the same apparel as their male counterparts.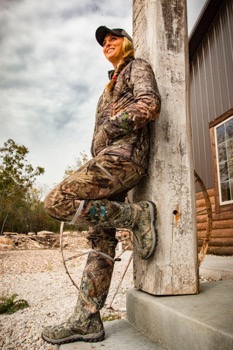 The Hunters of Today
Fast forward to 2017, and women have more options than ever when it comes to technical hunting apparel. Instead of clothing in similar camo patterns with a masculine fit, female hunters now have gear for every climate and species, all designed for a woman's needs afield. From women-owned clothing brands like Girls with Guns to the additions of women's lines to well-known men's brands, huntresses can find something in nearly every camo pattern and price point.
We've come a long way in terms of women's hunting apparel. Thanks to the trailblazing efforts of the huntresses of the past and the ingenuity of those in the present, women hunters will always find a way to make their mark on history.
This Retro WON first appeared March 21, 2017.
About Callie Wolverton

Callie Wolverton is the PR and Corporate Partnerships Director for Girls with Guns® Clothing. She also is a freelance writer with articles appearing in AmmoLand, Outdoor Wire and other outdoor publications. Born and raised in Northern California, she enjoys reading, hunting, and adventuring with her dog, Bandit. View all posts by Callie Wolverton →