Girls Who Sell Guns – The Next Generation: Tiffany Villalvazo
This is the third in a 3-part series. In each part of the series, you will meet a different "Girl Who Sell Guns," and each one of these ladies is as impressive as the next, and each comes from a unique life-perspective and background. Over the course of the series, you will meet Jacqueline Carrisoza, aka "The Veteran"; Kaitlyn Lentz, aka "The Consultant"; and Tiffany Villalvazo, aka "The Next Generation."

Sponsored by AZFirearms
Background
As more women are gaining an interest in the shooting sports, we are finding more female gun-store staff at the retail counters and in management positions within these organizations. I wanted to talk with some of these ladies whose profession is in the retail firearms industry. Since I am the female owner of a firearms store, AZFirearms, along with my husband, Danny, I decided to ask my 3 female staff members about their experience as girls who sell guns.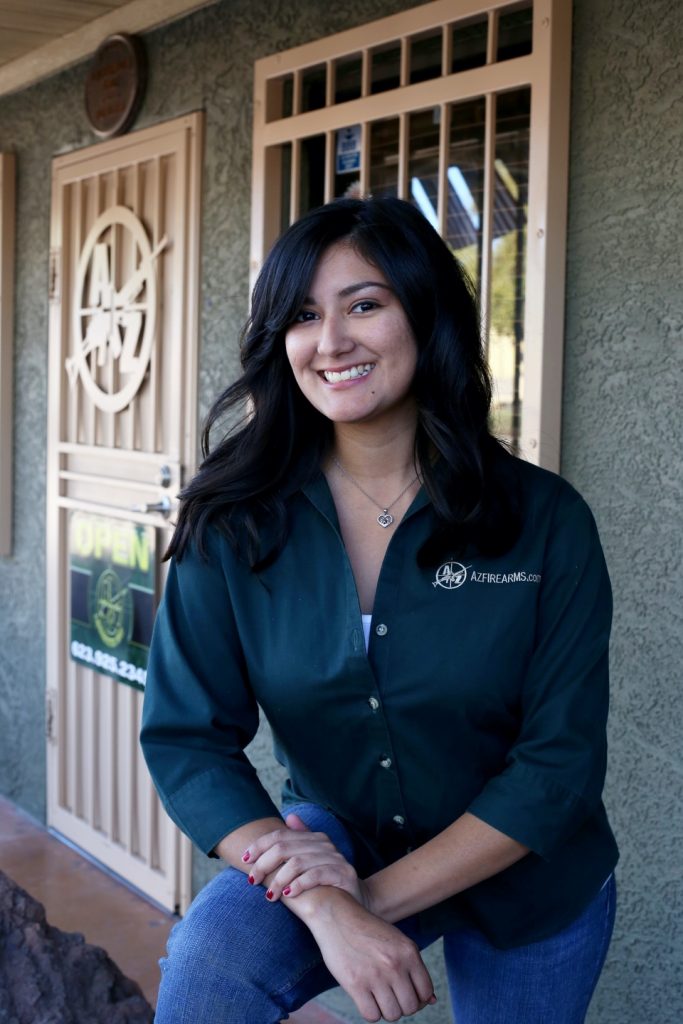 Tiffany Villalvazo
Our youngest team-member, Tiffany Villalvazo, is part of GenZ, the next generation coming up after the Millennials, and very much represents our future. Tiffany was raised to have the mindset of being anti-gun and anti-hunting. However, as an adult, she has made a 180-degree change in her depth of knowledge about, and opinions of, firearms ownership and hunting. Hers is an encouraging story for the future of our Second Amendment rights and shooting sports.
Through taking personal responsibility for gaining first-hand experience with the safe handling of firearms, Tiffany has developed a passion to learn as much as she can about firearms and the firearm industry. She works in firearms sales, has recently competed in her first 3-gun competition and has also developed a passion for hunting. Tiffany has lived in Arizona since 2006, but is originally from Los Angeles, California. When she isn't engulfed in learning more about firearms or hunting, she spends her time volunteering at animal shelters, working with horses, or training her family's 4 hounds.
Cheryl: How long have you been interested in firearms and the shooting sports? Were you raised with firearms, or are guns something you decided to be involved in as an adult?
Tiffany: I definitely didn't grow up around guns. I was actually raised with the view that civilian gun ownership is dangerous. In my late teens, I became immersed in the anti-gun and anti-hunting movements. My first time firing a gun was 2 years ago on a date to the outdoor range. Obviously hesitant and scared (any gun knowledge I had at the time came from mainstream media news outlets), I fired an M16 and I never thought of guns the same way again. I had fun! And that's what I want everyone who walks into the store to feel as well.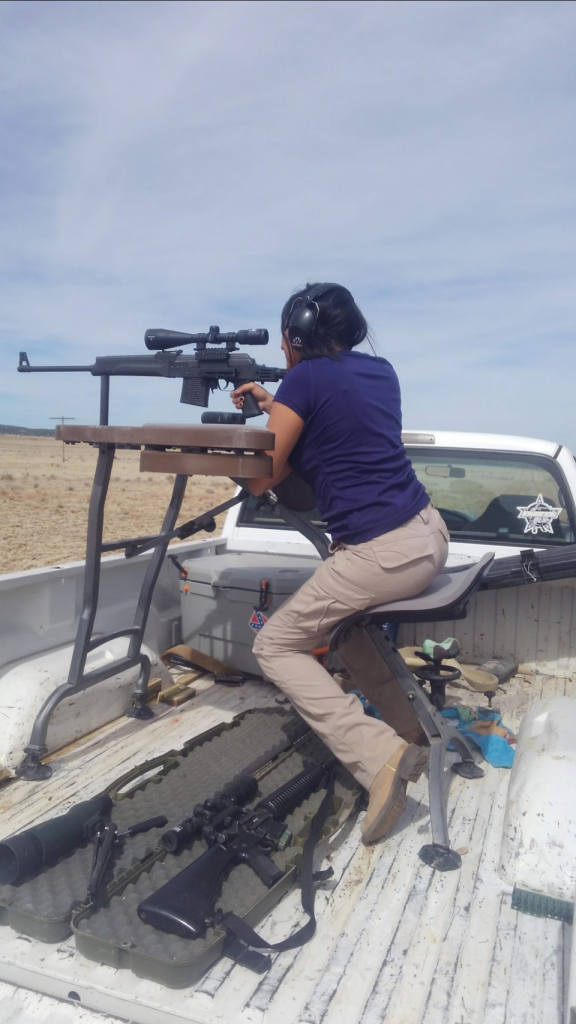 Cheryl: What is your main interest in the firearms industry? The tools themselves? The aspect of self-defense? Hunting or perhaps competition shooting?
Tiffany: My main interests in this industry stem from my own experiences. The first one being proper education on how firearms operate and the second being females who hunt, and children's hunter's education.
My dislike for firearms growing up not only came from influence by those around me, but also, the misinformation in the news that people seem to keep believing about guns. I have come to realize that most people do not like firearms because they do not understand them, and it is important to me that those I interact with in the retail settings and in everyday life understand the basic mechanics of modern firearms.
Hunting is something that I have also immersed myself in the last 2 years. I started out hunting small game out at our property in Tonopah, Arizona, to really taking up hunter's safety and education in the state of Arizona. I am majoring in wildlife management and conservation with the hopes of someday working for the Arizona Game and Fish Department. Now that I have been hunting for 2 years, I wish I could have grown up hunting. One day, I hope to teach hunter's safety and education to children and hopefully work to reintroduce this education as extra-curricular or enrichment in schools.
Cheryl: The firearms industry has made huge strides in recent years in serving the female market. Can you think of any areas where there is still room for improvement?
Tiffany: We need more of us! We need to be talking and teaching our mothers, daughters, best friends and be welcoming beacons for other women who have even just a small interest in firearms.
Cheryl:What would you say makes you different in your approach to customers who visit our store? And does being a woman impact your approach?
Tiffany: I believe I personally take a nurturing approach when it comes to interacting with others. I remember I was very intimidated when I first got into the industry and I know there are so many other women (and men, too) out there who probably feel the same way. I like to offer the presence of a familiar friend. I'm old-fashioned and I love to offer a humble, thorough, well-mannered customer experience. "Sometimes a teacher, forever a student" is a motto I live by.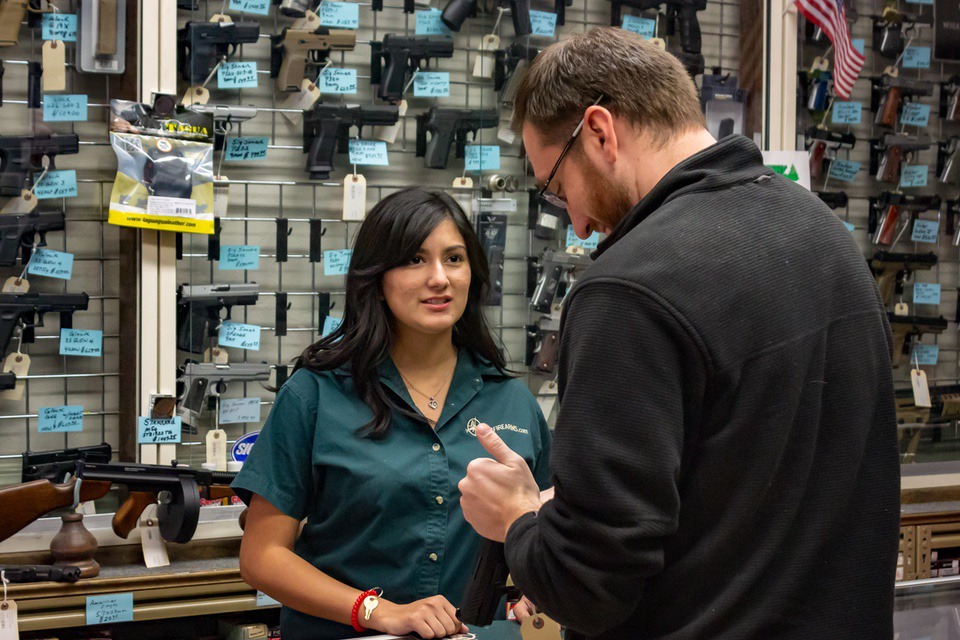 Cheryl: What are your long-term goals (whether in the firearms industry or elsewhere in life)? Where do you see yourself in 5 years?
Tiffany: I have plans to finish my degree in Wildlife Management and eventually working with kids offering hunter's safety and education with the hopes of reintroducing it into schools. In 5 years, I would love to be working for the Arizona Game and Fish Department and still contributing to AZFirearms.
Cheryl: Do you have a favorite gun or two and why are those your favorites?
Tiffany: As a History minor, I find old and antique guns fascinating. My favorite firearm is the Mosin Nagant because of the rich history behind them, specifically the use of them by the Red Army female snipers!
Cheryl: I am proud to have Tiffany working side-by-side with my husband and me in our family business. She is representative of tens of thousands of other fine young women in the firearms industry. If you ever get in the area of Avondale, Arizona, where our shop is located, please stop in and say hello to Tiffany, Jacqueline, Kaitlyn and the rest of the team!
Be sure to check out part 1 of this series to meet Jacqueline Carrisoza "The Veteran," and part 2 in this 3-part series, in which you will meet, Kaitlyn Lentz, "The Consultant."
About Cheryl Todd

Cheryl Todd is the executive producer and co-host of "Gun Freedom Radio," owner of AZFirearms Auctions, Pot Of Gold Auctions and founder of the grassroots movement Polka Dots Are My Camo. Cheryl is the Arizona state director for The DC Project and travels the country speaking as a champion for our Second Amendment rights. She is a driving force in preserving the legacy of freedom for generations to come. View all posts by Cheryl Todd →