Skeet Shooting Clinic with David Miller and the Swamp Rats
I recently spent a day with the Toledo Swamp Rats, a youth trap and skeet team from Toledo, Ohio. Last fall, the young shotgunners won a skeet shooting clinic with shotgun-world-record holder and CZ-USA's shotgun product manager David Miller through the CZ-USA NexGen photo contest. Scholastic Clay Target Program (SCTP) athletes and teams were invited to create a photo and caption that illustrated the theme "Team Work." The Toledo Swamp Rats chose to work on their skeet shooting skills.
Sponsored by CZ-USA Field Sports

The Shotgun Sport of Skeet
A skeet range consists of 8 shooting stations. Seven are spaced equidistant around an arc of a circle, with stations 1 and 7 located at the end of the arc. Station 8 is set halfway between 1 and 7. A high house on the left and a low house on the right, each containing a trap machine, are set 3-feet outside the circle at the rear of the shooting pads for stations 1 and 7.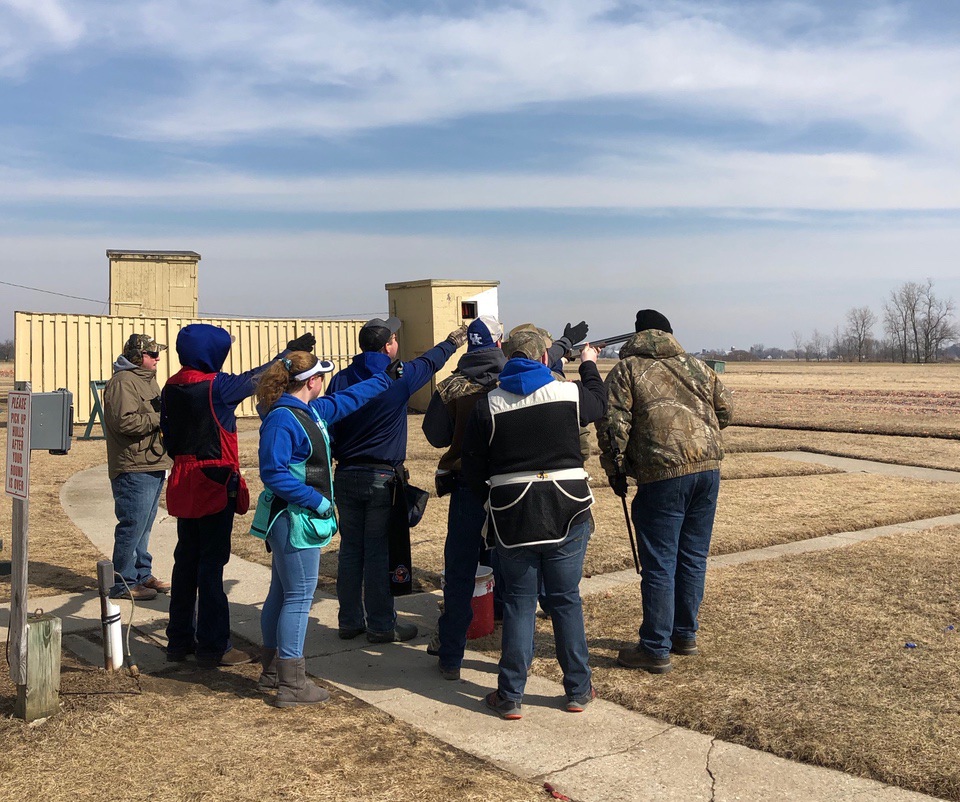 For a round of skeet, each shooter needs one box of 25 shells. The squad begins at station 1 and proceeds as a group, ending at station 8. The first shooter shoots at single targets, one from the high house, then one from the low house. Then she shoots a pair of targets released at the same time from both houses. They will cross each other.
Once everyone has shot at station 1, they move onto station 2 and continue through all the stations. Doubles are only shot at stations 1, 2, 6 and 7.
On Coaching Skeet
David Miller spent Friday evening doing a mini "train-the-trainer" program with the coaches. He first went over the importance of gun fit, and what to look for when fitting someone for a shotgun.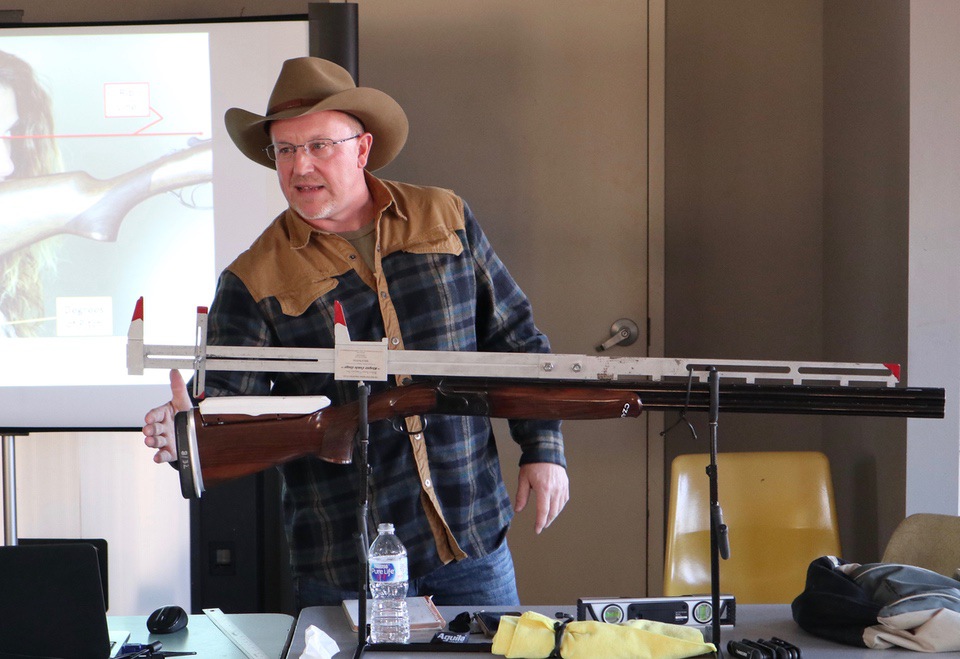 Then David went on to discuss how to be a good coach. Here are some points I found very useful and insightful.
Don't give too much information too quickly.
When making corrections or giving advice, follow with something the athlete is doing well.
Instead of pointing out targets missed, reflect on the ones hit. Ask, "Why did you hit that target?" Once the athlete answers say, "Do it again!"
4 Types of Shooting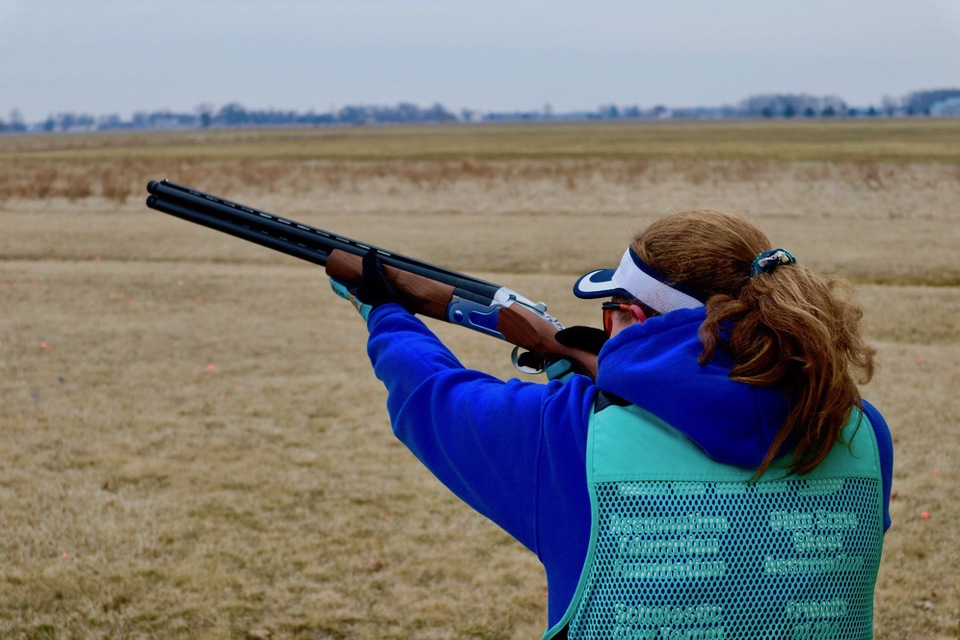 David believes in separating time on the skeet field into 4 different categories for the athletes: training, practice, tournaments and fun.
Training is doing something repeatedly until it's done correctly. Most of your time and shells should be used for training. This means shooting from one station until there is an understanding and the ability to make the shots.
During practice, score a round. Shots and targets should then be analyzed and discussed. Journal entries need to be made, with only positive notes about the successes of the day.
A tournament is the time to put everything together learned during training and practice. Nothing should be changed by the coaches. It's time for the athletes to do what they do.
Kids are kids and they need to have fun. Let them spend time on the field shooting with nothing scored or critiqued.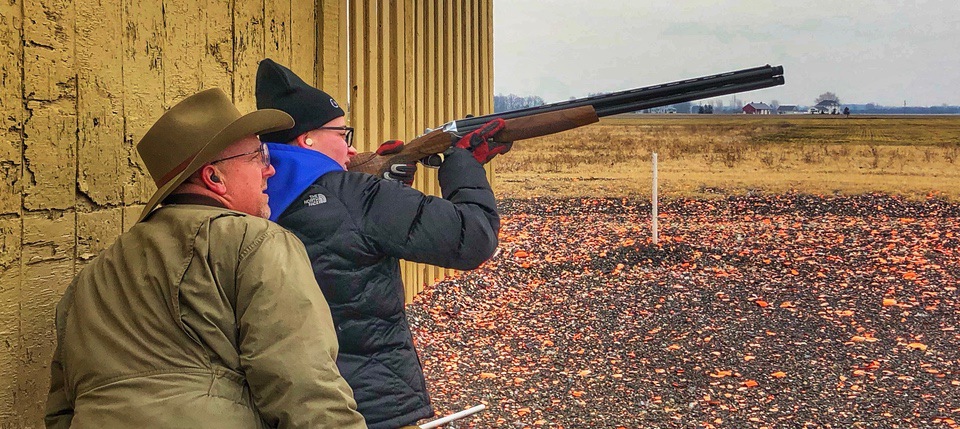 Skeet Shooting Clinic
When the Swamp Rats arrived the next morning, cold and blustery winds greeted them; however, they came prepared to shoot. The shooters split into 2 groups with their coaches, while David bounced between them throughout the day. Like a sponge, I tried to absorb everything I heard him telling the athletes. The following are some of the key points I noted: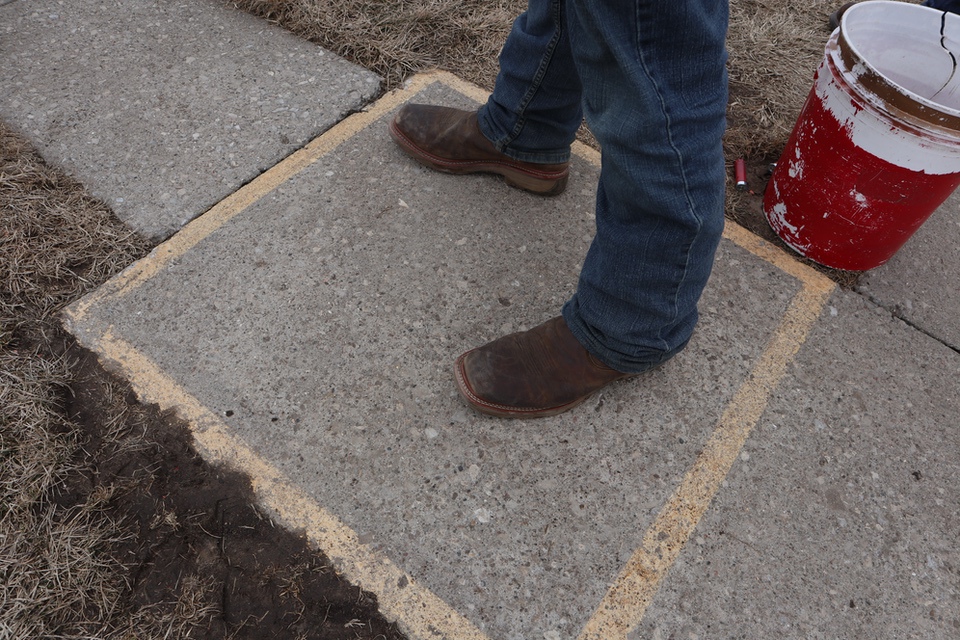 Decide on the breakpoint of the target.
Position your body for that breakpoint.
Find your focal point, where you are going to look (with a soft focus) for the target.
Determine the hold point, where you're going to point the shotgun to start.
Now that the ground work in done, say, "Pull!"
Follow through (on single shots).
Although the above is written in steps, it's rather quick and smooth. David preaches to mount the shotgun toward the breakpoint, then more to the hold point. This relieves muscular tension, allowing the shooter to unwind for the shot. Also he says, "If you mount to the breakpoint, you know where you're going."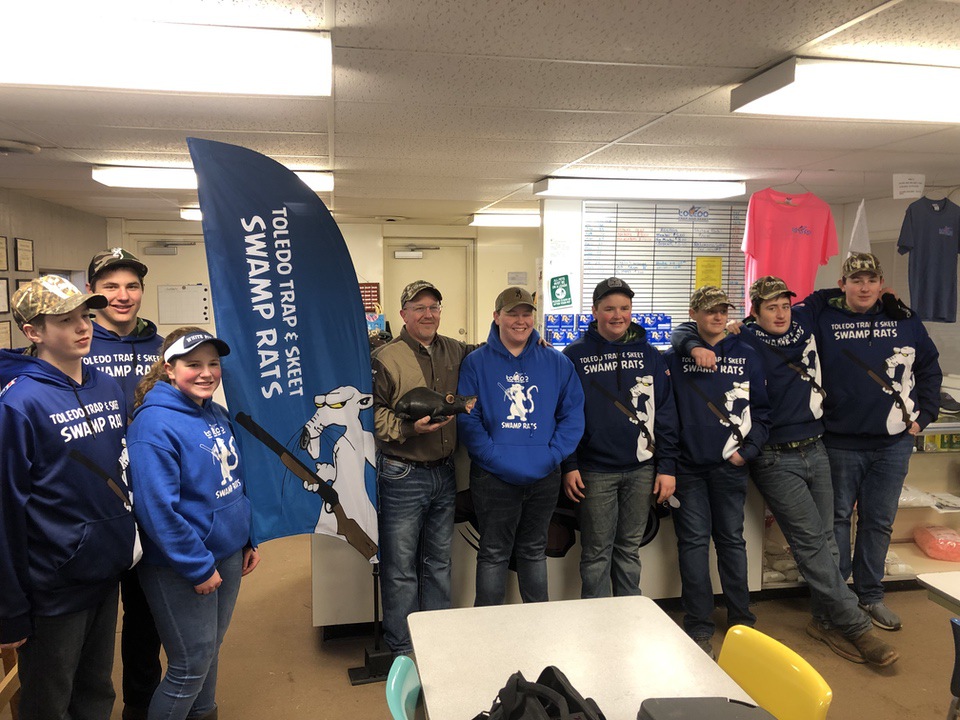 "I really learned a lot from Dave Miller," said Lilly. "He taught me that having a good hold point is very important. Also, he taught me to mount my gun where I'm going to break the bird, this helps me a lot in my consistency. Since I've done this I've hit more birds because having consistency in skeet is very important."
Ellie said she learned about stance, natural point of aim and so much more. She enjoyed shooting the CZ SCTP that Dave brought and found she could handle a 12ga. Ellie managed the gun so well she hit more consistently with the SCTP than she had all day.
About Michelle Cerino

Michelle Cerino, aka Princess Gunslinger, entered the firearms industry in 2011 when Cerino Training Group was established. She immediately began competing in both 3-Gun and NRA Action Pistol, becoming a sponsored shooter. Michelle is currently a columnist and Managing Editor of Women's Outdoor News, as well as owner of Pervenio LLC. She also manages social media for Vera Koo and GTM Original. Michelle encourages others to step out of the comforts of home and explore. View all posts by Michelle Cerino →