Trap Athletes Earn World & Potential Pan Am Team Spots in Tucson
A four-day battle for trap shooting supremacy concluded Sunday at the USA Shooting Spring Selection at the Tucson Trap and Skeet Club in Tucson, Arizona. Top-two finishers in the Open division could get the chance to compete for Team USA at the 2019 Pan American Games in Lima, Peru. Top-three Open and Junior Shooters will be headed to the Shotgun World Championships in Lonato, Italy.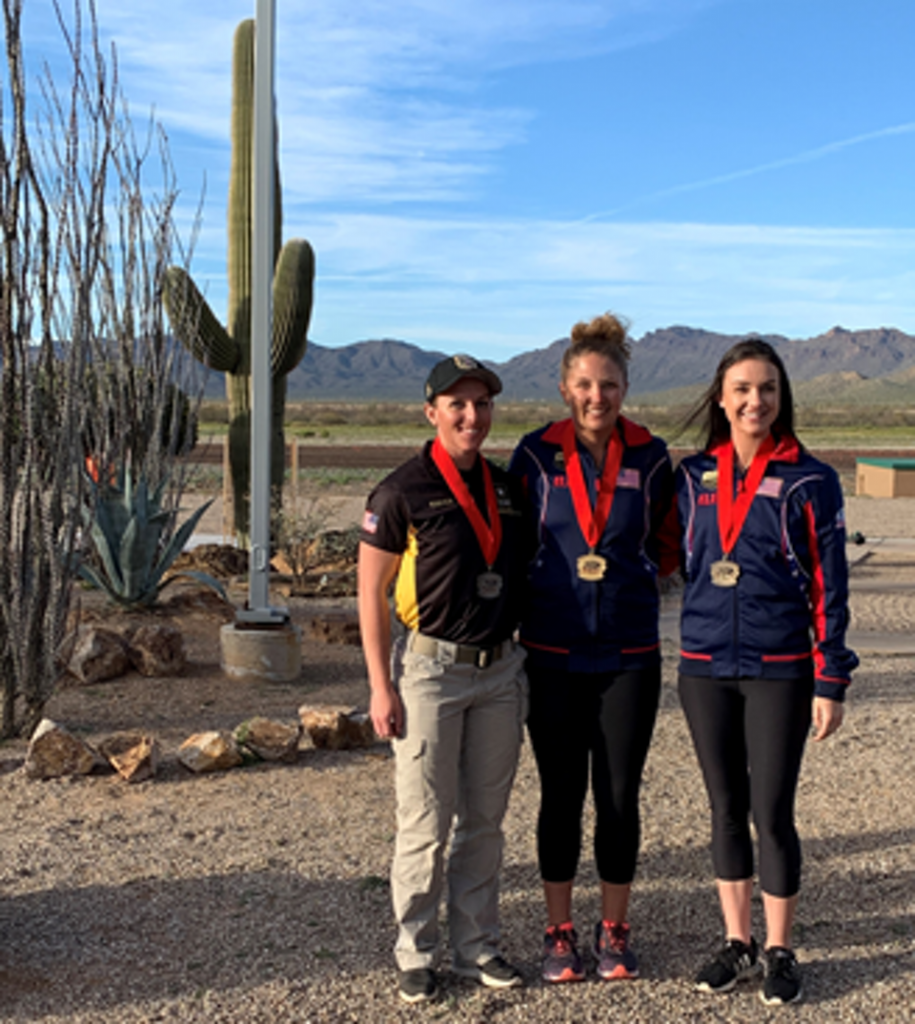 There's been seven domestic tests in shotgun since 2017, five of those times Ashley Carroll (Solvang, California) has proven to be the top student, including Sunday. It took all she had, however, with stiff challenges from both Kayle Browning (Wooster, Arkansas) and the U.S. Army Marksmanship Unit's (USAMU) Rachel Tozier (Liberty, Missiouri). After 250 Qualification targets, Carroll and Tozier were tied at 223, with Browning one back. In the 50-shot Final, Carroll and Browning tied at 44 targets apiece. Carroll would win the shoot-off and seal the match victory after Browning dropped the sixth target. The two Finals points Browning gained versus Tozier's one Finals point meant those two would need another shoot-off to determine podium spots behind Carroll.
Top Junior in the women's field was Faith Pendergrass (Valley Springs, California) who shot the high Qualification score of 214 and then finished second in the junior final. Carey Garrison (Crossville, Tennessee) finished second while Nicole Manhave (Longview, Texas) was third. All three will represent Team USA at the World Championships as well as the Junior World Cup in Suhl, Germany.
USAMU's Derek Haldeman (Sunbury, Ohio) was the points leader from beginning to end, shooting so well his top spot on the podium was secure before entering the Final. He got that edge leaving no doubt Sunday by closing things out with a perfect 50/50 in Qualification. He had a five-point lead on second-place qualifier Brian Burrows (Fallbrook, California) and finished second in the Finals with a 42/50. Burrows would maintain his second-place position with a third-place finish in the Finals. Reigning National Champion Caleb Lindsey (Spring Hill, Tennessee) earned his international shooting opportunity by leap-frogging Derrick Mein (Paola, Kansas) with a strong Finals push that saw him come out on top.
Started by three-time Olympian and two-time Olympic bronze medalist Corey Cogdell-Unrein (Eagle River, Alaska), the great migration of Alaskan trap shooters is here and landing on the men's junior podium was a pair of Anchorage natives with Steven Brown earning top honors and Grayson Davey sharing the podium with his friend as the bronze medalist. Sandwiched in the middle was Roe Reynolds (Quitman, Arkansas) who would go on to win the Final. All three will represent Team USA at the World Championships as well as the Junior World Cup in Suhl, Germany.
Participation for the Pan Am Games is determined by whether or not Team USA still has Olympic quotas to obtain in that particular event. Earning top podium position in Tucson will be a key determining factor of team selection, but not the only criteria in place. Read the Pan Am Games Selection Procedures
In the Senior rankings, Paul Mullen (Laurel, Maryland) earned the top spot with six-time Canadian Olympian Susan Nattrass, now living in Vashon, Washington, finishing second and Dave Senter (Saint Helens, Oregon) coming in third.
The Spring Selection Match continues Monday with competition in the Mixed Team Trap event followed by Men's and Women's Skeet beginning Wednesday. The Skeet Preview will be released Tuesday.
2019 SPRING SELECTION TRAP RESULTS
About The WON

The Women's Outdoor News, aka The WON, features news, reviews and stories about women who are shooting, hunting, fishing and actively engaging in outdoor adventure. This publication is for women, by women. View all posts by The WON →