Zero In For Her: Sassy and Well Built Range Gear for Women
I'm so excited to have found range gear that stands out among a sea of black, OD and grays. Zero In For Her, a female owned company, designed range gear for women that is not only cute and sassy, but also, functional and well built.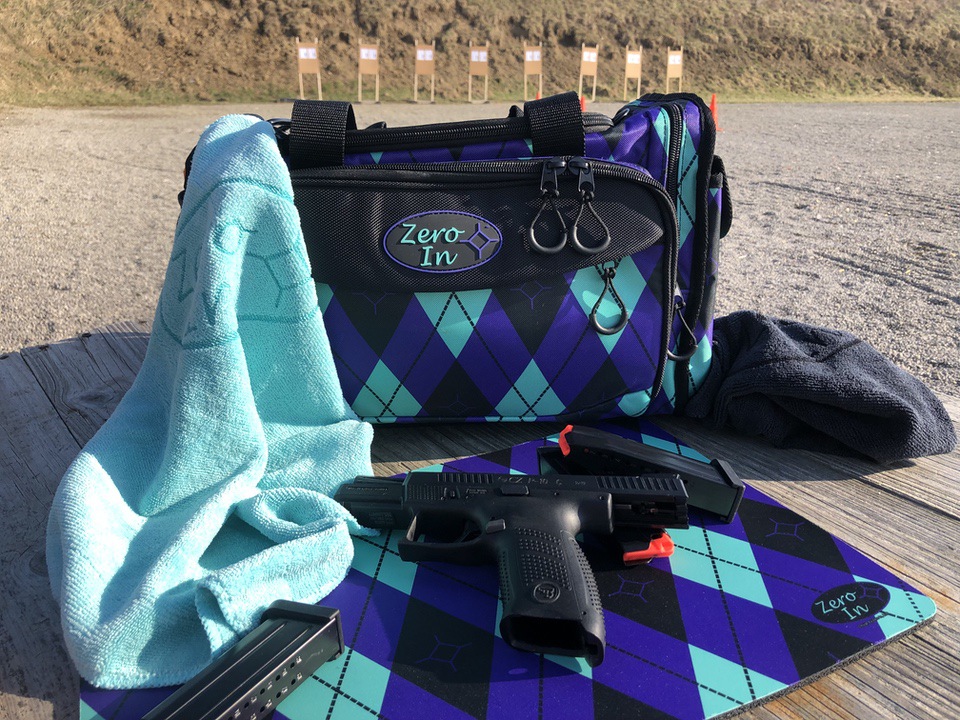 Zero In For Her Range Bag
How cute is this Zero In range bag in its signature argyle pattern? Talk about making a statement! Not only does it look great, it's also made of a tough material (840D polyester) and extremely durable. Obviously, quite a bit of thought went into the design of the Zero In range bag. There's plenty of places to keep all your gear.
The Outside
Let's talk straps. First of all, the straps for the handles are longer than usual range bag straps. This means I can carry it like a purse on my shoulder if I so choose. There's also a removable, adjustable shoulder strap with strong, easy-to-use clips that attach to D-rings.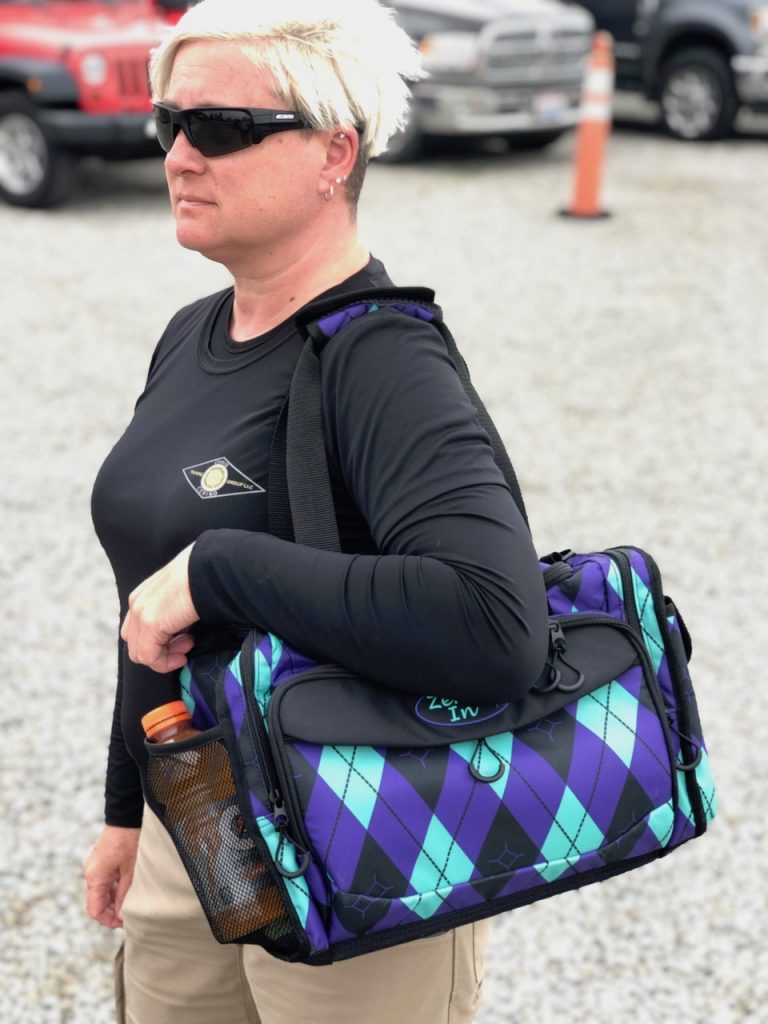 Now, the pockets. There are so many and they offer numerous options. Each side has a zippered pocket large enough to hold hearing protection. The outside of these pockets offers more pockets. One side has a pocket with a cover flap that secures by hook-n-loop. The other side has a mesh pocket, perfect for holding a water bottle or things like gloves (that may need airing out after a day on the range).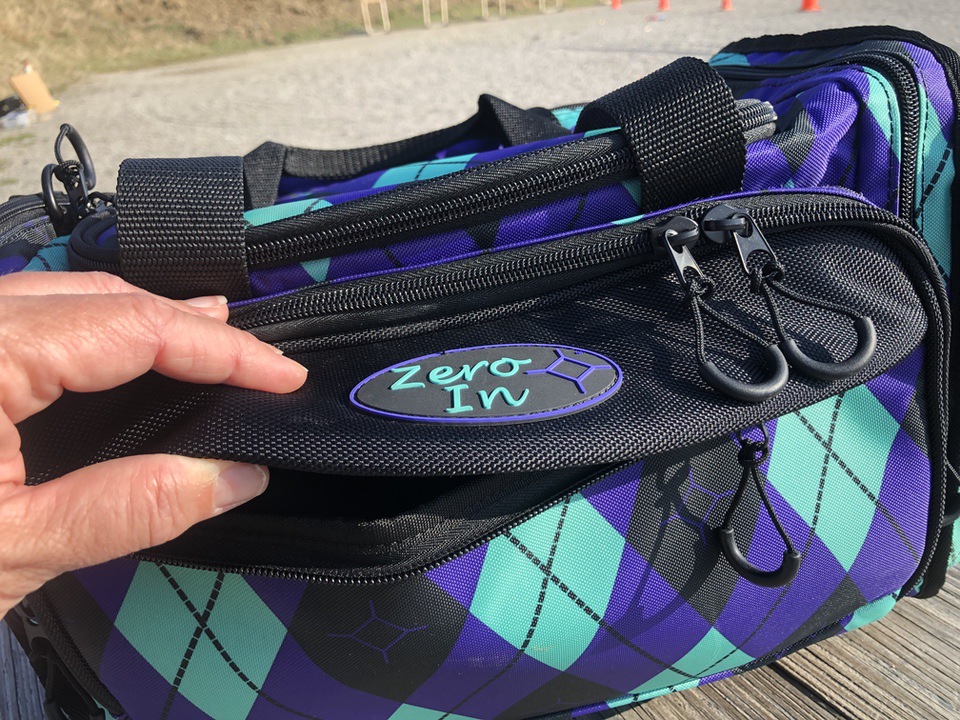 A front, zippered pocket has been designed with a slot perfect for holding eye protection, and with another zippered pocket on its outside. The back pocket fully un-zips flat and holds 6 small and 2 large pistol magazines as wells as a squib tool. It also includes mesh pockets on the flap.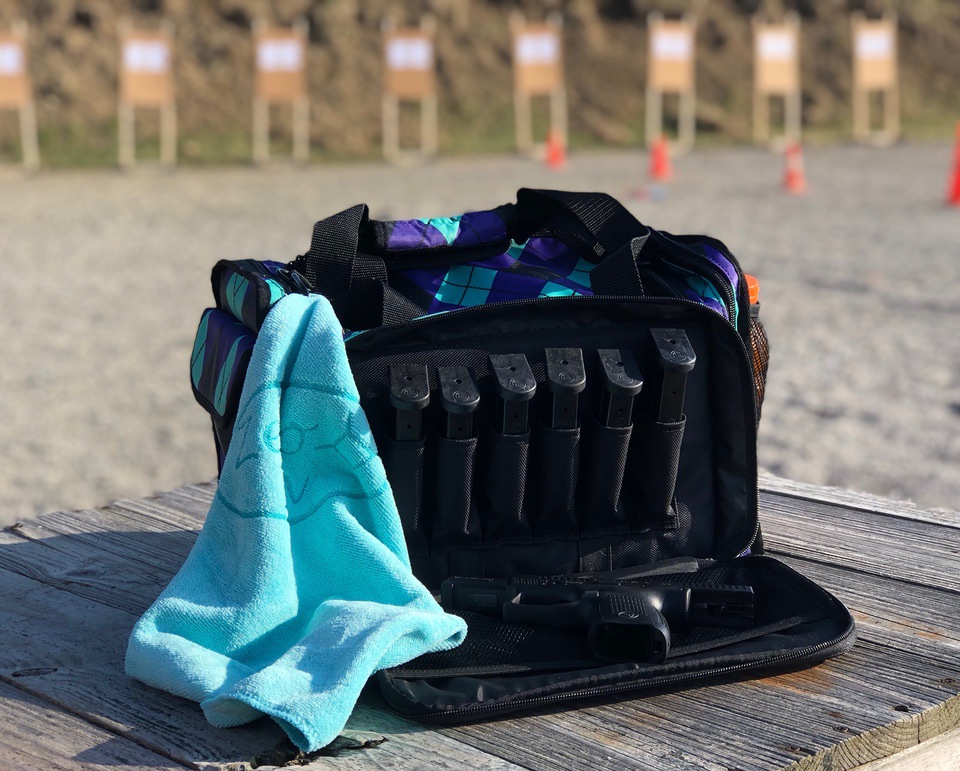 Oh, the zippers! One wouldn't think zippers could be very exciting, but on this range bag, they are. All the exterior zippers come with pull tabs that make it super easy to open and close. In my opinion, this is a small detail that really makes a big difference.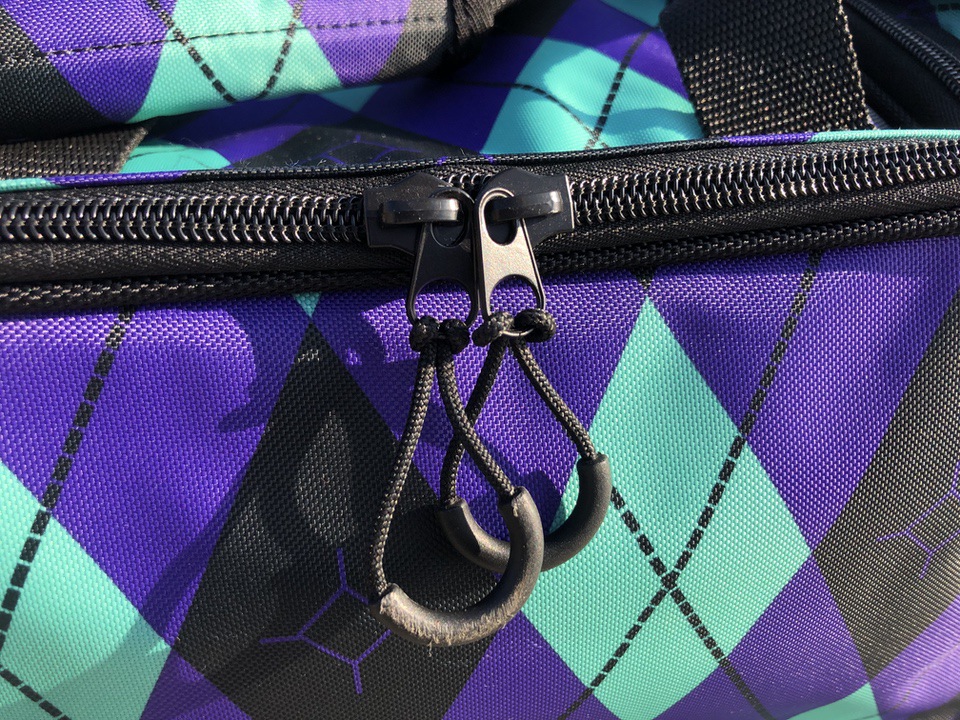 The Inside
The reinforced center section of the range bag is perfect for storing ammo and other items. Two padded, zippered pockets fit 4 small or 2 large pistols. Zippers for these pockets are teal, a perfect contrast to the black, making them easy to find. In the top flap of the range bag is another mesh pocket. This one is zippered, so no chance of anything falling out.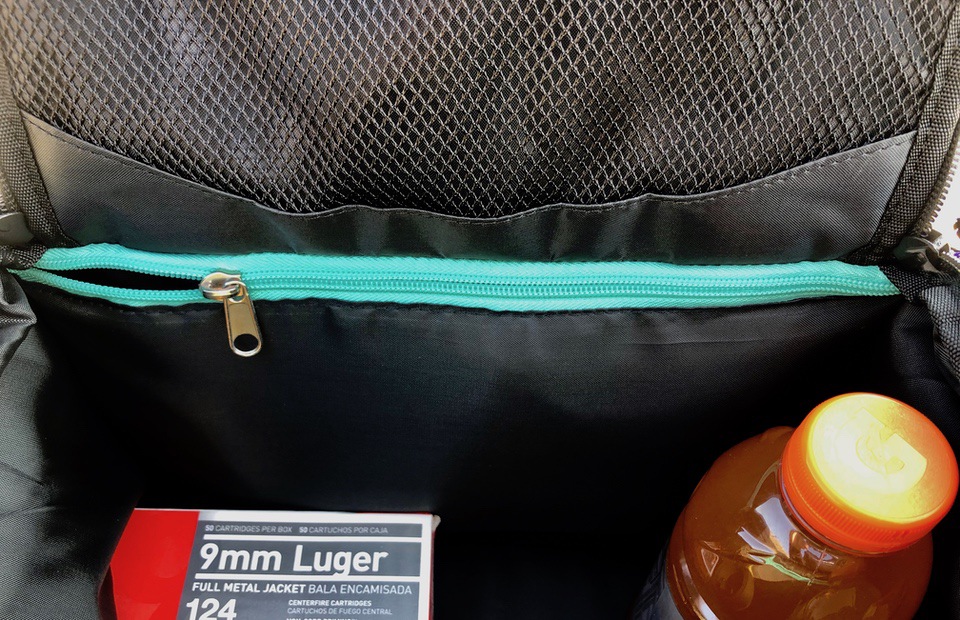 Dimensions: 16-inches wide, 12-inches deep and 11-inches high.
(MSRP: $105.00)
Zero In For Her Cleaning Mat
Cleaning guns is not fun … no matter what some people may say. The Zero In For Her cleaning mats add at least a little excitement to this daunting task. With patterns such as Hydrangea Sun Plaid, Zen Garden, Fiesta Houndstooth and its Signature Argyle, how can you not be a little happy bringing it out? Plus, forget heading to the basement or garage to do the work. Since these mats are much thicker than normal cleaning mats, you can work right at the kitchen table.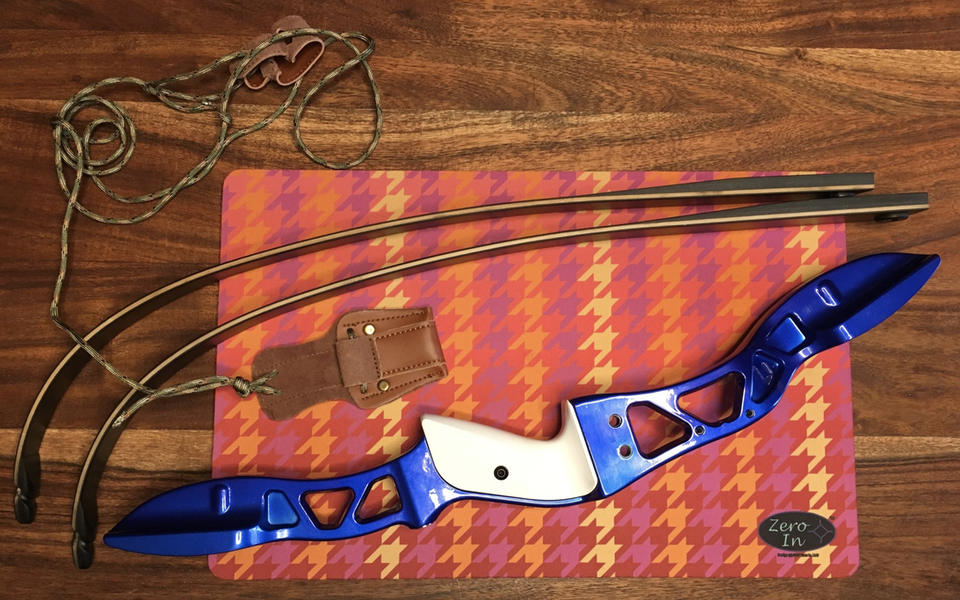 Dimensions: 11-inches x 17-inches x .25-inches
(MSRP: $24.99)
Zero In For Her Range Towel
A dedicated microfiber range towel on a carabiner clip might not seem like big deal, but it sure helps. Having it hooked to my range bag is a visual reminder every time I head out to make sure I have it with me. Also, it keeps me from forgetting it at the range or accidentally dropping it on my way to the car. Plus, there are so many colors available, I can think of many more uses than just a range towel.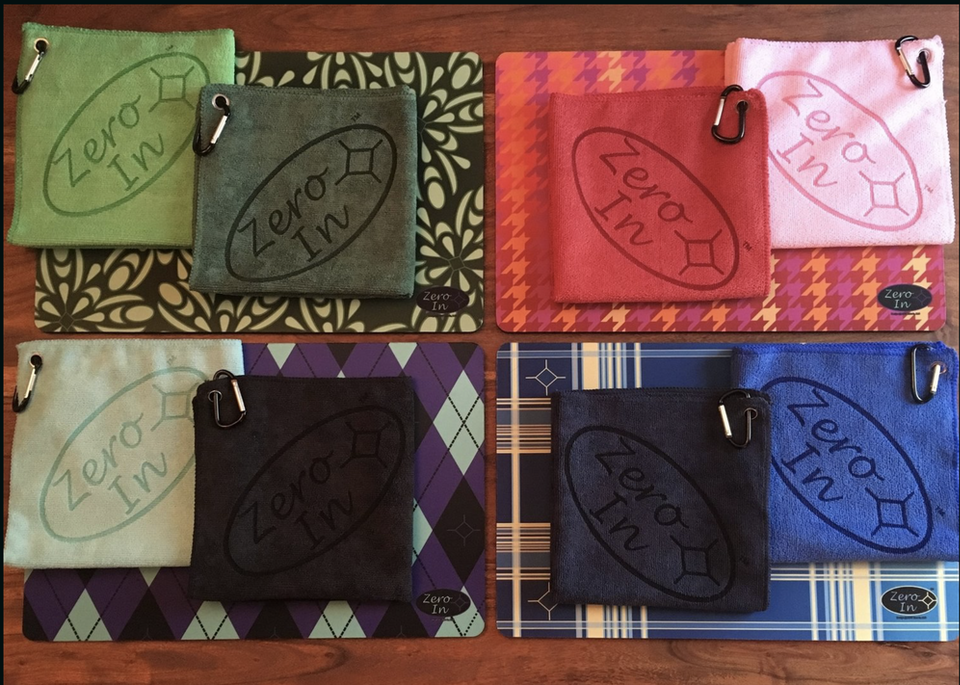 Size: 15.5-inches x 15.5-inches
Available colors: Black, teal, royal, navy, pink, orange, red, kelly and forest.
(MSRP: $15.00)
Zero In offers products perfect for any woman involved in the shooting sports. They make great gifts for Mother's Day, birthdays and anniversaries.
Find out more about the Zero In products here.
About Michelle Cerino

Michelle Cerino, aka Princess Gunslinger, first entered the firearms industry in 2011 as co-owner, president and trainer at a national training company. She immediately began competing in both 3-Gun and NRA Action Pistol, becoming a sponsored shooter. Michelle is currently a columnist and Managing Editor of Women's Outdoor News, as well as owner of Pervenio LLC. She also manages social media for Vera Koo and GTM Original. Michelle encourages others to step out of the comforts of home and explore. View all posts by Michelle Cerino →