Apparel Review: 5.11 Tactical Abby Tight
If you follow me, you know I run, and that I'm busy with traveling to the competitions my family takes part in. In response to the burgeoning popularity of leggings, aka tights, 5.11 Tactical debuted its Abby tight.
Sponsored by 5.11 Tactical
Abby Tight details:
88% nylon/ 12% elastane, jersey, 8.5 ounces
Moisture wicking and anti-odor properties
Pockets at side thigh panels
Hidden pocket at inside waistband
TPU panel details at knees
The length is really nice in the size 8 pair that I have. They are long enough, without getting bunched up at the ankles. The knees have some moto-themed, TPU / rubberized panels that give a little extra protection to your knees. So, from tying toddler shoes to stretching in the gym, you have a little bit of rubberized "grace," allowing your leggings to keep working longer.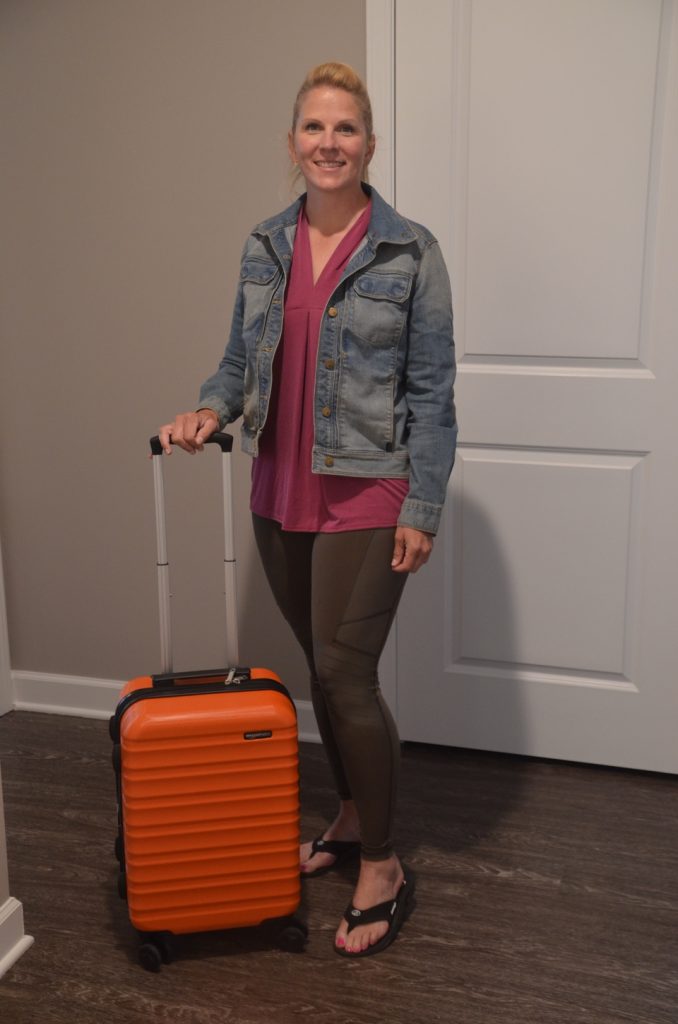 Test #1 – Travel
The first thing I did in the Abby tight was travel. I got on a plane, slept in them, drove in them … in fact, I drove 20+ hours in them on another trip, and the pockets are really helpful. My credit card, keys, phone – I had what I needed in pocket. They were warm enough for a March flight where we still had snow on the ground at home, but I was still comfortable when we arrived in Texas with temperatures in 70s.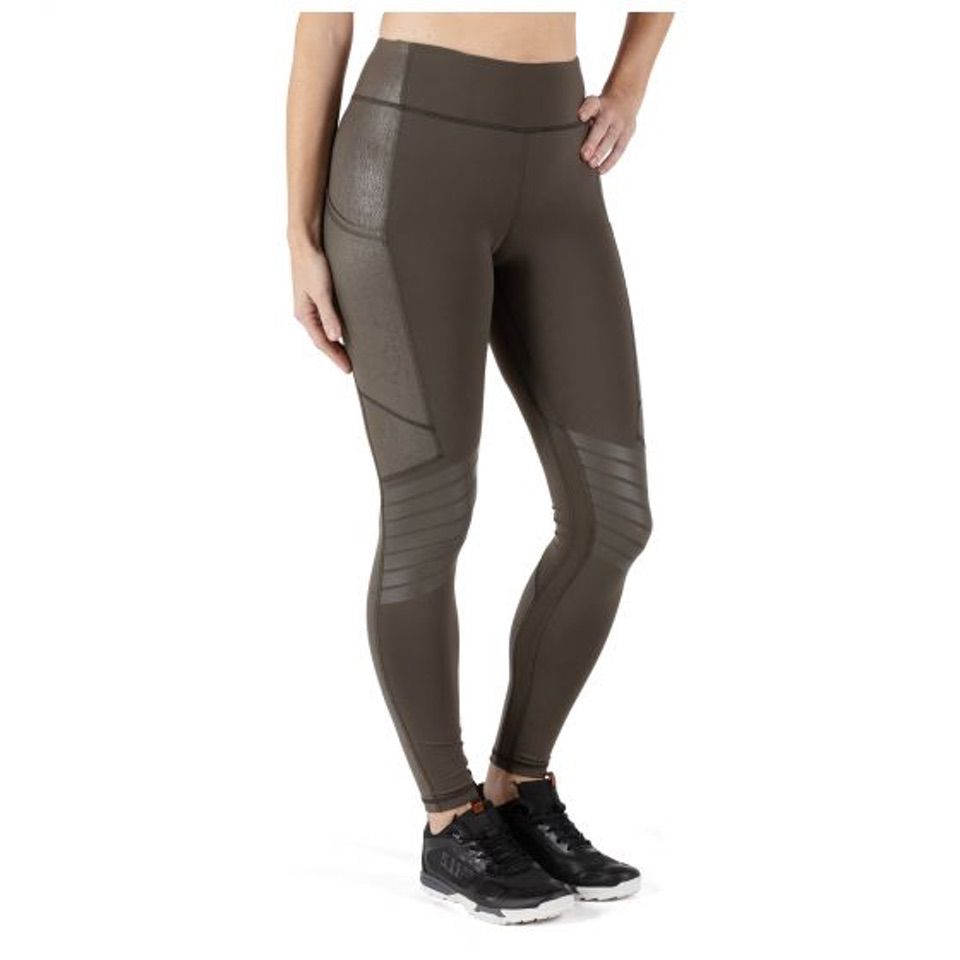 Getting Physical in the Abby Tight
Running in the Abby tight came as test # 2 after travel. They are super comfy, soft and the cut is generous. Remember those pockets? They can carry your ID and phone. There also is a small, inside-the-waistband pocket, but it's more for keys or an ID. The hip pockets are the really functional part of these leggings.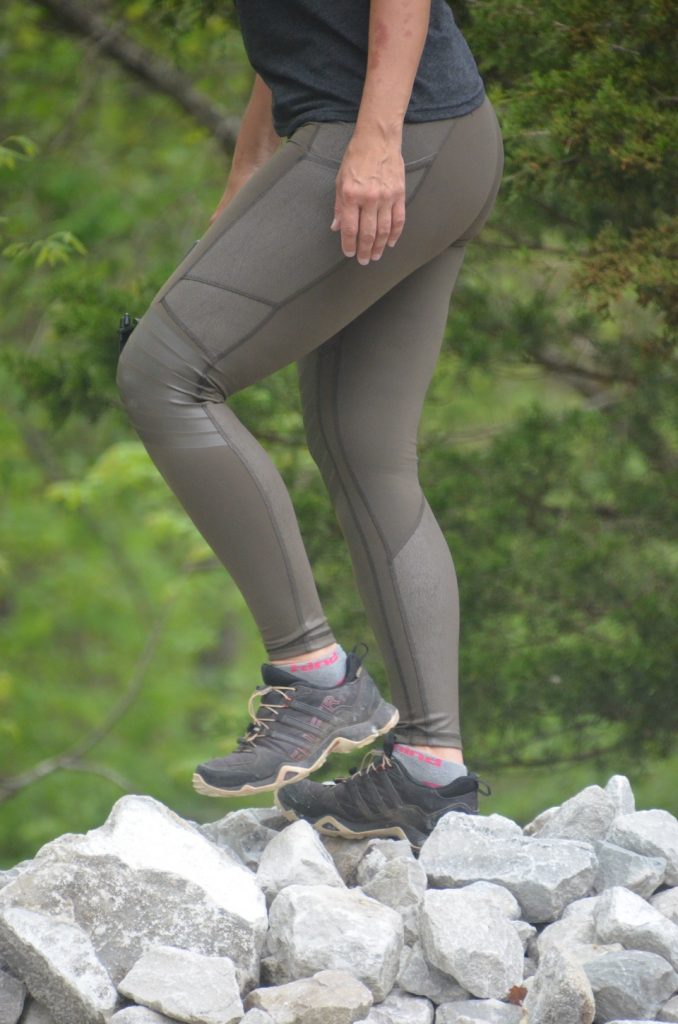 I also like them for box-jumps and have worn them to the gym, and love that I don't feel restricted.
Note: The black ones are really cute with boots, and I love wearing them that way. It's a little more chic looking for travel and running around town than "yoga pants."
And while we're on the subject of yoga … these are GREAT for yoga. I can stretch without worrying my pants won't stretch out (and stay there for hours afterward) during the process.
So, if you are looking for a tight that has a little more to them on the looks side of the equation, and with ample pockets, check the Abby tight.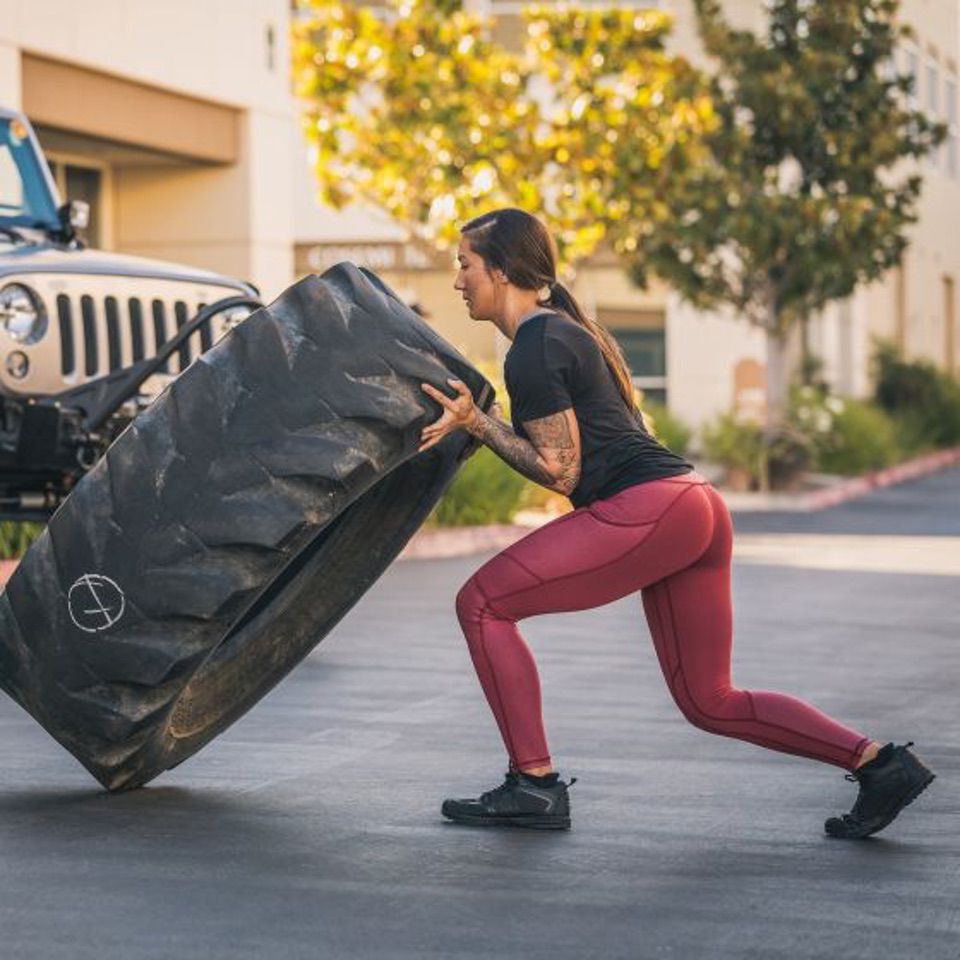 Find out more about the Abby tight at 5.11 Tactical here.
MSRP: $89.99
Colors: Tundra, Cabernet, Black
Sizes: 0 to 16
About Becky Yackley

Becky Yackley primarily competes in 3 Gun, USPSA, Bianchi pistol, but has competed in shooting since 1989 in disciplines from service-rifle, to NCAA Air Rifle and Smallbore, air pistol and a little bit of long range rifle. She shoots guns and cameras at competitions around the country, and writes in her fictional spare time. Her writing can be found here The WON in her column titled "Not a Soccer Mom" and sponsored by Jagemann Sporting Group, as well as Guns America and Gun World. View all posts by Becky Yackley →