The Largest Women's Fly Fishing Event: 11th Annual Chica De Mayo
The River's Edge and SIMMS Fishing Products will host Chica de Mayo on Saturday, May 11th from 8:30 AM – 5:00 PM. This annual gathering has evolved into the largest women's fly-fishing event in Montana, the United States, and well, probably the world! Chica de Mayo celebrates women in fly-fishing and offers educational clinics, phenomenal women speakers, prizes, a cocktail party and networking, and much more.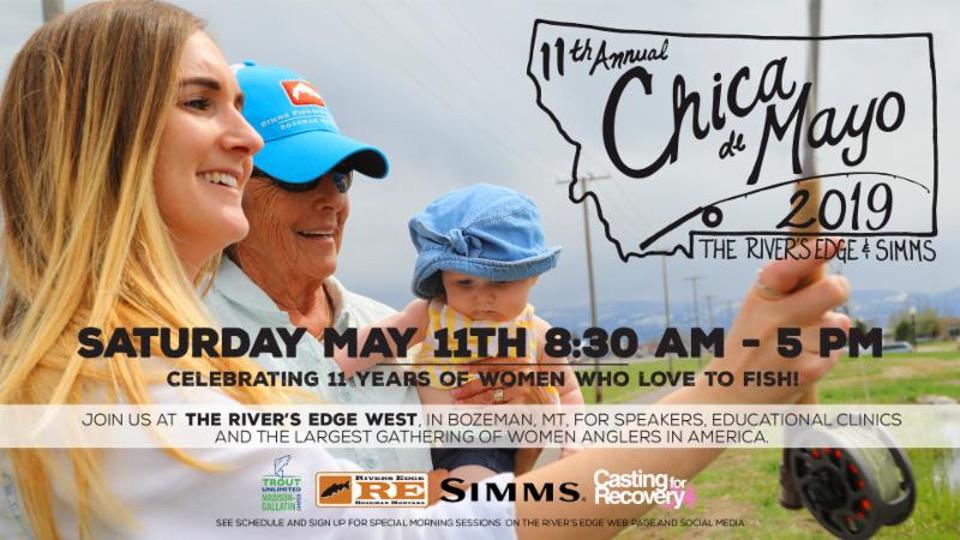 "The number and diversity of women that want to connect with other female anglers and learn about this lifetime sport is simply astounding. Each year, we have consistently seen around 200+ women attend this event. Last year, participants indicated they wanted to see more time dedicated to education, particularly on the topics of conservation and casting. We listened to their feedback and are excited for the new, expanded schedule of events this year!" – Sarah Clark, Master event coordinator. Chica de Mayo is thrilled to welcome Anne Marie Emery as the keynote speaker. Anne Marie is a passionate conservationist and angler who has dedicated her career to protecting wild trout waters in Idaho and Montana. She is currently the Executive Director of The Big Horn River Alliance. Anne Marie will share her passions and journey with attendees as she presents "Sauntering Through Rivers".
Throughout the day, merchandise sales, pink bucket raffles and silent auctions will raise funds for Casting for Recovery, a non-profit organization that offers breast cancer survivors a unique retreat program that combines breast cancer education and peer support with the therapeutic sport of fly fishing. Simms Fishing Products will conclude the event with a cocktail and networking party in the lobby of their corporate office.
Ladies are being asked to please RSVP for the Friday evening and Saturday morning sessions only. Saturday afternoon does not require an RVSP. Ladies can see the full event schedule at The River's Edge web page (www.theriversedge.com/classes) and also find the RSVP link there.
Chica de Mayo would like to thank the event sponsor – The Madison-Gallatin Chapter of Trout Unlimited – for their incredible support.
The River's Edge West (Located next to the Simms Fishing Products)59 North Star Lane, Bozeman, MT 59718. Simms Fishing Products 177 Garden Drive, Bozeman MT 59718
About Casting for Recovery
The mission of Casting for Recovery®(CfR) is to enhance the quality of life of women with breast cancer through a unique retreat program that combines breast cancer education and peer support with the therapeutic sport of fly fishing. The program offers opportunities for women to find inspiration, discover renewed energy for life and experience healing connections with other women and nature. CfR serves women with breast cancer of all ages, in all stages of treatment and recovery, at no cost to the participants.
About The WON

The Women's Outdoor News, aka The WON, features news, reviews and stories about women who are shooting, hunting, fishing and actively engaging in outdoor adventure. This publication is for women, by women. View all posts by The WON →