Over Half a Million Arrows Fly at 2019 Eastern NASP Nationals
Louisville, Kentucky was flooded with planes, trains (or buses), and automobiles last week, May 9-11, as more than forty-five thousand student archers, coaches, family and friends, and other spectators gathered at the Louisville Kentucky Fair and Exposition Center for the 2019 National Archery in the Schools Program (NASP®) Eastern National Tournament. Sure enough, this year's turnout set another new record for the world- renowned archery program with just shy of fifteen thousand archers (14,946) in attendance, from last years 14,139. NASP®'s companion event, the International Bowhunting Organization 3D (IBO/3D) Challenge, also broke its record with 5,274 archers.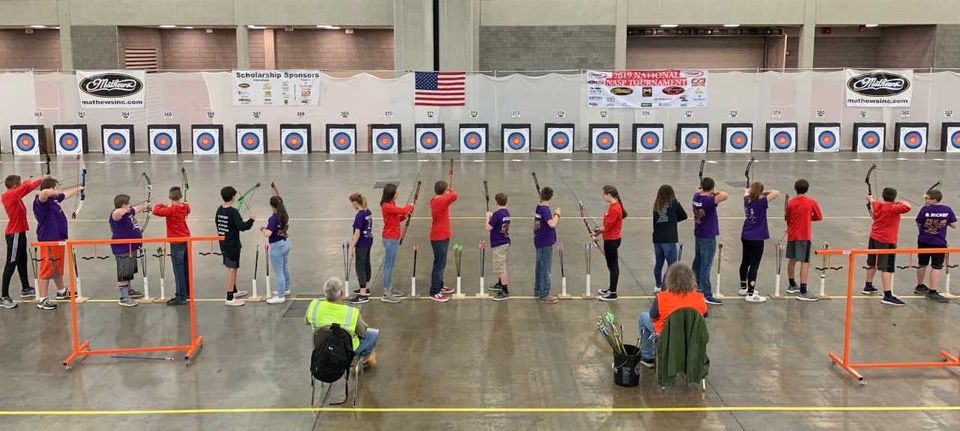 Roy Grimes, President and CEO of NASP® comments on the archery programs growth and what he anticipates for the future. "Both the Western and Eastern NASP® Nationals held in Salt Lake City and Louisville, just set new participation records with a combined 16,198 shooters. This represents a 10% increase over the previous record set in 2017 of 14,788 archers. In fact, it is very rare when the number of student archers attending NASP® Nationals doesn't set a new record. Regular record-breaking attendance is due partly to generous program sponsors, who make it possible for new schools to receive equipment grants as they adopt the program. With about 60% of schools joining in some type of archery competition, it makes sense that archer numbers qualifying to attend nationals will continue to grow. Many think NASP® National tournament participations will reach 20,000 students in the near future."
Archers and spectators alike witnessed the same range set-up and operation procedures as at past tournaments, as waves of archers shot twenty-one, hour-long competitive flights over the course of three days. Each flight began with five practice arrows, followed by a series of 30 scored arrows, from ten-meter and fifteen-meter shooting lines. Archers listened carefully to the announcer's whistle signals so they could safely execute each step of the competition process. Two whistle blows indicate "Get Bow", one whistle blow indicates "Shoot", and three whistle blows directs archer to "Go Get Arrows". As the whistle sounded archers reacted, and results started flying in!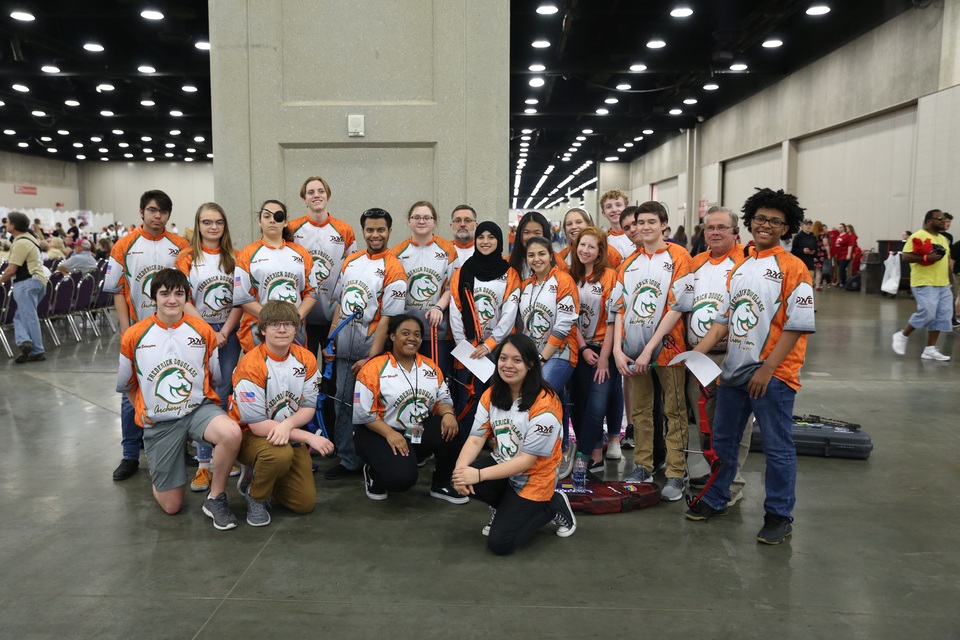 From the Elementary Division, Caden Eyestone, a 5th grader from Park Road Elementary (OK) shot a 294, making him the top shooter for the male division. Mia Cornelson, also a 5th grader from Dixon Elementary (AL), shot a 294, earning her the top spot in the female category. In the Middle School Division,Drew Crump, an 8th grader from St. Johns and St. Athanasius Schools (IA), ranked best with a score of 298. Madalyn Weiss, an 8th grader from Portage Central Middle School (MI), shot a 295. Ashley Scott, a 7th grader from East Middle School (TN) also shot a 295! They both received first place awards, for top shooters in the Middle School Division. In the High School Division, Henry Thompson, a 10th grader from Anderson County High School (KY) and Prestin Tennessen, a 9th grader from West De Pere H.S (WI), and Morgan Ruckel from Ky's Pulaski County High School shot all three shot 299 with 29 tens. Each them were presented with 1st place honors and awards for the HS Male Division. Ashlie Garrison, an 11th grader from Castle High School (IN), shot a 298, as the leading female shooter in the High School Division.
Overall male honors went to Henry Thompson with runner-up going to Prestin Tennessen after a three-way tie-breaker which also included Morgan Ruckel. In front of thousands at the award ceremony, Henry Thompson won this tie-breaker earning overall male archer. Ashlie Garrison took overall female, Peyton Renfrow, an 11th grader from Bullitt East (KY) shot a 297 and was awarded Overall Runner-Up female!
NASP® also recognizes the top teams in each of the Elementary, Middle, and High School Divisions. A NASP® archer team is comprised of 12-24 archers with both genders represented. The sum of the top twelve scores determines the team's tournament rank. For the Elementary Division, Hayden Elementary School (IN) finished on top with their team score of 3229. Benton Middle School (LA) placed in first with their combined total of 3425. Finally, Castle High School (IN) was awarded first place with a score of 3480. Congratulations archers and teams!
While the Bullseye competition was in full swing, so was the NASP®/IBO/3D Challenge at an adjacent range! The results of the IBO/3D Competition are as follows. In the Elementary Division, Aiden Sprouse, a 5th grader from Lathrop Street Elementary (PA), shot a 293, landing him the top male spot. Sydney King, a 4th grader from Trinity Lutheran School (MO), shot a 287, awarding her the top female spot. In the Middle School Division, Aiden Howard, a 7th grader from Caudill Middle School (KY), shot a 297, achieving the top male spot for his division. Taking the top female spot is 7th grader Mackenzie Baustian who attends Prairie Point Middle School (IA). She shot a 290. Finally, in the High School Division, Henry Thompson strikes again! Thompson is a 10th grader from Anderson County High School. He also shot a 297, which was tops in the male category! Emmaline Kleinman, a 10th grader from Eastern H.S. (KY), shot a295.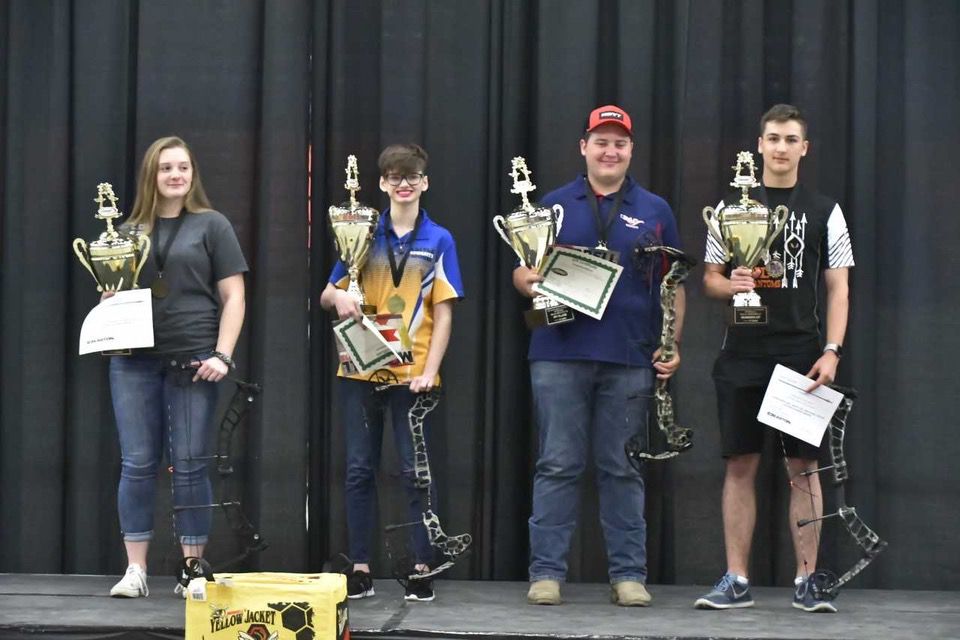 After a close tie-breaker between high schooler, Henry Thompson and middle schooler, Aiden Howard, who both shot 297 in their own divisions with 27 tens, Thompson took Overall Male Shooter, with Howard taking the Runner-Up Male spot. Overall female went to Emmaline Kleinman. After another tense tie-breaker, this time between Elise Leonhart, a 10th grader from Meade County H.S. and Ivy Walton, a 12th grader from Carl junction H.S. (MO), who both shot a 294 with 24 tens, Ivy Walton scored the Overall Runner-Up Female title.
Overall elementary division team honors went to Payneville Elementary in KY, with their score of 1634. Caudill Middle School in LA took the lead for their division with a score of 1714, and finally Hartland High School's archery team in MI, landed first in high school division with their score of 1729.
Congratulations, once again, to all the student archers! With the number of ties that have occurred over the past couple years at large tournaments, NASP® President Grimes noted, "Beginning last year NASP® began presenting duplicate awards for 1st-5th place individuals who tied for those positions. This procedure was implemented to reduce the number of time-consuming tie-breaker shoot-offs and to recognize top achievement, even if achieved by more than one archer. The only ties that are broken are for the top overall boy and girl and their heel-nipping runners-ups. As detailed above, this year there were three boys tied at 299, one point from perfection, who participated in the tie-breaking shoot-off for overall male. Henry Thompson one that shoot-off with Prestin Tennessen coming in runner-up."
On Target for Life
On Target for Life, a program that recognizes students and adults who exhibit exemplary community, team service, courage to overcome challenges, and special academic achievements were recognized for their contributions during the award ceremony. Awards were given in the following areas: Community Service, Bullseye, Superhero, Courage, Outstanding Alumni, and Coach of the Year. For a closer look at the 2019 On Target for Life Award winners, please visit www.naspschools.org, click on the On Target for Life tab, for a list of official winners!
Academic Archer
Academic Archer (AA) is another program that recognizes students for maintaining academic excellence and honor roll grades all while enjoying the sport of archery. This year, 31,176 students were registered by their teacher or coach as academic archers which tells us that NASP® archers take school seriously! This year NASP® randomly selected ten AA archers and awarded them Genesis Bows. Easton Technical Products also provided custom AA arrows for these Brainiac archers! For more information about this academic emphasis NASP® effort, see: https://www.naspschools.org/opportunities/academic-archer
A pair of new scholarships were presented this year. The KY Expo Center, site of this tournament and the Convention and Visitor's Bureau of Louisville, teamed up to award $9,600 to a team of KY high school archers whose coach went above and beyond for his archers. Knox County High School won this award. This scholarship award is divided equally in amounts of $400 for each of the 24 team members. Likewise, Lancaster Archery also provided a $9,600 to another team of HS archers whose coach served his archers in an exemplary way. Champaign Central HS of IL won this set of 24, $400 individual scholarships.
Of course, NASP® wouldn't be possible without loyal sponsors such as: the Mule Deer Foundation, Hoyt Archery, Mathews, Mission, and Genesis Archery, Easton Technical Products, Whitetails Unlimited, Academy Sports + Outdoors, BCY, Feradyne, EA Promos, Morrell Targets, Rinehart Targets, and American Whitetail Targets, all who provide support and equipment for NASP®. A special thanks to the Kentucky Department of Fish and Wildlife for providing security and I.T. support for the tournament.
2019 NASP® Open Championship
Next up for many of these archers, will be the 2019 NASP® Open Championship, at the Music City Center in Nashville, TN on July 25-27. Day one (the 25th) will be a new "Open" competition. NASP® Archers who have never competed or have competed but didn't make the state or national tournaments, are invited to attend Day 1 of the tournament which is the "Open". Top archers from this first day will earn a spot in the Championship that follows the next two days. Archers who attend the "Open" must be registered by their NASP® certified teacher or coach. Additionally, archers who achieved top honors at this year's Eastern and Western National Tournaments, will also advance to the 2019 NASP® Open & Championship in July to participate in the US National Scholarship Shoot-off and a chance at winning a share of $113,000 scholarship cash to use at any post-secondary education institution after graduating high school.
For more information on NASP® Tournaments, please visit www.nasptournaments.org. For general information on NASP®, On Target for Life, and Academic Archer or to sign up for NASP® Insider, please visit www.naspschools.org
About The WON

The Women's Outdoor News, aka The WON, features news, reviews and stories about women who are shooting, hunting, fishing and actively engaging in outdoor adventure. This publication is for women, by women. View all posts by The WON →