U.S. Shotgun Athletes Named to 2019 Pan American Games Team
Eight U.S. Shotgun athletes, including six-time Olympic medalist Kim Rhode, have earned the opportunity to compete for Team USA at the 2019 Pan American Games in Lima, Peru. The XVIII Pan American Games will be contested July 26 – August 11 and will feature over 6,500 athletes from 41 nations.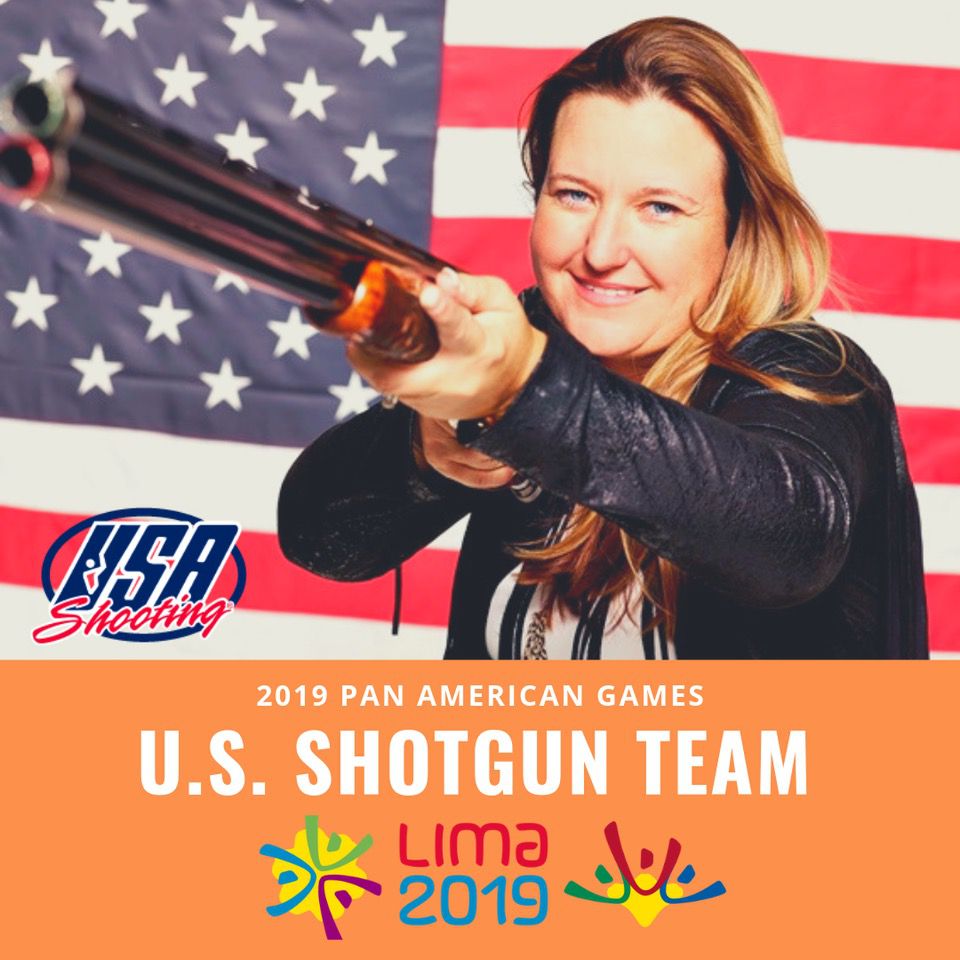 Athletes in both skeet events, women's trap and the mixed team events were determined based on results at the 2019 Spring Selection Match since the maximum two Olympic Quotas has already been secured in those events. Men's Trap, without a quota to date, was determined by a USA Shooting selection committee to try and place the top athletes in a position to secure a quota in Lima. Ultimately, the selection committee referred to the Spring Selection Match results in this discipline as well and similarly named the top-two finishers from that event.
Even without the quotas in Men's Trap, it's been a highly successful Olympic qualifying season already as the U.S. is guaranteed two spots in Men's Skeet, Women's Skeet and Women's Trap. In 2016, Corey Cogdell-Unrein was the lone women's trap competitor. Two athletes named to the team, including Rhode and Ashley Carroll (Solvang, California), were responsible for earning quotas to date. The U.S. Shotgun Team is rolling thus far in 2019 having claimed 10 medals in the International Shooting Sport Federation World Cup Series.
Fighting for the last two remaining quotas needed in Men's Trap will be Derek Haldeman (USAMU/Sunbury, Ohio) and Brian Burrows (Fallbrook, California). The U.S. hasn't had a men's trap entry in Olympic competition since the 2004 Olympic Games in Athens, Greece. Haldeman, a converted double trap shooter, will compete in his first Pan Am Games. He finished fifth at the 2017 World Championships, the highest U.S. finish at a World Championship since 2006. He competed in Lima at the Shotgun World Championships in Double Trap and finished sixth overall. Burrows, the last U.S. Men's Trap competitor to earn a World Cup medal back in 2013, will also be making his Pan Am debut.
Team USA Flagbearer for the 2015 Pan American Games Opening Ceremony, Rhode headlines a potent U.S. Skeet squad as she gets set to compete in her fifth Pan Am Games. She'll shoot for a chance to be crowned Pan Am Games champion for the third consecutive time. Her greatness in the shooting sports began almost 23 years ago in Atlanta and shows absolutely no sign of fatigue. She recently added to her legendary status in the sport by winning a record fourth consecutive International Shooting Sport Federation (ISSF) World Cup event.
Rhode, who will turn 40 in July, is no stranger to superlative as the only U.S. Olympian ever to earn medals in six consecutive Olympic Games. She's now embracing victory in ways the sport has never seen. She has now won 12 international medals, including 10 golds, since winning the bronze medal at the Olympic Games Rio 2016. With that medal in Rio, she became the first woman ever to medal at six consecutive Games and joined Italian luger Armin Zoeggeler as the only athletes to achieve that.
Her skeet teammate will be reigning two-time National Champion and 2017 World Champion Dania Vizzi (Odessa, Florida). These two represent perhaps one of the most dominating female squads in all of Olympic sport, as the U.S. women's skeet team athletes have earned 27 international medals since Rio.
Competing together as part of the U.S. Army Marksmanship Unit (USAMU) in Men's Skeet and making their Pan American Games debuts will be Phillip Jungman (Caldwell, Texas) and Christian Elliott (Greenville, Indiana). Jungman, a two-time Junior World Championship medalist, won the Spring Selection Match while reigning National Champion Elliott finished second. Elliott will be shooting with confidence after scoring his first World Cup medal, finishing second to his teammate, two-time Olympic gold medalist Vincent Hancock, in Changwon.
Carroll is glowing after earning a bronze medal at the recent World Cup match in Changwon and, more importantly, securing that coveted Olympic quota for her team. Before finishing third in 2018, Carroll had won the previous three national titles in trap. Despite her dominance in the event, she'll be making her first Pan Am Games appearance.
Also competing in Women's Trap will be Rachel Tozier (USAMU/Liberty, Missouri) as she finished second during the Spring Selection Match. She just recently competed in her first World Cup in Changwon, South Korea, where she finished 17th with a 113.
Chemistry will be in abundance during the Mixed Team Trap event featuring the Carroll/Haldeman duo. This romantic couple clicks on the shotgun range together as well. They finished second in Changwon and earned a bronze medal at the 2017 World Championships. Tozier and Burrows will partner together once again like they did earlier this year in Changwon, leading to a 30th-place result.
The Pan American Games are the world's third-largest international multi-sport Games featuring athletes from countries in the Americas. The first Pan Am Games were held in Buenos Aires, Argentina, in 1951, and are held every four years. From July 27-August 3, shooting competition will take place at the Las Palmas Air Base. The U.S. Shooting Team earned 13 medals (four gold, six silver, three bronze) at the 2015 Pan American Games in Toronto, Canada.
Rifle and Pistol Team announcements will follow competition at the World Cup in Munich, Germany which concludes May 30.
2019 U.S. Pan American Games Shotgun Team
Men's Skeet
Phillip Jungman (USAMU/Caldwell, Texas)
Christian Elliott (USAMU/Greenville, Indiana)
Women's Skeet
Kim Rhode (El Monte, California)
Dania Vizzi (Odessa, Florida)
Women's Trap
Ashley Carroll (Solvang, California)
Rachel Tozier (USAMU/Liberty, Missouri)
Men's Trap
Derek Haldeman (USAMU/Sunbury, Ohio)
Brian Burrows (Fallbrook, California)
Trap Mixed Team
Ashley Carroll/Derek Haldeman
Rachel Tozier/Brian Burrows
*All Pan American Games roster nominations are pending approval of the U.S. Olympic Committee.
About The WON

The Women's Outdoor News, aka The WON, features news, reviews and stories about women who are shooting, hunting, fishing and actively engaging in outdoor adventure. This publication is for women, by women. View all posts by The WON →