Meet Julia Landauer: NASCAR Driver and Motivational Speaker
In early June, the National Shooting Sports Foundation held its 2019 Industry Summit in Colorado Springs. After listening to a 4-star general and heavyweight industry speakers, we were introduced to a svelte and fashionably-dressed young woman, confident in her delivery and powerful in her message. Julia Landauer is no stranger to the public. She's delivered 2 TEDx talks, she's a motivational speaker engaged by top corporations and organizations and she competed in the popular TV series, Survivor. However, she is best known as a NASCAR champion and has a long list of accomplishments and wins. I had the pleasure of chatting with her for a few minutes after her presentation.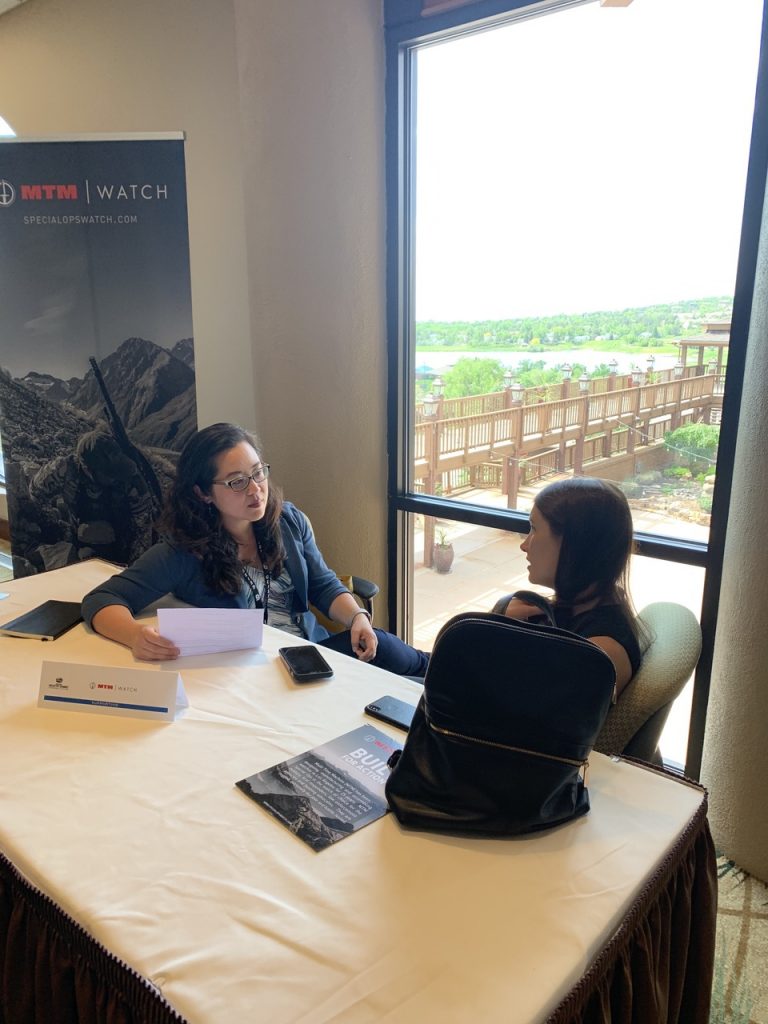 The WON: You're 27-years old, but your resume sounds like you should be 80! First, tell me a bit about driving in your early years.
JULIA LANDAUER : I started racing go-karts when I was age 10 and it was an activity that my parents wanted me and my siblings to do because it allowed us to stay together as a family on the weekends and my parents could work with us. They also wanted an activity that the girls could do head-to-head against the boys and racing is one of the few co-ed sports all the way to the top. I loved it. I was really good at it. I liked going fast, I liked winning. I felt empowered as a scrawny little kid who was able to manhandle a machine. I was the most proud of myself at the race track. You fall in love with the sport and then feel the need to keep doing it. You have the adrenaline, the excitement. Racing has really high-highs and really low-lows, and once you get a taste of that high you kind of get addicted!
I made the transition to racing cars at the age of 13. I won a championship in the Skip Barber Racing Series when I was 14 and became the first female champion and then kept climbing the ranks. A lot of racers were homeschooled, but I stayed in school and did a lot of part-time racing from 2008 to 2014. I've raced every season so far. I went to Stanford University and received a Bachelor of Science. When I graduated from college, I moved to North Carolina and raced in a full-time local NASCAR series and won the 2015 NASCAR Whelen All-American Series Limited Late Model Championship at Motor Mile Speedway, then advanced to the NASCAR K&N Pro Series West in 2016, finishing 4th in the championship and became the highest finishing female in the series' 64-year history. This year, I'm in the Canadian NASCAR Pinty series, and this past race, I became the first woman in the history of the series to lead a lap; in fact, the first American since 2011 to lead a lap. I didn't expect that. I'm just excited to keep climbing and hopefully get the financial support that we need to jump to the professional series in NASCAR.
The WON: What do you do to get financing? How much does it cost and how do you raise the support for it?
JULIA LANDAUER: You have to be very creative. NASCAR has a high financial barrier to entry and a lot of those sponsors that come in have relationships with the teams because it's more than just supporting the driver, you're supporting the entire team. For example, in the Pinty series, it could cost hundreds of thousands of dollars. And then it can cost $20 million to run a really competitive team in the NASCAR Cup Series, the top level of NASCAR. I have to be very creative in how I can offer my brand and platform services to provide value to companies – whether that's through motivational speaking, employee engagement opportunities or content creation. A lot of companies are trying to build out their content through videos and storytelling, and so trying to find companies whose missions align with mine is really important. It's also never giving up. I'm proud to say that I'm able to self-fund this year, which is very difficult, but exciting.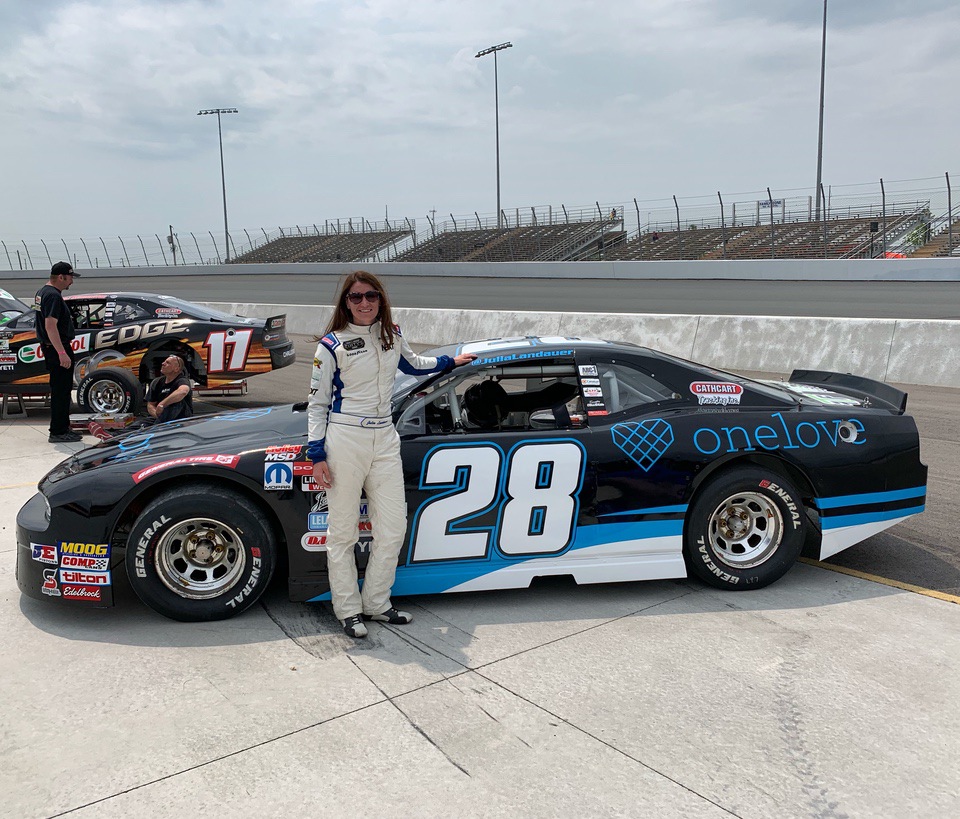 The WON: Since I am in the gun world, I understand a bit about being a female in a male-dominated industry. Has it been hard being accepted? Do you feel like you have to work harder to be taken seriously or does your own performance speak for itself?
JULIA LANDAUER: I think in certain things. There are so few examples of women winning in motorsports, when I join a team for the first time, there might be that underlying question, 'Is she going to be successful?' And I have to work a little bit harder initially to earn the respect of a team, but they see how I work with them, they see how competitive I am, and they are loyal forever once I earn it. Sometimes it's tough because a lot of guys or their teams don't want to be beaten by a girl so on track they might make it harder for me to pass, like my spotter and coaches have noticed. I think, overall, I haven't had a particularly tough time because in the end, I'm a race car driver and I try to be the best race car driver I can be.
The WON: Does it bother you that people distinguish you as a female driver instead of just a race car driver or do you mind?
JULIA LANDAUER: I like the added responsibility that comes with being different and I embrace it. I definitely like to be identified as a race car driver, but I also really like that I'm able to set the standard and to be a role model and to not only encourage little girls to go after what they want to do but to show grown women and men, that girls can do it, too. But, it's both: I want to be considered a great competitor, but also acknowledge the fact that I am different. There's a phrase that says, 'If she can see it, she can be it.' So, I want people to see women in a different field by showing them that we can.
The WON: So, how is your relationship in general with other women in racing?
JULIA LANDAUER: I always want to be supportive of other women. We're all competitors and there are other women that I am so proud of and what they've accomplished. For the most part, it's pretty good. When there are 2 or 3 women in a field, there is a spotlight on us and who's the best female. It's good, healthy competition. I often get approached by women racers transitioning to other careers – like broadcast or journalism – who for advice on public speaking. If someone comes to me with a few questions, I will always say yes, because I don't think other people's success off the track is going to inhibit my success (Obviously, on the track I'm not gonna let a woman pass me just because she's a woman!). Once we normalize women being supportive of each other and being successful, it's better overall.
The WON: Your family is still super supportive. Do your siblings still race?
JULIA LANDAUER: I get a lot of support from family and friends. My sister stopped racing, but started rowing crew and she became a national champion in crew. My parents are so supportive. My mom is a lawyer, so, I grew up thinking that all lawyers were women. My brother likes racing for fun, but isn't pursuing it professionally.
The WON: You attended high school in Manhattan. Was that an environment that was supportive? How was it being somewhat of a star and public figure?
JULIA LANDAUER: I switched from private school to public school, for math and science and what I loved about that was that it was so big and everyone was super competitive, super smart. My girlfriends were good in math and science and they helped me to grow. It was extremely diverse, both racially and socio-economically, and for me it was an eye-opening experience and really good for my development. Actually, there were 3 of us in my class – one of my best friends was Grandmaster in chess, when he was 17, and another friend was a fencer and went to the Olympic Games twice. Not a lot of New Yorkers knew about racing, but there were definitely people who loved racing and so they were excited that there was a New York hometown hero.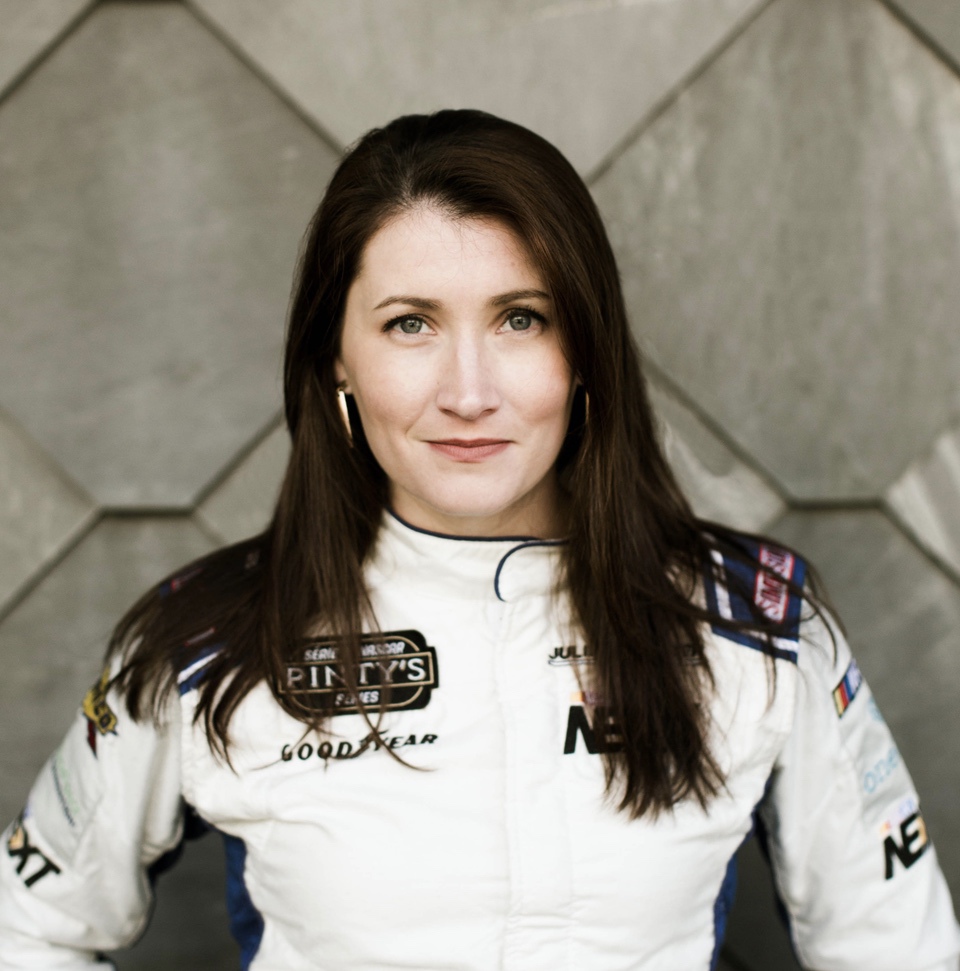 The WON: You were also a student at Stanford University. Isn't there some version of Survivor: Stanford edition? How did you manage to juggle driving, studying, and being a public figure?
JULIA LANDAUER: In high school I had to be very disciplined in order to go racing. On the weekends, I had to write essays while on a plane. I got very good at time management and very efficient. In college, I was constantly moving one foot in front of the other, buckling down and getting it done. Being fairly competitive, I did well in the environment. I was a good student but I didn't need to have straight As in college. For me learning about and meeting people, understanding different perspectives, living life and growing as a person was much more important. I wasn't preoccupied with that external pressure, because I knew I was doing something very different.
The WON: In 2012, you were a contestant on Survivor: Caramoan. You shared in your talk this morning about the realization that you were downplaying who you really were and trying to not to stand out too much, but when you were described as 'boring' and 'vanilla,' it was eye-opening. What was hardest challenge of the show and your biggest takeaway?
JULIA LANDAUER: It took being very embarrassed on national TV to realize that I had to actively work on how I was presenting myself. You learn from the obstacles, and you learn from the adversity that you face. If it's smooth sailing, you're never going to test yourself, you'll never see where your limits are and what you need to work on. So, I guess I'm glad I've had some falls. You're always learning and gaining the comfort of knowing that even if things aren't going your way, you'll still figure out how to make something work.
The WON: You've given TED Talks and give motivational speeches at events such as this. You've also been very involved in giving back to the community and participating in charitable events. What are some causes that you feel passionate about?
JULIA LANDAUER: Yes, I am a big advocate for STEM education for women and having access to STEM education. New York and Silicon Valley have access but plenty of areas don't. I love racing and it's a tech-centered sport. I'm also interested in Green energy because obviously NASCAR leaves a pretty big footprint so exploring ways to counter that.
The WON: I loved the quote you had on your Instagram by Margaret Thatcher: 'You may have to fight a battle more than once to win it.' You followed it with, 'When I get a "no," I try to internalize it as a "not now." It's always worth it to try again…' It's that type of grit and resilience that you have that inspires other people.
JULIA LANDAUER: So that was what my Mom told me that 'no' doesn't mean 'no' it's a 'not now.' It's powerful, even seeing it this week. I reached out for some funding help 5 years ago and it was a 'not now.' Just this week, they reached out to see if we can work together now. And it was an incredible realization that this was a 'no' back in 2014, but in 2019 they came back to me and it's really cool to see. That's when you grow up a little bit and now have enough experience to see how all the dots connect.
The WON: How do you stay grounded? What keeps you humble?
JULIA LANDAUER: Remember the quote I posted earlier by Winston Churchill: 'Success consists of going from failure to failure without loss of enthusiasm?' I have a lot of failures. A lot of things don't go the way I want, so it keeps me humble. It's easy to look at the success and think, look at what she's done! But that's just the tip of the iceberg. What you see is above the water is just the beginning; underneath there have been so many ideas and so many conversations that I thought were brilliant that didn't work out. For me I stay grounded that way. Also, my siblings and I Skype every week and I understand that the world is bigger than just what I'm doing. When I feel like things aren't going well – like right now I'm not where I was hoping to be at this point – that keeps me humble, but then I realize I have control of my time and I get to meet really cool people and do really cool things. I think things happen for a reason, and I don't think that there are coincidences; we're actively working toward things, takes active effort. I don't feel like I've made it yet, so I feel like that keeps me humble.
Twitter @julialandauer
IG @julialandauer
Facebook Julia Landauer
About Julie Park

Julie Park was born in South Korea, raised in Canada, and is now living in her beloved Rockies in beautiful Colorado Springs with her husband and 5 kids. An attempted break-in transformed this stay-at-home, unassuming woman into a pistol-packin' mama serious about the safety of herself and her loved ones. She is a certified NRA pistol instructor and Chief Range Safety Officer, and has been teaching and training women (and men!) just like her for the past several years. She has been a chapter and state leader in women's shooting organizations and an instructor at her local range. She loves discovering new guns and products for women and sharing her passion with others. If she's not shooting and training, she is homeschooling her kids, enjoying travels and connecting with her favorite books and people. View all posts by Julie Park →