Gear Review: The GTM/CZY-03 CCW Leather Duffel
Covering the GTM/CZY-03 CCW Leather Duffel is an exciting opportunity because I've been longing to sink my teeth into it. At first glance, it's obvious that this duffel is the fast-mover of the travel bag world, but the magic rests in its capitalization of classical utility. This bag isn't boxed in to a particular niche like most gun toten' carriers. One of the best things that I appreciate about its presence in a room is that this duffel exudes confidence. It won't melt into grungy hotel room floors, nor will it shame your treasured surroundings with wrinkly canvas hues. At first sight, this duffel is calm, cool (and most obviously) collected. This is the unicorn of blind dates that you actually want to see through to the end of the night. Now, here's a case for why you want to see this bag through to the very end of every night.
Sponsored by GTM
"She's a beaut!" -Steve Irwin
All right, let's square some things away. First and foremost, this is a gorgeous duffel. I don't think there's a slice of the population worth mentioning that could go to task with this. The GTM/CZY-03 is constructed of distressed buffalo leather and it is evident on receipt that there's something special about the look. Like fine wine, it gets better with time, but even wine becomes bitter. This duffel will not. Throw it, drop it, bump it, sweat on it; the leather will manifest a weathered and classic appearance, much to the chagrin of longing onlookers at any TSA checkpoint.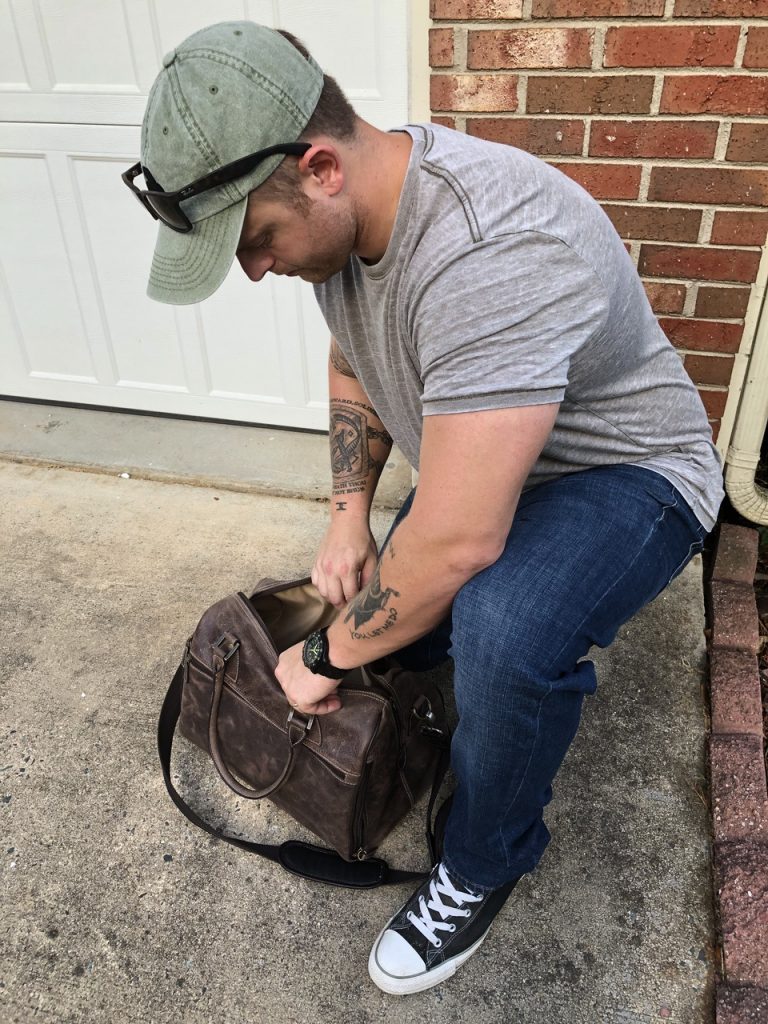 When holding the GTM duffel, it's apparent that (true to Gun Tote 'n' Mamas', aka GTM, style) craftsmanship is of the utmost importance. Subdued seams and reinforced carrying points surround the entirety of the duffel, but one of my favorite attributes is the choice selection of the metals that are used. Drab brass peppers the GTM/CZY-03, elevating it out of your grandparents' closet and into the 21st century without compromising the very best in its simple and highly functional style. Call me particular, but I struggle with metal zipper pulls and fortunately, they were left out of the design. In this, the GTM duffel looks like it belongs in any environment. Chrome pulls aren't blinding shooters at the range and clasps aren't jingling against your weary nerves as you're attempting to get out the door.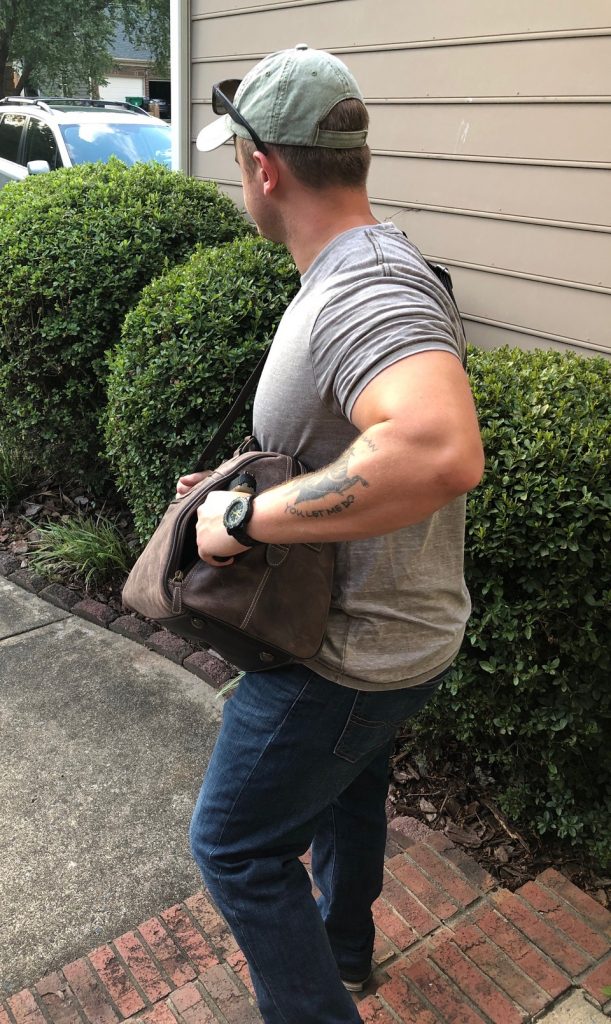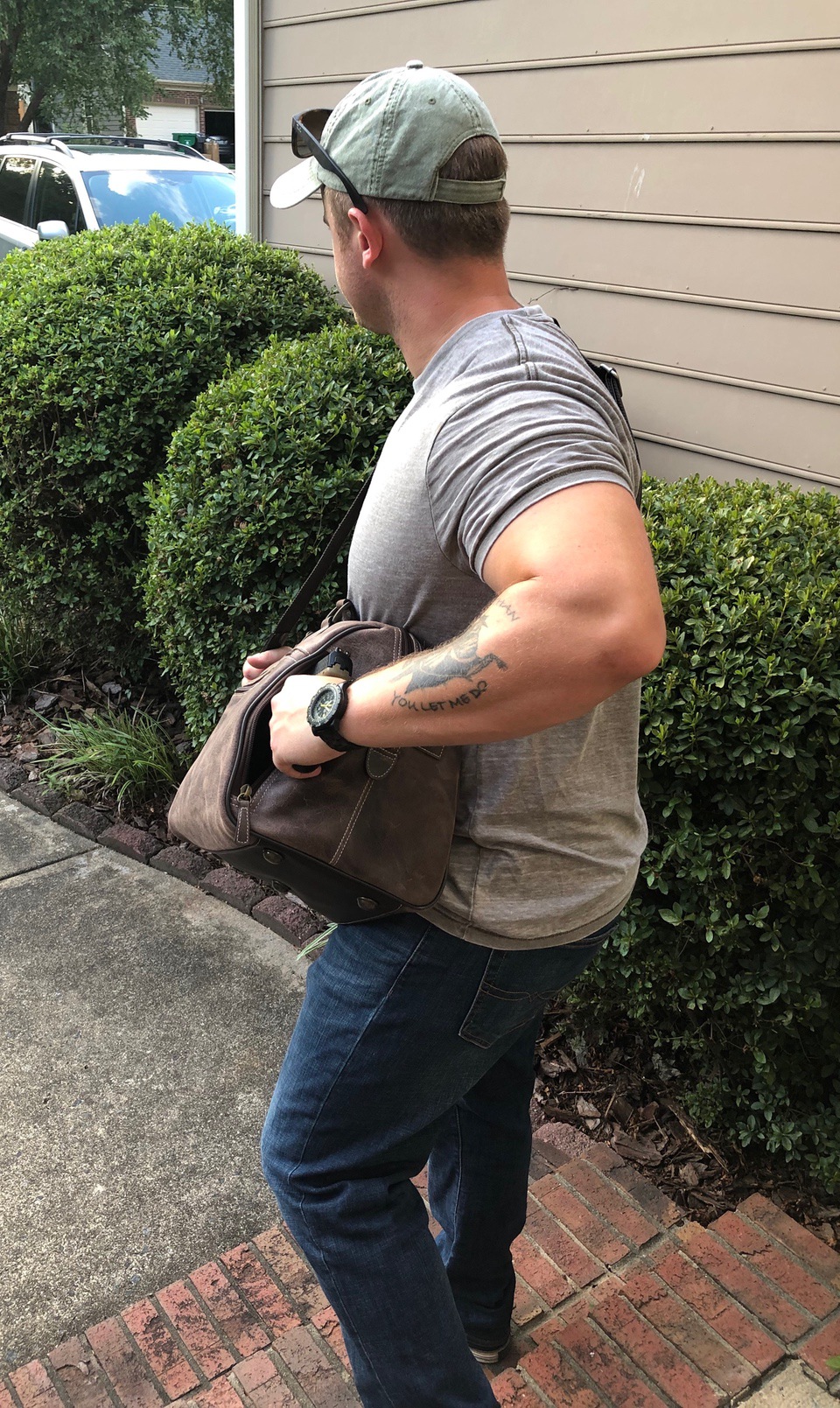 The bottom of the duffel was a pleasant surprise. Most small duffels are devoid of any protection across their underside – save for the possibility of bands of reinforced leather or canvas, which are not altogether helpful. The GTM-03 not only sports a weather resistant shield underneath, but additionally, 5 small feet that elevate the duffel from the elements. This is next level.
I feel wholly confident tossing this duffel interchangeably into a chair or onto the ground because I know this duffel isn't going to soak up the floor; thus, relegating it to the floor.
Space. The Most Important Frontier.
Compartments? It's got them. Pockets specifically for writing implements, cell phones, a business card and an individually stitched slip for overly-chewed gum that will be reserved for later? No. They're not needed and the Gun Tote'n' Mamas are queued in on this. Discreetly positioned to the rear and anterior face of the duffel, the CCW pocket is large and is completely lined with piling for the hook half on the included holster. I switch back and forth between my S&W M&P9c (larger framed compact CCW) and a Remington RM380 (micro pistol) when traveling. Both of these firearms, while obviously dissimilar in size, seat well in the flexible holster provided.
There are 2 accessory pockets on either side of the GTM/CZY-03 along with the main compartment. There are no rigid walls that divide these compartments, which is a positive feature. If the main compartment becomes overburdened, the walls will move to accommodate the additional space needed. Likewise, if encumbered by more technology, the side compartments will easily move inward for additional tablet, phone, charger, spare magazine and other "stuff" space.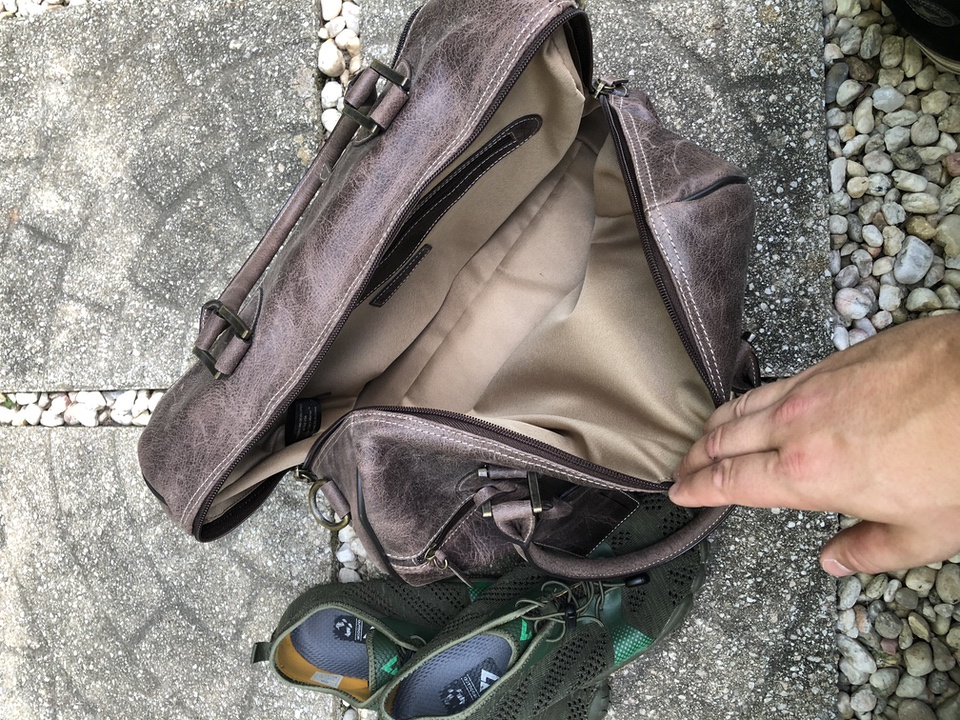 The central compartment is the main event. It boasts a surprising amount of space for a duffel of this size and aside from plenty of space for clothes or equipment, it also features an auxiliary pocket for anything from additional technology, organizational materials, to a hasty hygiene kit. Seeing is believing and the lining fabric only adds to the allure. In fact, throughout the entirety of this review, the desert tan lining boasts the strength to handle rigid equipment but additionally, delicate clothing amid the throes of travel.
Tried. Tested.
It's difficult to nitpick the functionality of the GTM/CZY-03. It is a true testament to how useful simplicity is. This is not a slight in the least to all that this bag has to offer. It is not a bag for enduring trips far from home, but a quick means to assemble anything that might be needed for what the day or night has to offer. This includes perhaps its most valuable asset, the large CCW pocket, perfectly capable of accommodating any-handed versatility.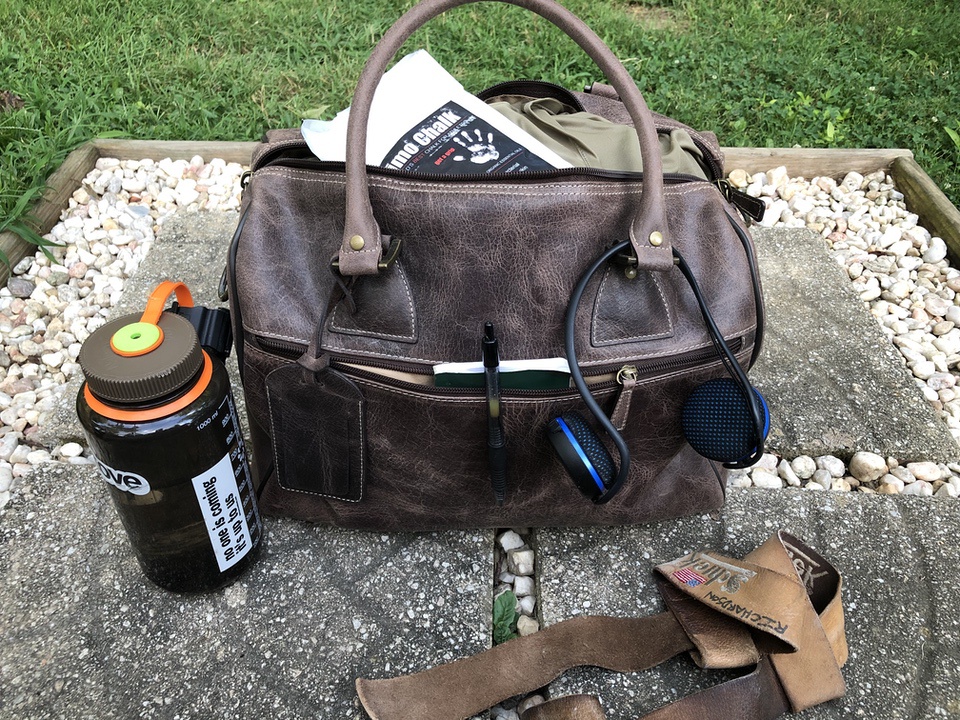 I found immediate utility in the GTM duffel through my occasional weekend excursions for weekend drill in the Reserves. When packing, I was either burdened by bulky bags that left enough room for the bathroom sink or in efforts to reduce my footprint with a small backpack, halfway enroute, realized that I was missing desirable items. With this duffel, its minimal approach to compartmentalization meant that each section of the bag had a home for everything that I needed – from my CCW to crisply folded silkies, the ultimate in sleeping comfort. Additionally, as I'm partial to Airbnb stays when traveling, approaching new doorsteps covered head to toe in camouflage is easier on conversation when my bags are as functional and sleek as the GTM duffel.
Fast-forward to an overcast weekend when a Sunday range day couldn't be sweeter. The GTM/CZY-03 made for an excellent, inconspicuous duffel that more than accommodated everything that was needed – from ammunition, pistols, safety gear to additional clothing or sweat rags. Whether slung or carried by the reinforced handles, I could smoothly get on and off the range without making a peacock display of tactical prowess to others. Even on sunny days, I'm not concerned about the leather degrading because of its beautiful buffalo leather exterior. Personally, I enjoy taking an infrequent afternoon to grease, oil or treat all of my leather belongings, but it will be some time before this duffel looks deserving of such attention.
All-in-all
Have you ever looked at someone you loved, knowing that you're going to basely cherish her company and place in your world for the long-run? It feels good. The GTM/CZY-03 is, in looks and execution, a material embodiment of things worthy of being cherished. This is due to its classic appearance that appeals to any owner and its uncompromising functionality. It's timeless. True to the intent of a duffel, it's airy, it's spacious and stands vigilant and ready to move with you throughout your travels. Treat yourself well like you're worthy of it by investing in some-"thing" truly reliable, just like you would some-"one".
This GTM/CZY-03 CCW Leather Duffel is available on the GTM website.
MSRP: $285.95
About Ian Richardson

Ian Richardson lives in North Carolina with his wife, pets and chickens. He is an outdoor and gun advocate, English teacher and an Army veteran. He also enjoys prepping, carpentry and reading about philosophy and mythology. In general, Ian loves trying to be as alive as possible! View all posts by Ian Richardson →