5 Summer Saltwater Fishing Basics for Beginners
If you're planning to visit some inshore saltwater spots this summer, there are a few warm-weather fishing basics for beginners you should consider. If you're new to saltwater fishing, you may not realize that when the water temperatures heat up, fish often become less active to conserve energy. This means that you'll need to adjust your game plan by keeping these basic fishing tips in mind.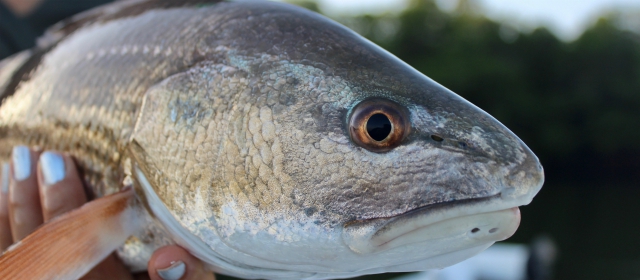 You'll find that these inshore fishing basics for beginners can help you successfully catch and release more fish on the warmest days of the year. Before heading out, be sure to check the regulations and buy your saltwater fishing license online.
5 Summer Saltwater Fishing Basics for Beginners
Plan to fish when you have an incoming or outgoing tide either first thing in the morning or just prior to sunset. One of the best basic fishing tips for summer is to start early or go late and avoid the mid-day heat.
Search out the shade. As you learn how to fish during the heat of summer, keep in mind that shady mangrove shorelines and docks are great places to try as the sun starts rising higher in the sky.
Slow down your presentations. When the water temperature is above the preferred temperature range, fish won't expend the extra energy to pursue fast-moving prey. Reduce the pace of your retrieve to boost your chances at getting bites. For example, you can work a soft plastic swimbait using a slow, but steady retrieve or twitch a weightless soft plastic jerkbait through the water column to create just enough erratic movement to entice a redfish or spotted seatrout. Use one of the best basic fishing knots for beginners when tying your lure onto your leader, such as a non-slip loop knot.
Find out what tips 4 and 5 are of the 5 Summer Saltwater Fishing Basics for Beginners from our friends at TakeMeFishing.org here.
About The WON

The Women's Outdoor News, aka The WON, features news, reviews and stories about women who are shooting, hunting, fishing and actively engaging in outdoor adventure. This publication is for women, by women. View all posts by The WON →