Kids Fishing Poles: What to Know Before You Buy
For many longtime anglers, fishing is a time-honored family pastime that was passed down from a parent or loved one. It's a rewarding activity you can enjoy with your child and one that could impact them in many positive ways for the rest of their lives.
To get started, all you need is a few essentials: kids fishing poles, hooks, and bait. When it comes to kids fishing poles, the abundance of options can be downright overwhelming. There's an endless roster of brands, styles, colors, features, accessories, and the list goes on. When starting out, the key is to keep it simple. Here are a few guidelines to consider when choosing the best youth fishing pole for your new angler.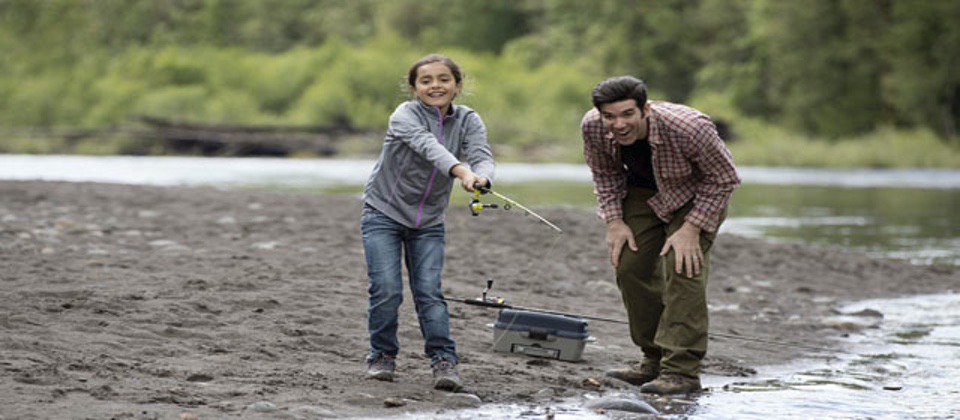 START SMALL
If your child is very young, a small five-foot spincast rod and reel combo is an easy-to-use option. It's pre-spooled with fishing line, provides a hassle-free button method for casting and retrieving, yet is durable enough to reel in moderate-sized fish. These kids fishing poles are typically adorned with bright colors and lovable cartoon characters for added fun.
ROOM TO GROW
Fishing gear can be an expensive investment so you'll want to be sure your child is committed before upgrading to higher-quality equipment. For pre-teens, go with a good transition setup. You can find full-sized rod and reel combos, outfitted with a spinning reel and pre-spooled fishing line, that are often budget-friendly. Pair with a pre-packed tackle box and a knot-tying booklet for the ultimate new angler package!
READY TO UPGRADE
As your child sharpens their fishing skills and their interest grows, it's time to invest in some high quality gear. The best bet is to visit your local outfitter or outdoor retailer and consult with their fishing department. The entire setup will depend on the type of fishing your child plans to do and your desired price range.
Continue reading "Kids Fishing Poles: What to Know Before You Buy" from our friends at TakeMeFishing.org here.
About The WON

The Women's Outdoor News, aka The WON, features news, reviews and stories about women who are shooting, hunting, fishing and actively engaging in outdoor adventure. This publication is for women, by women. View all posts by The WON →