#WhatGetsYouOutdoors: Outdoor Channel Hashtag Reaches 1 Million
In January 2014, Outdoor Channel asked consumers: "#WhatGetsYouOutdoors" in a digital and social campaign that was created to spur conversations amongst like-minded outdoor lifestyle aficionados. Today, #WhatGetsYouOutdoors has been used more than one million on Instagram.
Used by thousands of hunters and anglers every day to showcase their common passion for the outdoors, Outdoor Channel's #WhatGetsYouOutdoors is one of the most successful hashtag campaigns in the outdoor industry to date and surpasses other well-known, non-endemic hashtag campaigns from companies like Under Armour (#ProtectThisHouse, 91K uses), Food Network's Chopped (#Chopped, 616K uses) and CBS's Big Bang Theory (#BigBangTheory, 649K uses), to name a few.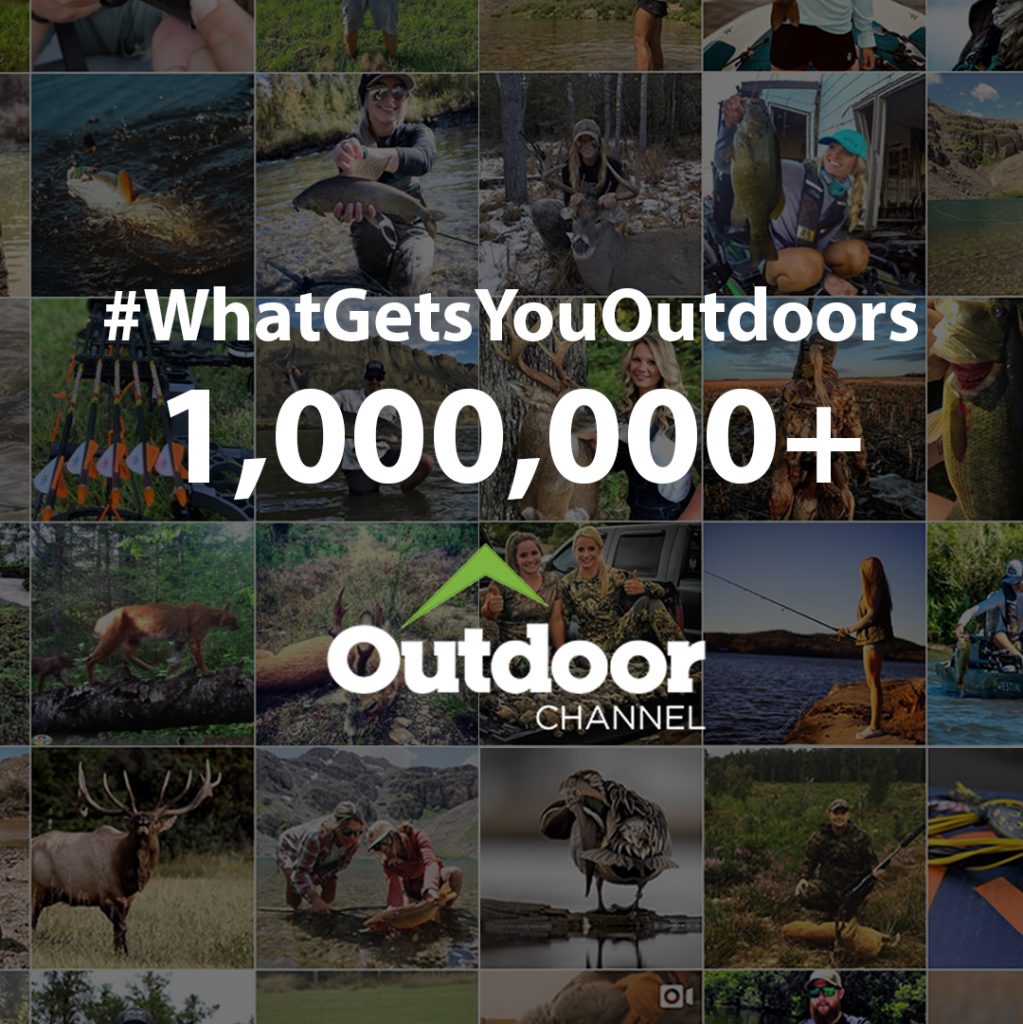 #WhatGetsYouOutdoors embraces the diverse interests that fuel an active and adventure-filled outdoor lifestyle – from bowhunting and fly fishing to cooking, camping and beyond. The campaign was developed to shine a spotlight on bold adventures, regional interests, personal achievements, stewardship, traditions and innovations with the goal of becoming the "go-to" destination for users who foster a passion for the outdoors.
"As most people today know, social media is a huge part of everyday life around the world and media companies are especially drawn to its potential effects on consumers," Outdoor Sportsman Group President and CEO, Jim Liberatore said. "The Outdoor Sportsman Group digital and social media team has done an extraordinary job in promoting outdoor lifestyle pursuits and the use of #WhatGetsYouOutdoors on Instagram with more than one million tags."
#WhatGetsYouOutdoors-tagged photos and videos from Instagram, Twitter and Facebook automatically stream into a gallery found on the Outdoor Channel's Instagram page. Users can upload images directly via OutdoorChannel.com/#WhatGetsYouOutdoors. A Photo of the Day is chosen by the Outdoor Channel social team based on the image that best capture the essence and breathtaking beauty of what inspires the user to get outdoors. Fans also have the opportunity to DM or send private messages to Outdoor Channel's social media accounts for the chance to be featured.
About Outdoor Sportsman Group
Outdoor Sportsman Group is comprised of the world's foremost media and entertainment brands for outdoor adventure enthusiasts. It includes three leading multichannel networks: Outdoor Channel, Sportsman Channel and World Fishing Network, as well as MOTV, the world's leading outdoor television content platform. The Group also consists of a number of established publishing assets: 16 outdoor magazines including Guns & Ammo, Petersen's Bowhunting and Florida Sportsman, and 19 top websites, including BassFan.com. Additionally, Outdoor Sportsman Group includes television production operations, Winnercomm. For more information, visit www.outdoorsg.com. #MyOutdoorTV
About Outdoor Channel
Outdoor Channel has been taking viewers across America and around the world on unparalleled adventures since 1993. Dedicated to the outdoor lifestyle and conservation, the independent cable network is a division of Outdoor Sportsman Group and provides a complete spectrum of riveting hunting, fishing, shooting and adventure entertainment. Outdoor Channel is the largest outdoor TV footprint in the country and is available in more than 50 countries internationally. Outdoor Channel can be viewed in HD and is accessible by broadband and mobile platforms. For program times and other information, visit www.outdoorchannel.com. Follow us on Twitter, Instagram, Facebook and YouTube. #WhatGetsYouOutdoors. #MyOutdoorTV
About The WON

The Women's Outdoor News, aka The WON, features news, reviews and stories about women who are shooting, hunting, fishing and actively engaging in outdoor adventure. This publication is for women, by women. View all posts by The WON →