Gun Review: Walther PPS M2 with Shield RMSc Red Dot optic
I'm always on the lookout for guns that would appeal to women shooters. With the rise in popularity of red dot optics on smaller carry guns, I found the Walther PPS M2 with the factory-milled Shield RMSc optic very intriguing.

Sponsored by Walther Arms
The Walther PPS M2 is known to be a reliable gun made by a reputable manufacturer. The PPS M2 made quite a buzz early in 2018 when Walther released the first of its kind: a single stack with a red dot already in place. The Shield RMSc is already a popular option as a streamlined optic for skinnier guns. For many women, getting a red dot installed is a bit intimidating, so this seems like a perfect combination to start. It comes with a cover plate in case you want to remove the optic.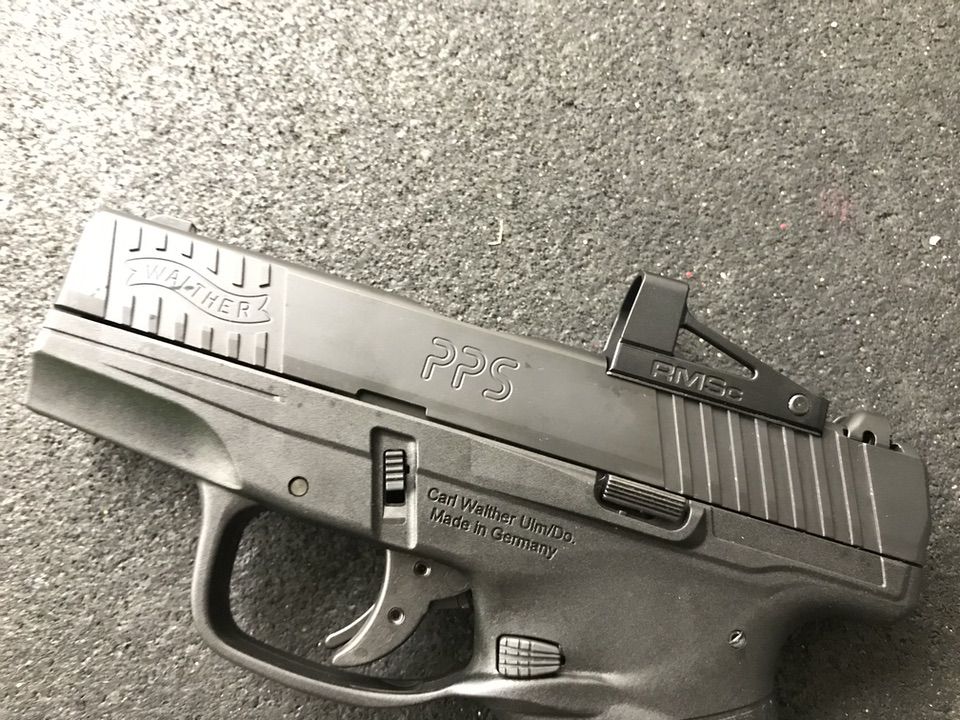 First off, the gun itself. I've liked the PPS M2 and carried it for a while for its extreme concealability, at just 1-inch thickness. For those who are looking for a single stack, it comes in 2+ ounces heavier (19.4oz) than some others such as the GLOCK 43 (17.95oz) or the Smith and Wesson Shield 9mm (18.3oz). However, that isn't necessarily a negative, as I feel the extra weight contributes to less felt recoil.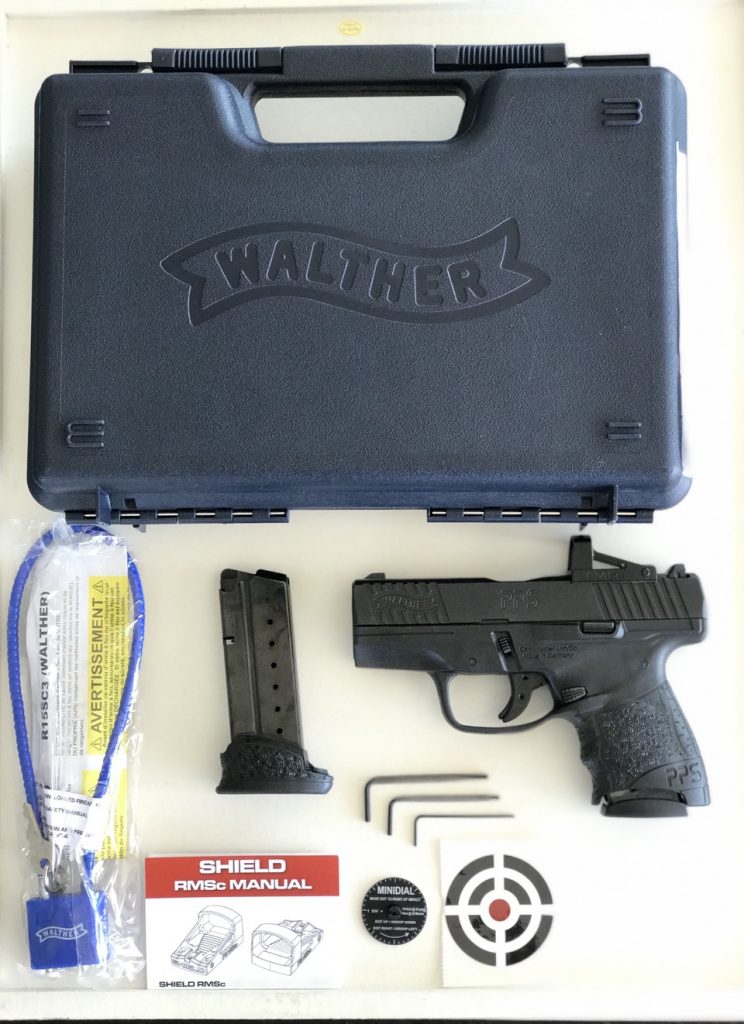 Open the case and you will find the gun, a 6-round flush magazine, a 7-round extended magazine, a lock and tools to use to adjust and take off your optic. I personally prefer the extension for my pinky, but even without, my hand felt comfortable because of generous real estate the girth gives you. Skinny but wide. It has reasonable stippling for a solid grip. It has serrations on both ends of the slide for easy racking and a very contoured silhouette. It comes with iron sights with a U-curve rear sight and fixed front sight. The Shield RMSc optic adds minimal bulk while carrying; though I don't have a holster, its placement seems to eliminate the need for a special cut out.
According to the website, the PPS M2 is a 9mm concealed carry pistol with a barrel length of 3.2 inches, an overall length of 6.3 inches, and its height coming in at 4.4 inches without the optic. It offers 3 magazines that have 6-, 7- and 8-round capacities. The trigger pull comes in at 6.1 pounds and has a travel of 0.2 inches. As I mentioned, the width is an impressive 1 inch and easily concealable.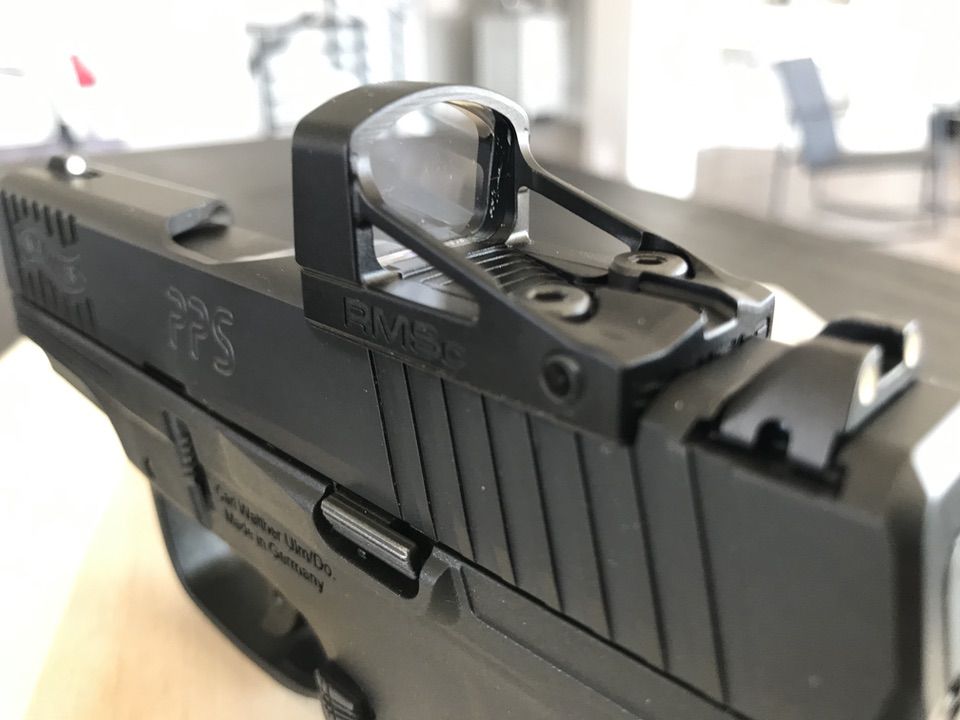 Now, for the optic. The Shield RMSc (Reflex Mini Sight Compact) is made from aerospace-grade aluminum and was created with the subcompact in mind. It's a slimmed-down version of the red dot used on rifles and larger guns. It measures 1.7 x 1.0 x 0.9 inches and weighs about 0.61 ounces. It is a popular choice for concealed carry guns for its light weight and minimal footprint. The optic is polymer, not glass, so it has its pros and cons. The con is that it can get fine scratches and require a little more care when cleaning. The pro is that it is lighter and more impact-resistant than glass. The battery life is 2 to 3 years and it adjusts to ambient light, so that it controls output according to what it detects. It has 4 MOA (minutes of angle) which, I think, is a good size for closer encounters. It's still not too big for farther precision shooting. Shooting a red dot is so. much. fun. Yes, it requires a bit of adjusting but when you get the hang of it, the precision and speed make that learning curve well worth it.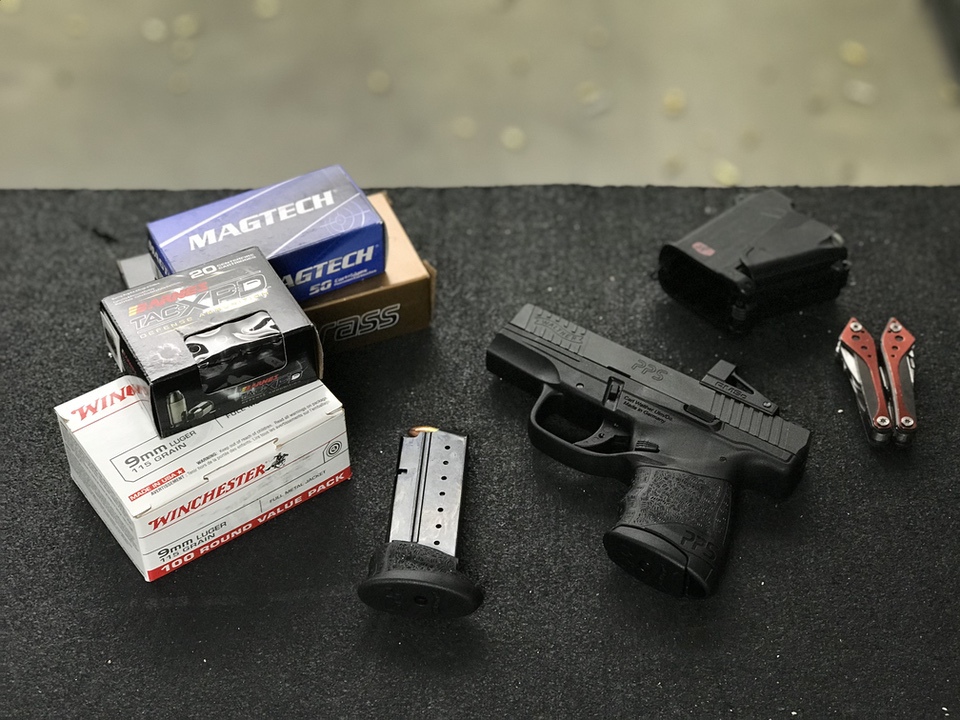 Now … off we go to the range. I broke the gun in as usual with several hundred rounds of a variety of target ammo. It performed flawlessly and I experienced exactly NO malfunctions. What did throw me off, however, was trying to figure out where the optic was zeroed in. I usually test at 7 yards, but as I tested it, I went out to 15 yards and found that I was still shooting to the right. I tried fast, slow, and varied the distance from 5 yards out to 15, but still couldn't hit a bullseye. I got a Marine to shoot it to make sure it wasn't just me before I messed with the red dot. He got similar results to mine. Using the included tools, I adjusted the red dot to zero in at 7 yards. What's cool is that you can co-witness the red dot with the iron sights, so you'll always have a reliable back up. However, I found that the front sight was slightly obscured by the rear of the optic and so I kept shooting high when using the irons. I had to get used to just lining up the top of the white dots and seeing half the front sight. Not a big deal since I was having fun with the red dot.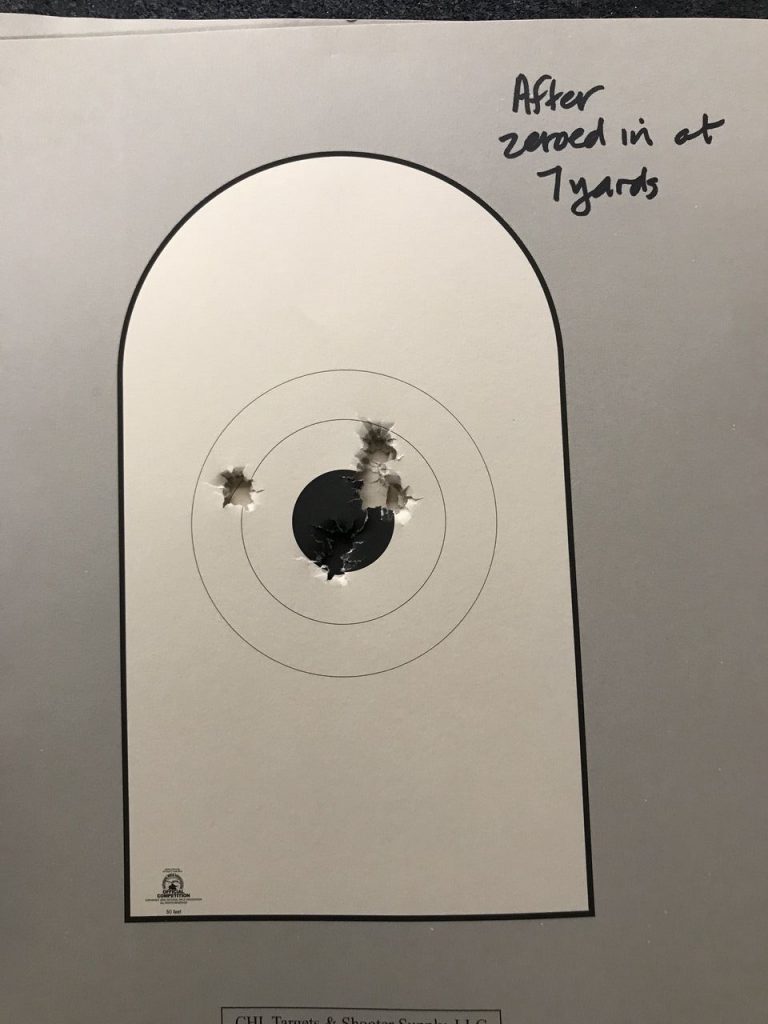 I set up the accuracy test at 7 yards and with a sandbag. I do admit, I sped up my shooting a little since I acquired the target much faster, but I shot better than I usually do with tighter groupings so I was very pleased. As usual, I like using the standard NRA AP-2 targets. I did 5-round groups times 5 for each type of ammunition.
Walther PPS M2 test results in inches:
Magtech, FMJ, 115 grain: largest group – 2; smallest group 1.5; average 1.485
Winchester "White Box", Full Metal Jacket, 115 grain: largest group – 2; smallest group- 1.25; average – 1.7
Blazer Brass, FMJ, 115 grain: largest group -2; smallest group- .75; average – 1.55
Remington Golden Saber Bonded, 9mm Luger, 147 grain, BJHP Bonded: largest group – 1.75; smallest group .1.25; average 1.5
Overall, I was very pleased with this gun. It is good-looking and gives a solid performance. The suggested retail price for this combination is $699. When you consider that the price of the pistol is $469 and the optic alone is retailed at $399, this is a significant deal. You also don't have to pay for it to be milled and send your gun away for a month or 2. Combined with the fact that Walther has a "love it or money back guarantee," I believe that the Walther PPS M2 RMSc is a fantastic option.
MSRP: $699
Read more about the Walther PPS M2 here.
About Julie Park

Julie Park was born in South Korea, raised in Canada, and is now living in her beloved Rockies in beautiful Colorado Springs with her husband and 5 kids. An attempted break-in transformed this stay-at-home, unassuming woman into a pistol-packin' mama serious about the safety of herself and her loved ones. She is a certified NRA pistol instructor and Chief Range Safety Officer, and has been teaching and training women (and men!) just like her for the past several years. She has been a chapter and state leader in women's shooting organizations and an instructor at her local range. She loves discovering new guns and products for women and sharing her passion with others. If she's not shooting and training, she is homeschooling her kids, enjoying travels and connecting with her favorite books and people. View all posts by Julie Park →