Archery Hunting: 6 Tips for South Africa Bowhunting
Bowhunting – for the past 2 years I would say it's been my obsession. For me the process is addicting: from practicing, to getting the perfect arrow setup, to the stalks, to the failed stalks, to letting an arrow fly, then to the success. I am by no means a professional bowhunter, but I continue to improve and learn from each day that I practice or hunt. When I decided to join my family on their hunting trip to South Africa, I jumped at the opportunity to archery hunt. Having gone on the hunt, here are some of my tips for someone archery hunting in Africa for the first time.

Sponsored by Shoot Like A Girl
6 Archery Hunting Tips
TIP #1: Practice, practice, practice – Here and There
I cannot emphasize this enough. The more you practice shooting your bow, the more consistent and confident you will get. I recommend practicing at different ranges so you're comfortable and confident. Another important question to ask your outfitter is the type of archery set-ups they have in place, so that you can shoot your bow before you go afield when you're in the country. You want to practice in the scenarios and shooting positions that you will be in, as every position asks you as an archer to use different muscles when pulling back your bow. You also want to feel comfortable looking through your sight at different positions and shooting angles.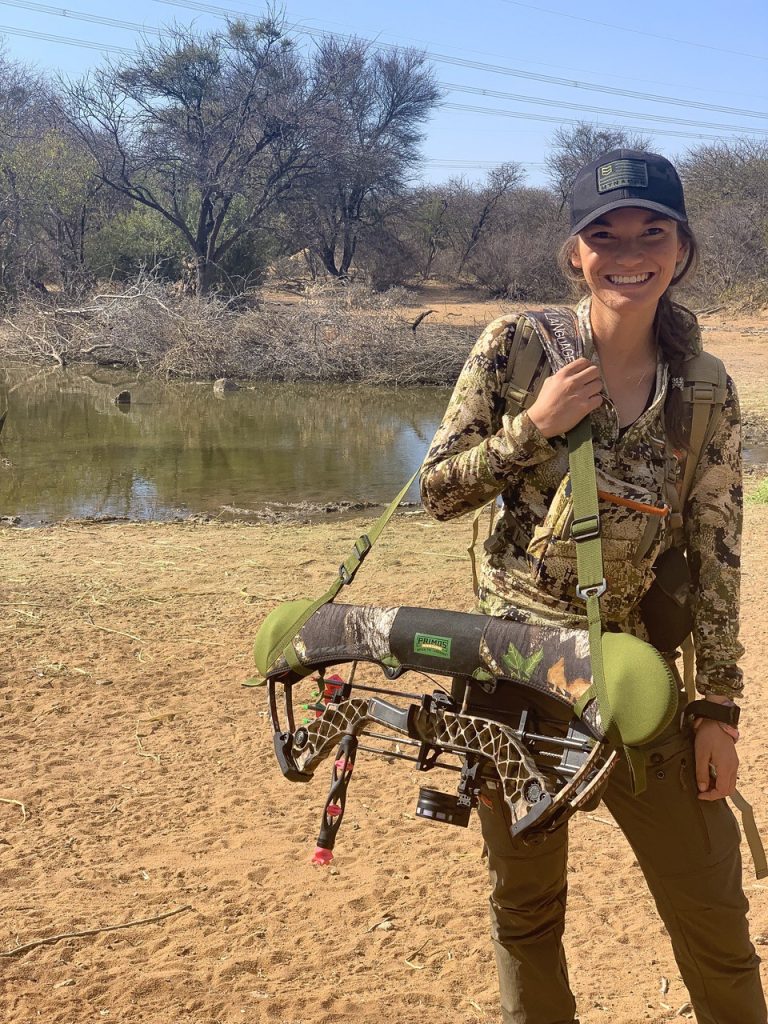 TIP #2: Going the Distance
One thing I noticed while in Africa is that most animals do not linger around the water or in the fields. When an animal that you are hunting steps in front of you, everything happens extremely fast. Because of this aspect, if you are set up in a blind, when you first sit, I highly recommend ranging (measuring the distance) of different points around you. That way, if an animal goes to one of those points, you can just dial in on him and not need to worry about fumbling with your range finder.
TIP #3: Poundage
Most of the African animals are large and extremely strong. Because of this fact, the poundage that you are pulling makes a major difference between you wounding an African animal and finding it. This is a question to ask your outfitter, but many guides say that 50 pounds is the lightest recommended weight for most of the African animals. If you have a higher poundage, the chances of your arrow passing through an animal's body greatly increases. To increase your poundage, I would suggest that you work up to the weight while in training at home. You don't want to be struggling to pull your bow back when the animal of your dreams walks right in front of you. Do resistance exercises to build muscle to slowly increase your poundage. You want to be able to easily pull back your bow and not struggle. (See this post by Sereena Thompson, with helpful exercises to increase your draw weight.)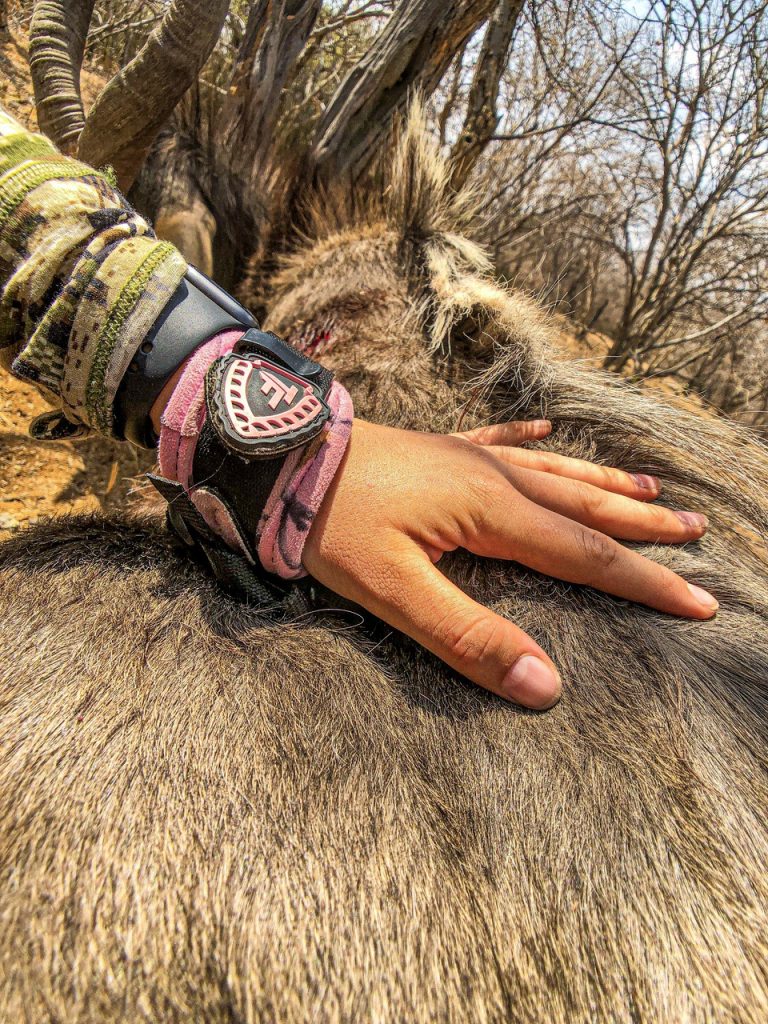 TIP #4: The Bow
I brought my Mathews Chill SDX with me to Africa. I've been hunting with this bow for more than 2 years now. I wanted to take a bow that I knew I was consistent with, and the Chill SDX was it. I decided to bring this bow because I had the tightest groupings with it up to 50 yards. It's also extremely quiet, which is great when you are hunting plains game like impala that easily jump your string.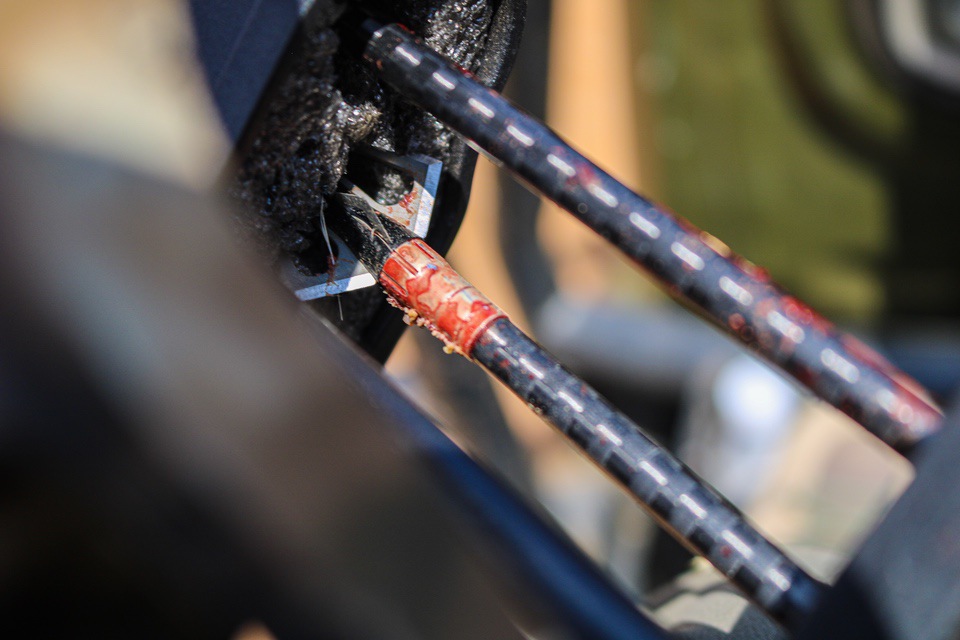 TIP #5: Broadheads and Arrows
Because my bow poundage is only 50 pounds, I knew I needed to shoot heavy arrows in Africa. Yes, this means it does make my arrow speed slower, but it will allow for more momentum on impact. With the combination of heavy metal jacket arrows and my broadheads, my arrow weight became 460 grains, which was extremely effective for me.
I decided to use a 2-blade fixed broadhead with 2 small bleeder blades to allow for maximum penetration. I chose 125-grain Stinger Buzzcut broadheads, which offered the best chance of having a complete pass through.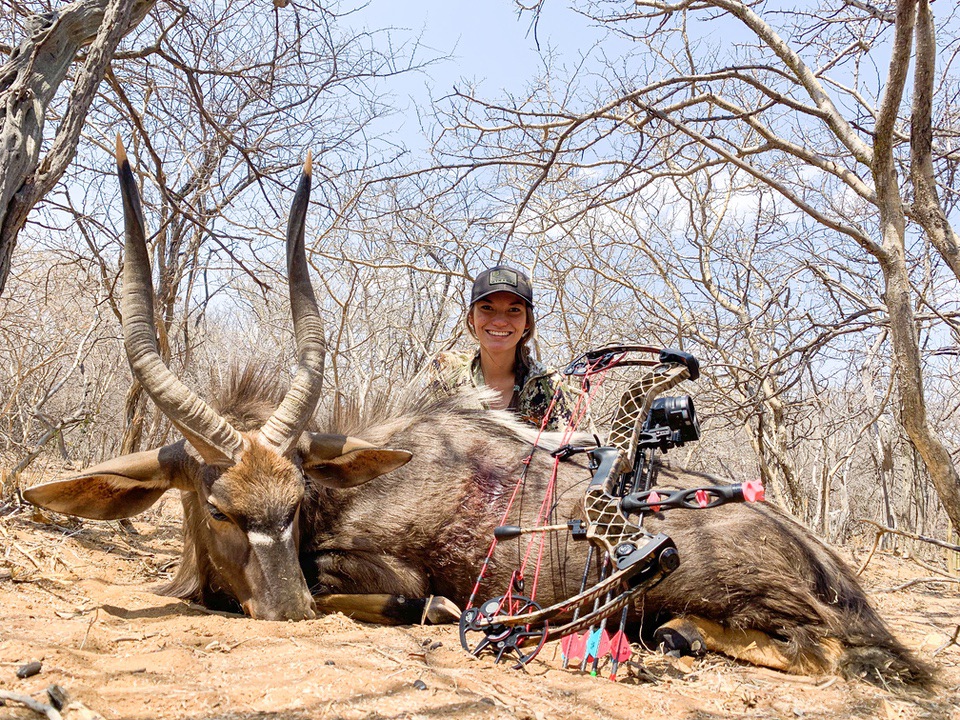 Tip #6: Shot Placement
Shot placement is always important whether rifle or archery hunting. As I tell my hunters, "Aim small, miss small." For a bow hunter going to Africa for the first time, it's so important to ask your guide about shot placement recommendations. Even doing research yourself before your hunt can be extremely helpful. Being comfortable with where the vitals are for the different animals that you are hunting will make you more confident when aiming. If possible, a great purchase is "The Perfect Shot" book. This book shows the best shot placement for many different African species, including the animals' anatomy and different angles to help you better understand shot placement options.
About Shoot Like A Girl
Shoot Like A Girl (SLG2, Inc.) is a company dedicated to growing the number of women in shooting sports by empowering them to participate with confidence. With the help of our corporate sponsors, SLG2, Inc. thanks its valued corporate partners who share the mission to grow the number of women in shooting sports by empowering them with confidence. Learn more about Shoot Like A Girl.
About Emily Perreira

Emily Perreira was born and raised on the beautiful island of Maui. She began hunting at the age of 5, on trips to Texas. The once pastime and hobby has now become a great passion. Selected as the 2016 Safari Club International and Cabela's "Young Female Hunter of the Year," Emily is a licensed guide for Maui Hunting Safari and hunts every opportunity she gets. Watch for her trending reviews on modern hunting gear and firearms. Emily pens "She Guides," a column that features hunting tips and tactics, sponsored by Remington Outdoor Company. View all posts by Emily Perreira →