Old Glory PR: A Review of the Ruger Precision Rifle
One of the things I have learned over the past few years is that you have to use the equipment that works for you, regardless of what others do. While precision rifles (PRs) are often used for shooting competitions, I have found that a PR is a wonderful hunting firearm for me. Although a PR is heavy, I don't walk with my rifle, and I like that the weight gives me a solid base for long distance shots. When Ruger released its Precision Rifle in 6.5 Creedmoor, and cerakoted it with Old Glory, I knew I had found my new favorite hunting rifle.

Sponsored by Ruger
As with any Ruger, this rifle is made with quality pieces. I gleaned the descriptions from Ruger's website, and listed them again here:
The stock is crafted to be fully adjustable, including the cheek rider, and the rubber buttpad effectively manages recoil. The left-folding stock hinge is attached to an AR-style buffer tube and accepts any AR-style stock, with QD sling attachments and a bottom Picatinny rail.
The AR-style grip is comfortable and allows for easy access to the ambidextrous safety.
Two, 10-round Magpul PMAG magazines are included with the rifle, and they are interchangeable with AICS and M110/SR-25/DPMS/Magpul-style magazines, as well as some M14 magazines.
The trigger is smooth and adjustable, with a range from 2.25-to-5 pounds.
The bolt handle is oversized for easy manipulation
The bolt body is nitrided for corrosion resistance, smooth operation and durability.
The 24-inch barrel of the rifle is made of hammer-forged, chrome-moly steel and features a Ruger Precision Rifle Hybrid Muzzle Brake to effectively reduce recoil while minimizing noise and blast to the sides of the shooter.
The aluminum, free-float handguard is 15 inches, hard-coat anodized aluminum and features Magpul M-LOK slots on all 4 sides for improved scope clearance for long-range scopes and easy mounting of M-LOK-compatible rails and accessories.
A 20 MOA Picatinny rail allows for elevated long-range scopes and other shooting accessories.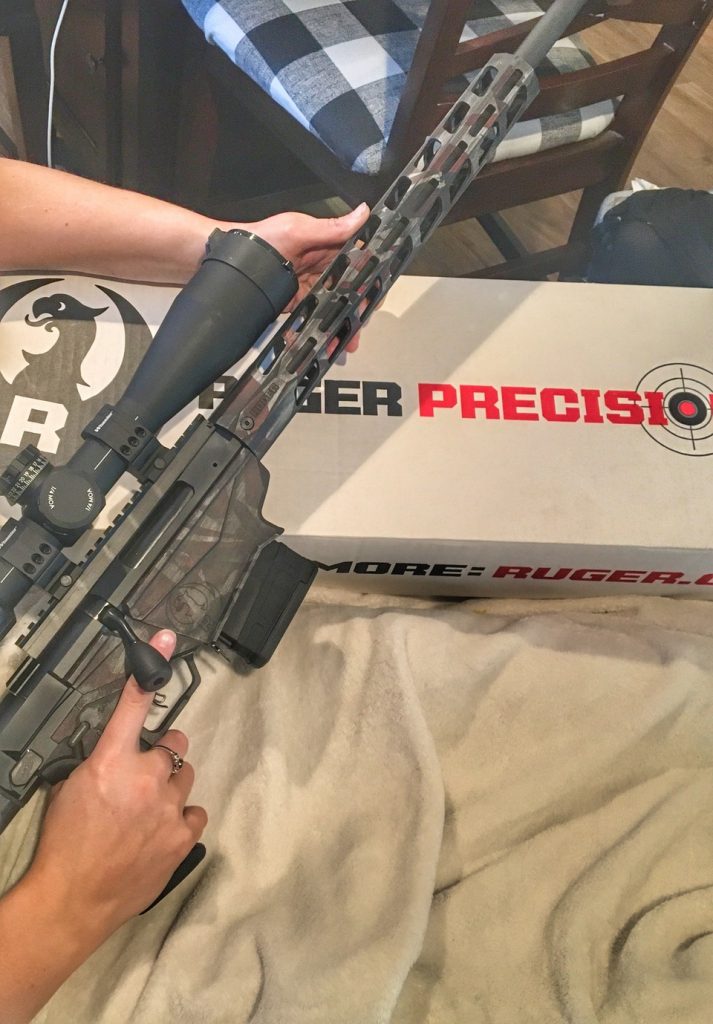 As soon as you open the box, this rifle begs to be taken to the range. I willingly obliged. After mounting a Crimson Trace CSA-2624, 6-24x56mm scope, the entire package weighed a little more than 13 pounds. It's not something I would want to lug around all day hiking up a mountainside, but perfect for a day at the range or for riding next to me in my Action Track Chair while I hunt.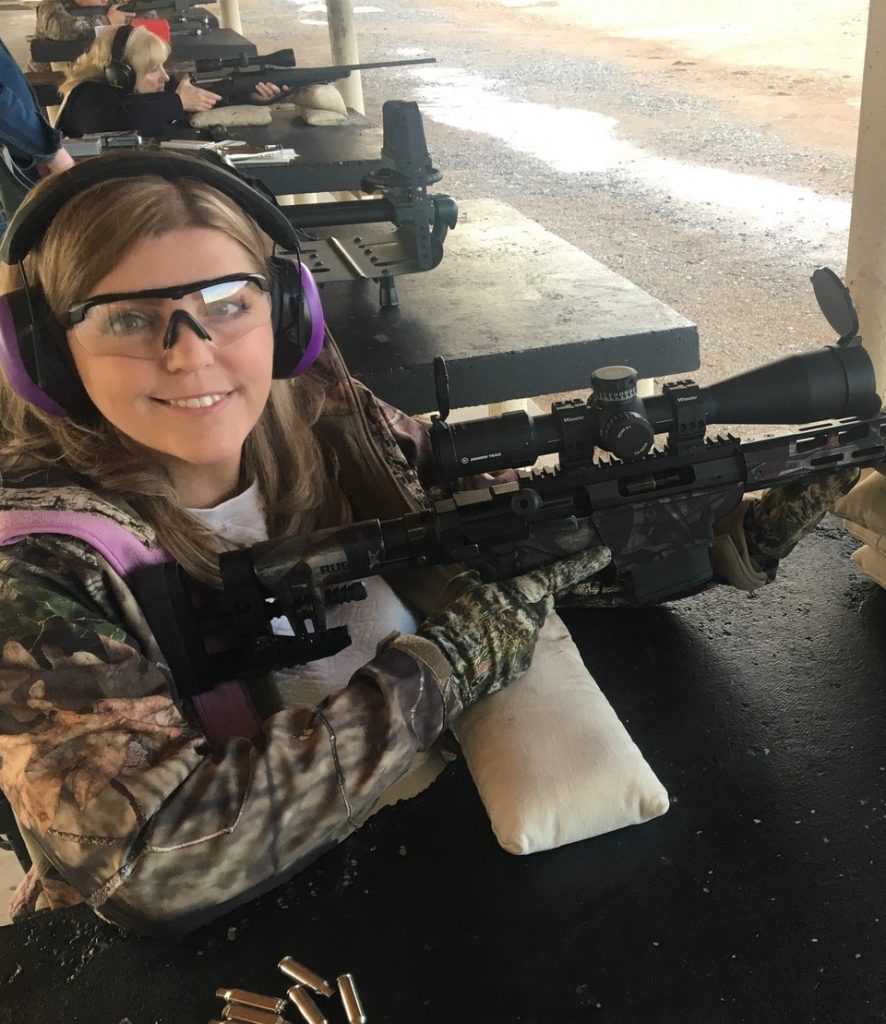 I zeroed in the rifle in no time, and soon I was checking the accuracy at longer distances. I started with the rifle on my Caldwell Lead Sled, but I couldn't get quite comfortable enough for the longer distance shots, so I switched over to using sandbags as a stable foundation. I would be hunting with Federal Premium Barnes TSX, 130 grain ammunition, so I started a new ballistics chart using information from the Federal ballistics calculator and the adjustments from my shots. After tight groups on the 100- and 200-yard targets, I reached out to the 300-yard metal target with quick success. As has become my custom, I like to leave the range only after ringing the 550-yard gong, and this day was no different. The Ruger is an incredibly accurate firearm.
I really enjoyed shooting this rifle! It feels solid and well made, and I like the movement of the large bolt and light trigger. After making adjustments to the stock, it fits me like a glove. The recoil is barely noticeable, and it shoots flat and accurately. Even though many of the parts can be easily exchanged, I don't see myself making any changes in the near future. I don't know if I will ever take Old Glory to the competitor's field, but I know this Ruger will be my new best friend as I head out hunting soon.
For more information, visit: https://ruger.com
MSRP Info:
Ruger Precision Rifle, 6.5 Creedmoor: $1599.00
Crimson Trace CSA-2624, 6-24x56mm scope: $849.00
Caldwell Lead Sled DFT2: $199.99
Federal Premium Barnes TSX, 130 grain, 6.5 Creedmoor: $45.95 (20 cartridges)
About Ashlee Lundvall

Ashlee Lundvall writes a blog titled "Redefining Life,"  that follows her rise from a debilitating injury as a teenager to Ms. Wheelchair USA in 2013. Her first book, "A Redefined Life," was published in February of 2016, and she is on National Pro Staff for Mossy Oak and the NRA's Disabled Shooting Sports committee. Ashlee is also the recipient of the 2017 SCI Foundation Pathfinder Award. Ashlee truly shines as a keynote speaker at outdoor industry and disability related events and conferences. She is passionate about mentoring newly injured patients, and loves to pass on her love for adapted outdoor recreation! View all posts by Ashlee Lundvall →