Retro WON: How to Get Started Ice Fishing
We are so glad you'd like to try ice fishing. One of the biggest benefits of ice fishing is enjoying time outdoors with your family during the winter months. Once you have decided that you want to learn how to ice fish, it's easy to get started.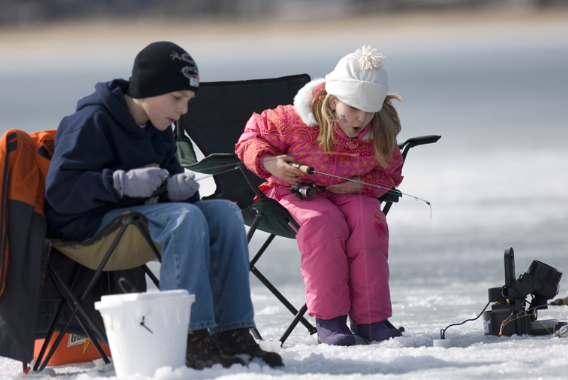 If you are ready to bundle up and take to the ice with hopes of catching species like walleye, crappie, lake trout, perch or bluegill, follow these easy steps to get started ice fishing:
The first step to take before planning an ice fishing trip is to purchase a fishing license that is valid in the state where you will be fishing.
Check the ice fishing regulations that apply to the state and waterway where you will be fishing. Knowing how to properly identify each different type of species that you catch while on the ice is an important part of learning how to ice fish.
Use a fishing rod that has plenty of sensitivity, but that is shorter than a standard open water rod. Ice fishing rods are usually only 3 to 4-feet in length since long casts aren't necessary for this type of fishing.
Get an ultralight spinning or spincasting reel that is rigged with eight-pound fishing line. Eight-pound line is sufficient enough for most of the species that you will be targeting through the ice. Keep your ice fishing gear simple to start out with.
Decide when to ice fish and where to ice fish. Check the weather forecast, dress appropriately, and educate yourself about ice fishing safety. Learn about which types of spots on a frozen waterway are both safe and likely to hold fish.
Choose the type of bait that you would like to use (live or artificial), but keep in mind that live baits are best for beginners. While learning how to ice fish, it's best to use live minnows or wax worms. Once you have some experience, you can switch to jigs, spoons or other artificial lures to make it more of a challenge.
Continue learning about ice fishing here.
This Retro WON first appeared November 25, 2016.
About The WON

The Women's Outdoor News, aka The WON, features news, reviews and stories about women who are shooting, hunting, fishing and actively engaging in outdoor adventure. This publication is for women, by women. View all posts by The WON →