Syren USA at the Annual Dallas Safari Club Convention
While Caesar Guerini, Fabarm and Syren don't display at the SHOT Show in Las Vegas anymore, we have started going to more consumer shows, which is good news for the customer who is interested in our guns. The annual Dallas Safari Club (DSC) Convention is held at Kay Bailey Hutchinson Convention Center in Dallas, Texas. This is our 3rd year at this show and it just keeps getting better and better for us.

Sponsored by Syren USA
John Calandro IV with Clay Shooter Supply hosted us in the booth and he did a great job, along with our dealer rep David Deveny. Our vice-president of sales, Tom Smith, and I rounded out the team. Clay Shooter Supply has opened their store in Dallas in the Preston Center. For anyone who went to Collector's Covey when it was still open, they are right next door now. John has a great selection of our guns and can, of course, order anything that you need (or want). He's also got ammo and can do custom-molded ear plugs for you, too.
For those who have attended a lot of conventions, you'll understand how nice this is. DSC hosts an exhibitor breakfast every day of the show, and not just donuts and coffee either – a full breakfast with really great coffee. They also have several of the members walking the floor pre-show with coffee carts. It's a rare treat and really neat to see who you can meet over the meal. One morning I sat with some outfitters from Canada and the next was a couple from New Zealand that host red stag hunts and brown trout fishing.
My Favorites at the Dallas Safari Club Convention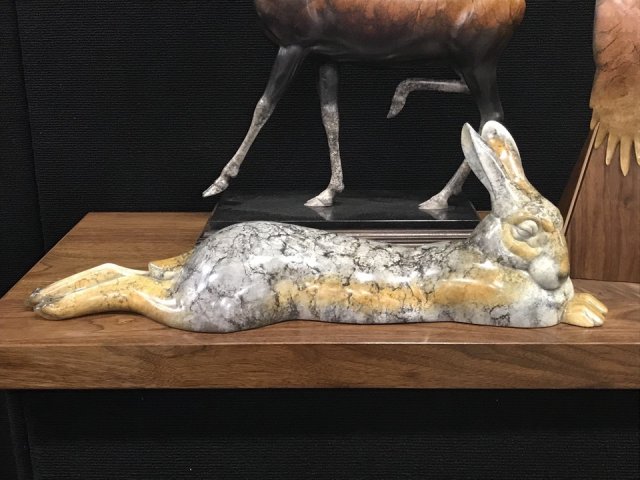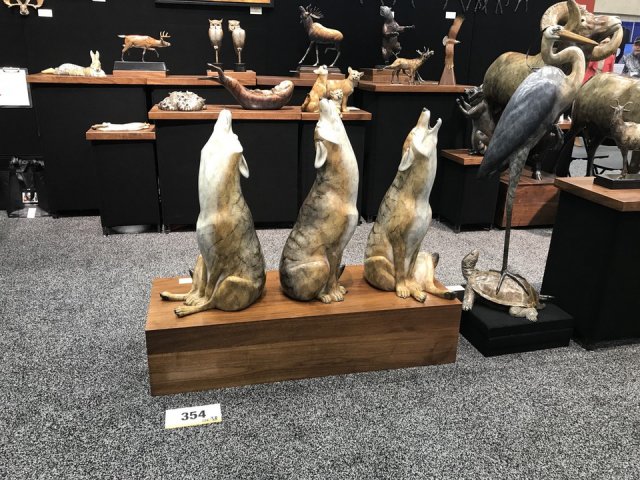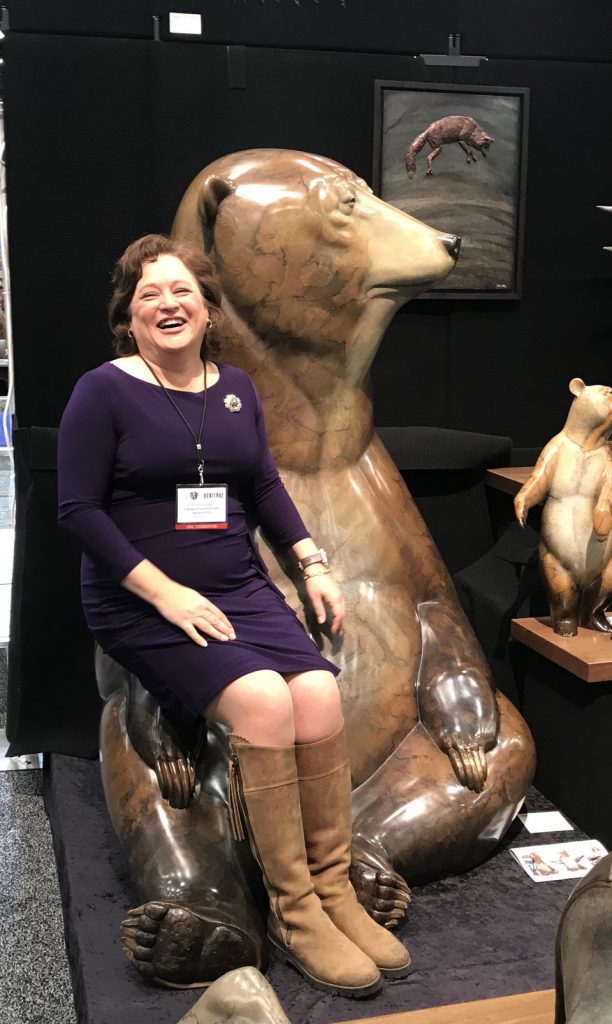 A few of my favorite things this year included bronze sculptures by Joshua Tobey Studios and his wife, Josephine, who was so fun and helpful. The picture of me sitting on the bear laughing happened on a Sunday afternoon and she had just sounded off the "fart machine" that she had hidden behind the bear. She had been tricking kids all weekend and getting such a laugh from it and I was equally entertained. I could have taken home one of everything.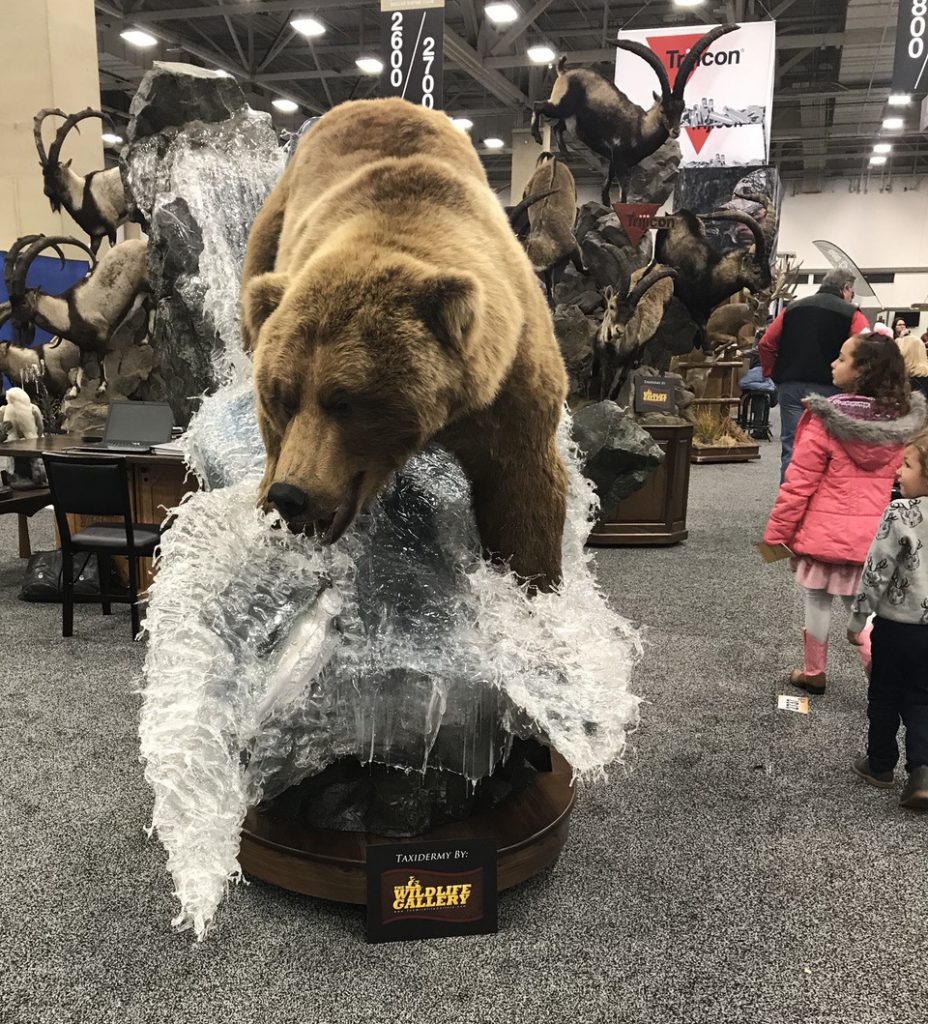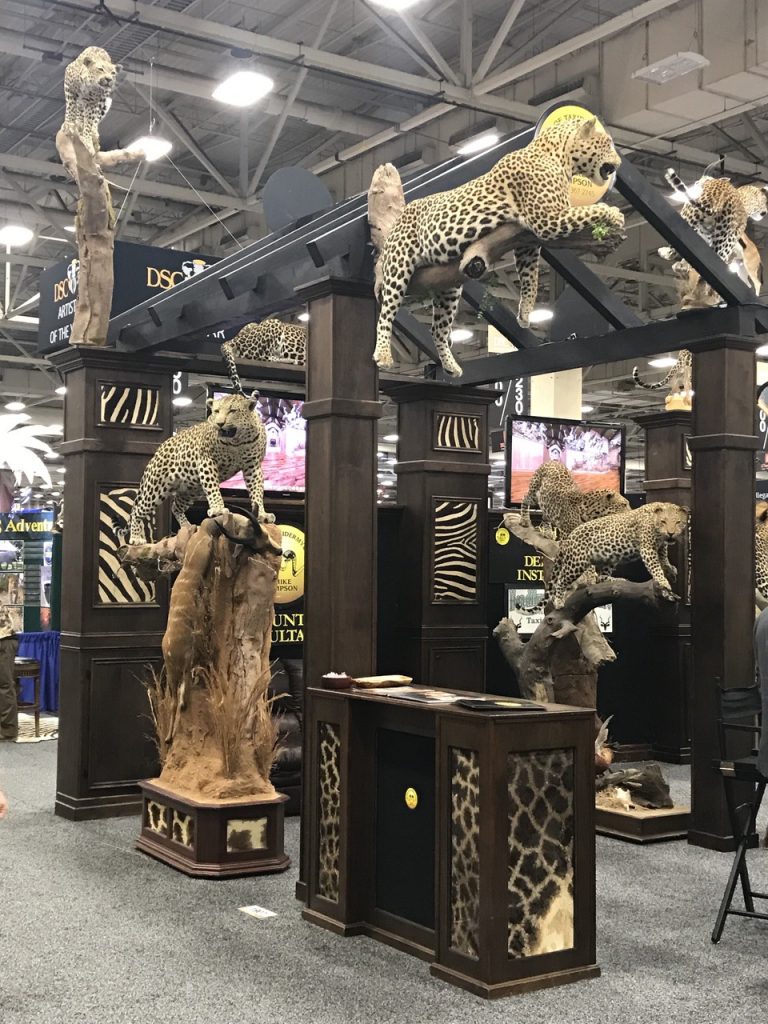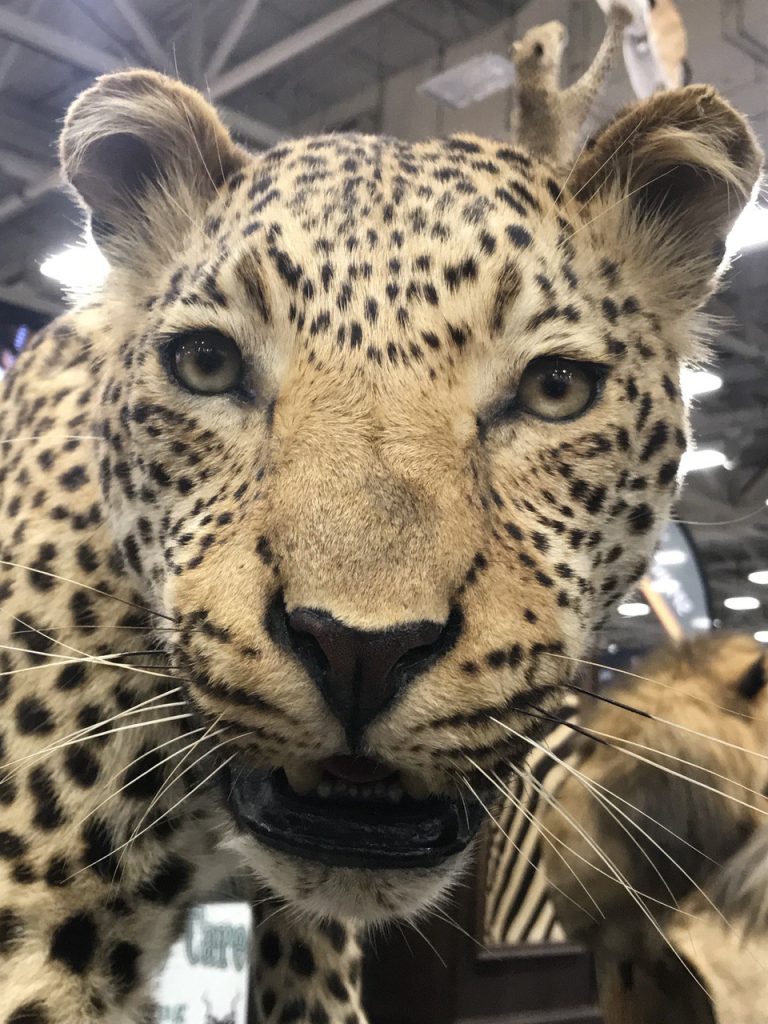 Aren't these mounts of the leopards and the bear in the water beautiful? Apparently, the "water" is a special product special to The Wildlife Gallery and won't turn yellow over time. It looked so real, even up close. I put the up-close picture of the leopard as my phone wallpaper, so I can imagine what it would feel like to open your eyes and see that face looking back at you. Conroe Taxidermy shows amazing work on its website, also.
There was some fun shopping, too, with the ladies from Africa and Okapi. They offered purses, fun feather pom-poms and beautiful jewelry.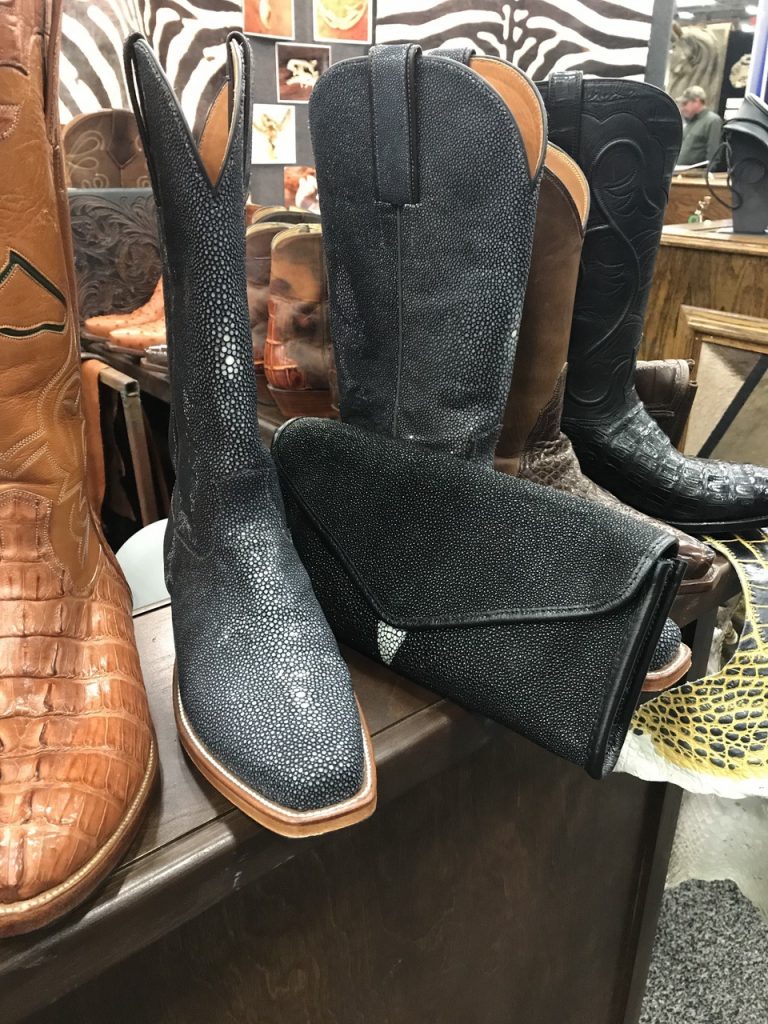 The stingray boots from Tejas Boots spoke to me. I didn't even ask the price because as the saying goes … "if you have to ask how much, you probably can't afford them." Years ago, I found the most gorgeous pair of Stingray slides, but they were a ½ size too small and were NOT going to work. My sweet friend, Anginette, who was shopping with me, scooped them up happily and has been wearing them ever since. I still need a pair for myself.
Hound and Hare owners Eric and Amy Nicholas sold lovely Fairfax and Favor boots and elegant tweeds. I bought a pair of boots from Eric last year at Pheasant Fest in February and I absolutely love them, especially since there is a zipper all the way down (although it will go off in airport security so you have to take them off – even if you're in the TSA Precheck line) that helps me get them on and off with my high arches. I have the Explorer model in Oak that has a beautiful patina on them now and also have the Regina model in Oxblood suede. Eric is the exclusive US stocking agent for the boots. Be sure to check out their site for the "Countryside Chic" look we desire.
And as always, I enjoyed "people watching" at the Dallas Safari Club Convention. I didn't feel it would be fair to post those pics, but know I saw a few "entertaining outfits," for sure.
Schedule for Caesar Guerini (Fabarm and Syren) crews
For Valentine's weekend, Lynne will be at Pheasant Fest in Minneapolis with our dealer Arnzen Arms; a rep will be at the National Wild Turkey Federation Convention (NWTF) in Nashville in the booth with Griffin and Howe and another rep will be at the Southeastern Wildlife Exposition (SEWE) in Charleston that same weekend with our dealers Grady Ervin and Safety and Security. Florida Rep Roy Baker will be our rep at the Gator Cup down at Quail Creek Plantation in Florida and our Dealer Rep Nick will be in the booth at the San Antonio Junior Rodeo Shootout at the National Shooting Complex, along with Clay Shooter Supply.
We hope to see you at one of our events to check out the guns. If you have any questions in the meantime, please call us at the office at 410-901-1131 or check out our websites – syrenusa.com; gueriniusa.com and fabarmusa.com
About Lynne Green

Lynne is on to her next adventure after over four years in Maryland with Caesar Guerini and Fabarm as the Brand Manager for Syren (a line of shotguns made for the ladies). She has attended dozens of demos and events and has been honored to get to meet and introduce hundreds of ladies and young girls (and lots of boys and men too) to all 3 brands and to shotgun shooting! Lynne has learned so much about shotguns – gun fit, eye dominance and mechanics – that shows her just how much more there is to learn. She now is doing marketing and branding consulting and also plans to stay active in the outdoor industry, do more hunting and sporting clays, shooting lessons and add some fly fishing to her repertoire. She'll be based in the Dallas Fort Worth area. View all posts by Lynne Green →