Retro WON: Antler Centerpiece, Bringing Your Hunt Home
One of my favorite ways to remember my hunting adventures is to find a unique way to incorporate parts of my harvest into my home décor. Recently, I completed my first DIY European antelope mount. Although I loved the look of the bare mount, I wanted to dress it up and hang it in my dining room. As I love to process and cook with my own meat, it seemed fitting!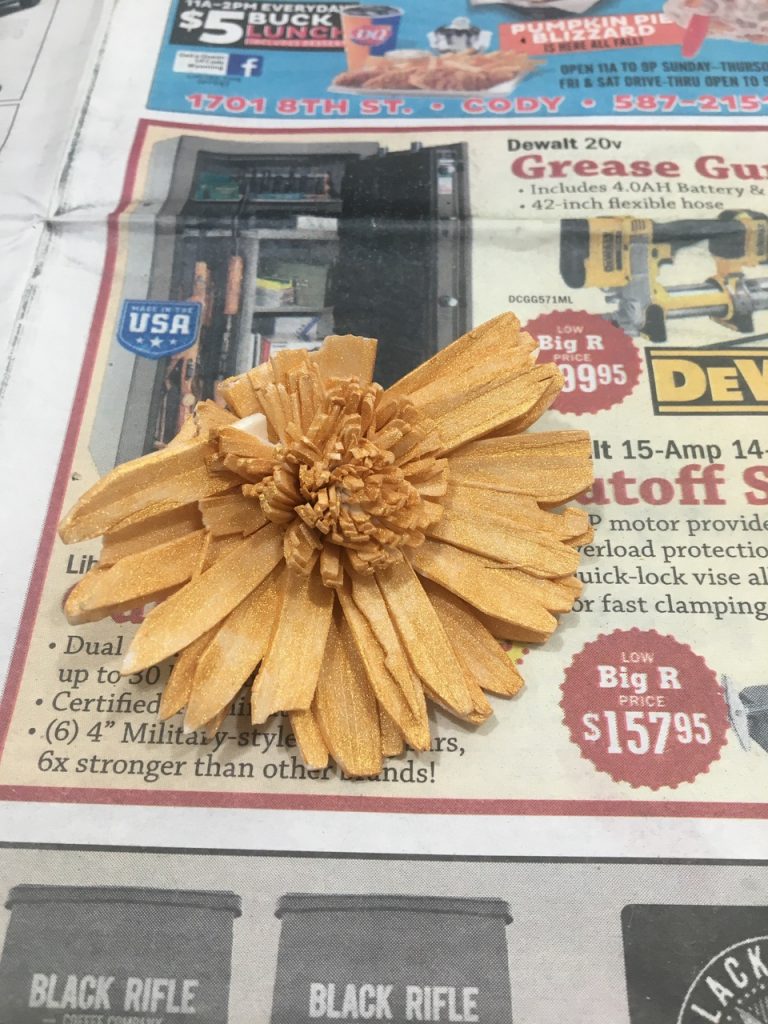 I looked online at several pictures of floral wreaths hanging on mounts before deciding that was the general route I wanted to take. I ordered a 50-piece random assortment of Sola Flowers because they are customizable, lightweight, and look very realistic. You can order these wood flowers in a raw state or have them dyed in a variety of colors. I chose to have mine delivered in their natural state and ended up painting them using a metallic paint set from the craft store.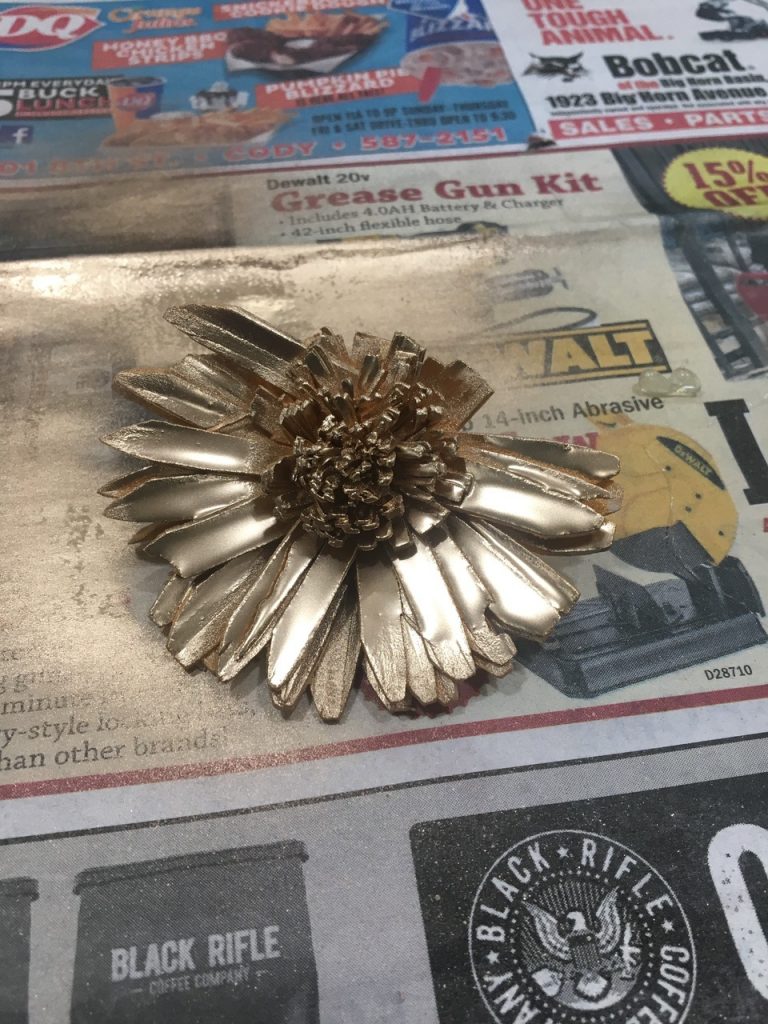 European Antelope Mount
I plugged in my hot glue gun and arranged the flowers in varying configurations while the gun heated. Once I decided on a pattern, I began by gluing a little faux moss to the forehead of the skull. I continued gluing flowers on top of the moss until I was satisfied with look. Once everything had completely dried, I was able to hang the mount on the wall from a Skull Hooker Little Hooker. I love how it turned out, and the black and dark brown of the antelope contrast beautifully with the metallic colors of the flowers.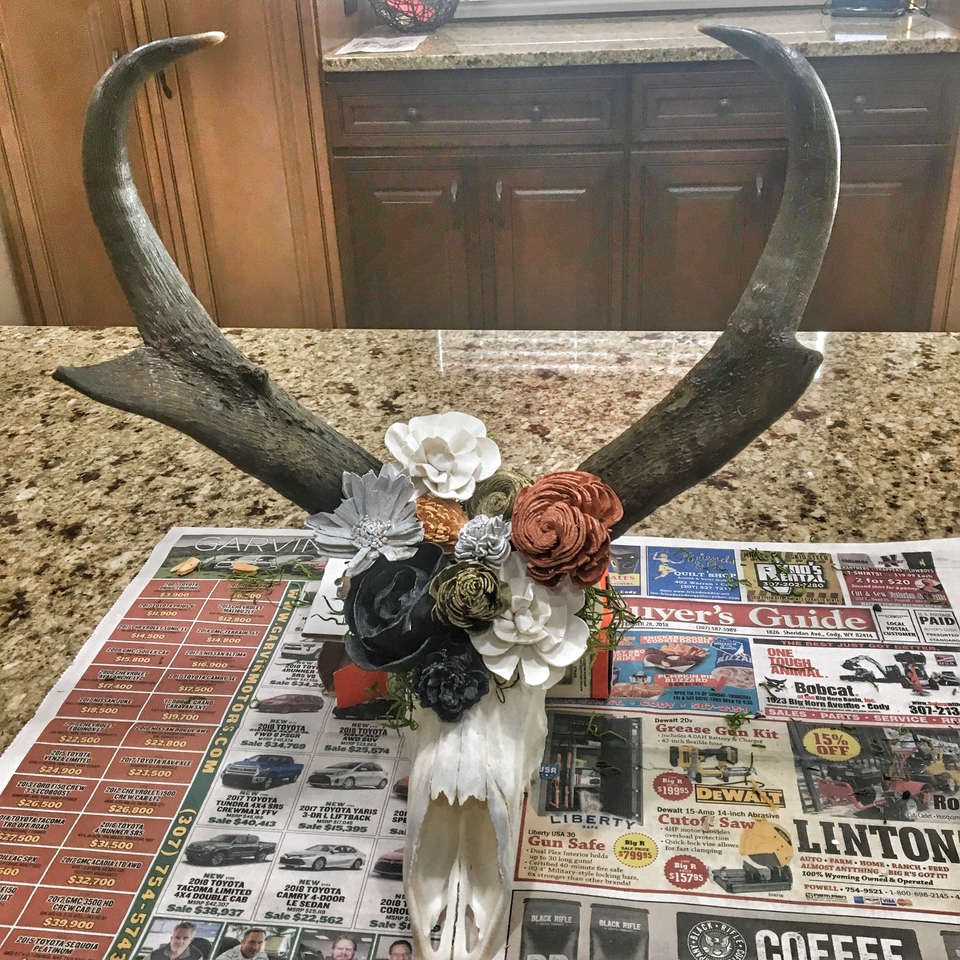 Antler Centerpiece
The final step in decorating my dining room was a centerpiece. I asked my husband to build me a wooden box to span the length of the table. The box was constructed with 2×6 pieces cut into two, six-inch end pieces and two, four-foot side pieces. The bottom was made from pallet strips and all of the pieces were screwed together with wood screws. I wanted the box to be black, but I also wanted to see the wood grain, so I used a light coat of black spray paint to cover the top and outside.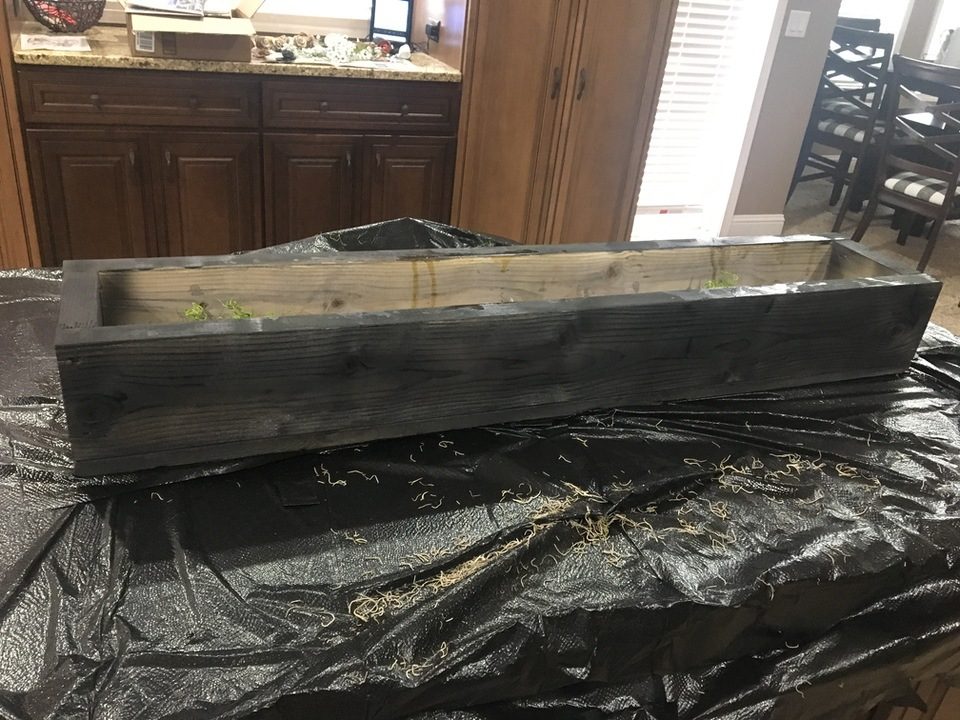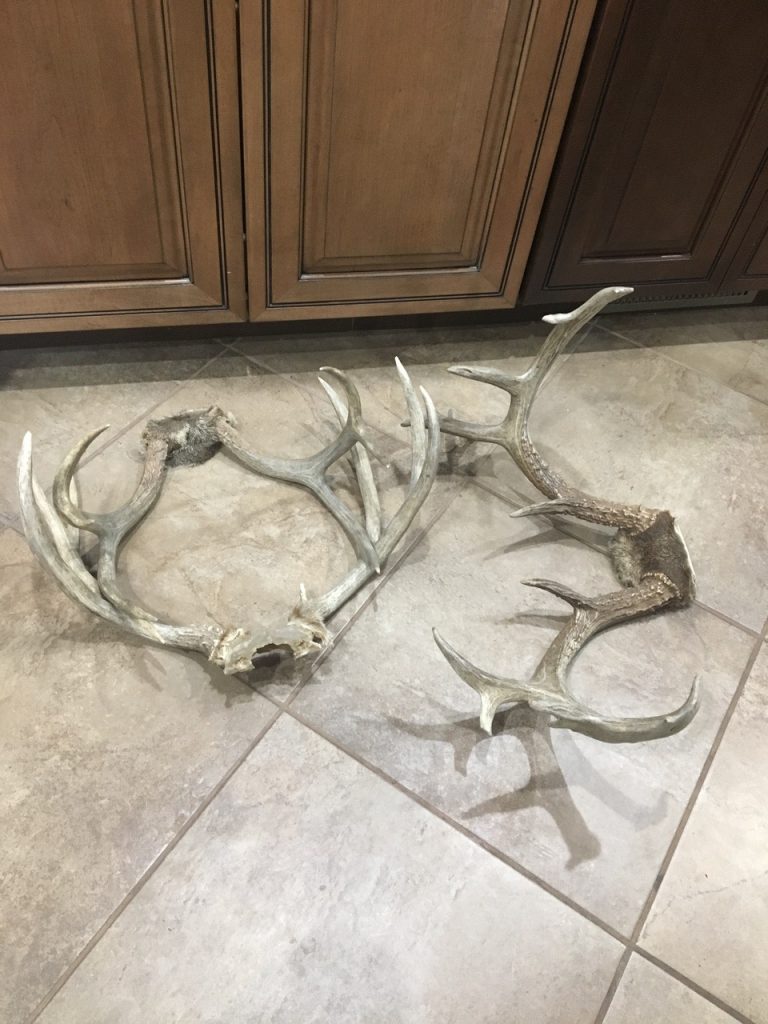 Once the box dried, I moved it from my kitchen island to the black and white buffalo plaid runner on my dining room table. I added some faux moss to the bottom, which was leftover from my antelope mount. I then fit three deer racks into the box, shifting the antlers until they were slightly intertwined and pulling the moss up around their bases. The final step was to place additional painted Sola flowers into the moss to match the Euro on the wall. Again, the finished product was exactly what I was after, and it really makes a statement when you enter the dining room. I'm looking forward to adding more decorations to this centerpiece for the holidays.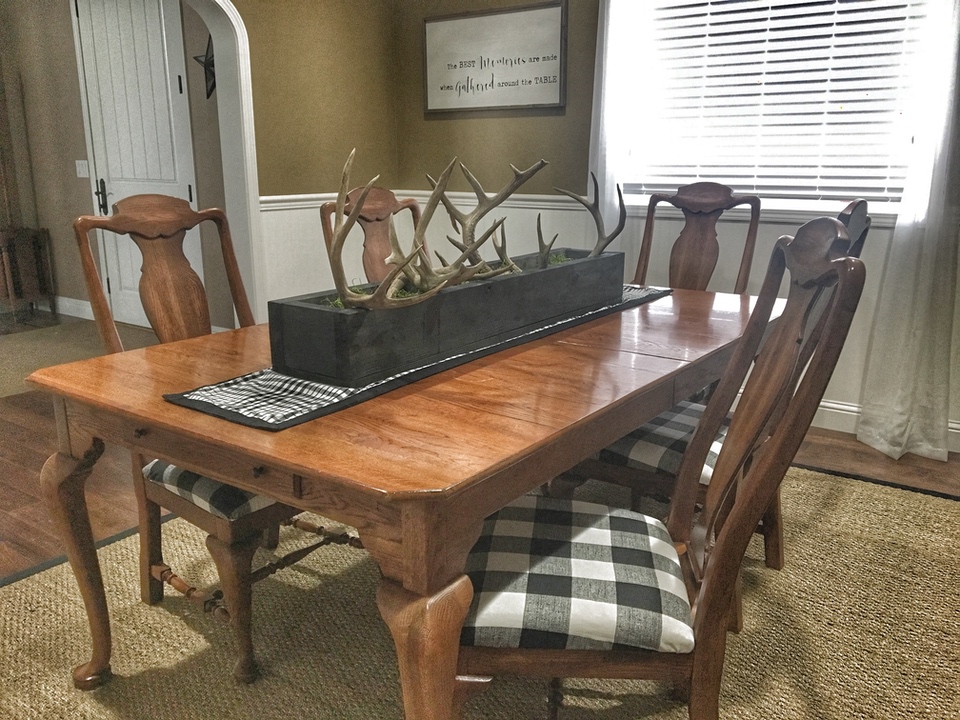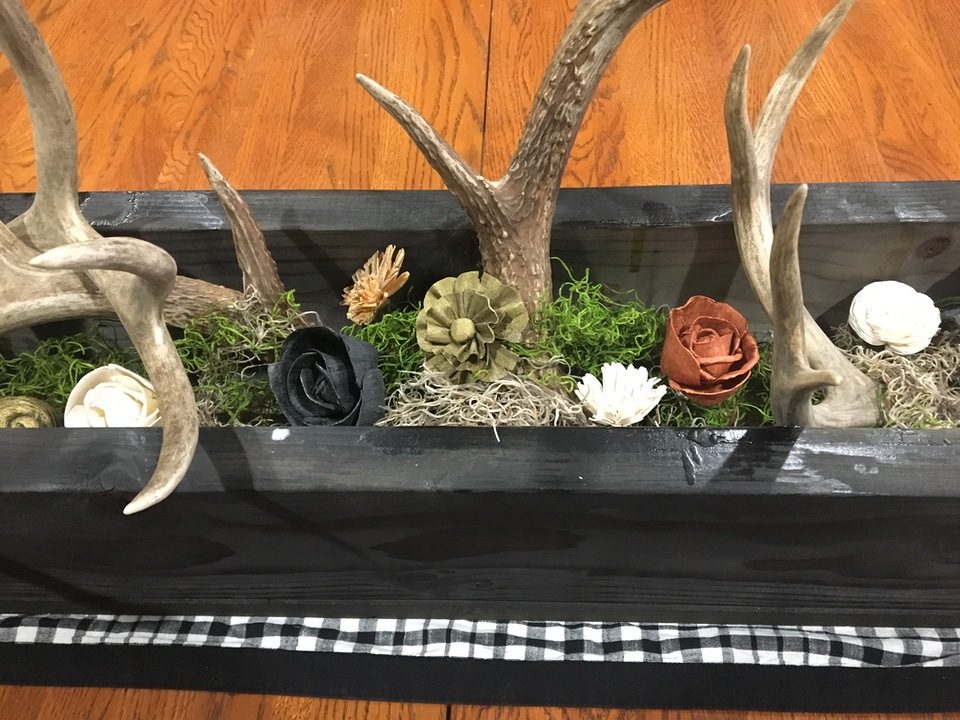 I love that every time I enter my dining room and see my antler centerpiece, I will be reminded of multiple hunts and tons of adventures. How do you bring your hunt to your home?
This Retro WON first appeared April 2019.
About Ashlee Lundvall

Ashlee Lundvall writes a blog titled "Redefining Life,"  that follows her rise from a debilitating injury as a teenager to Ms. Wheelchair USA in 2013. Her first book, "A Redefined Life," was published in February of 2016, and she is on National Pro Staff for Mossy Oak and the NRA's Disabled Shooting Sports committee. Ashlee is also the recipient of the 2017 SCI Foundation Pathfinder Award. Ashlee truly shines as a keynote speaker at outdoor industry and disability related events and conferences. She is passionate about mentoring newly injured patients, and loves to pass on her love for adapted outdoor recreation! View all posts by Ashlee Lundvall →