Makayla Scott: My Hog Hunt in North Carolina
A few years back my dad took my brother on a hog hunt at Cribs Creek Outfitters in North Carolina. My dad wanted to give my brother, Johnathan, a going-away present, since Jonathan had enlisted in the Marine Corps and would be leaving soon. What better than a hog hunt and chance to get his first hog?
After calling several outfitters, my dad chose Cribs Creek. He said Greg Lynn and his family seemed like the right ones and appeared to be really a family of sportsmen. From the time we arrived, they treated us more like family than clients. They prepared family style meals and we ate with them. My brother got his first hog that weekend.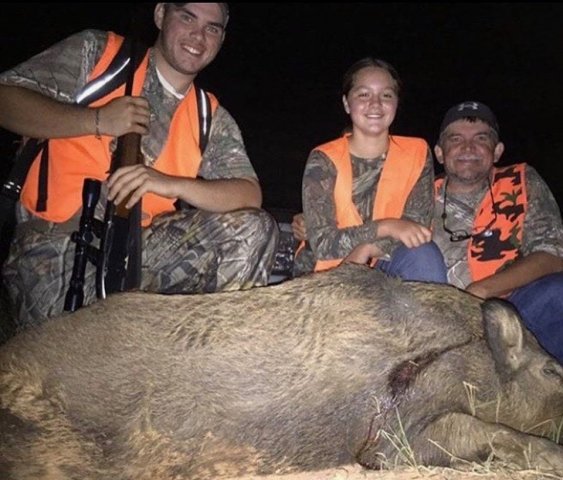 Not only did I find my true love for hunting and the outdoors at Cribbs Creek, but also, I made friends and memories that will last a lifetime. This year, we went on another hog hunt, courtesy of Cribbs Creek. This time, my friend Lauren Lynn joined me. She's someone I had become fast friends with since the first time we started hunting at Cribbs Creek, where I first met her. We even went spot-and-stalk stalk hunting in Georgia. It feels amazing to find another girl who loves the outdoors as much as I do. Since then, we have gone on fishing trips and Lauren Lynn her family have even come to West Virginia to visit my family.
A Shed Hunt
Of course, as luck would have it, the weather didn't corporate with our plans. The day we arrived, it rained more than 2 inches, so the water flooding the fields really limited where we could hunt. Greg decided we would just scout for signs of hogs in the morning and then, go to a blind. I really enjoyed scouting. Not only did we find signs of hogs, but also I found my first sheds.
While we were walking back to the buggy, I stayed behind our group a bit, taking in this new environment. My eyes scoured the ground, a habit I had brought from home. At my house, we have a huge field full of wild horses and an abundance of other wild animals of Appalachia. When these animals grow old and pass, they become part of the earth again. I love to take a walk and look for all the bones I can find. Not only are they strangely beautiful, I feel it respects the animal in another way. I guess I'm a bit of a bone collector.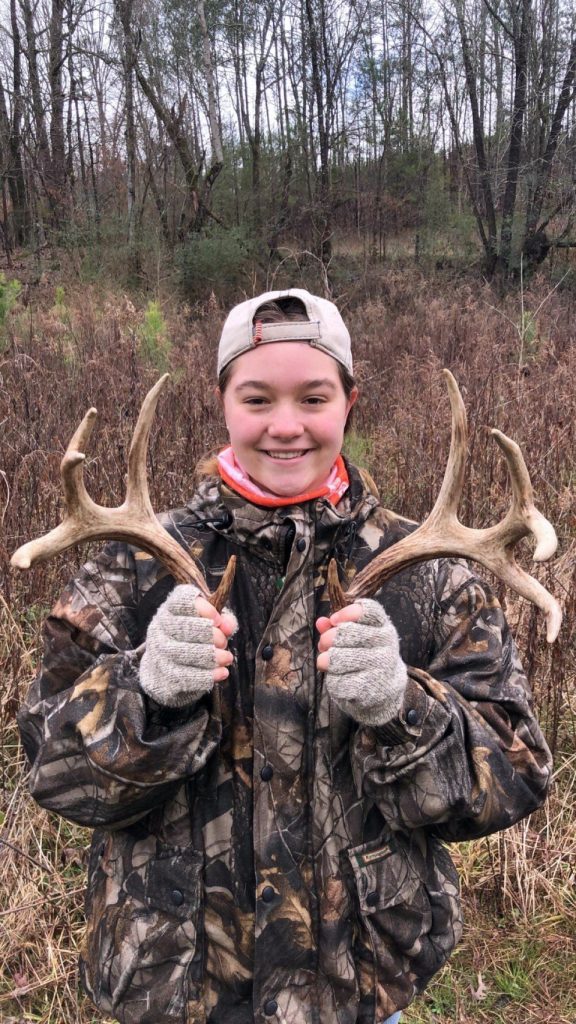 I did the same exact thing in this field. While I walked along the grassy field, I saw something white peek out from the brush. "Ooh, bones," I said (or screamed) in my head. I went to go pick up this "bone" and picked up an antler. I said "Wow! There has to be another one." I walked ahead just a few feet and found the matching antler. I had found a perfect 11-point set.
The Hog Hunt
Once we arrived and got our blind set, we left and got all our gear ready. I grabbed my rifle, and they dropped us off. We walked into our set-up at about 1 p.m. The weather turned sunny and warm, and animals started appearing. First, we saw huge bucks scaling the side of the brush. Even though I knew deer season had just finished, I still had buck fever, excitedly watching them walk back into the woods. Soon after that, I saw flocks of doves, geese, ducks, and about 20 quail (about 10 feet away). It would've been a wing shooter's paradise. I had never even seen quail before, so I just watched the little birds in awe as they scurried through the green grass. They looked so adorable. While I sat quietly, watching the little birds, something seemed to spook them as they feasted on corn. As they lifted, all their wingbeats in unison sounded like a magnificent thunder.
Nighttime Hog Hunting
After the sun had set, Greg, Dad, and my sister, Brooklyn, walked to our stand with night vision gear. Since I didn't get anything in the daytime, Greg took me on a stalk hunt. It sure got my heart racing. We got within 250 yards of the hog and Greg set up my tripod. While setting up, the hogs decided to go on the other side of the hill. Greg told me we would have to sneak to the top of hill and give it a shot off-hand.
As we slipped across the field heading to the ridge, I had to learn to navigate quick in the pitch-black darkness. You can only tell where you are going using the ridge lines to tell where you're heading, even though you are in open fields. It's wild. With your sight so limited, it seems to bring out your other senses.
About halfway up the hill we heard something running really close, and it kept getting closer by the second. Greg handed me the spotting scope so I could see the approaching group of animals. Relieved, I took a huge, nerve-soothing breath – deer came our way. We only got startled by some harmless deer. He then handed me the rifle and sent me on to the top of the hill. As soon as I reached the top, I put up the gun and looked through the night vision scope. I had crept only about 50 yards away from the group of hogs. All hogs went out of view but 1, and he already started to retreat back into the woods. Luckily, he stopped, and I got a good view of him through the scope. I knew I had to take this shot, or I wasn't bringing home the bacon. I took my shot and downed a beautiful red boar.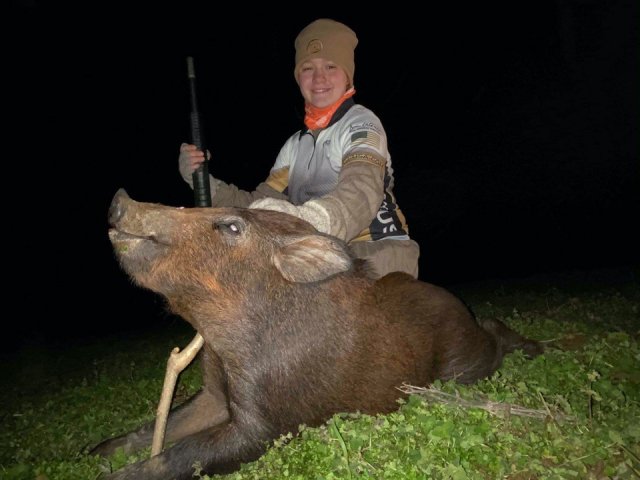 We put our that pig in the back of the ATV and drove back to the truck, heading to the cabin. This is the most memorable part of our hunt.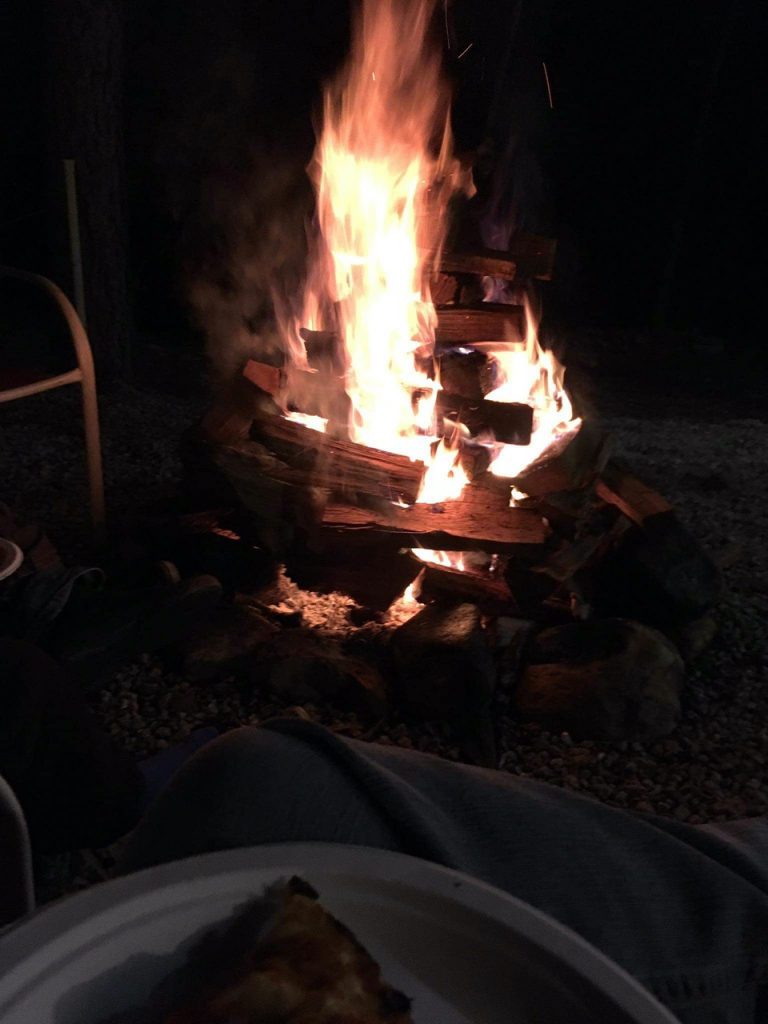 As Lauren, Brooklyn and I dressed my kill, Greg and Jen had a huge campfire going and supper ready. We sat around eating, telling stories, and just enjoying the great outdoors, family and friends. Hunting and chance brought 2 families together and created great friends that will last forever. I can't wait to hunt there again.
Read Makayla's squirrel hunting adventure here.
About Makayla Scott

Makayla Scott is a 16-year-old shotgun enthusiast from White Sulphur Springs, West Virginia, and a brand ambassador for CZ-USA. View all posts by Makayla Scott →