Getting Ruger's Precision Rimfire Rifle Ready for Competition
We are delighted to introduce you to our new writer, Jen Barcklay, an all-around outdoor woman, who is especially enthusiastic about long range shooting and hunting. Hailing from the state of Washington, Jen had always wanted to be a gun writer, but her job got in her way. As a helicopter mechanic – formerly enlisted in the Army and later, as a contractor – she is more than qualified and able to break down any gun we give her. Check out what she has to say about the Ruger Precision rimfire rifle. And, welcome to TeamWON, Jen! ~BB

Sponsored by Ruger
I was excited to review the Ruger Precision rimfire rifle because of my recent introduction to 22 LR precision category of shooting sports. Additionally, the current state of affairs in the world has shut down shooting ranges and spring turkey hunting in my region of the US. I am fortunate to have 50 yards in my back yard for target practice. This new rifle is the perfect project to ward off the quarantine blues.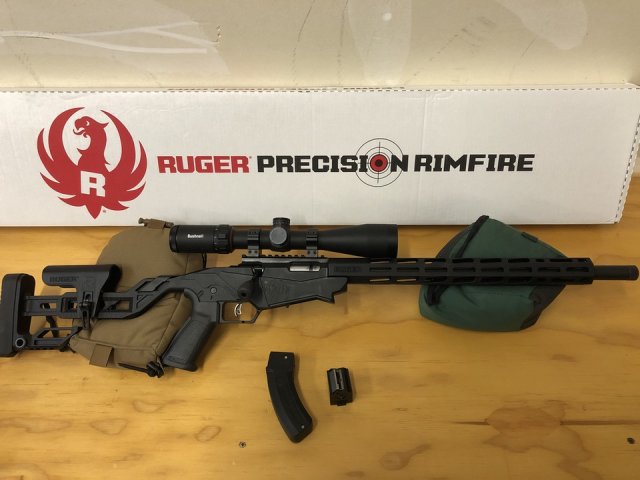 A longtime friend and fellow long range shooter took me to a .22 precision match in Cheyenne, Wyoming, back in February of this year. He had been nudging me for years to look into 22 precision shooting. I had a couple 22 LR caliber rifles over the years – growing cobwebs in the back of my safe. I had tried plinking with them a few times, but nothing about the .22 caliber ever really appealed to me as a long range centerfire rifle shooter. That is, until I experienced what it's like to be a participant in a relaxed, yet challenging match.
Targets varied — from steel prairie dogs at random ranges from 25 to 125 yards, to 2 separate "know your own limits" steel targets with descending steel plate sizes (from several inches to a quarter inch in size). One target stood at 25 yards; the other at 75 yards. At 150 yards stood a cowbell on a target. All seemed pretty standard, then out came lollipops, matchsticks and playing cards. My curiosity was piqued. Where was all this going?
Lollipops, Matchsticks and 22 LR Rifles
What in the world did lollipops and matchsticks have to do with a precision rifle match? I thought maybe this group of folks had a collective sweet tooth and a contest to see who could keep a matchstick lit in the ubiquitous Wyoming wind. As the match's stages progressed, it became clear the random tiny objects were targets. This is where the precision aspect of the .22 caliber started making more sense and became more interesting with targets such as lollipops, matchsticks and a playing card to cut in half (yes, with the bullet) at 25 yards. I got instantly hooked.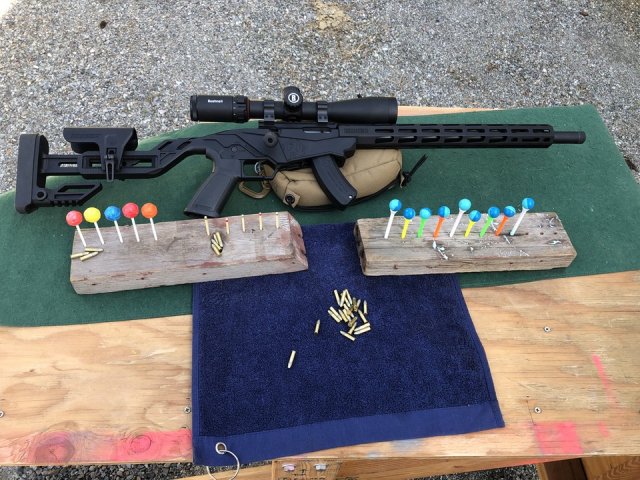 The Ruger Precision Rimfire Rifle
When my Ruger Precision rimfire rifle arrived I felt impressed and comforted by the familiar look and feel of it. I shoot a full-sized version of a Ruger Precision rifle chambered in 6.5 Creedmoor. Ruger built so many user-friendly qualities into this design. The amount of adjustability makes this a fantastic rifle for any rifle shooter. Or, an entire family can use the same rifle for a fun day on the range and have it comfortably fit each shooter.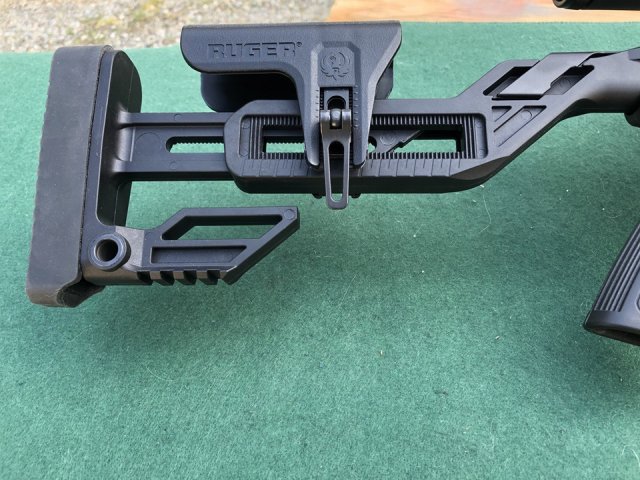 The Ruger Precision rimfire rifle comes with a fully adjustable stock for length of pull and comb height. Also, the cheek rest can be reversed for variables in body type and size or to accommodate different optic eye-relief distances. The shoulder butt plate is vertically adjustable. The rear bottom of the stock has a Picatinny rail bag rider to easily attach a rear monopod. The bolt includes an adjustment to change it from rimfire 1.5-inch throw to a 3-inch centerfire throw — all done by removing a metal band that snaps off the bolt. The oversize bolt handle makes for easy manipulation. The safety selector switch can be reversed from the left to right side. The trigger is adjustable from 5 pounds down to 2-1/4 pounds externally, by using a tool integrated under a quick snap off cover in the stock. This rifle comes with a 15-round magazine, yet will accommodate all Ruger 10/22 magazines. The barrel is free-floated within a Magpul M-LOK 4-sided handguard, capable of accommodating any accessory your heart desires. Barrel length is 18 inches with 6 grooves at a 1:16 right-hand twist, threaded and capped for easy installation of a suppressor or other barrel accessories. This rifle comes standard with a Picatinny 30 MOA elevation base scope mount for long range capability right out of the box.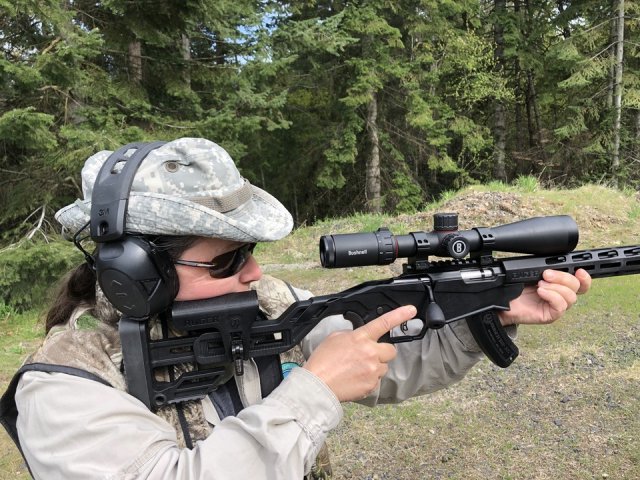 Choosing an Optic
Depending on what optic you choose and what distances you are shooting, the 30 MOA elevation base can be slightly problematic with shorter range work. Certain optics do not have enough downward mechanical elevation adjustment to overcome the significant 30 MOA required to zero the rifle at shorter distances. I made this discovery during initial range testing with the first optic I installed on the rifle. Note: Ruger makes a zero MOA flat base for shorter range pursuits.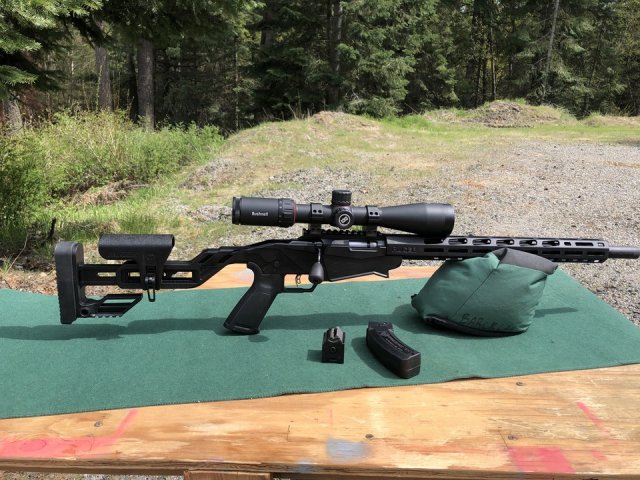 Other considerations when choosing a rimfire optic is to check the manufacturer's specifications closely. You will want a scope with minimum of a 25-yard or shorter-fixed focus or parallax adjustment option, which is another lesson learned with the first optic I tried. It had a fixed focus of 50 yards, no parallax or reticle focus option. This made for a few challenges on my home range of only 50 yards (making 25 yard targets impossible to see). As primarily a long range rifle shooter, I initially did not take those aspects into account, being this was my first serious rimfire exploration. After acquiring an appropriate optic (Bushnell Nitro 3-12×44, 30mm), I discovered that testing turned into absolute fun! The Bushnell scope has enough downward mechanical elevation adjustments to zero the rifle at shorter distances to not have to replace the 30 MOA base with the 0 MOA base, with an added bonus of having fewer parts to swap before getting back out on the range.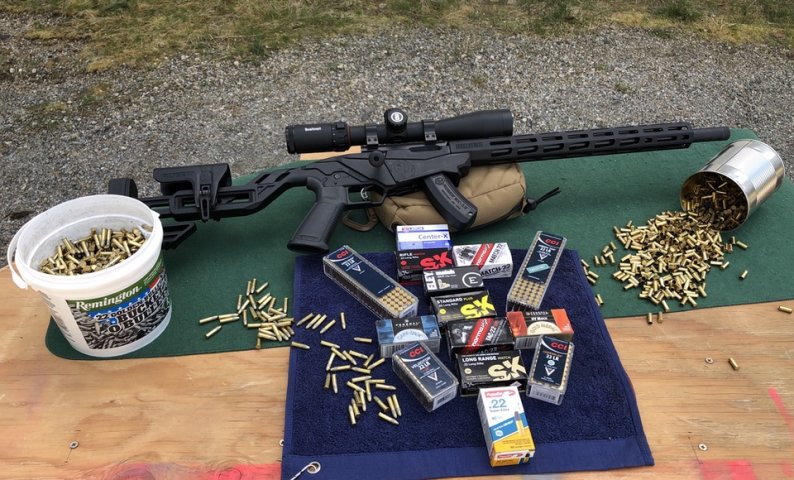 How I Tested the Ruger Precision Rimfire Rifle
Range testing started out with bulk Remington 38 grain HP at 25 yards, getting on paper with a rough zero. Then I moved out to 50 yards to make a few minor zeroing adjustments. I ran a couple hundred rounds through the rifle, field cleaning it after every 50 rounds. Initially, the bolt seemed a bit rough —with a bit of friction points — and would feel like it would drag and kind of catch a little, even with proper greasing and lubrication. I took a piece of grey Scotchbrite and gave the sharp edges a manual mild buffing out, re-lubricated the bolt; this little touch up smoothed out the action very nicely.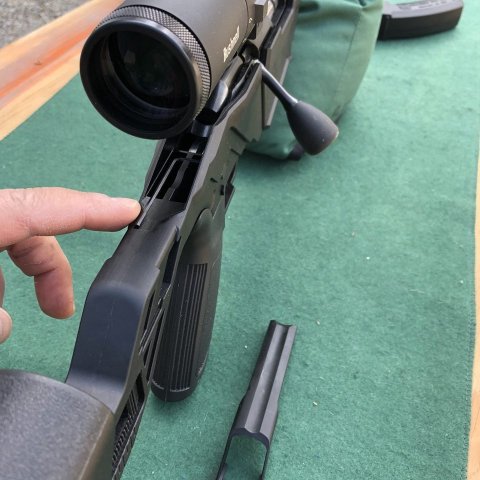 I then decided to make a trigger pull adjustment. Initially out of the box, my Lyman trigger pull gauge showed 4 pounds, 14 ounces. Using the factory tool located conveniently in the stock, I lightened it up to 2 pounds, 6 ounces, for the remainder of the testing. After those minor changes and a deep thorough cleaning in the shop, I dove into running 14 types of 22 LR ammunition through the rifle over the span of a couple weeks. The ammo included various brands, grain weights, velocities, bullet styles – from everyday hardware store variety to competition match grade ammunition. Between each type of ammunition, I would field swab out the barrel.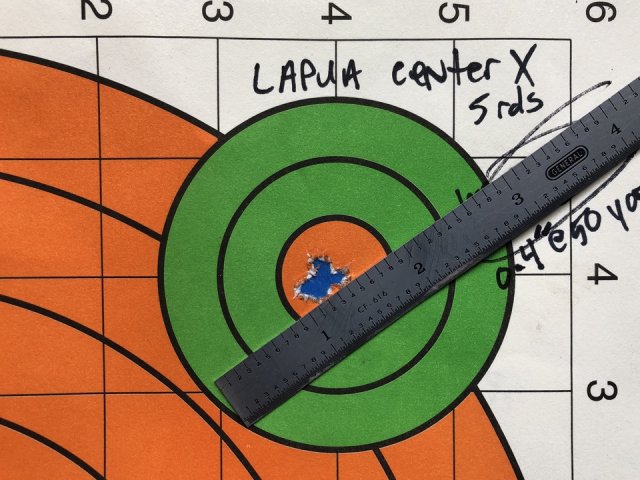 Ammo Lube Matters
Yet another item learned about 22 LR ammunition is each type or brand comes coated with its own lubricant. Some is more of a thick waxy coating and some more oily with less viscosity. This effects how the ammunition performs in your barrel. When you begin to run a new variety down the barrel, it is best to clean the previous lubricant coating out of the barrel. This will give you a clean slate to work with as you begin to coat the barrel with the new lubricant of the new brand to give you consistency of how each type groups as you shoot it. It's a bit of a tedious process, but pays off in the long run when you are able to start to tune in to what your rifle "likes" or does not based on the results down range. I will not bore you with the performance of every single type of ammunition I ran through the rifle. However, the top 3 performers maintaining constant MOA sized groups at 25 and 50 yards were Lapua Center-X, SK Match Red and Norma Match-22 Elite. The Lapua Center-X held a slight edge over the other 2 in consistency, yet at trying to judge the ragged holes in paper, it is difficult to say if it was the ammunition or my ability as a shooter. This rifle performed very well with all 3 of these brands of ammo. There were also a few runners up out of the many types.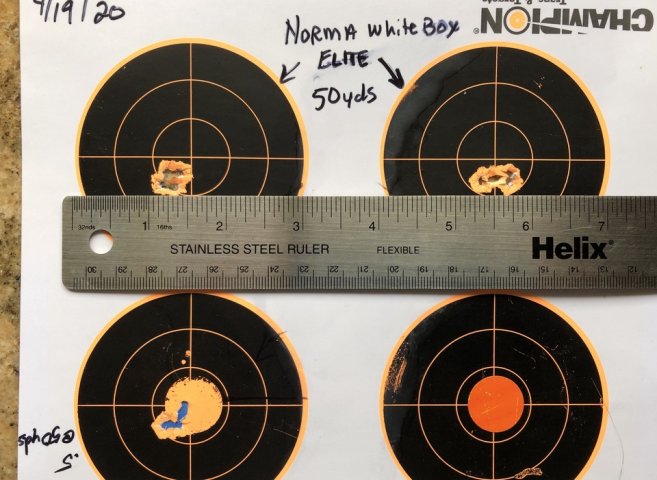 Conclusion
After long days of punching holes in paper, I recreated some of those targets from the first 22 LR match I experienced in Wyoming. I had to give the lollipops, matchsticks and paintballs on golf tees a try. The Ruger Precision rimfire rifle knocked tips off matchsticks at 25 yards and evaporated lollipops and tiny paintballs at 50 yards. The only disappointments I had with this situation happened when I had to stop range shooting sessions to come inside and write about it. Also, I only had 50 yards to test this rifle and did not have the opportunity to share this experience with any of my fellow lady shooters. As a long range shooter, new to the 22 LR cartridge, I can't help my mind from wandering into dreams of future days when the opportunity to push this rifle and myself to greater distances as the world, hopefully will soon begin to open up again.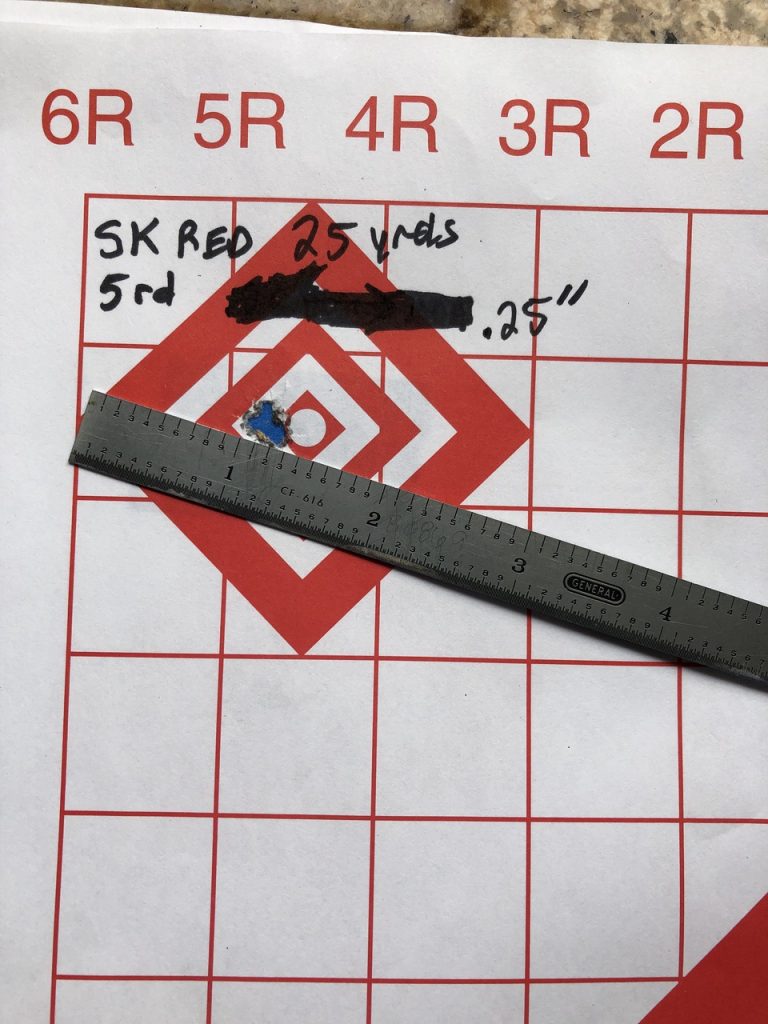 Find out more about the Ruger Precision Rimfire Rifle here.
MSRP: $529
About Jen Barcklay

Jen Barcklay is a retired civilian field helicopter mechanic with a lifelong fascination with anything that goes boom. She has been blessed to be able to help others by spending most of the last 20 years involved in firefighting and EMS operations in various locations around the world. She is also a US Army veteran. In 2009, Jen survived a life-changing traumatic brain injury, which she was fortunate to overcome, and has made significant progress in recovery. Since then, she has relearned the ability to shoot, discovered hunting and realized how important an outdoor lifestyle is to aid in healing and rebuilding a new life. Jen enjoys sharing her knowledge with others as an NRA certified rifle instructor. One of her favorite activities is long range rifle shooting. Jen believes every new day is a gift to explore, discover, and learn more. View all posts by Jen Barcklay →