Meet 'Mr. Big': My Remington Model 700 with an Attitude
My journey into shooting and hunting included the support of both my husband and my father. My husband got me started with my first rifle and guided me on my first deer hunt. That is what got my father all fired up to teach me more. My father was a lifelong hunter and excellent marksman. He studied all his rifles and took many long-range shooting schools. He was a wealth of knowledge and eager to pass on his legacy of marksmanship. This is my story of how I came to equip and use my own rifle, called Mr. Big, aka a Remington Model 700.
It Started with an Invitation to Elk Camp
A few short years into my hunting journey, I received the invitation of a lifetime to join my father at his elk camp in Colorado. This invitation came with 6 months of preparations and education. Over many months of lunchtime planning sessions, trips to the range and travel logistics planning, I soaked up his knowledge like a sponge. This included many lessons on his long-range custom 300 RUM rifle. It was the most expensive and technical rifle I have ever seen at this point. I learned about ballistic trajectory, ranging at distance, wind hold and how to operate the Nightforce G7 scope and range finder. This rifle has a very light trigger – at just 2 pounds. He always emphasized safety and instructed me never to shoot it without hearing protection. It has a ported barrel and is a very loud shot. One round can damage your hearing. I put hearing protection on my packing list!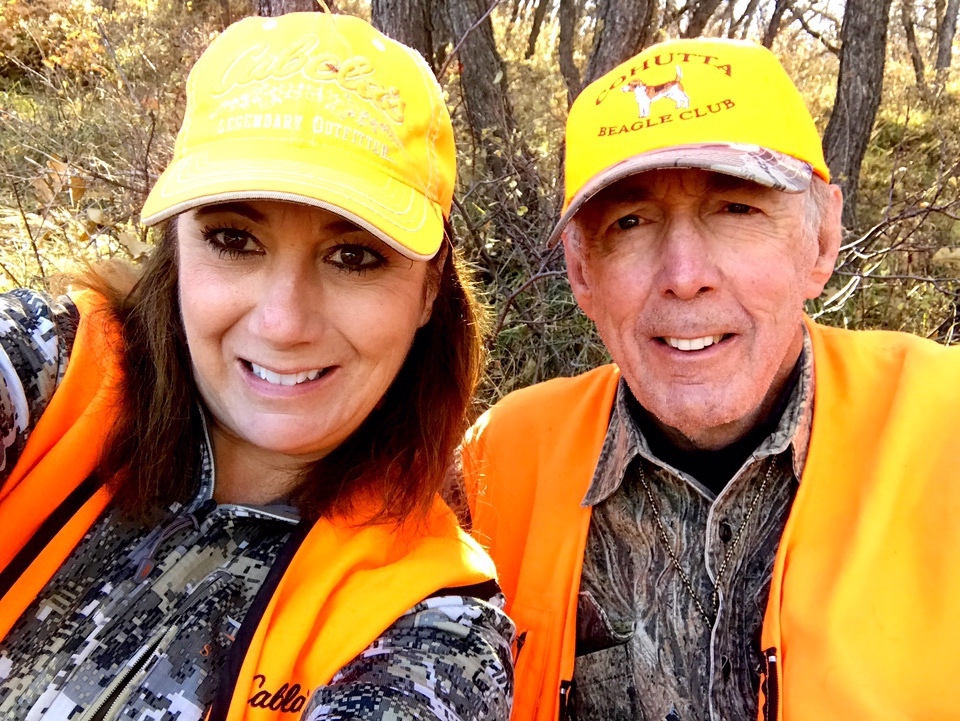 Dad took me to the range and showed me several ways to sit and utilize shooting sticks to steady the gun. We zeroed at 200 and packed for our trip.
At elk camp, I was down to the last day and had settled my mind to leave without an elk and be happy for the memories made afield with my father. The ride out proved us wrong. We spotted a bull on a water hole about 355 yards away. Dad helped me set up: hearing protection check, shooting position check.
I took 1 breath, settled the crosshairs on the bull and took the shot. It was a success. I felt overwhelmed with emotions. I turned and asked Dad if I could keep his rifle. He said, "No, get your own!" I may not have convinced him to give me his rifle, but, I had earned my spot on the annual elk camp trip.
How lucky am I that my father was able to teach me these shooting skills and sit with me on my first elk hunt? Fast forward a few months and he began to instruct me on setting up my own elk gun for the next season.
The Build: My Remington Model 700 Long Range
Dad recommended the Remington Model 700 Long Range in 7mm Rem Mag. He told me all about the flight path of a 7mm bullet. I was not questioning the recommendation. I knew he knew what he was talking about. I ordered the gun and couldn't wait for it to arrive.
He also recommended a Leupold VX-6HD riflescope and asked me to find a Berger VLD in 7mm Rem Mag off the shelf. This would give me the ability to buy my ammunition at any local sporting goods store. I chose the HSM Trophy Gold 168 gr Berger VLD.
The last thing he had me order was a Timney 2-stage Calvin Elite trigger. In the end, I had spent about $4,000 on this set up. This was less than half of a comparable custom rifle.
Breaking In My Remington Model 700
Once the rifle had been set up and ready to go, Dad wanted me to "break-in" the barrel. I had no idea what that meant and had never heard of it. Again, I don't question his knowledge and do what I am told. The break-in consisted of firing 1 shot at a time off the shooting bench and cleaning between shots – up to 10 shots. Then, shooting again, but in groups of 3. I did not complete this in 1 trip to the range; it took several weeks. Once we had the scope zeroed at 200 yards, we ordered my custom dial from Leupold and placed it on the scope.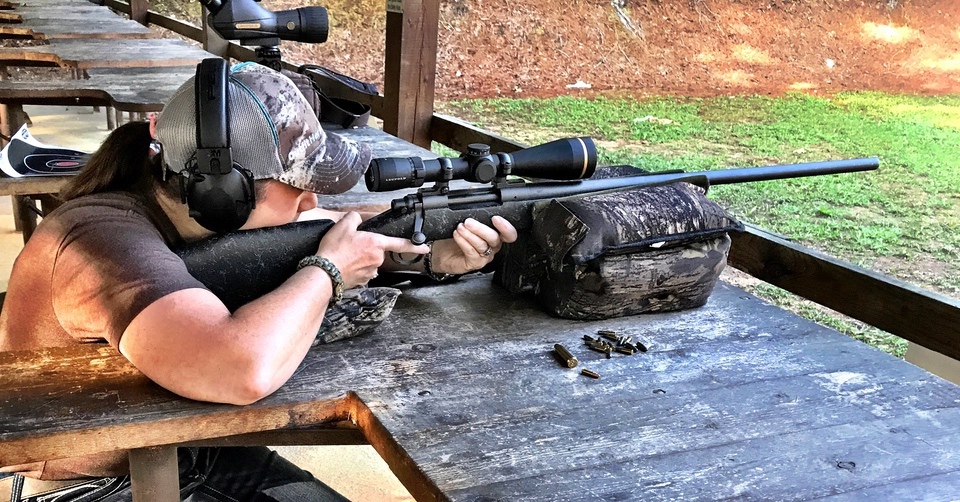 That fall, I completed my first solo elk hunt. I set myself up, hearing protection on, shooting sticks steady and took a nice 5 x 5 at a little over 250 yards. It was as if the training wheels came off.
I have what I call a love affair or a "gun crush" on this rifle. It is special because my father helped my build the system, and because it has changed the way I think about rifles. I have so much more knowledge about the entire system and don't feel intimidated to ask lots of questions about triggers, scopes and other specs when shopping for a new rifle. I have shared this rifle with family and friends over the years and enjoyed watching them have success afield with it.
How Mr. Big Got His Name
I promptly named it Mr. Big when someone asked to borrow it (and yes, I watched that TV series featuring this character, Mr. Big, set in New York City). After the first time I said that, the name stuck. I own many rifles and all of them have a purpose. This 1 is just the only 1 special enough to acquire a name. (It helps that Mr. Big never disappoints.)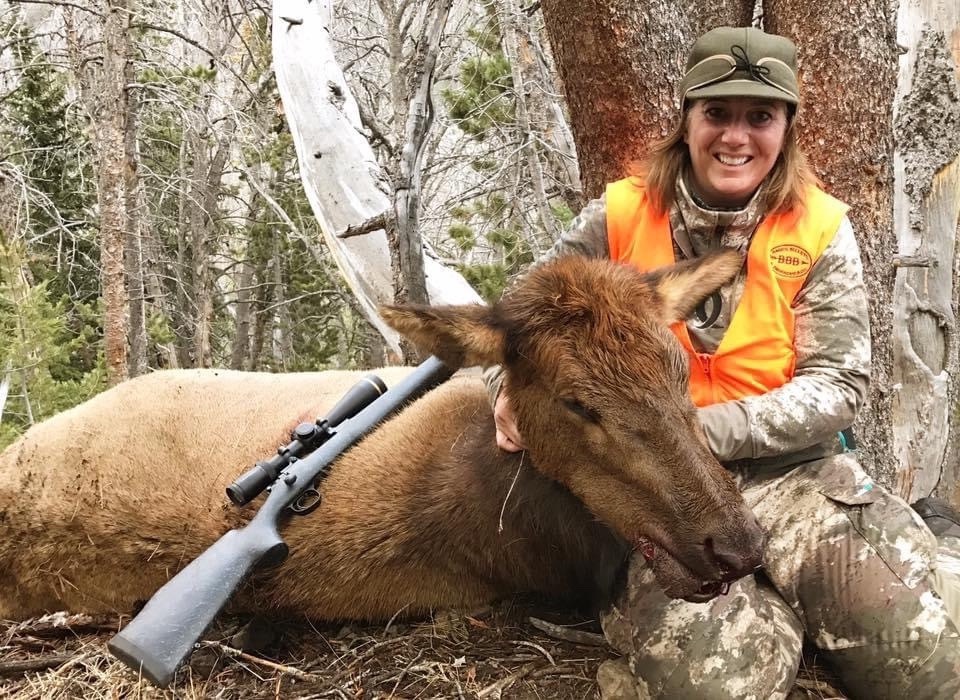 Sharing my knowledge and love of rifle hunting with others brings me great joy. I also enjoy introducing others to Mr. Big and sharing how I learned from my father setting it up. Mr. Big has been pivotal in me being able to tag whitetail, mule deer, elk and antelope over the years – with 1-shot success. I have many memories of quickly ranging a deer, turning my dial and settling the crosshairs with confidence that only comes from training, experience and good equipment. I don't plan to hunt past my range abilities or take shots that don't make sense because of conditions, but if the conditions are right, I feel confident to take a longer shot.
Mr. Big and I even went to long-range school and I shot the 1000-yard steel targets. Because of my training with this gun, I know its abilities and limits. Remington has a tradition of performance and safety that I can depend on. Mr. Big meets all my performance and safety standards, and never lets me down. I have many rifles and I enjoy them all. Mr. Big just ended up as the leader of the pack.
Build Your Own 'Mr. Big'
Remington Model 700 Long Range Bolt Action 26-inch barrel, 7MM Rem Mag MSRP: $879.76
Leupold VX6 HD 18x50mm CDS MSRP: $2859.99
Timney 2-stage Calvin Elite trigger MSRP: $274.99
HSM Trophy Gold 168 gr Berger VLD MSRP: $49
About Amy Ray

Amy Ray is the owner of The Sisterhood Of The Outdoors, an organization that creates opportunities for women to hunt, shoot and fish. Amy is a pro-staff shooting instructor with Shoot Like A Girl. Amy is certified as an NRA pistol instructor and Refuse to Be A Victim instructor. As a member of the Freedom Hunters advisory board, she helps to expand hunting opportunities for servicewomen, Gold Star wives and daughters of fallen heroes. She also is an avid hunter and shooter and loves mentoring others in the outdoors.   View all posts by Amy Ray →