The Girl of 10,000 Lakes: The Lil Hotdish Camper Transformed
When I first saw the Lil Hotdish, it was far from love at first sight. I found it while scrolling through my Craigslist app looking for a fish house. Minnesotans love their fish houses. This one happened to be a camper that was converted to a fish house. It looked very shabby – and not the shabby chic kind of shabby. A matte grey painted wall with dents, broken windows, and plenty of water damage. But I saw the potential and so did my forever ice fishing partner aka husband, Nick. We had to have it.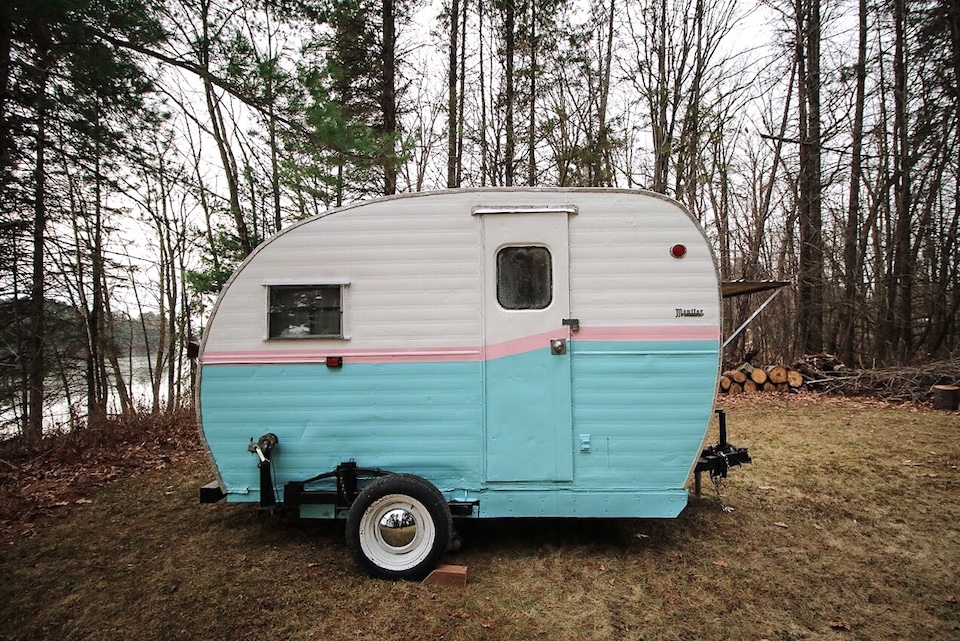 Here are the befores. Oh boy.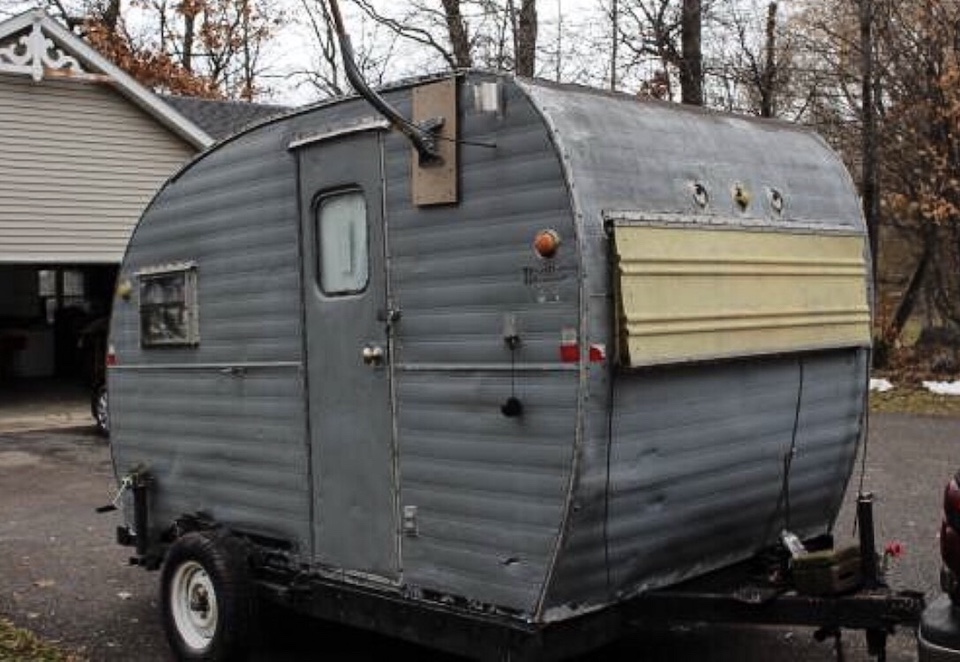 We got it for $1500 and jokingly called it "the meth cooker." Lol. Not totally funny, but kind of. It is what you'd expect in an episode of Breaking Bad. We were embarrassed to have it in our driveway. But with a TON of TLC, "the meth cooker" would soon become our Lil Hotdish.
It took around two months to get the Lil Hotdish into shape and bring back its vintage flare. So a little backstory on the vintage fish house camper: It's a Monitor brand from Wakarusa, Indiana, 1960s era. Like I said, the original owner of the camper converted it to a fish house. The trailer bed is a crank down mechanism, which means we can lower the entire camper down close to the ice to ice fish. There were five holes with covers on the floor for ice fishing (now there are four — I'll explain why in a bit). There's gas heater that vents to the outside to keep warm in the winter. It sleeps up to four people. There are two beds, one of which is actually a table and seating but converts to a bed. We'll need a cot at some point because one of the beds is probably pushing it for two people.
Continue reading Lil Hotdish from The Girl of 10,000 Lakes and see the rest of her before photos here.
About Jenny Anderson

Jenny Anderson, known as 'The Girl of 10,000 Lakes' is a young mom, avid angler and outdoors enthusiast. Hailing from Minnesota, there are few places she'd rather be than canoeing in the Boundary Waters, ice fishing on Mille Lacs or enjoying lake life at the cabin. But her love for all things outdoors wasn't something always instilled in her. It's something she discovered later on in life and that's why she encourages everyone to take more detours, step outside your comfort zone and try something new outdoors. View all posts by Jenny Anderson →