Grilled Fish Recipe with Mango Salsa for Summer Cookouts
Summer is the perfect time to pick out a favorite grilled fish recipe and fire up the grill. The best fish to grill will be species such as halibut or mahi-mahi because the fillets are firm, and if you top the fillets with mango salsa before serving, it will add a touch of tasty tropical flavor. Learning how to grill fish is easy, it won't take you long to master for your next summer cookout.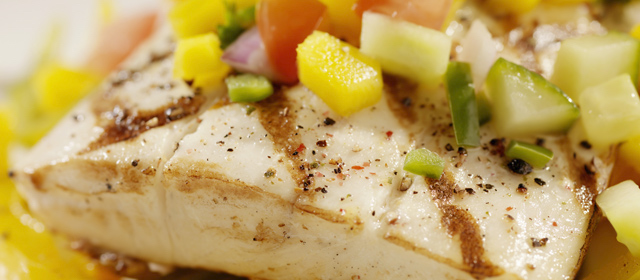 How to Grill Fish
The best way to grill fish is to make sure that your grill is hot before you add the fillets. If you place fillets on a cold grill, the fish will stick to the grates. In addition, be sure to brush olive oil on both sides of the fish before placing the fillets on the grill.
There are plenty of healthy fish recipes you can make outdoors on the grill following your family fishing adventures. If you don't have much experience with cooking fish, and want to know how to cook fish on the grill this summer, just follow these simple directions:
Grilled Fish Recipe Ingredients
4 (4-6-oz.) halibut steaks or mahi-mahi fillets
2 tbsp. extra virgin olive oil
Kosher salt
Freshly ground black pepper to taste
Mango Salsa Ingredients
1 mango, diced
1 red pepper, finely chopped
½ red onion, diced
1 jalapeno, minced
1 tbsp. freshly chopped cilantro
Juice of 1 lime
Kosher salt
Freshly ground black pepper
Grilled Fish Recipe Directions
Preheat grill to medium-high and brush fish with olive oil on both sides. Season with salt and pepper, if desired.
Grill fish until cooked through, about 5 minutes per side.
Mix mango salsa ingredients together in a medium-sized bowl. Season with both salt and pepper to taste.
Serve salsa over fish.
Continue reading, Grilled Fish Recipe with Mango Salsa for Summer Cookouts, from our friends at Take Me Fishing here.
About The WON

The Women's Outdoor News, aka The WON, features news, reviews and stories about women who are shooting, hunting, fishing and actively engaging in outdoor adventure. This publication is for women, by women. View all posts by The WON →