Measuring Your Handgun for the Perfect GTM Purse Fit
GTM Original's concealed carry purses are more than just handbags with extra pockets for your pistols. A GTM purse is a tool to add to your personal protection toolbox. It's a lifestyle piece. GTM's designs and tests their purses and totes with personal protection in mind, especially for concealed carry. That's why they recommend specific size pistols for every GTM concealed carry purse. The following steps explain how to measure your handgun for the perfect GTM purse and overall fit.
Sponsored by GTM Originals
Measuring Your Handgun
Things you need:
Unloaded handgun (if it is a semi-auto, make sure you insert an empty magazine)
Tape measure or ruler
Paper and pen
Computer or smart phone for online purse shopping
Begin by checking and double checking that your pistol is unloaded. Also, confirm there is NO ammunition near you.
Then, measure your handgun's length – from the tip of the muzzle to the farthest opposite point. This may be the end of the slide, the back of the beaver tail or if you are using the largest grip size it could even be there.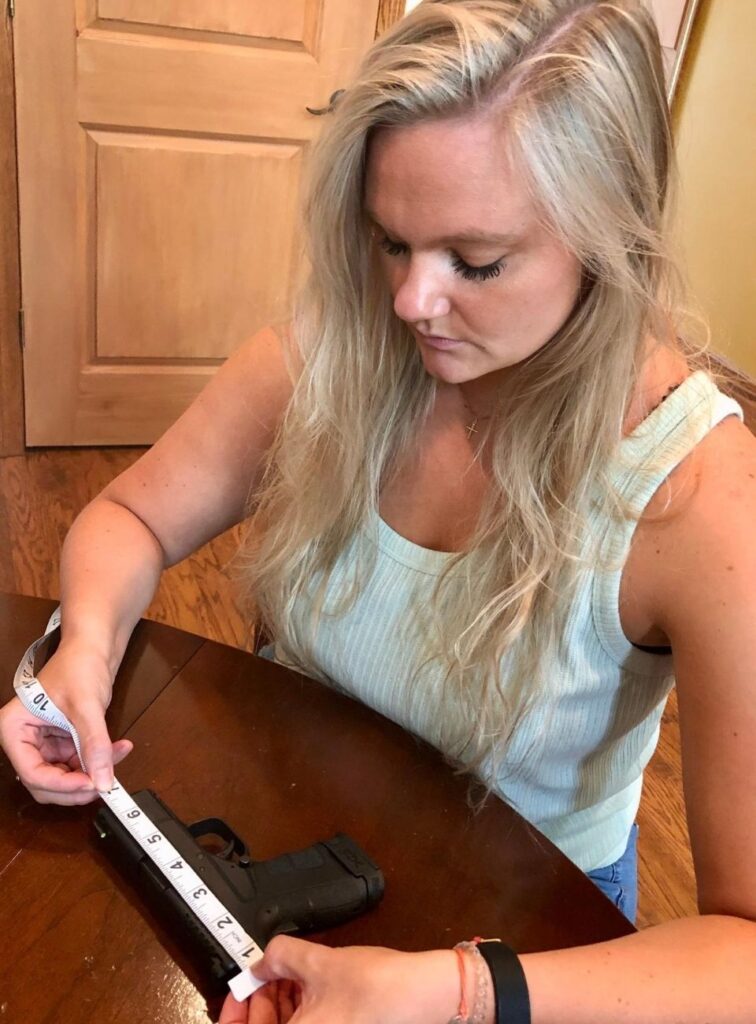 Next, measure your handgun's height – from the bottom of the grip, to the top of your rear sight or optic.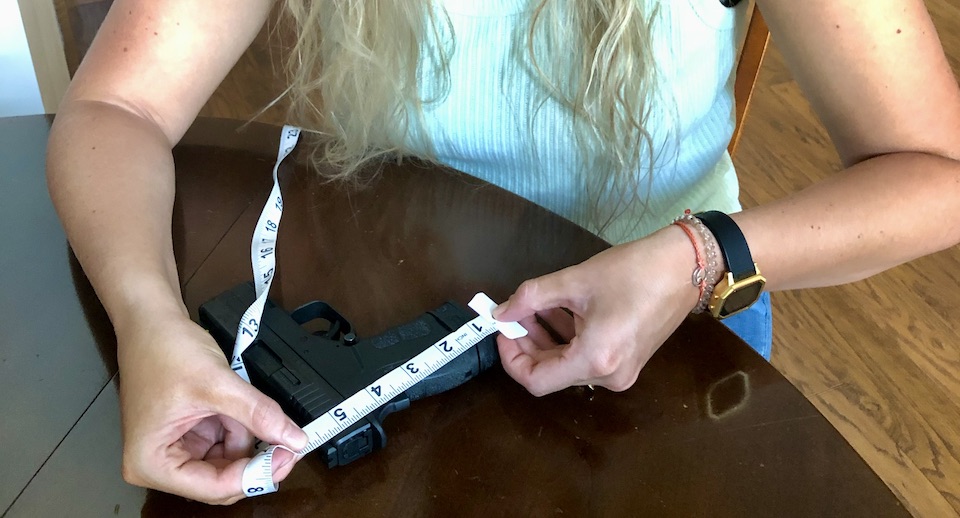 Write those measurements down so you don't forget them.
Now the fun part. Visit GTM Original's website and choose the purse you like. Scroll down to the "gun footprint size" area. Compare your measurement to what is listed in the site. If your handgun is the same, or less than that given measurement, it will fit in the gun compartment of the purse. If not, you need to choose another purse, which is super easy because there are so many stylish concealed carry handbags offered in so many fashionable colors.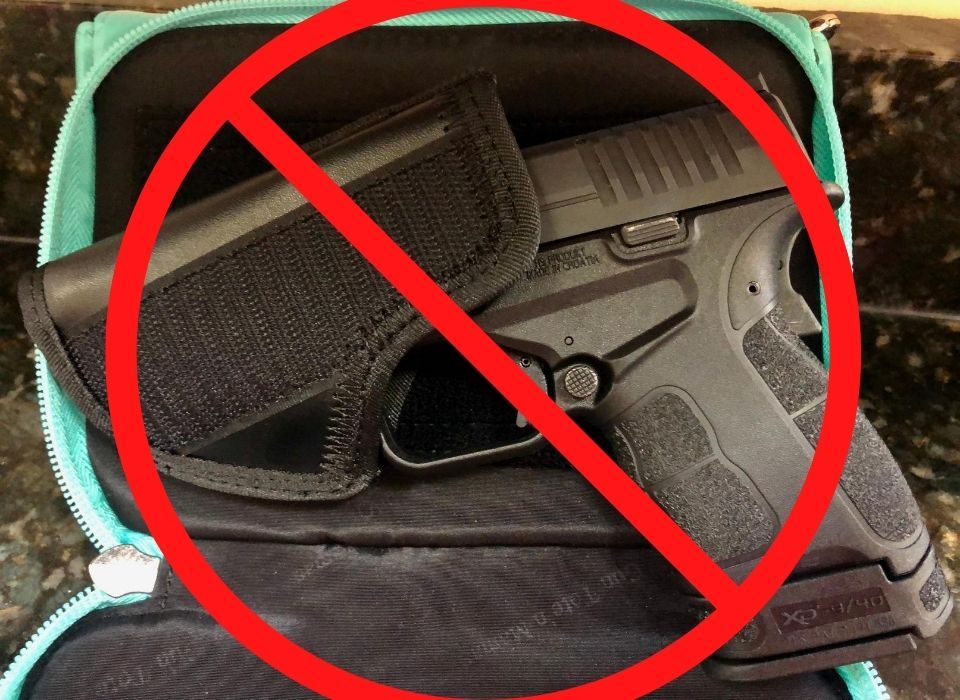 Another piece of information that you may find on GTM's website, within the description, is a listing of the pistols used for testing each purse. This information also gives you a better idea if your handgun will fit properly in the handbag you might buy.
After you receive your concealed carry purse, check it again with your unloaded handgun. Also, arrange the holster at an angle you prefer and confirm the zipper(s) work unobstructed.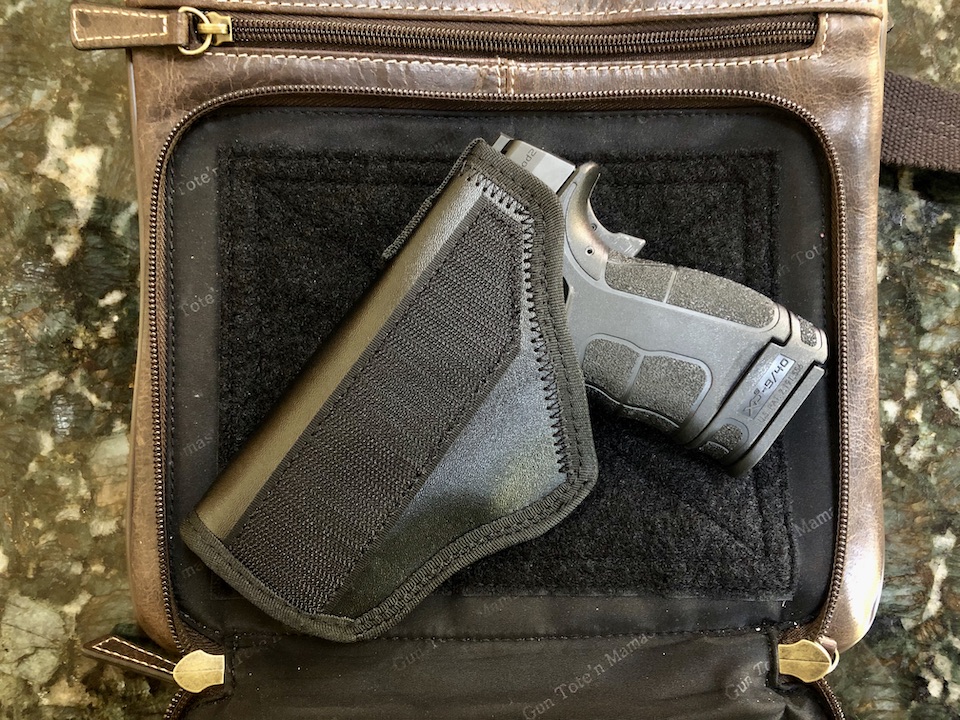 As always, if you have any questions or concerns about the fit of your handgun in a particular GTM purse, feel free to email them at GTM@guntotenmamas.com. You may also pose a question on GTM's social media at Facebook, Twitter and Instagram.
Visit GTM to find your concealed carry purse online.
About Michelle Cerino

Michelle Cerino, aka Princess Gunslinger, entered the firearms industry in 2011 when Cerino Training Group was established. She immediately began competing in both 3-Gun and NRA Action Pistol, becoming a sponsored shooter. Michelle is currently a columnist and Managing Editor of Women's Outdoor News, as well as owner of Pervenio LLC. She also manages social media for Vera Koo and GTM Original. Michelle encourages others to step out of the comforts of home and explore. View all posts by Michelle Cerino →