Polarized Sunglasses: Why They're Better than Regular Eyewear
While in the past, polarized sunglasses were just worn by sturdy fishermen, nowadays they are available in a variety of stylish frame and designs that suits women, too. You will look chic and effortlessly cool while protecting your eyes when you do sports with polarized sunglasses.
But polarized sunglasses are not only useful for fishing or for sports; in fact, they offer great protection for everyday life, too.

Polarized Lenses Protect Your Eyes from Glare
The main difference with regular sunglasses is that a polarized filter can block glare and help you see better. What is glare? When sunrays strike flat surfaces, the reflected light beams travel in a horizontal direction. The result is an intense, annoying light which reduces visibility.
Glare is especially strong when the light bounces off surfaces such as water, snow and glass. This is why you can feel blinded when you're out in the open sea, even if you're wearing sunglasses with 100% UV protection.
The only way to block glare is by using polarized sunglasses, which have a special filter that stops this type of intense, reflected light. As a result, you'll see everything clearly and eyestrain and discomfort will be reduced.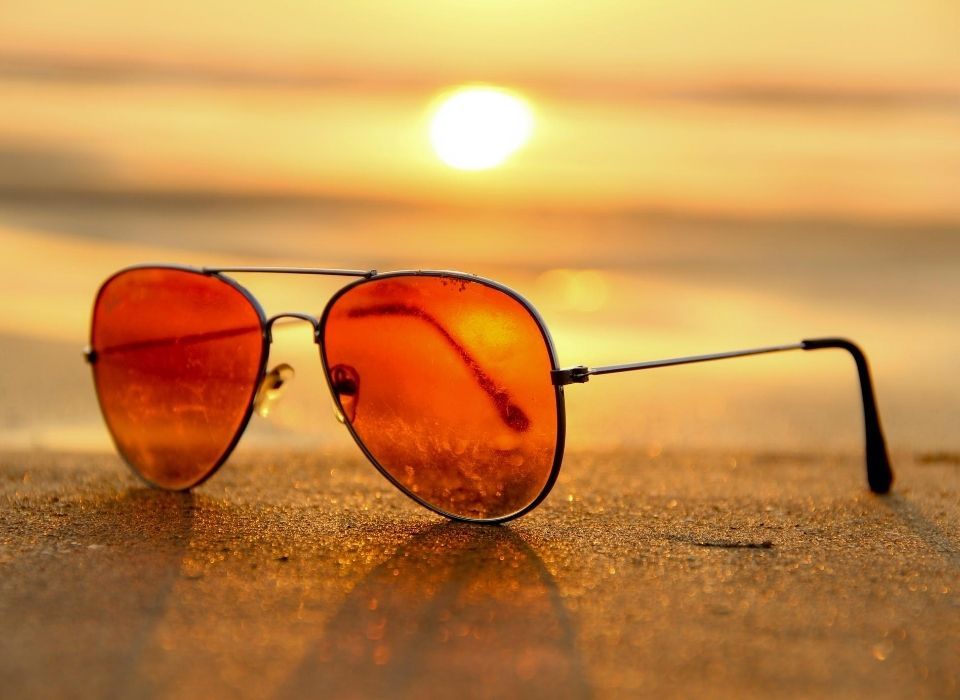 Polarized Sunglasses Help You to See Better
When you are not blinded by glare, images of the world around you will appear sharper and clearer. This is why polarized sunglasses are a must-have tool for sport lovers and outdoor enthusiasts. Those who practice water sports or sight fishing will especially benefit from this technology, as glare is more intense in water environments.
A polarized filter can make a huge difference and allows anglers to actually scan any body of water and see fish underneath. But polarized lenses have advantages for everyday life too. They are the best option for driving, especially during bright days or when the road is wet and reflects the sunlight.
Polarized Sunglasses Are Useful Against UV Rays
While a polarized filter doesn't include automatically a UV protection, most polarized sunglasses come with this option. UVA and UVB rays protection is obviously very important when you spend many hours in the sun.
However, not all models offer 100% protection. To stay safe, you should look for the UV400 label. This ensures that your sunglasses can block 99 to 100 percent of UV light, filtering out all light rays with wavelengths up to 400 nanometers.

Choosing the Right Lens Color
Today, most specialized brands offer polarized fishing sunglasses for women. But you don't necessarily have to look for sports-designed models: even casual brands (such as Rayban) started manufacturing polarized sunglasses.
Therefore, they come in all shapes and colors to best suit your face and needs. Different lens shades can have different impact: dark lenses narrow your face and are usually recognized as the most flattering for women.
However, the benefits of lenses colors are not just a matter of style: if you need polarized sunglasses for fishing or for sports, you'd better consider the following advice.
Blue, green and grey are the best choices for bright environments, where glare is very high (for instance, in the open sea). Grey and green lenses also won't distort colors, while brown lenses may cause minor distortion.
Amber shades work best for cloudy days, while yellow and orange are good when light is low. Usually, light colors excel in moderate to low-level light conditions.
Finding the right pair of sunglasses is key to your comfort and to protect your sight, whether you're driving, fishing or simply walking down the road.
The only downside of polarized eyewear is that they do cost more, but it's a solid investment that can last for years: Your eyes will thank you every time you'll be travelling under a glaring sun.
For more information on the benefits of polarized sunglasses, check out this website.
Guest post written by Holly Shaw, freelance writer.
About The WON

The Women's Outdoor News, aka The WON, features news, reviews and stories about women who are shooting, hunting, fishing and actively engaging in outdoor adventure. This publication is for women, by women. View all posts by The WON →