Throw Down: Smith & Wesson Throwing Knives and Throwing Axes
In Ohio, our weather recently cooled down, which also means the mosquitoes are gone and the leaves are beginning to turn colors. This is the perfect time to have family and friends over for a backyard bonfire and other outdoor activities. If you're looking for a fun sport for adults, consider throwing axes and/or throwing knives. Everybody wants to try it and it's sure to bring a lot of laughter and jeering.
Sponsored by American Outdoor Brands
The Sport of Knife Throwing
Knife throwing, as a sport, dates back to the 1800s, when men competed to prove who had the best skills and accuracy. Today, the American Knife Throwers Association (AKTA) is a great resource for any information you may want about the sport.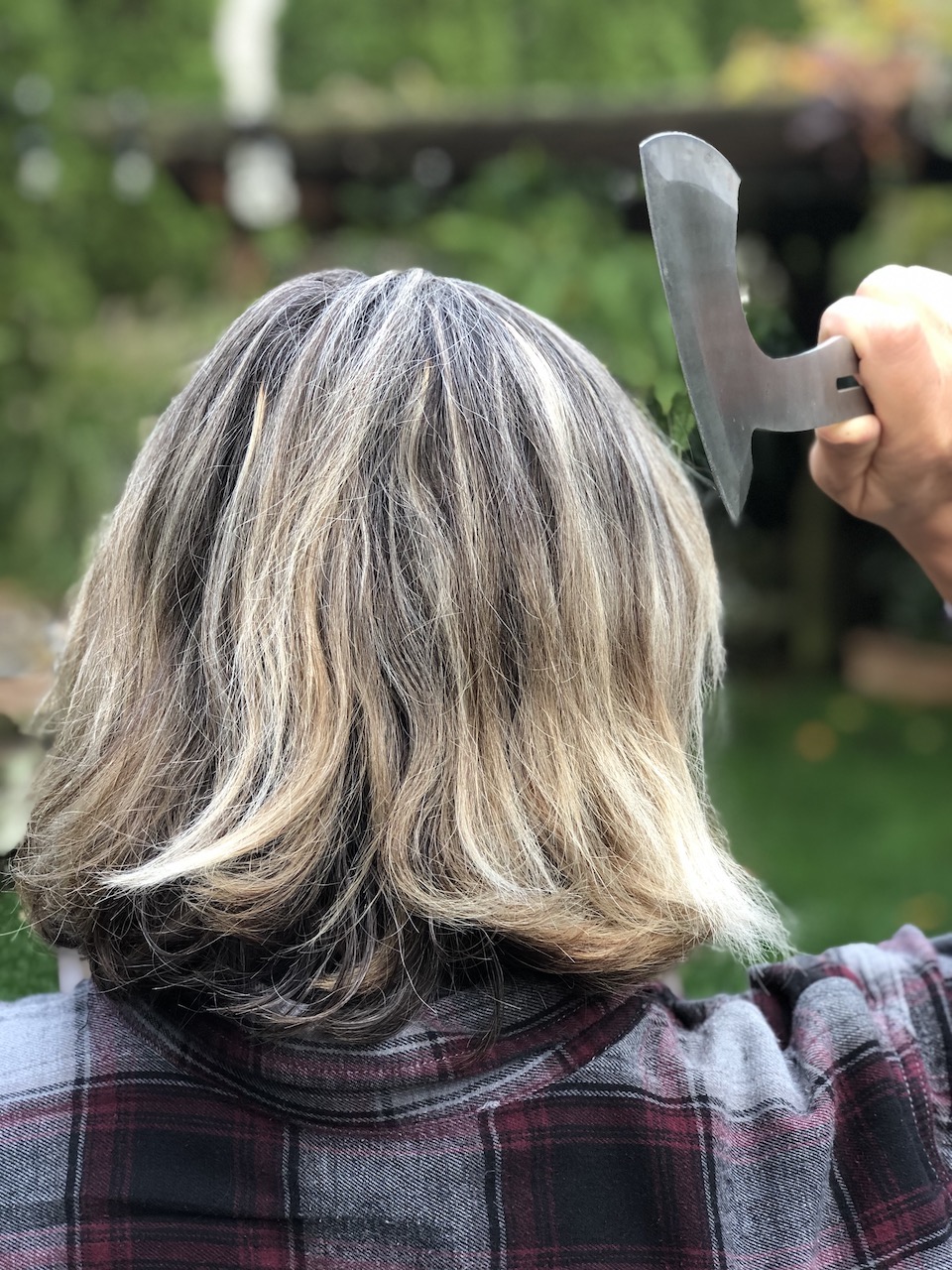 The Sport of Axe Throwing
According to my research, ancient Celts first threw axes as a sport. However, if you want to get a little more recent, in the early 19th century, lumberjacks competed against each other during free time. It has now evolved into a common sport across Canada and the US. Two main associations govern axe throwing as a sport: the World Axe Throwing League (WATL) and the National Axe Throwing Federation (NATF).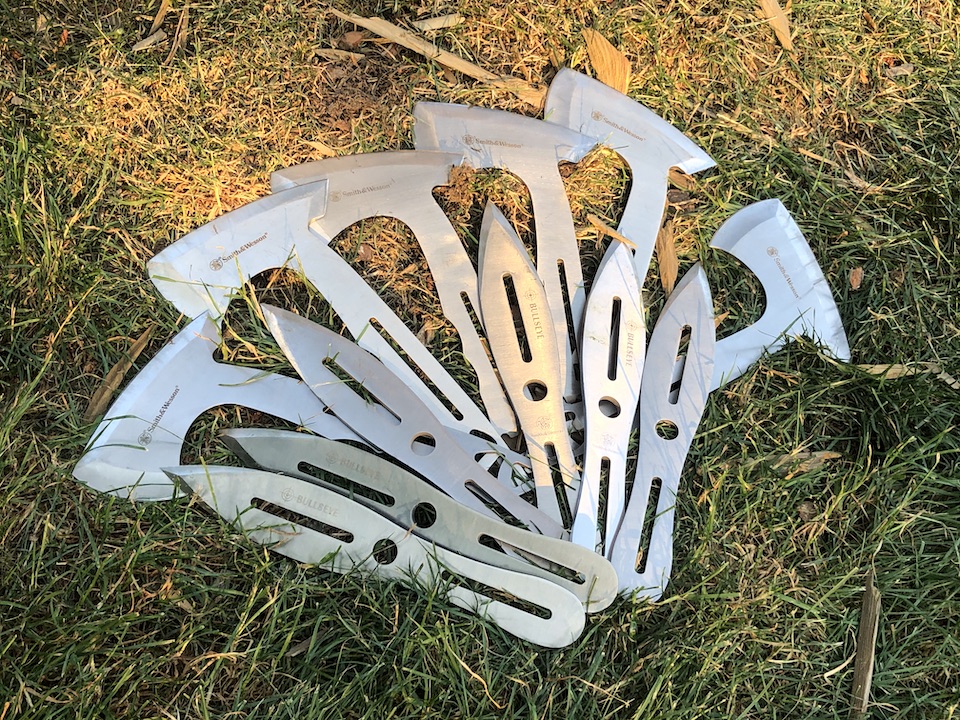 Smith & Wesson Throwing Knives and Hawkeye Throwing Axes
For those interested in some backyard fun, Smith and Wesson offers throwing knife sets and Hawkeye throwing axes. I'll admit, we don't take ourselves very seriously with the sport. We just want to have some fun, and enjoy a little friendly competition. We just scored by how many implements we could stick in the wooden target we made.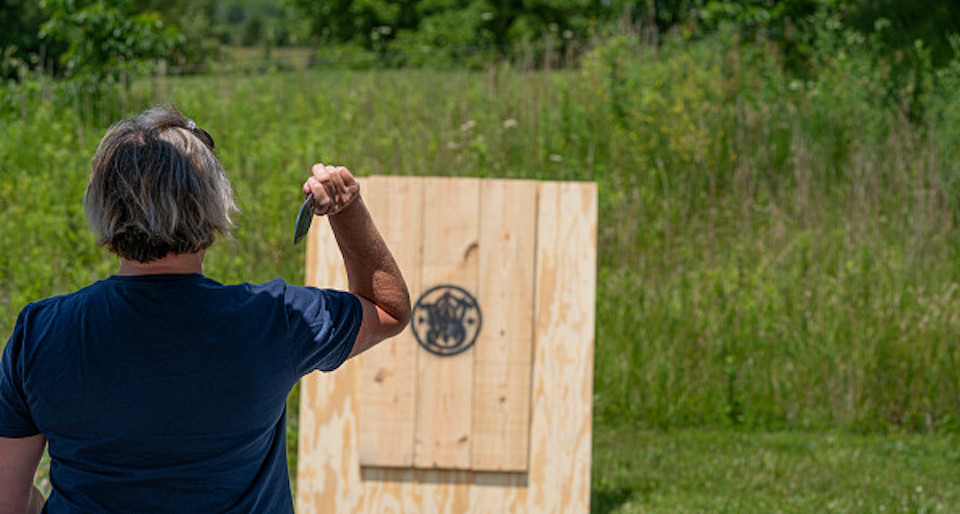 Smith & Wesson Throwing Knives
The S&W 3-pack, 10-inch throwing knives arrive with a polyester belt sheath. The handle is steel, while the dual-edged, spear-point blades are made of 2Cr13 stainless steel.
MSRP: $28.99
Read more about the Smith & Wesson Throwing Knives here.
Hawkeye Throwing Axes
Designed specifically for recreational throwing, the 10-inch throwing axes have perfectly balanced frames with a sharpened edge on 3 sides. They, too, come with a polyester belt sheath.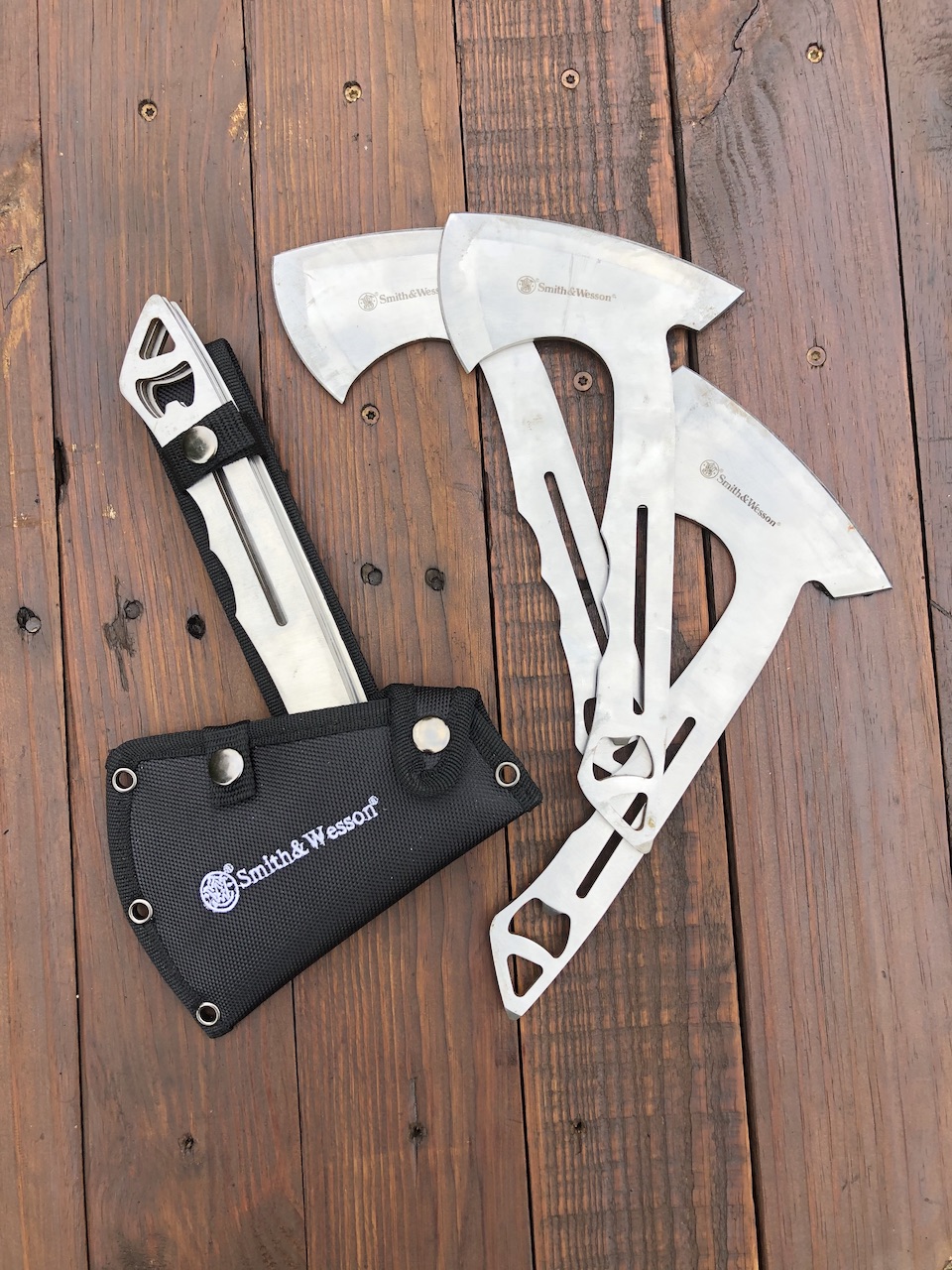 MSRP: $61.99
Find out more about Smith & Wesson Hawkeye Throwing Axis here.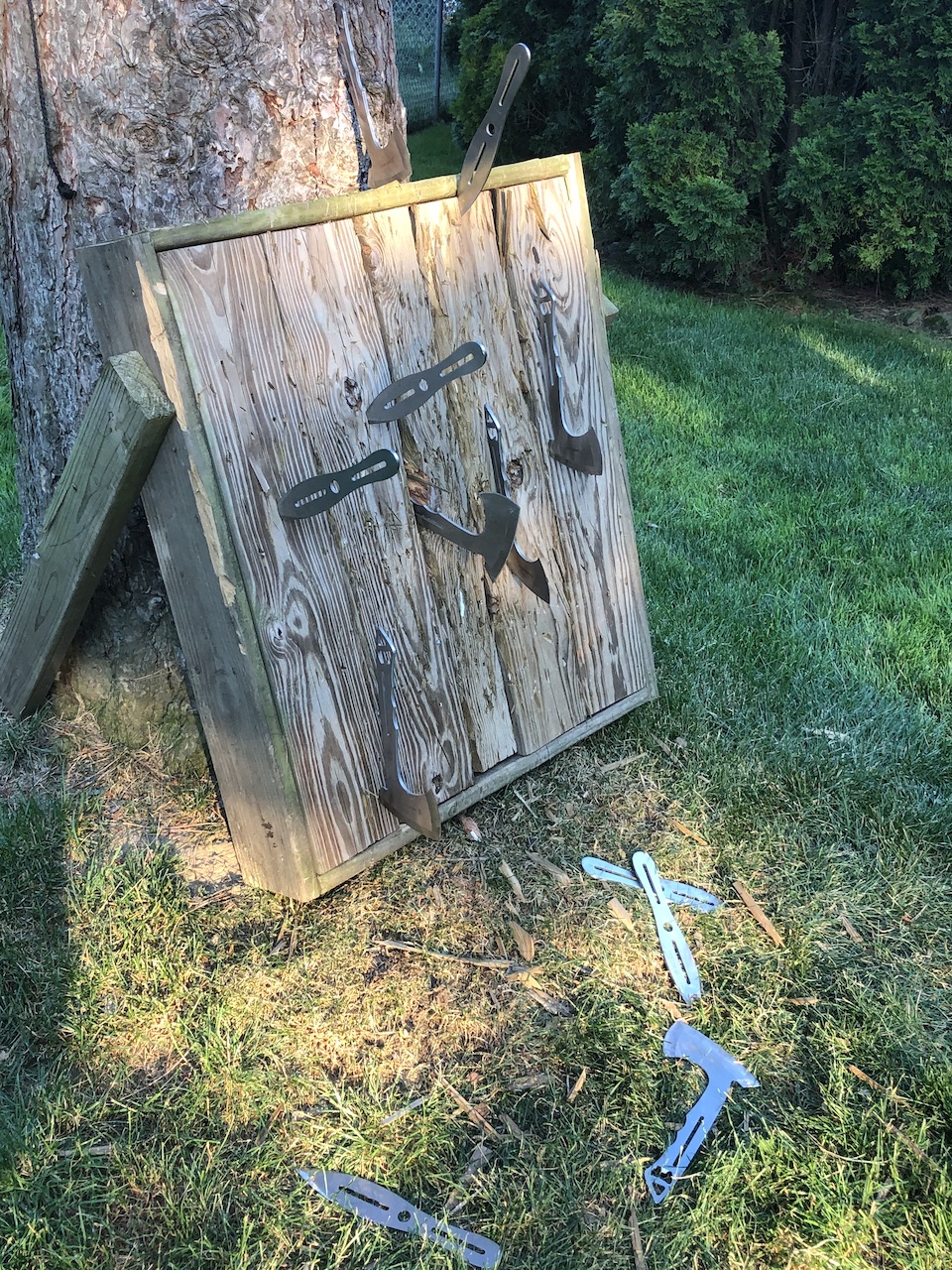 Blade Throwing Targets
I'm sure there are places to purchase "official" blade throwing targets, however, we had the above target at home that worked just great. I also perused Pinterest and found the following resources for building your own blade throwing targets:
Engineered Kitchen has very detailed instructions on its website that included diagrams and photos.
DIY Diva has a weekend project for a portable archery and axe target that looks very interesting.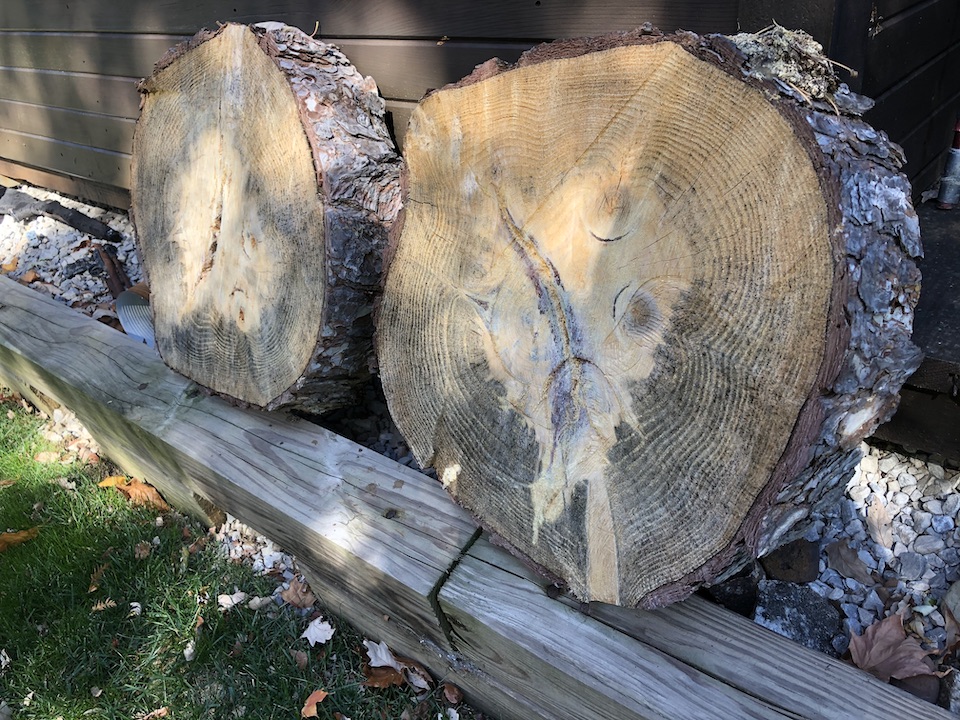 I definitely need more time practicing with my throwing knives and throwing axes. Heck, I may even watch a video or 2 about the proper techniques for axe and knife throwing. Maybe next year I'll add some scoring rings to my target. For now though, I just want to get those babies to stick!
About Michelle Cerino

Michelle Cerino, aka Princess Gunslinger, entered the firearms industry in 2011 when Cerino Training Group was established. She immediately began competing in both 3-Gun and NRA Action Pistol, becoming a sponsored shooter. Michelle is currently a columnist and Managing Editor of Women's Outdoor News, as well as owner of Pervenio LLC. She also manages social media for Vera Koo and GTM Original. Michelle encourages others to step out of the comforts of home and explore. View all posts by Michelle Cerino →