First Look: Butler Creek Brings the Quality at a Featherlight Price
One of the most important pieces of equipment any outdoor enthusiast owns is binoculars. A worthy investment, one that co-pilots every adventure and lends sight far greater than that bestowed on mere human eyes. It follows that one should have a safe yet easily accessible storage place for those binos. Enter Butler Creek's new Featherlight binocular harness! As a woman, finding a chest-mounted binocular caddie that is compact enough to stay out of the way when hunting can certainly be a challenge. Often, I'm forced to make a concession between easily accessible binoculars or the ability to properly shoulder my firearm. Usually my binos end up in my pack, wedged somewhere between the hand warmers and the Little Debbie's.
I've had my eye on a magnetic closure bino caddie for some time now and was thrilled to see what Butler Creek had brought to the table with its new Featherlight harness (MSRP $74.95 to $84.95). As an avid wildlife watcher and hunter, there are a few "must-haves" that I require when it comes to a bino case: quiet closure, easy access and ample room for my rangefinder or other accessories.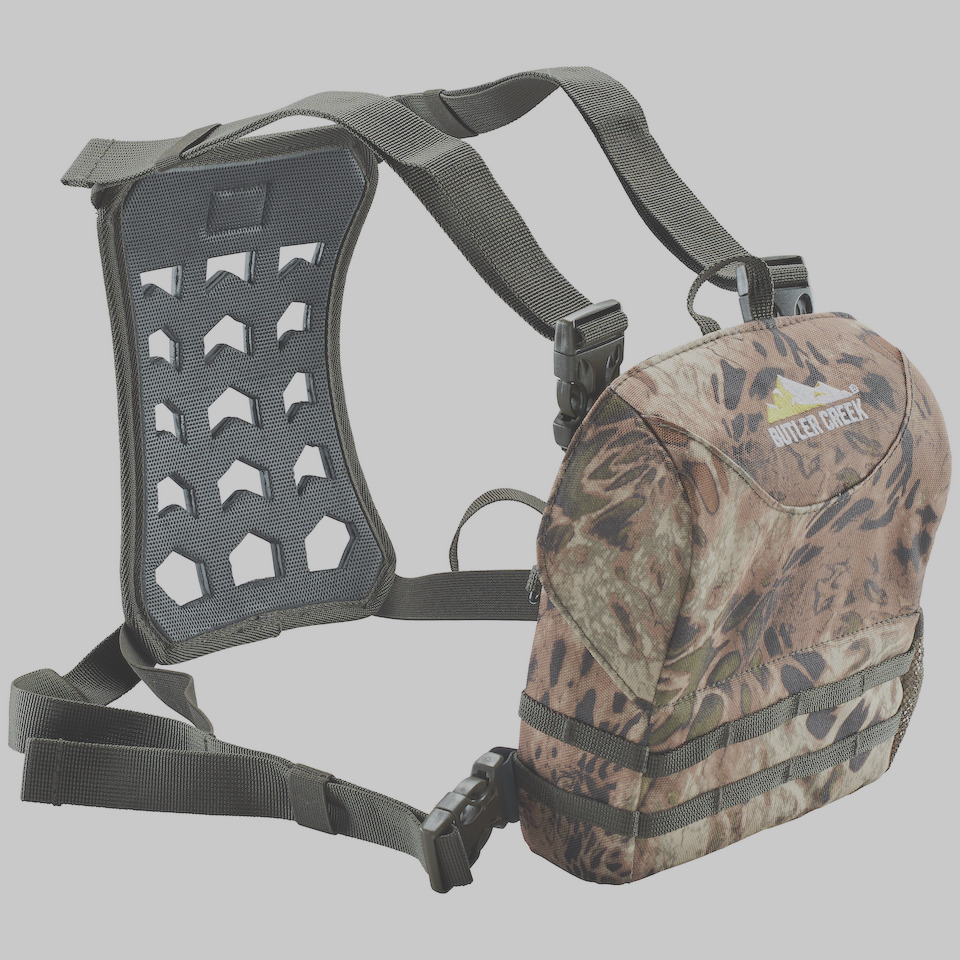 Despite these three requirements being at the top of my list, the first thing that I noticed when unpackaging the Featherlight caddie was the shoulder backing. Made of air mesh foam, it resists folding and twisting when adjusting the system over your outerwear and provides extra padding for heavy packs. Extremely lightweight, the close-cell foam reduces trapped heat against your body while keeping your gear from slipping. I love this feature, as I was able to try it out in the new Butler Creek rifle sling during deer season. The exterior of the caddie is composed of suede cloth in a sandstorm camo pattern and has MOLLE webbing for accessory attachment.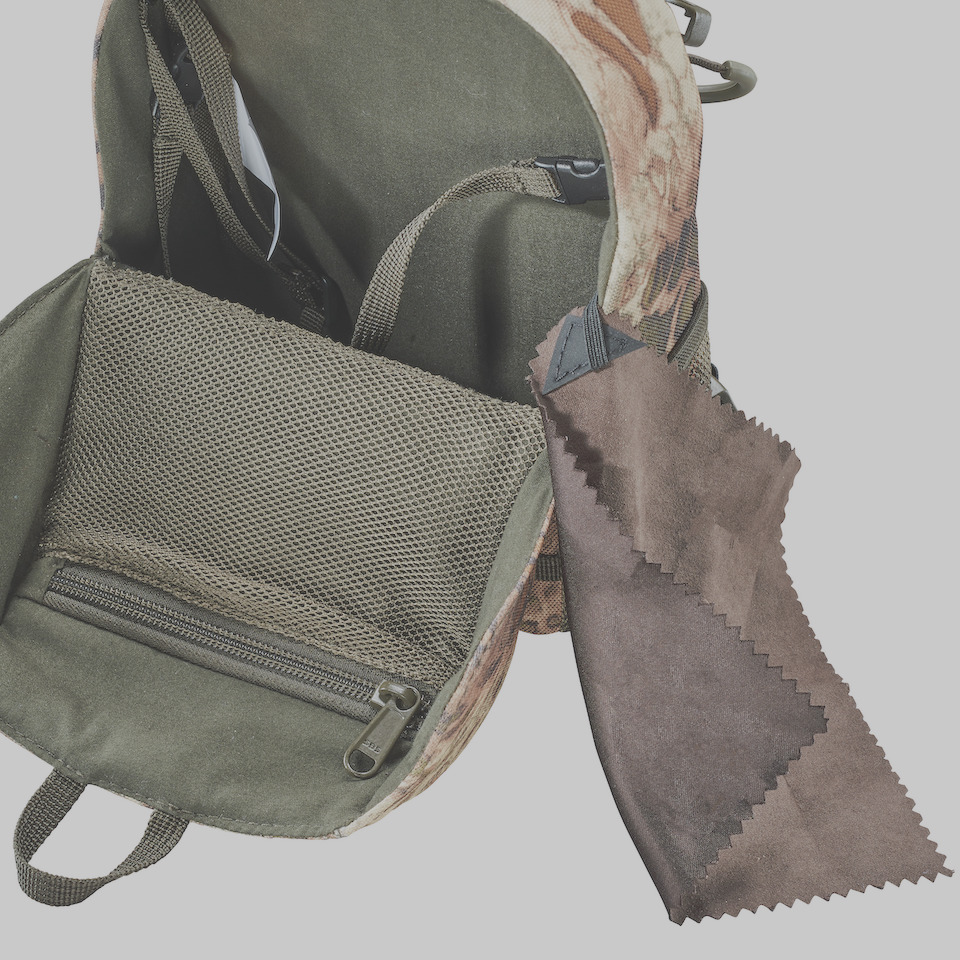 Time to test the magnets! The top opens away from your body, allowing for easy one-handed access. Inside, there are straps to tether your binos to the harness itself to prevent dropping them in moments of excitement. Also included in the interior of the caddie is a zippered mesh pouch (perfect for storing your licenses, maps or field guides) and a pocket with a cleaning cloth. I was impressed with the strength of the magnets – strong enough to keep my binos secure, but still silent upon closing the top.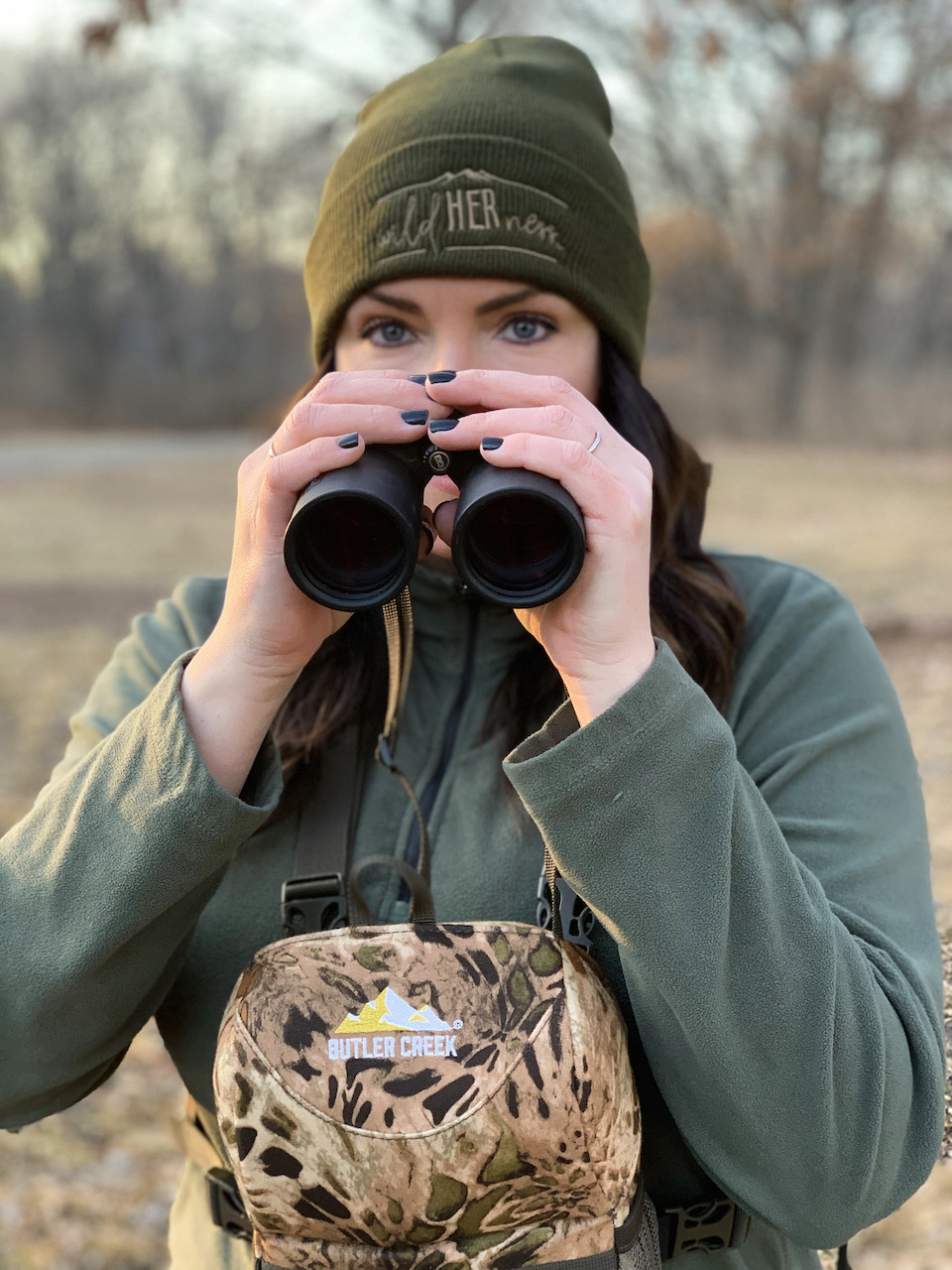 My Bushnell Engage 10×42 binoculars (MSRP $363.99) fit inside the large size Featherlight harness like it was made specifically for them! If your binos are any longer than 7 inches in length, consider sizing up when ordering your caddie. While there is no extra room inside the harness for my rangefinder, the ample MOLLE webbing takes care of that problem. Allowing for external attachment, the webbing keeps all your important gear at the ready.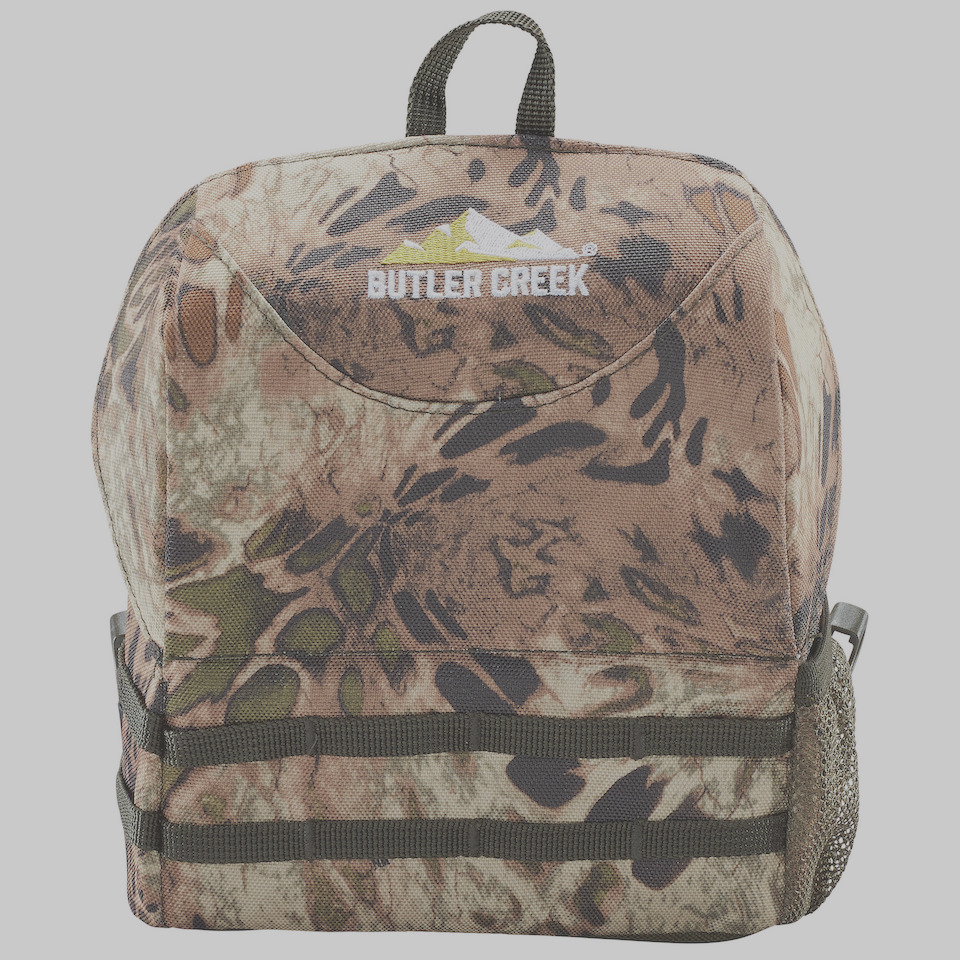 Included is an O-ring for attachment of the quick disconnect bino tether. While the ring worked well enough with my Engage binos, not all harness attachments are the same. I would like to see future generations of the harness include a more durable attachment point.
Overall, Butler Creek has done a fantastic job with their new Featherlight bino harness, as comparative models that showcase similar features typically run $50-$60 more! And, more bang for your buck means you can buy more ammo, right?
About Jessica Rice

Jessica Rice is the president of wildHERness, a women's organization located in the Kansas City metro area that encourages women and young girls to explore outdoor pursuits through skill building events and community service. Her love of nature developed at a young age, thanks to parents who encouraged her to explore. An avid hunter and hiker, Jess is passionate about R3 and passing it on to future generations. She holds a Master of Science degree in Zoology from Oklahoma State University and is currently employed by the Kansas Department of Wildlife, Parks and Tourism. Jess is an NRA Range Safety Officer, Project Wild Educator, National Archery in the Schools Basic Archery Instructor, Hunter Education instructor and a Fishing's Future Master Angler Instructor. View all posts by Jessica Rice →