Brazil's Karina Oliani Makes Guinness World Records History
March 8, 2021 (New York, NY.): Guinness World Records (GWR) celebrates International Women's Day by unveiling the official title for the longest Tyrolean traverse over a lava lake (100.58 m – 329 ft 11.76 in) by Karina Oliani, in Erta Ale, Afar, Ethiopia.
To honor Oliani, Guinness World Records surprised her in São Paulo, Brazil, with an official title certificate days before International Women's Day.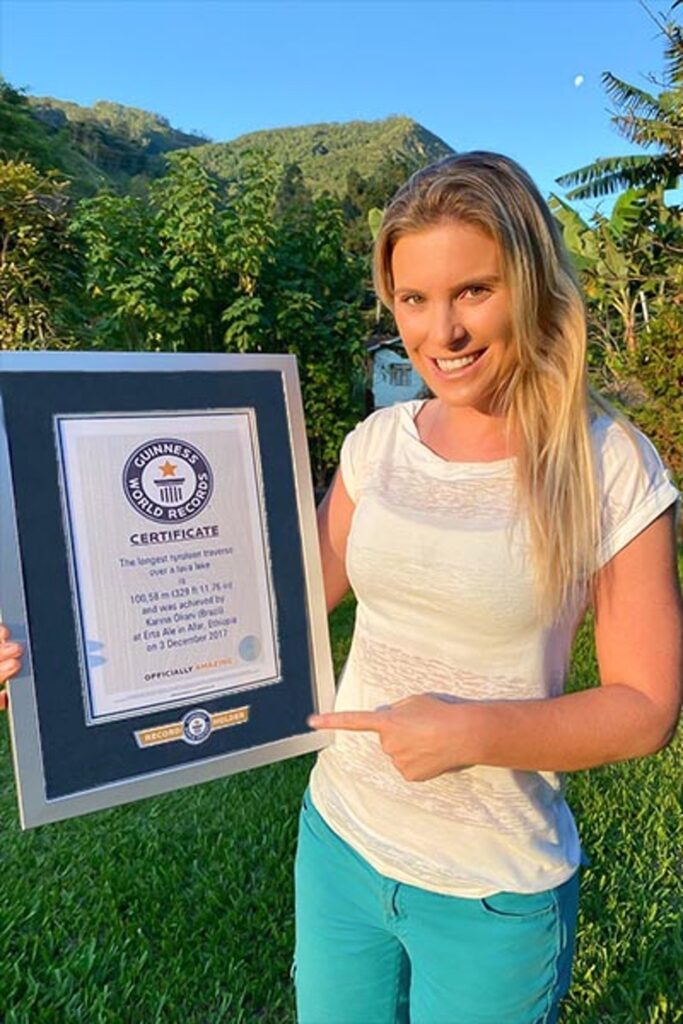 The environmentalist, producer and host, and Doctor in Emergency and Wilderness Medicine, traversed across the Erta Ale volcano, one of the rare volcanoes in the world that has a consistent lava lake.
Dr. Karina Oliani
Oliani's passions have always led her outdoors, joining countless expeditions at sea, up mountains, in jungles and the desert, including two Mt. Everest climbs (by the South face in 2013, North face in 2017), and an ascent up the K2 in 2019. In 2020, Oliani developed and hosted "Florest Guardians," a Discovery series aimed to raise environmental preservation and awareness, mainly in the Amazon forest.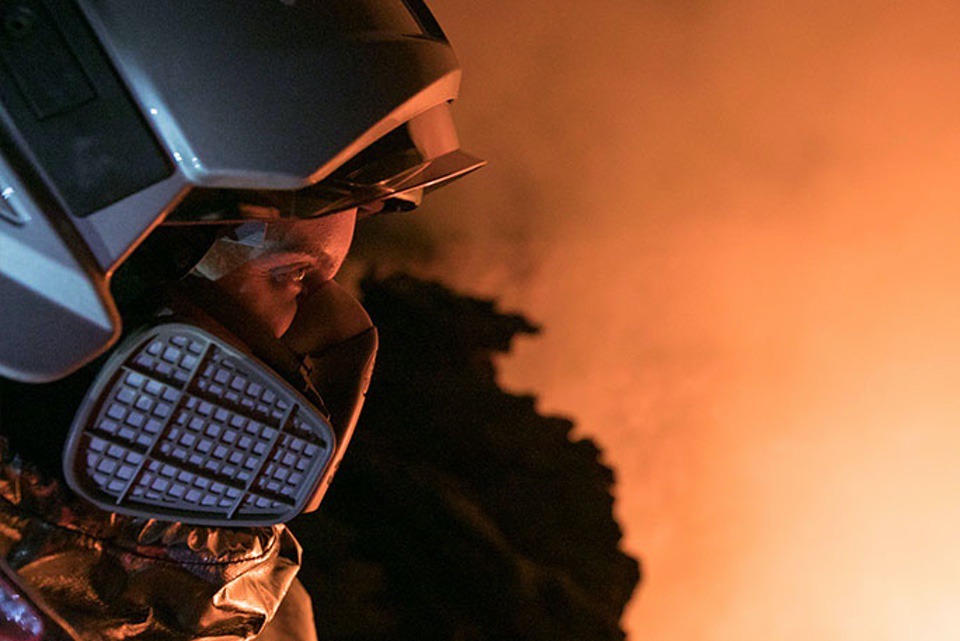 Through these adventures, she connects with the environment to truly understand and feel the power of nature.
For her venture to the Erta Ale volcano, she wanted to make it even more memorable.
Erta Ale Volcanic Range
Located in the Erta Ale volcanic range in the central northern Danakil depression (NE Ethiopia), this isolated basaltic shield volcano has been active since it its discovery in the 1960s. It has become a popular tourist destination in recent years as one of the main attractions within the Danakil.
Her Tyrolean traverse over the lava lake took many months of paperwork and planning in 2017. When she received the final approval to do the traverse, she knew it would create many new paths in her life, though she could not imagine becoming a Guinness World Records titleholder was one of them.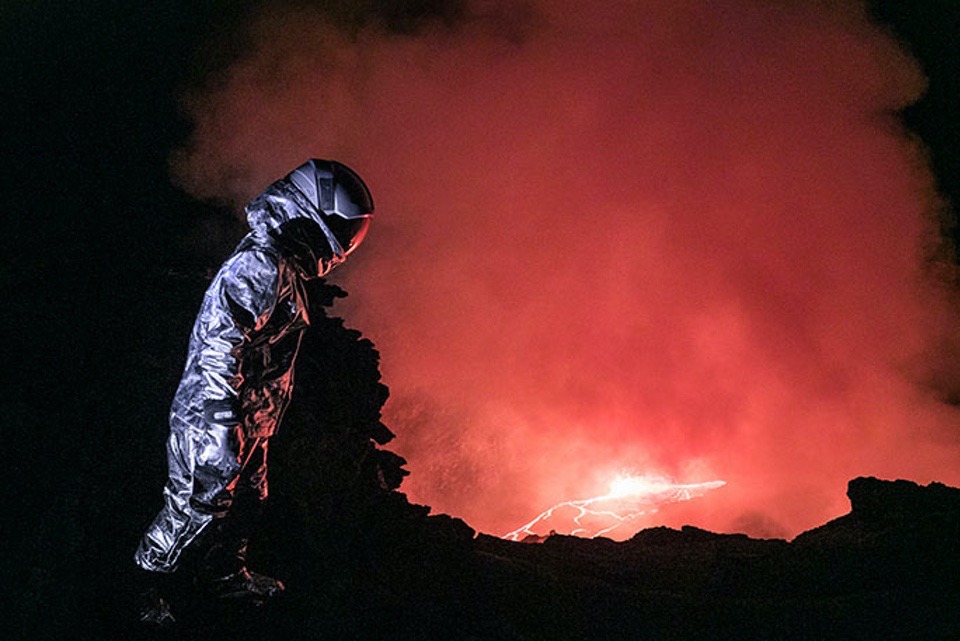 "This is a once-in-a-lifetime gift! It is an official world record title for the longest Tyrolean traverse over a lava lake. What a great gift to celebrate International Women's Day. I am very proud of it; thank you Guinness World Records," said Oliani.
Dr. Oliani's History
Oliani adds this title to her incredible roster of achievements, including her status as a trained diver (since the age of 12) to swim in the ocean with the biggest predators. She also continues to create content, hosting shows for Brazilian television, including "Celebrities' Challenge" and "Extreme Mission" on the Discovery Channel, Facebook Watch. Nevertheless, she additionally directs, produces, and hosts, with her production company, Pitaya Filmes, for broadcast partners including Channel OFF and Rede Globo. As a licensed pilot, she also travels via helicopter to develop missions and practice medicine in remote areas of the world.
Although she has experienced many successes, Oliani has faced tremendous challenges as a woman. Especially during her expeditions, everything she did seemed impossible to others.
She adds, "If we look back in history, women have always been treated differently. We could not vote, we could not be in higher professional positions within companies, we could not be doctors or surgeons… It is time to go for equality and justice. Today, women are conquering and proving that we too are capable of doing great things for society. It is a big honor to get this recognition from Guinness World Records! I hope this inspires many women across the globe."
She has not let these challenges stop her from helping the environment and people in need. Oliani created the Wilderness Brazilian Medical Society to provide social Medicine, while taking the lead on volunteering projects to help people in need, in partnership with Dharma Institute, a non-profit she also helped to create.
Today, Karina has hopes of inspiring the next generations of girls with her fearless mindset and continuous sense of adventure.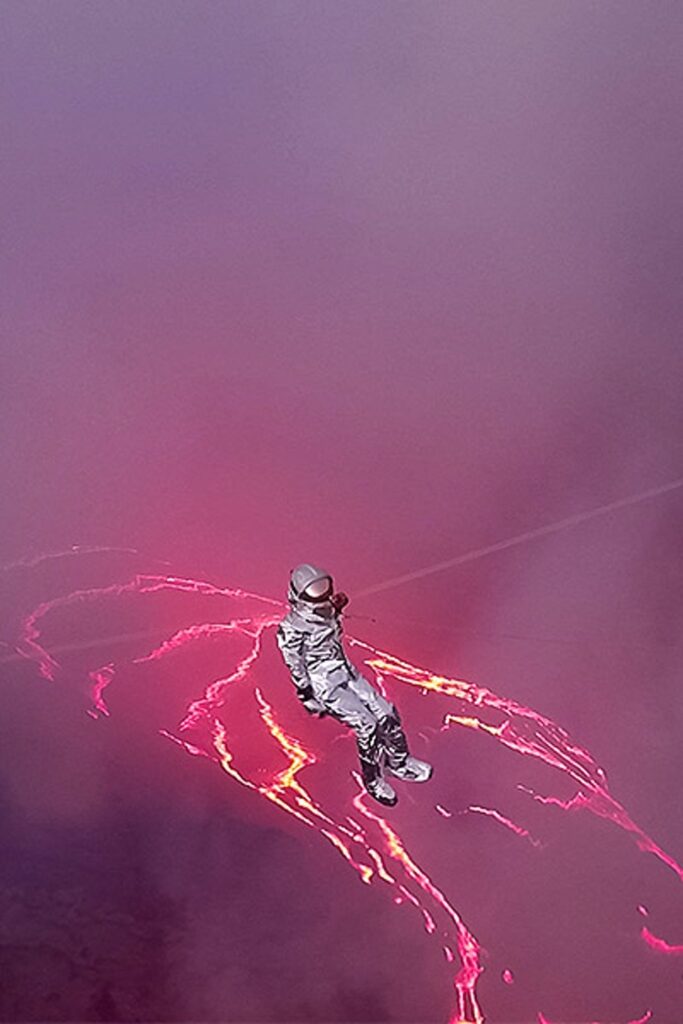 "I hope that all the things I have accomplished in my life today can empower girls and women from all over the world to go after their dreams. I hope by watching me they go: 'if this girl was able to do that, I can also do whatever I put my mind to!' If they want to be president, climb a mountain, traverse a volcano, or something else that has never been done before – they can and should do it."
Watch Oliani's exclusive interview for Guinness World Records' International Women's Day celebration, here or below.
To read more about this and other record-breaking stories visit www.guinnessworldrecords.com.
All photos courtesy of GWR.
About The WON

The Women's Outdoor News, aka The WON, features news, reviews and stories about women who are shooting, hunting, fishing and actively engaging in outdoor adventure. This publication is for women, by women. View all posts by The WON →