Review: Bushnell Bone Collector Series LR 850 Laser Rangefinder
Jess Banes reviews the Bushnell Bone Collector Series LR 850 Laser Rangefinder, with some surprising results.
Since my very first harvest, I have strived to be an ethical and responsible sportswoman. Harvesting game is a privilege and great responsibility that I take very seriously. Not only do I want to be respectful to the game I am pursuing, but also, safe for myself and other hunters. For me this means one thing: practice.
Sponsored by wildHERness
You must be effective with your gear to be efficient in your pursuit of game. Knowing the effective ranges of your firearms and bows, as well as knowing what your current skill set encompasses, are what allows a hunter to take ethical and responsible shots on game. To help me expand and hone these skills, I purchased a Bushnell Bone Collector Series 850 Laser Rangefinder.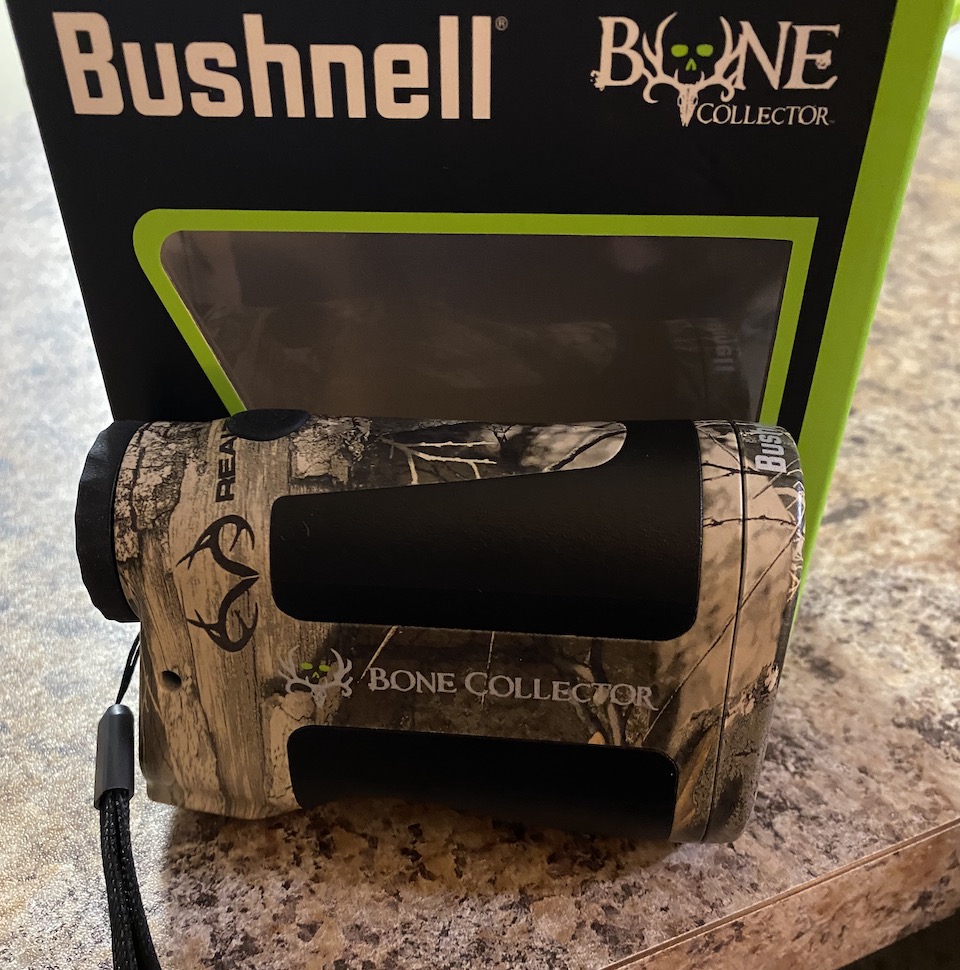 What I was looking for:
I wanted a range finder I could use before a hunt to help me practice my effective shooting range and during the hunt to ensure game was within my accuracy range.
Lightweight, yet durable and simple enough to use in the field when those buck shakes set in.
As a lefty, I wanted a model that would work in either hand and free of flashy colors that are easily spotted by game.
Cost friendly (preferably one that doesn't break the bank).
Bushnell Bone Collector Series LR 850 Laser Rangefinder
Let's talk functionality. The Bushnell Bone Collector 850 Rangefinder has an easy one-touch button system for fast and easy use. The eye piece has a Fast Focus eye piece that can be adjusted, even during one-handed use. I enjoy this feature because I can accurately identify and range specific animals that may be in a herd or surrounded by heavy brush and timber. The accuracy also is supported by the crystal-clear lenses that work even in low light situations. This rangefinder has the ability to accurately measure anything within 900 yards. It comes with angle arc technology that accounts for any variations in terrain, which I find extremely helpful when practicing long range shots with a rifle.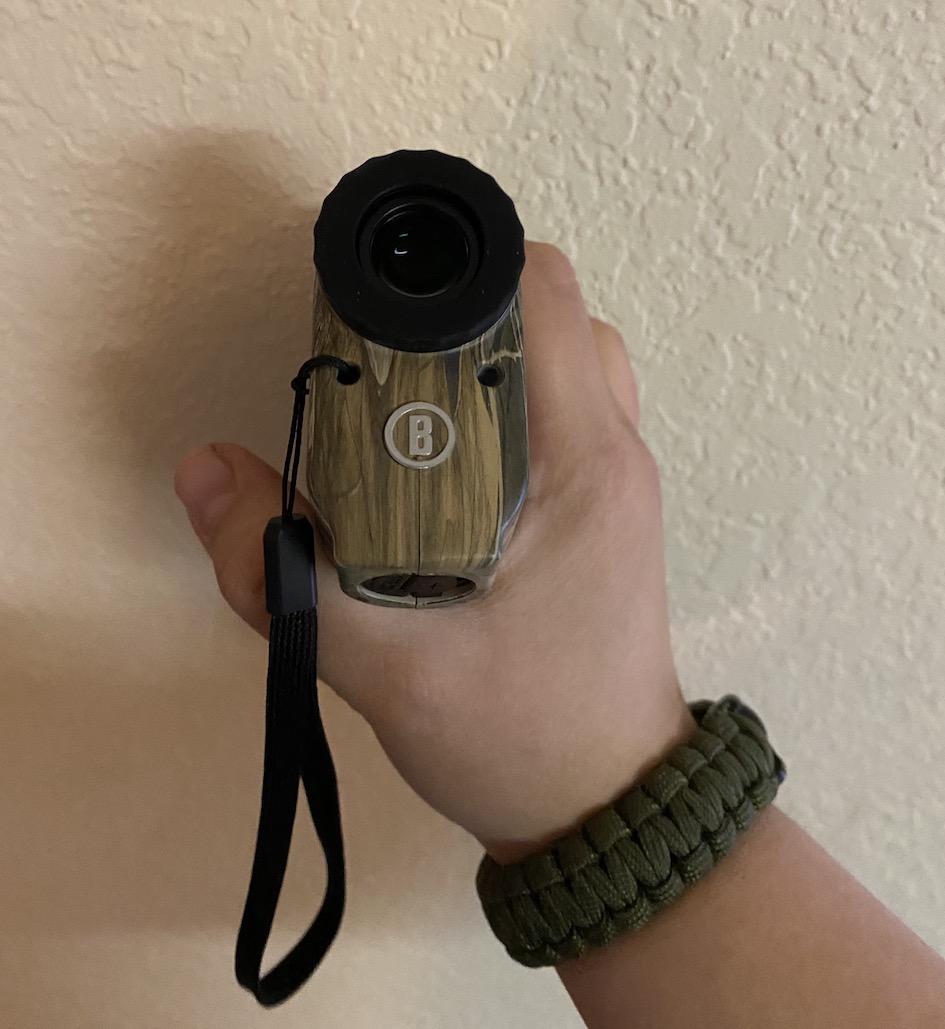 Now what about the features? To aid in the ease of operation and reduce human error when the buck of a lifetime walks out, Bushnell has added a few appreciated features. Hand placements have durable grips built in, helping fight damp conditions or hand perspiration. The rangefinder also comes with a wrist lanyard that can be attached to either side of the base to ensure it isn't dropped from a tree stand. The camo pattern on the exterior is bright enough to look sharp, but dull enough to blend into any season or terrain, a valuable characteristic for hardcore hunters.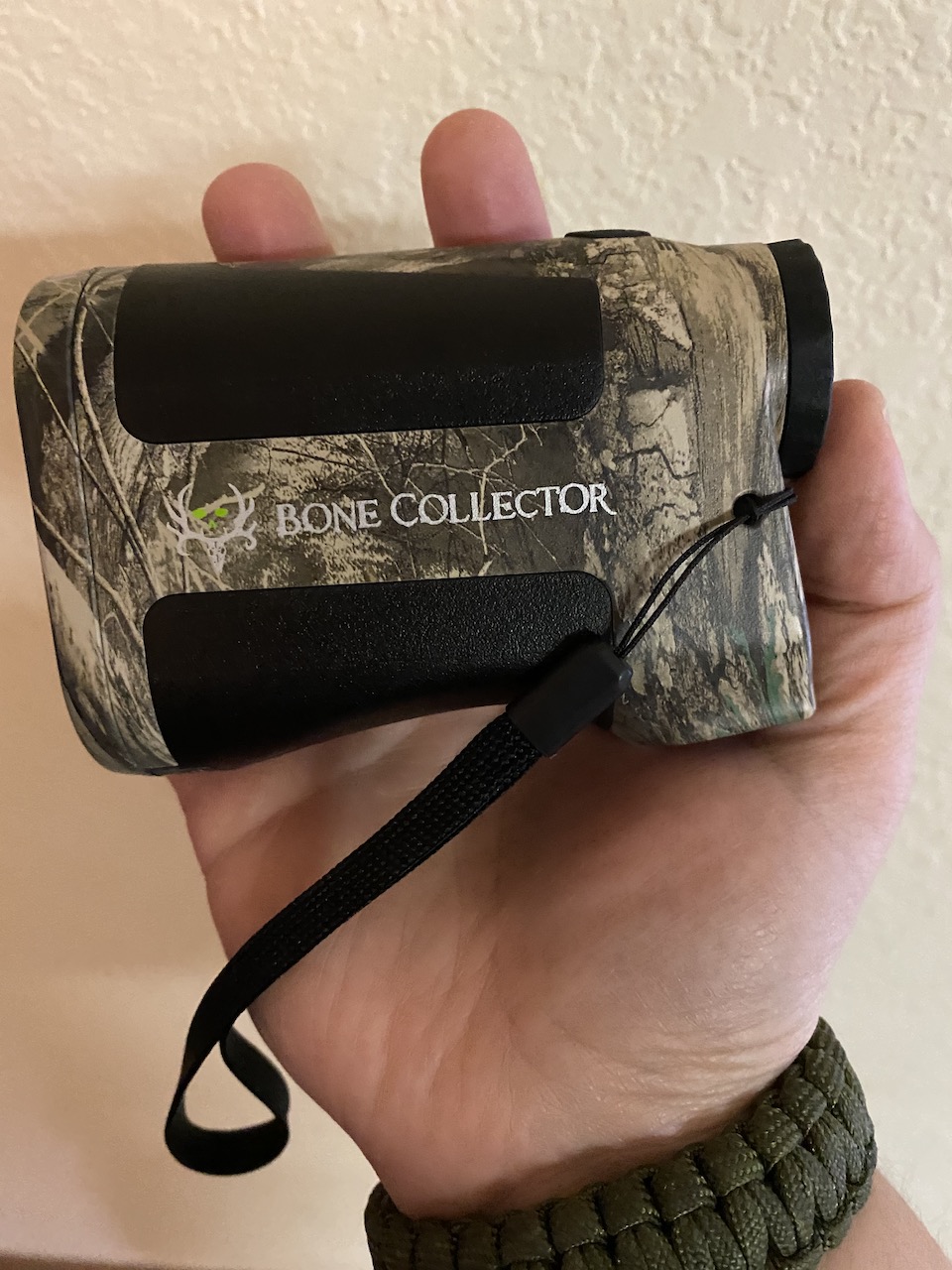 A good rangefinder is worth its weight in gold to avid outdoorsmen and women, but you won't need a brick of gold to purchase this model. Bushnell has made this an extremely affordable and easily attainable value to the outdoor community. Additionally, this product and with a minimum of a five-year warranty. When I am out on a hunt, scouting or at the range practicing with my bow or firearms, this rangefinder is always by my side.
Learn more about the Bushnell Bone Collector Series 850 Laser Rangefinder: MSRP $140.
About Jessica Banes
Jessica Banes is the Vice President and Director of Risk Management for wildHERness. Jess's outdoor journey started at the age of five, thanks to her amazing stepfather, Jeff. He taught her about the great outdoors and truly fostered her appreciation and love for wildlife, the environment and giving back. As Jess grew into an avid outdoorswoman, she realized that she needed to do more, be more and share more, which led her and three other women to found wildHERness. Jess also has recently become a Hunter Safety Instructor for the state of Kansas. She earned her bachelor's degree in criminal justice from the University of Central Missouri in 2013 and spent eight years working Corrections and is now a mental health professional for local government. Jess loves all outdoor activities but is most passionate about waterfowl hunting.
About The WON

The Women's Outdoor News, aka The WON, features news, reviews and stories about women who are shooting, hunting, fishing and actively engaging in outdoor adventure. This publication is for women, by women. View all posts by The WON →