Three Elk Recipes You'll Love from Wild Game Cuisine
In search of meals to cook this summer, I found these three elk recipes from Wild Game Cuisine I'm dying to try. I think after reading them you'll feel the same. ~MC

Wild Game Cuisine Elk Recipes
Elk Enchilada Meatballs
Enchiladas are a family favorite especially with a delicious homemade red enchilada sauce made in minutes. So I thought why not change things up a bit for one of our favorites and by-pass the flour or corn tortillas and focus on the MEAT!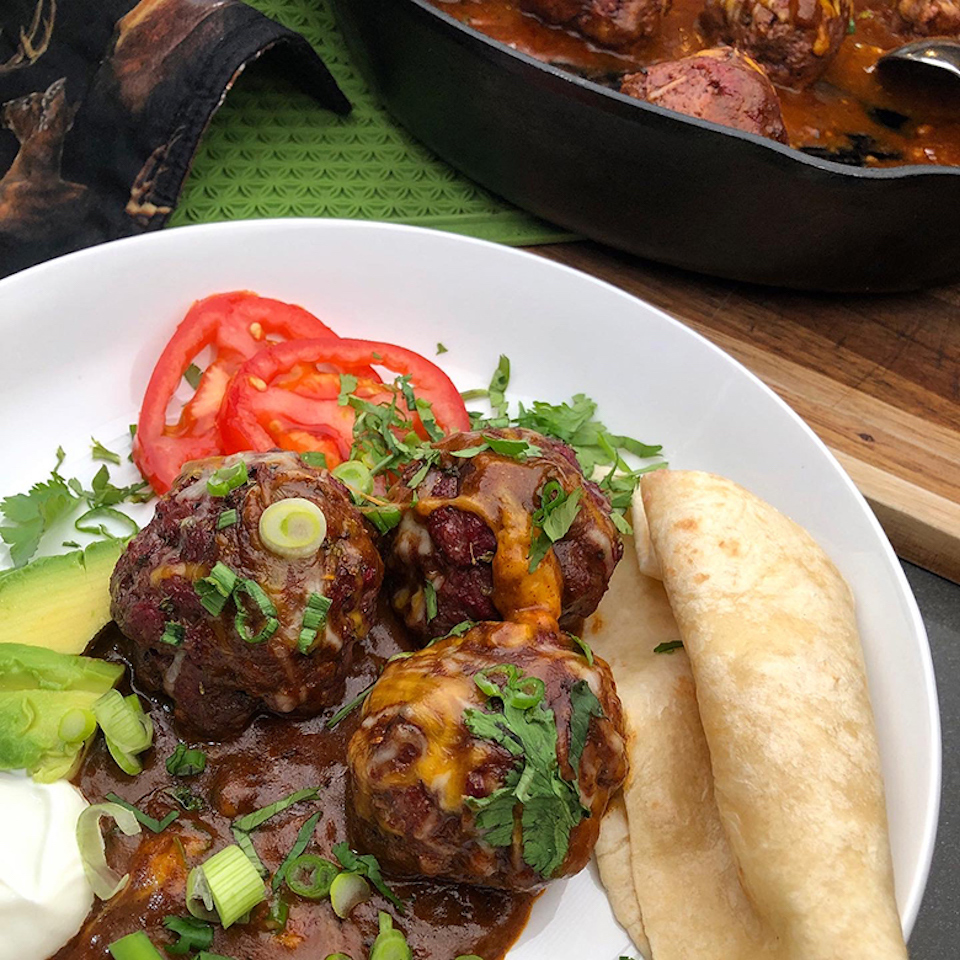 I used a blend of aromatic herbs and spices but instead of browning the ground meat, I hand formed 10-12 medium sized meatballs.
Wood-fire or bake and then simmer in a mouthwatering red enchilada sauce topping each ball of meat with shredded cheese, chopped green onions and fresh cilantro.
Serve with sour cream, sliced avocado and a warm tortilla (optional of course).
And don't forget… you can substitute other ground game meat if you don't have elk in the freezer. This recipe works with ground venison, bison, antelope and moose. ~ Enjoy
Read the recipe for Elk Enchilada Meatballs here.
Carne Asada Elk Tacos
Festive and flavorful, carne asada is a straightforward dish of thinly sliced grilled meat, served as a main entree or combined into other dishes like burritos or my favorite – Elk Carne Asada Tacos. While the flank steak or skirt steak are popular choice cuts for grilling, I've found sirloin steak and other protein packed pieces are just as tender and delicious.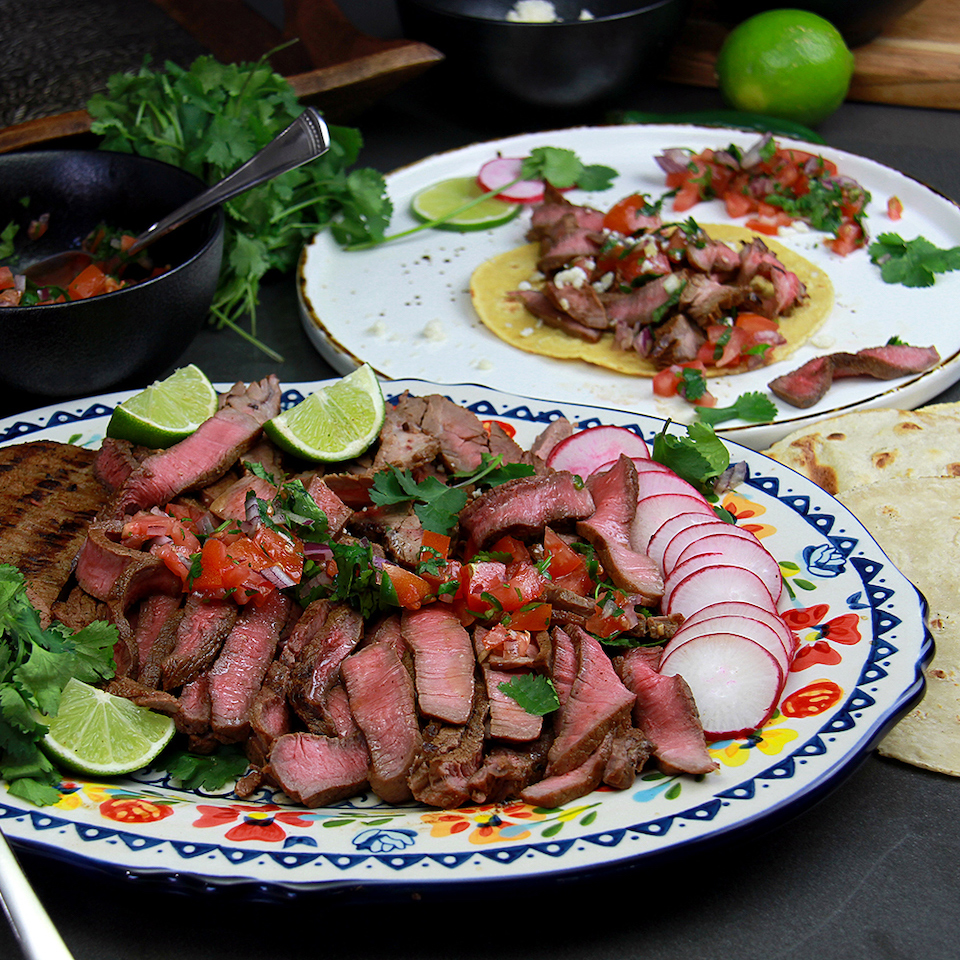 Now some might simply season the meat with salt and pepper before hitting the grill; however, I prefer to give the meat a bath in a blend of aromatic citrus, spices, garlic and olive oil. Left alone to soak for an hour or longer will allow the meat to take on bright and distinct flavors of the marinade.
When ready, get the grill as hot as you can whether it be a charcoal or gas grill. You want to hear a sizzle when the meat hits the grates. Sear both sides of the steak and remove when done. Let the meat rest before slicing against the grain as thinly as you prefer. Serve the grilled elk carne asada in warm tortillas with fresh pico de gallo salsa, lime wedges, sliced avocado, radishes and crumbled cotija cheese.
Continue reading the recipe for Carne Asada Elk Tacos here.
Greek Elk Sish Kebabs
The 'Shish' (SHEESH) comes from the Turkish word şiş (sword or skewer) and 'Kebab' refers to a variety of roasted meats including wild game. Put the two together and fire up the grill for a flavor explosion of middle eastern cuisine with these Greek style Elk Kebabs. The prep is quick and the grilling even quicker.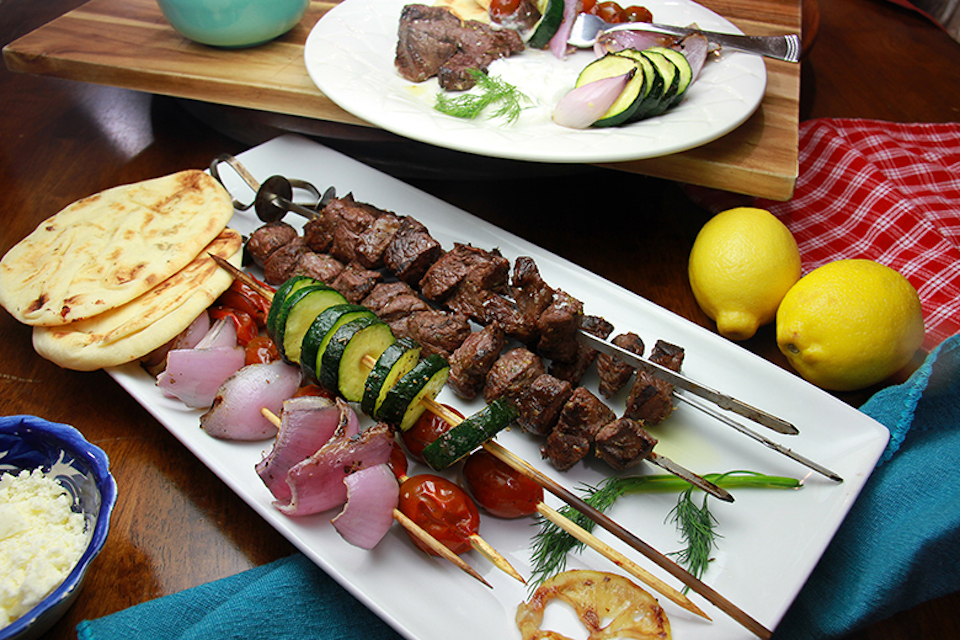 Some of the best kebab eats come from the various cuts of Elk Sirloin all the way from the top to bottom. The 1" sized cubes only need a short soak in the marinade giving each meaty piece a distinct bright and savory infused flavor. The marinade is a simple combo of olive oil, lemon juice, garlic and savory-earthy Greek oregano.
Since the grill is hot, why not skewer a variety of your favorite veges to add to the mix. Some of my favorites are red onions, zucchini and cherry tomatoes. Serve the bite sized grilled goodies with naan bread and a light and creamy yogurt sauce to complete the savory meal.
Learn how to make Greek Elk Shish Kebabs here.
About The WON

The Women's Outdoor News, aka The WON, features news, reviews and stories about women who are shooting, hunting, fishing and actively engaging in outdoor adventure. This publication is for women, by women. View all posts by The WON →