DIY Natural Bug Repellent
This time of year is perfect to spend more time outdoors, but that comes with the bugs that bite. There are tons of remedies and sprays you can buy at the store, but have you tried making your own natural bug repellent?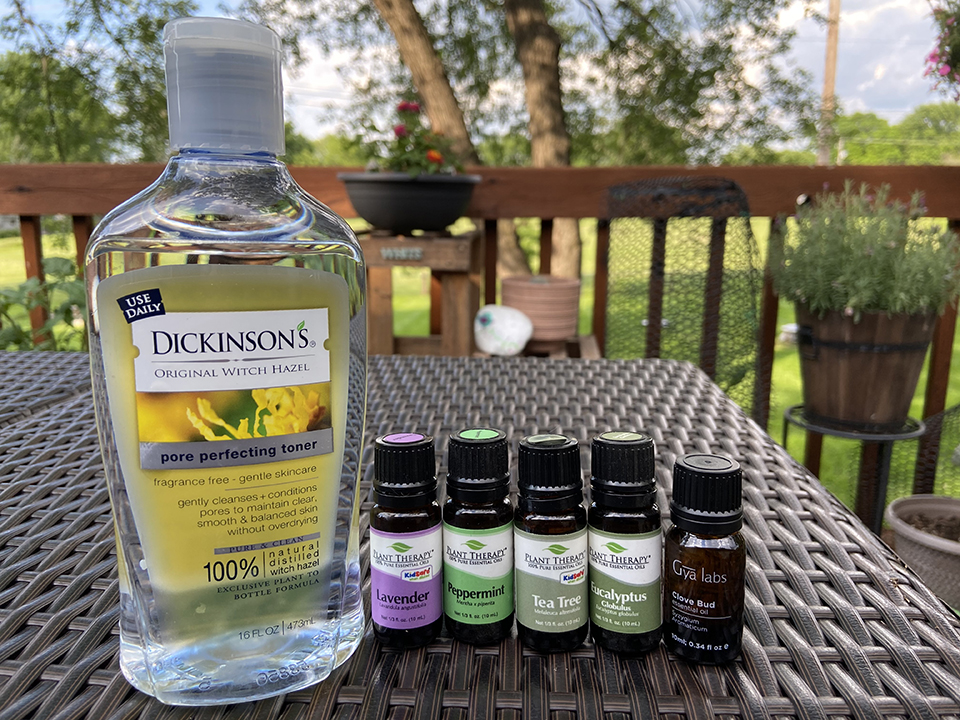 The recipes and ingredients are countless, all with a similar staple: essential oils. Essential oils are made up of a chemical stored in plants. In many cases, these chemicals can work to repel buzzing predators. When the oils are extracted from plants, they become a useful ingredient to protect us while we spend more time outdoors.
Please note that not all essential oils work against outdoor buzzing pests, so it helps to do your research and find the combination of oils that you find work best for you.
Learning How to Make Natural Bug Repellent
After reading and researching the repelling properties of various essential oils and ingredients, I discovered that I already had a few of these ingredients on hand at home. I've enjoyed creating and documenting several DIY projects and recipes for The WON, and decided to take on making bug repellent as my next adventure.
I mixed the aforementioned ingredients together and spent some time out on the patio. Not only did I smell nice, I never saw any bugs come my way, and witnessed no side effects from spraying the combination directly onto my arms. It is wise to spray a small test spot of the concoction first on clothing or directly onto skin to make sure you have no adverse reactions to the ingredients.
Natural Bug Repellent Ingredients
Lavender Essential Oil – Helpful for and aids in soothing burns, inflammation, cuts, wounds, eczema, headaches, influenza, nausea, nervous tension and more. Lavender can bring a sense of relaxation and can be used as a sleep aid.
Eucalyptus Essential Oil – Known to soothe sore throats, coughs, skin infections, and rheumatism. Eucalyptus has common uses such as stimulating the nervous system, as a cooling agent and can rid areas of insects and germs.
Peppermint Essential Oil – The smell of peppermint oil may help reduce nausea, relieve muscle and joint pain, sinus care, allergy relief, increase energy and alleviate headaches.
Tea Tree Oil – Makes an ideal natural hand sanitizer, can help keep pesky insects away, has antibacterial effects, antiseptic for minor cuts and scrapes and can help fight acne.
Clove Bud Oil – Helps kill bacteria, is a pain reliever, calms upset stomach, cough, and asthma, helps stop the growth of a range of fungi, is effective at preventing dental erosion and provides itch relief.
Witch Hazel – A plant where the leaf, bark and twigs are used to make medicine. Some people apply witch hazel directly to the skin for itching, inflammation, eye irritation, skin injury, bruises, insect bites, minor burns, acne, sensitive scalp and other skin irritations.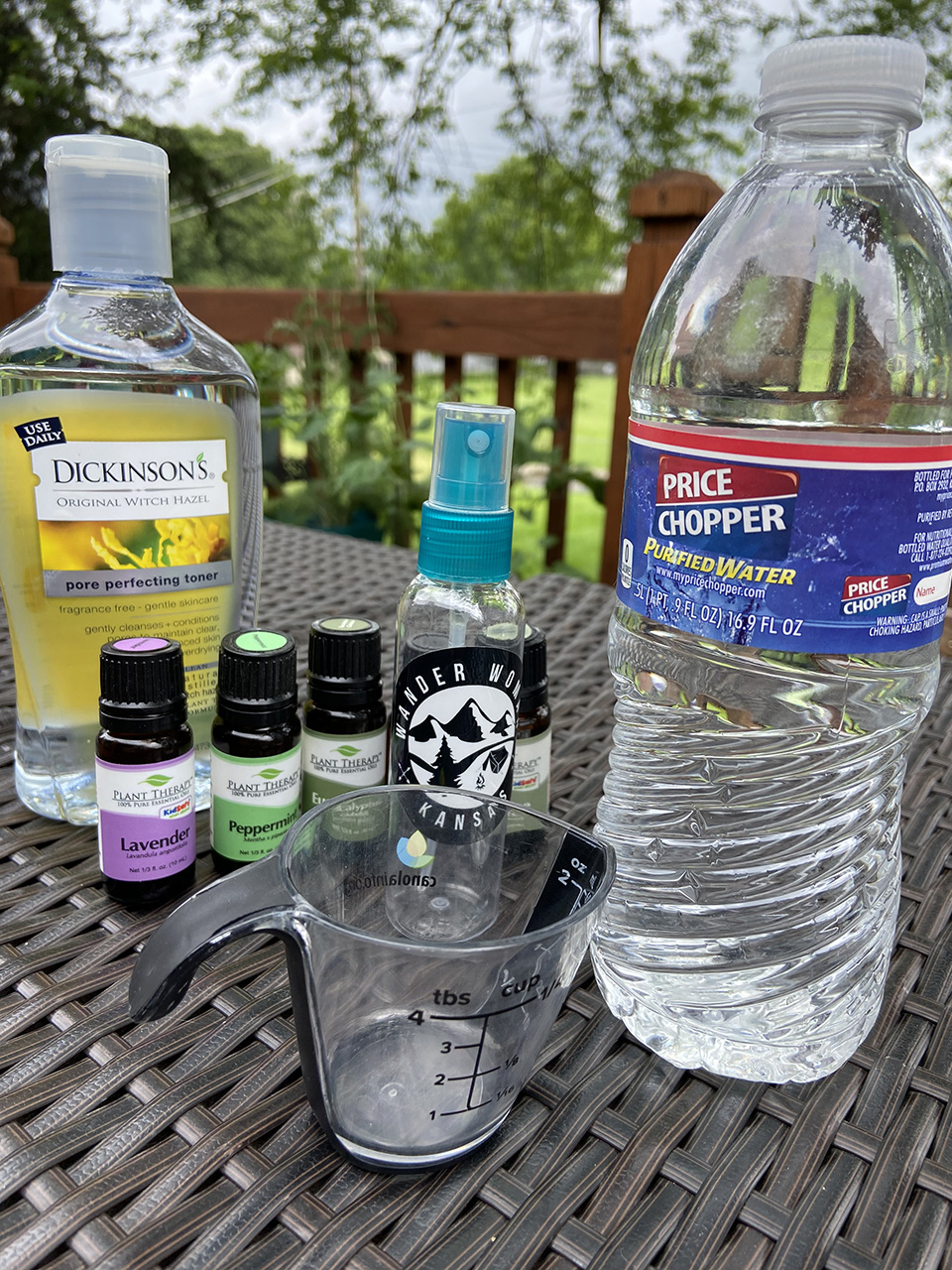 Other Essential Oil Options:
Citronella
Lemon Eucalyptus
Lemongrass
Cedarwood
Spearmint
Thyme
Catnip
Basil
How to Make Natural Bug Repellent
I bought a spray bottle in the travel section at Walmart. My little bottle could only hold 4 oz of liquid, so multiply the recipe accordingly for storage in larger spray bottles.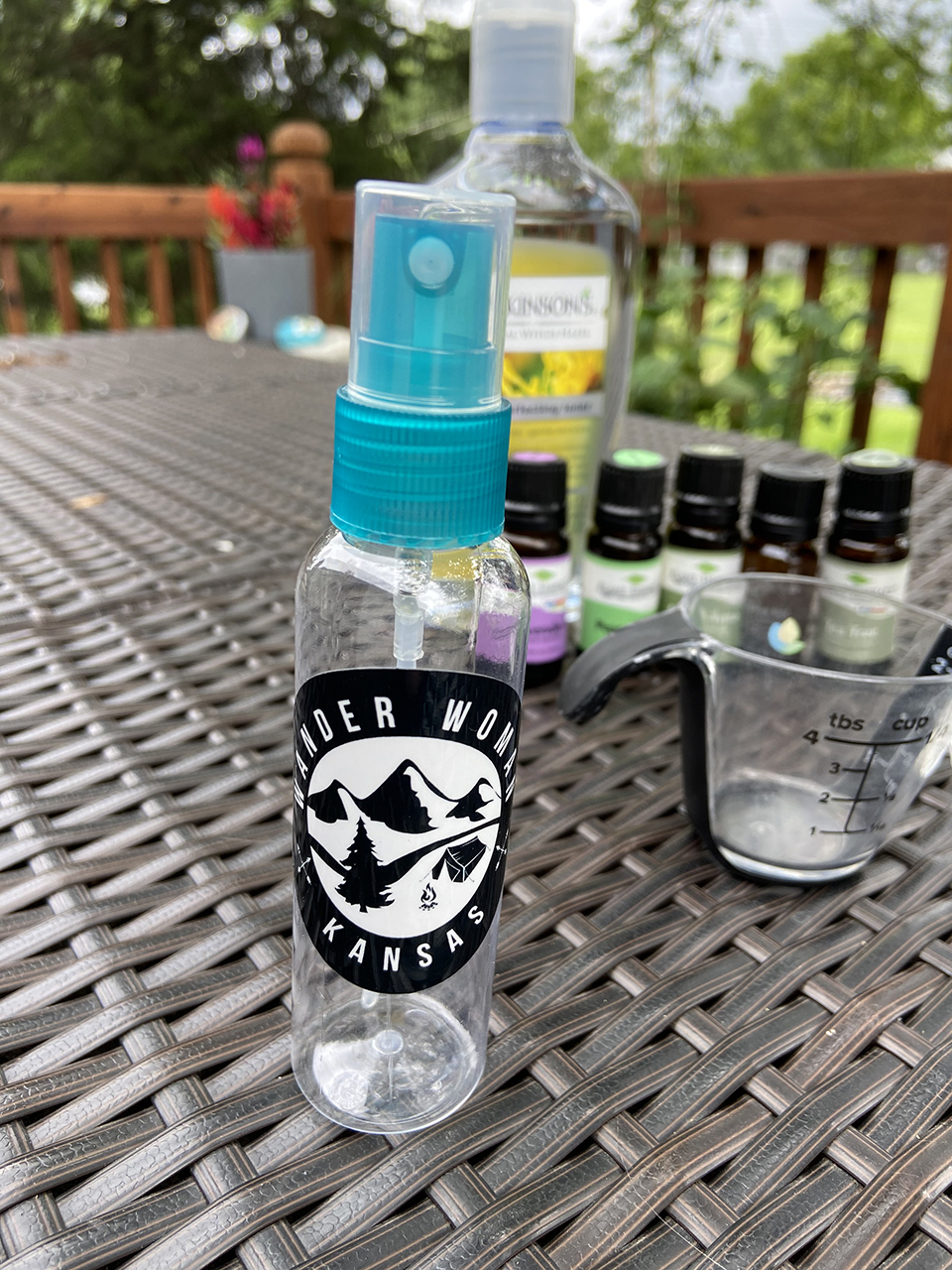 1 Pour in equal parts distilled or filtered water and witch hazel.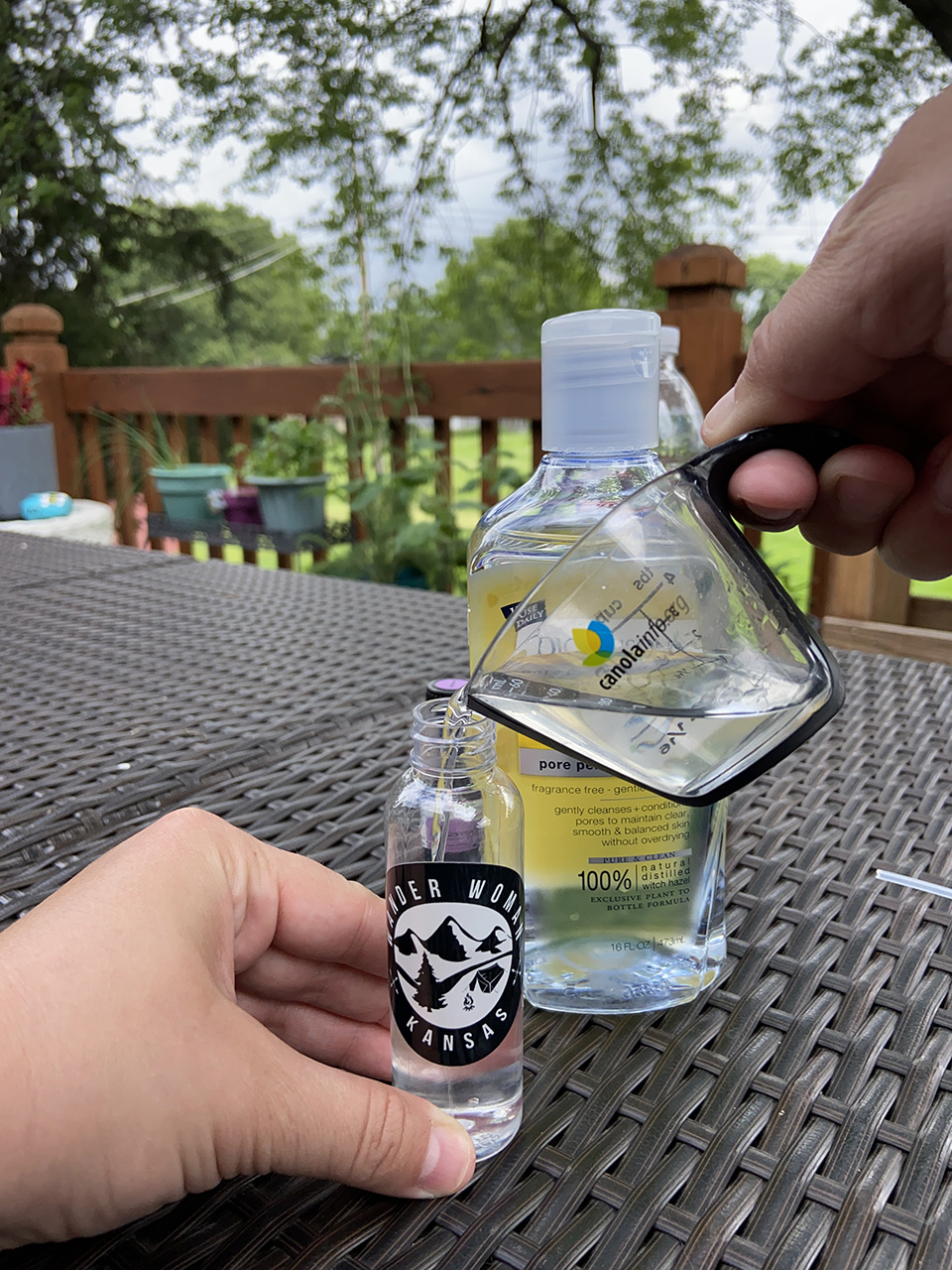 2 Add 10 drops of lavender essential oil.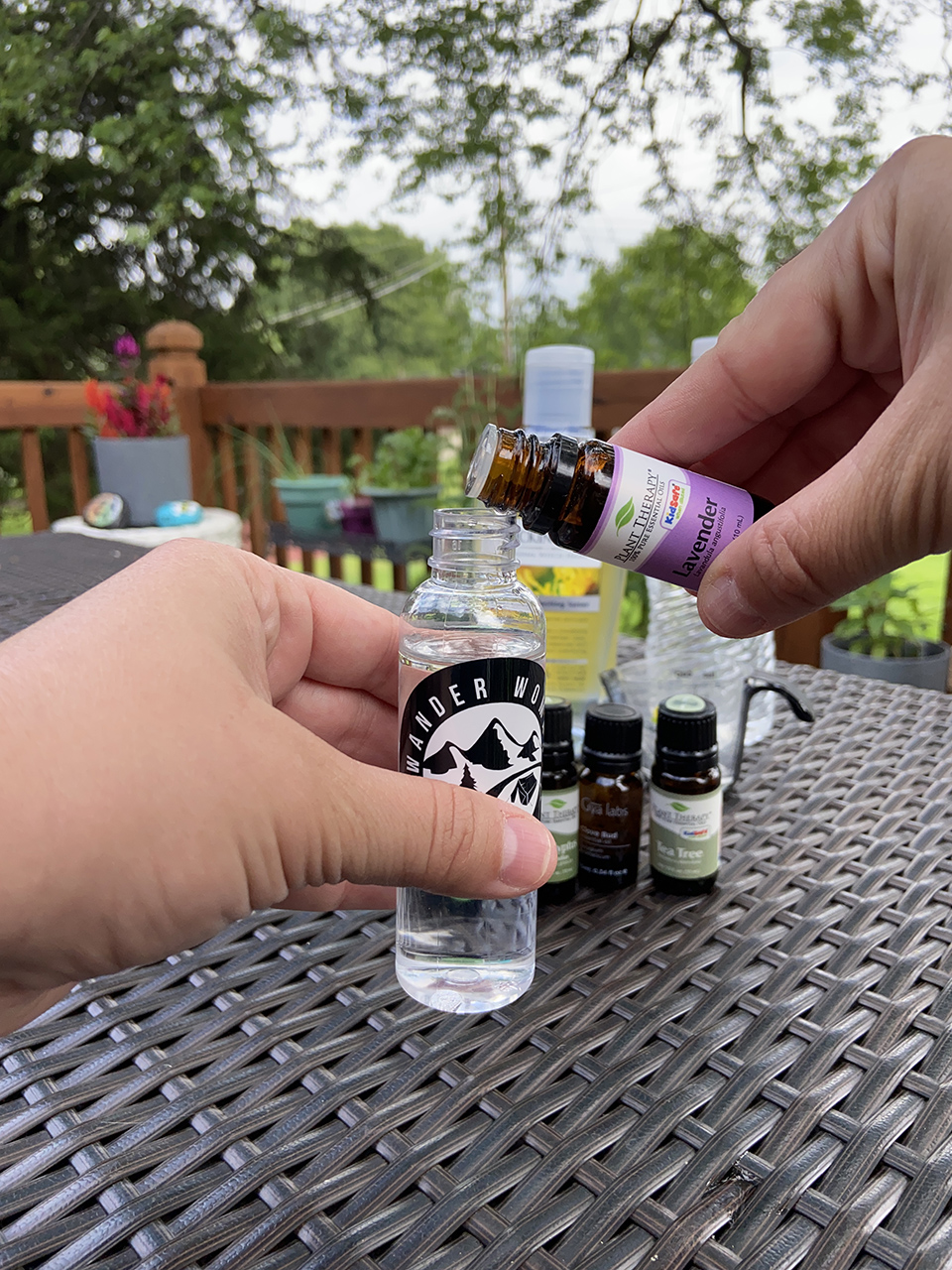 3 Next, pour 10 drops of peppermint essential oil.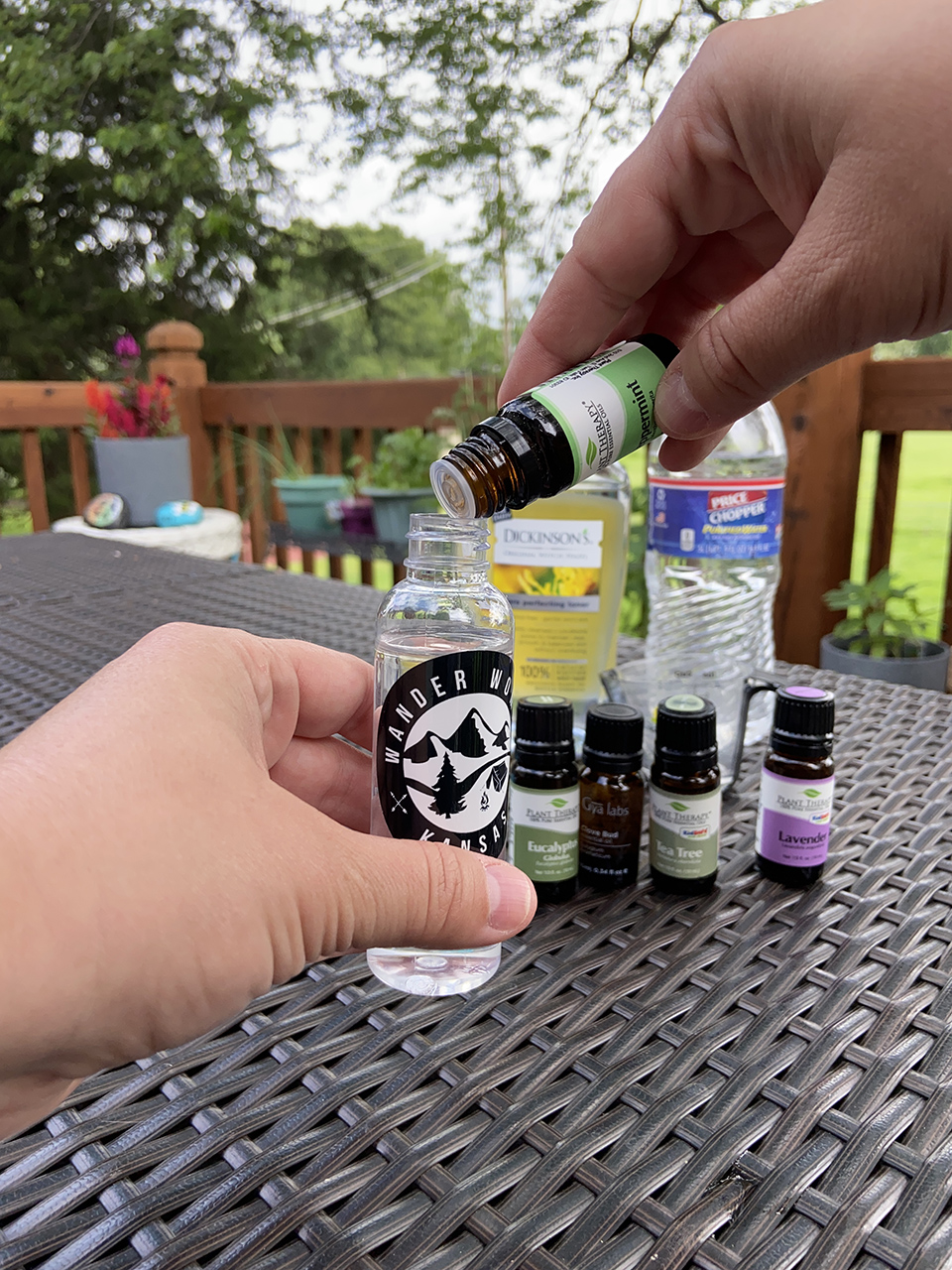 4 Then, add 10 drops of eucalyptus essential oil.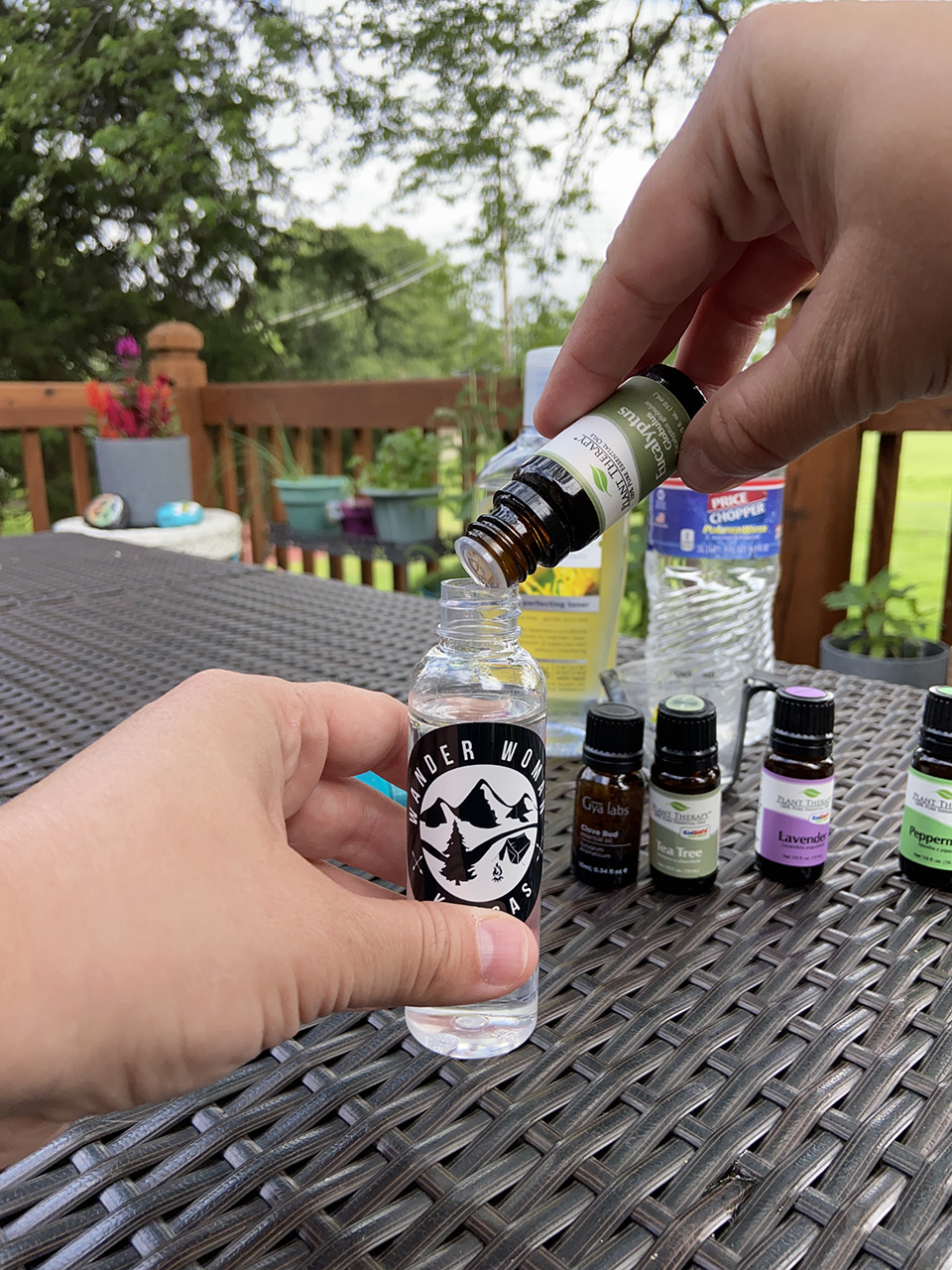 5 You will need 5 drops of tea tree essential oil.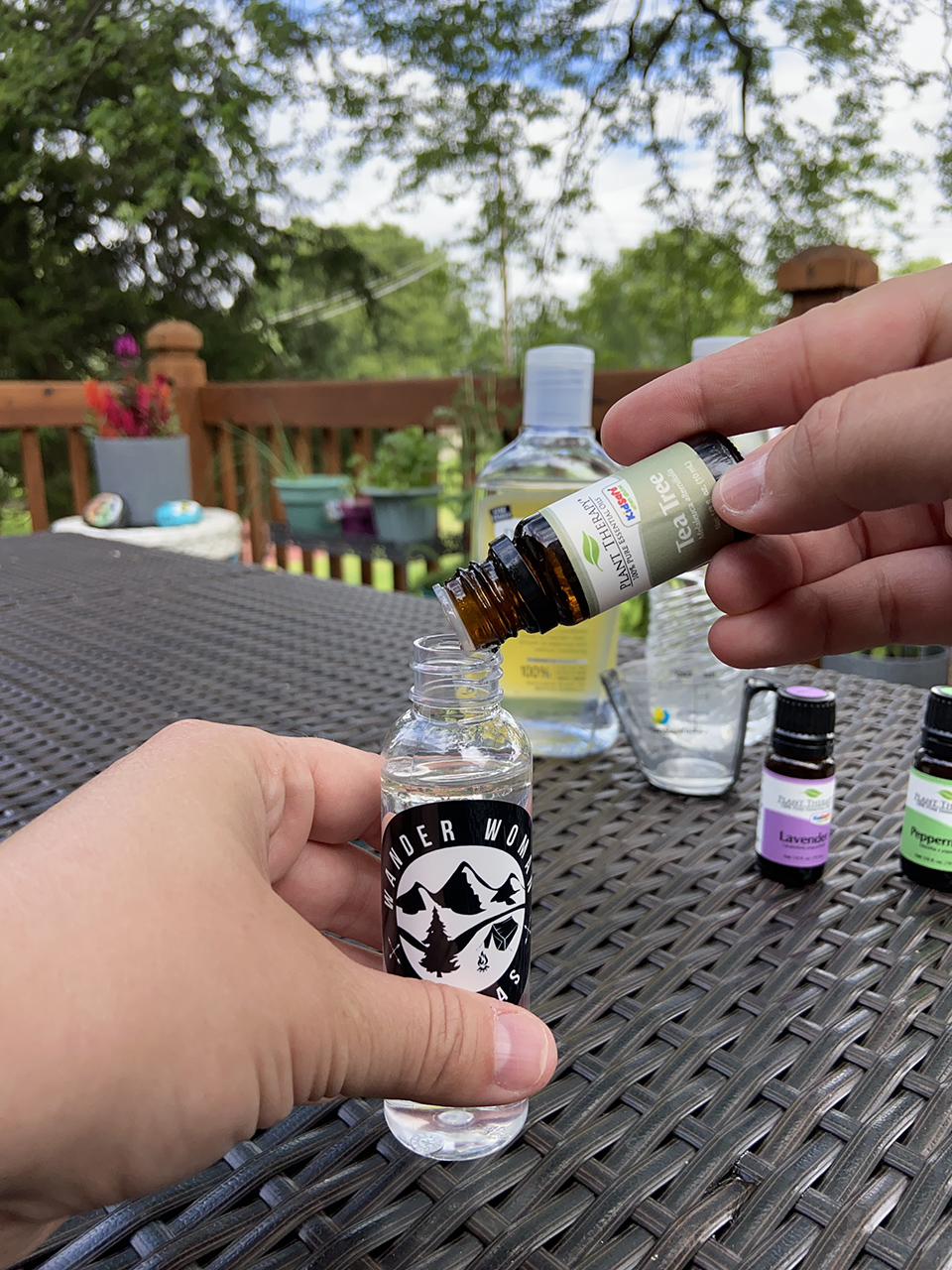 6 And 5 drops of clove essential oil.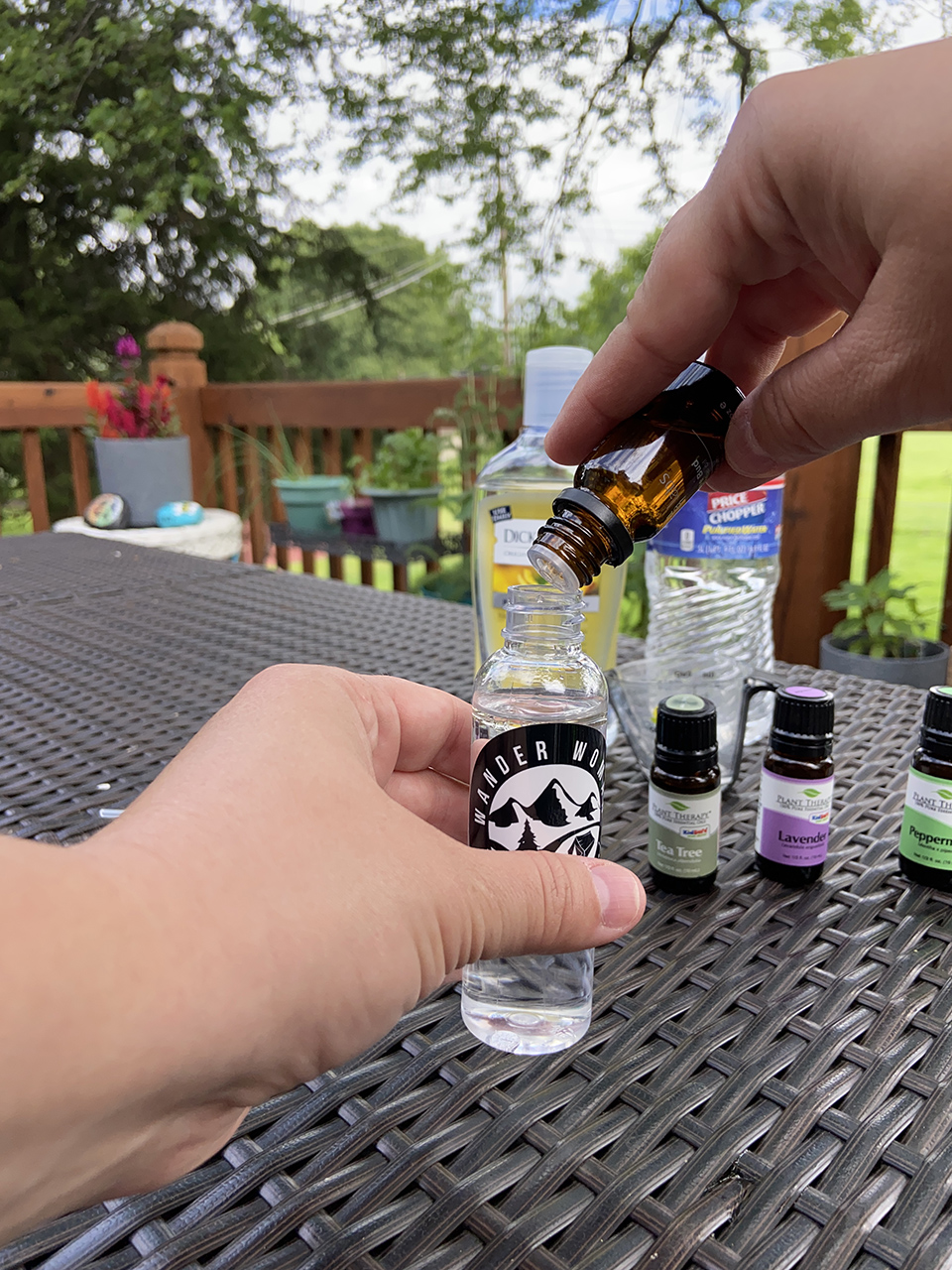 Mix ingredients well, and spray! Be sure to mix the ingredients again before each subsequent use.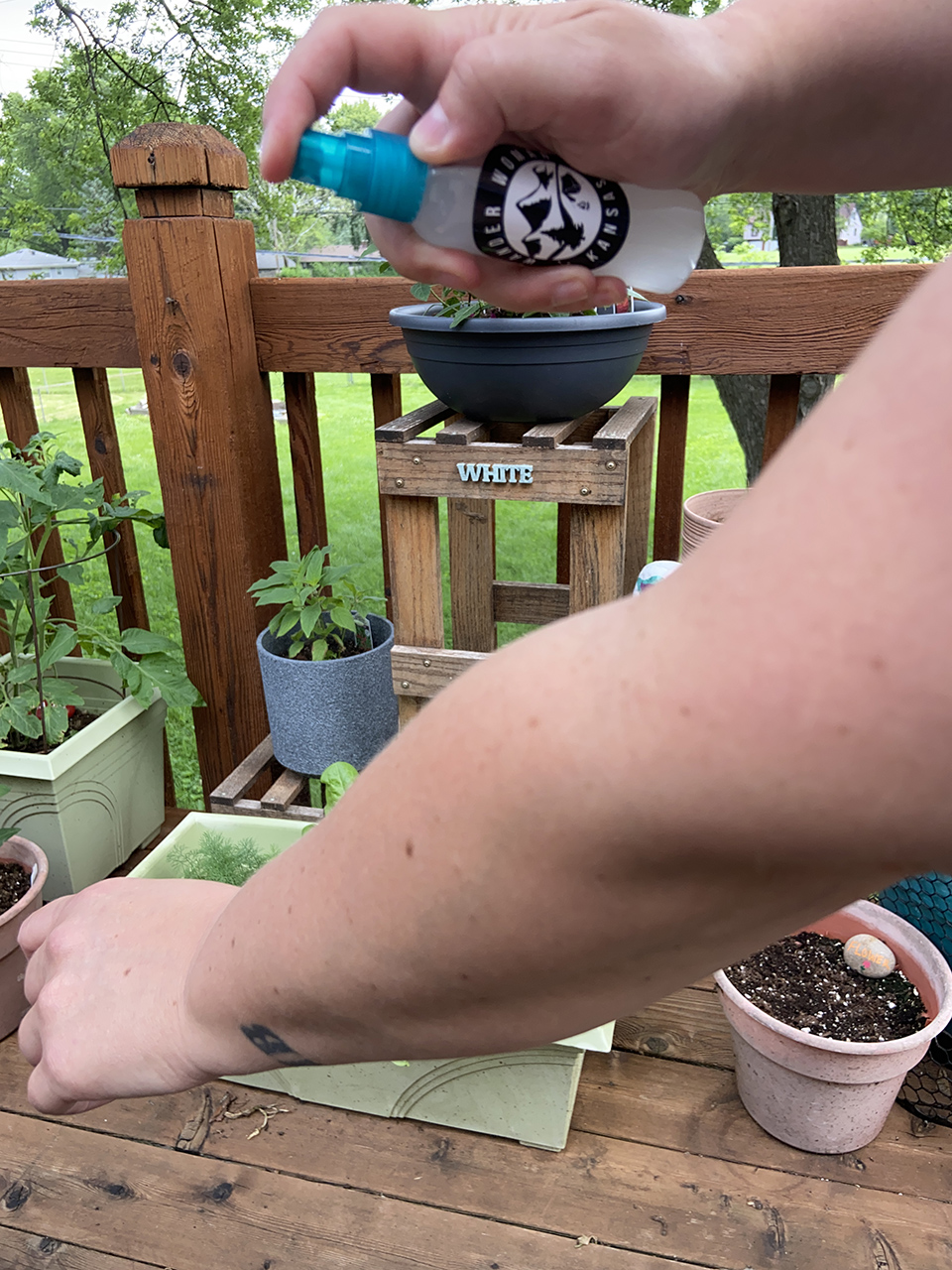 Note: Not all essential oils are safe for young children or pets. Be sure to check which are okay for certain ages and which are not. This link is a nice source that charts ages and what essential oils are safe to use for each one.
About Jessica White

Jessica White is the founder of Wander Woman Kansas, an outdoor education program for women near the Kansas City area. She grew up with a family that spends time outdoors, which provided her a great deal of experiences. She has gone on every kind of hunting and fishing trip imaginable with her Dad. While he liked that part of the outdoors, her Mom, on the other hand, taught her the love of camping, canoeing, caving, rappelling and all kinds of outdoor sports. Jessica still enjoys trips with them, but she started Wander Woman to encourage other women to find themselves in the outdoors. View all posts by Jessica White →