Lockdown's In-Plain-Sight Shelf: Decorating with a Purpose
Recently, in need of a fresh new outlook on life, I redecorated my home and made it my sanctuary. Like many other people, I want it to be a place of comfort and solace where I feel safe and at peace. It all began when I saw the paint color Harbor Mist … doesn't that sound relaxing? Then came some new décor, furniture and even, bedding. Finally, in search of somewhere to store a home defense firearm, I found Lockdown's In-Plain-Sight Shelf. It's a perfect piece to help with the safe and secure storage within a close distance of me being in that area of the house. It fit my new decor and offered exactly what I needed.

Sponsored by Lockdown
In-Plain-Sight Shelf
Available in white and dark walnut, Lockdown's In-Plain-Sight Shelf offers a place to store valuables or other items for easy, quick access. With the use of a magnet, placed at just the right spot, a secret latch opens a hidden compartment beneath the shelf to display its contents.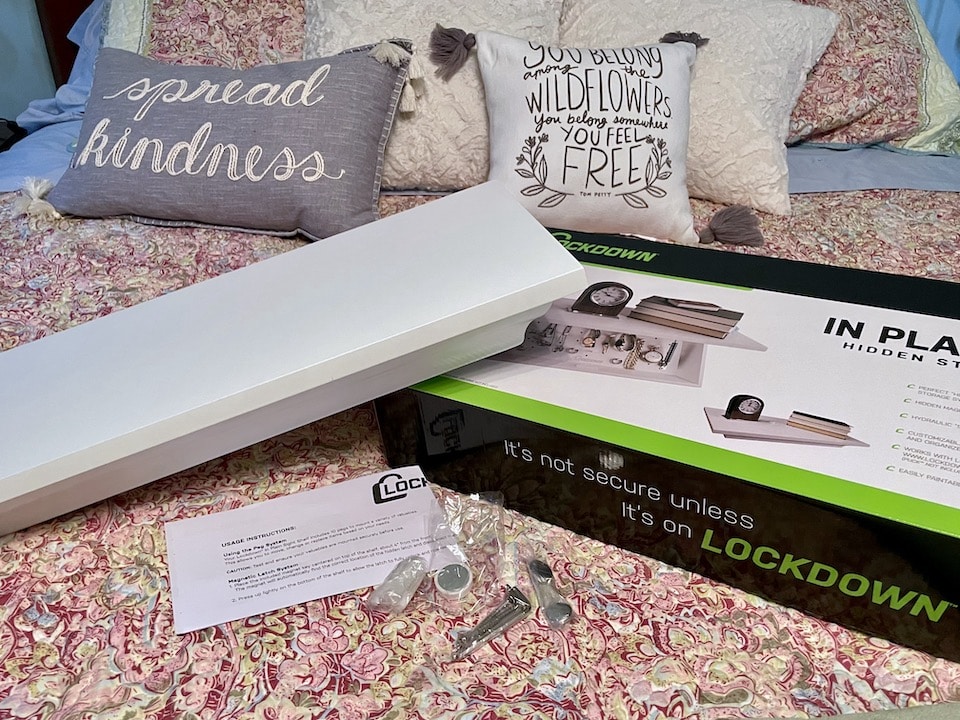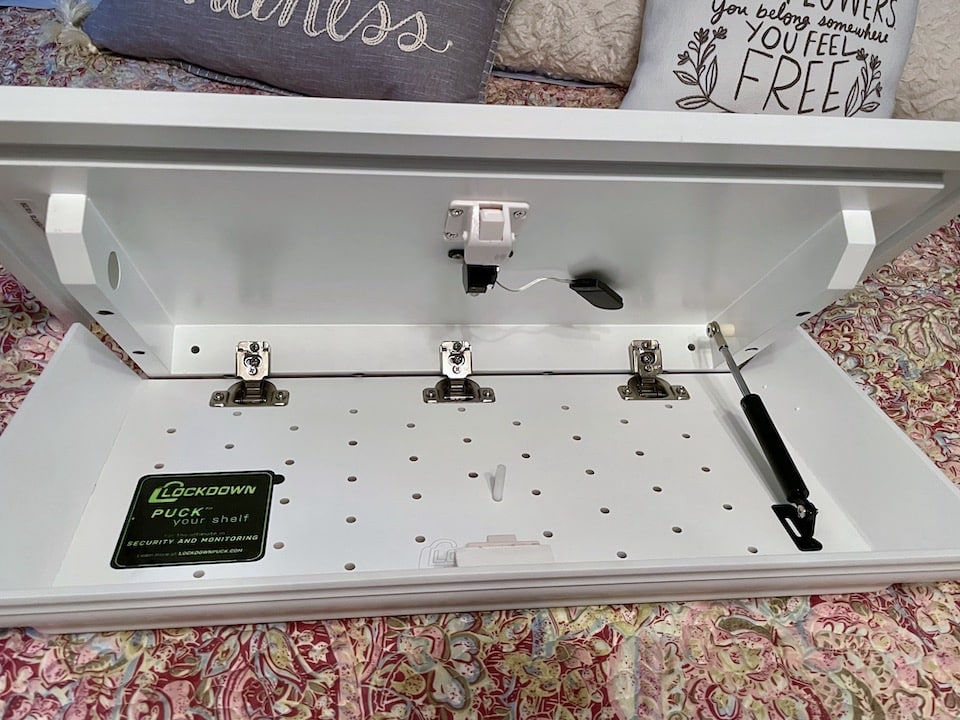 Installation
I am not one to measure accurately and hang items on a wall level or centered. So, I sought the help of my sons to hang the In-Plain-Sight Shelf. The instructions that came in the box do not contain very much information. However, when we checked on Lockdown's website, we found their installation video very helpful.
After the boys finished hanging the shelf, we brought out the pegs to create a holding area for my pistol. With the gun unloaded, we moved it and the pegs around to find a configuration that allowed for quick access.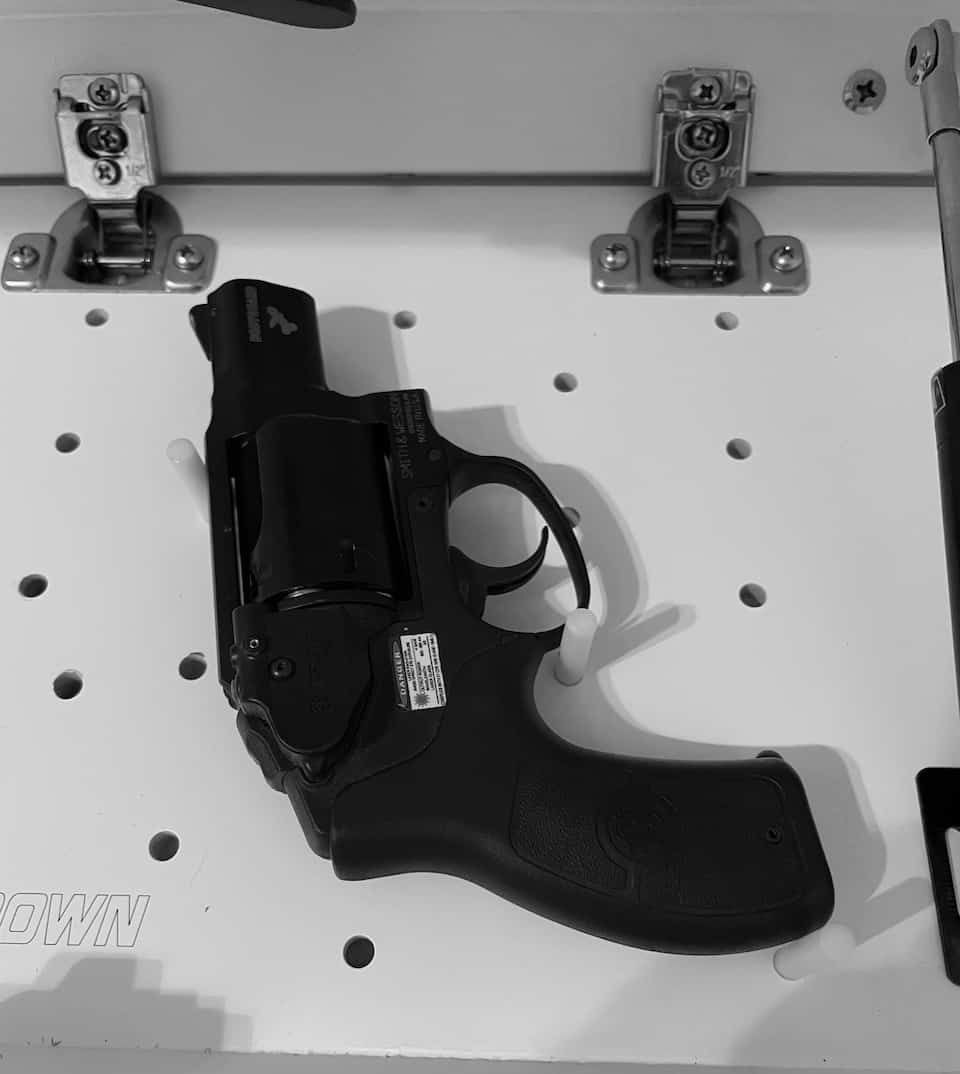 Just to see how it worked, we also put the Lockdown Puck in its mounting location on the left side of the compartment. For those concerned about others accessing their In-Plain-Sight Shelf, Lockdown suggests to Puck your shelf (I just had to include that.)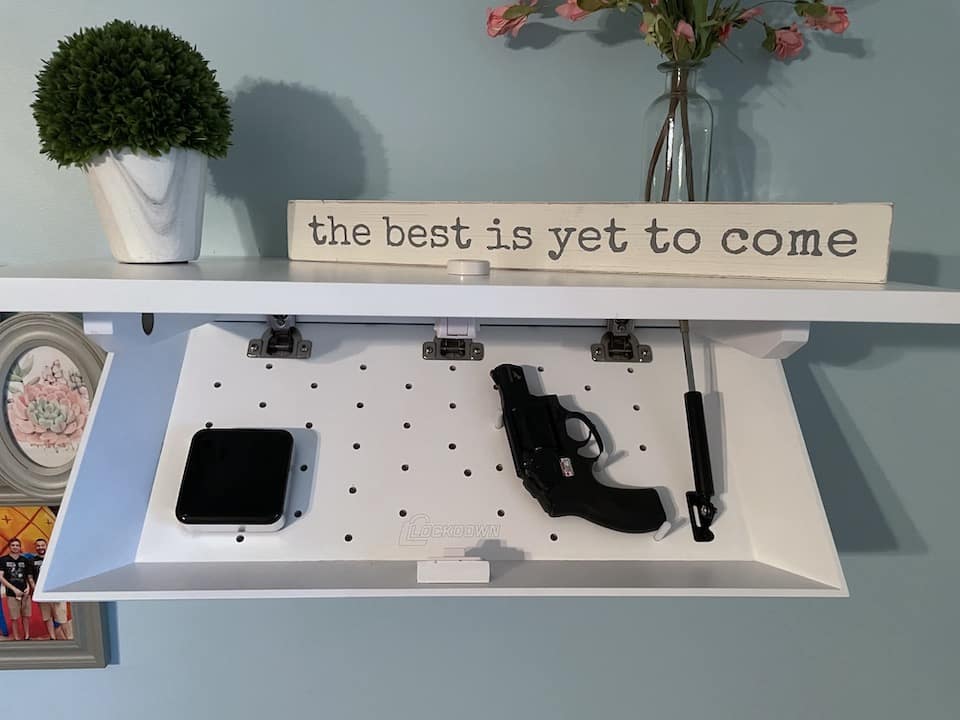 Features
Customizable peg system secures and organizes your firearms and valuables
Hidden magnetic latch for quick and secure opening
Built-in LED light
20-pound max weight rating
Integrated Lockdown Puck™ (not included) mounting location with built in open sensor
Detachable hydraulic lift for easy installation
24-inches length X 11.75-inches width X 3.25-inches deep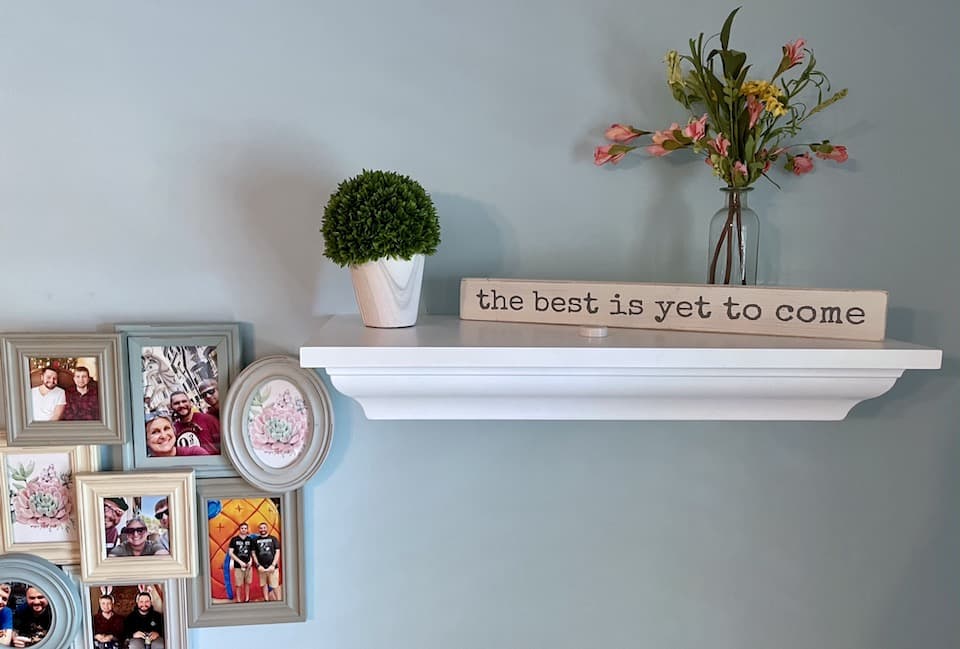 I love how my room looks with its new paint and decor. It's peaceful, with an added sense of security, because I know that I have quick access to my firearm when I need it.
Find out more about the In-Plain-Sight Shelf by Lockdown here.
MSRP: $119.99 (white) $144.99 (dark walnut)
About Michelle Cerino

Michelle Cerino, aka Princess Gunslinger, entered the firearms industry in 2011 when Cerino Training Group was established. She immediately began competing in both 3-Gun and NRA Action Pistol, becoming a sponsored shooter. Michelle is currently a columnist and Managing Editor of Women's Outdoor News, as well as owner of Pervenio LLC. She also manages social media for Vera Koo and GTM Original. Michelle encourages others to step out of the comforts of home and explore. View all posts by Michelle Cerino →