Clean In, Clean Out to Stop the Spread of Aquatic Invasive Species
In this featured blog from Jenny Anderson, "Girl of 10,000 Lakes," she is in partnership with Ramsey County Parks & Recreation to help spread the message of taking care of Minnesota's lakes and rivers. All opinions are her own. ~ The Editors
It's official. Lake season is in full swing! I've already been out on several lakes with our boat, canoe, and hopefully sooner than later — the standup paddleboard. One of my favorite lakes to visit is Turtle Lake over at Turtle Lake County Park, mainly because it's so close to home. Convenience is everything with two little tikes in tow! 🙂
I've caught some memorable crappies at Turtle Lake during the early ice fishing season and I'm excited to do some more fishing this summer. It's actually the perfect park for our family because it's literally minutes from my mom and dad's place, there's a beach, picnic area, and even a playground for Harlan.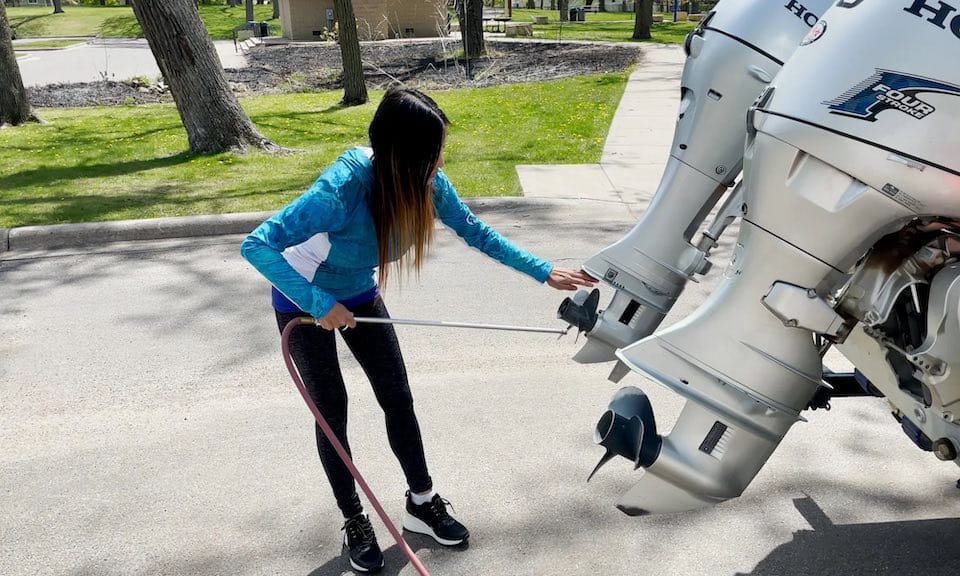 Whether you're new to water recreation or a pro at all things lakes and rivers, we all have a responsibility to take care of our natural resources — things like leaving no trace behind, respecting wildlife, being considerate of others, and taking care of the water so that it can be enjoyed for future generations to come. That's why I said "yes!" when Ramsey County Parks & Recreation asked me to help spread the message of "Clean In, Clean Out" to stop the spread of aquatic invasive species.
What are Aquatic Invasive Species?
Aquatic invasive species threaten the health of Minnesota's lakes and rivers. You're probably familiar with some of the common ones including zebra mussels, eurasian watermilfoil, and curly-leaf pondweed. AIS get transported from one lake to another when they hitch a ride on our boats, trailers, and water sports equipment — often unknowingly to us. Check out this map from the Minnesota DNR to see all of the infested waters in Minnesota. It's pretty crazy!
They're invasive because they can choke out our lakes and kill off native plants and animals, including fish. That's bad news for anglers as well as the wildlife that rely on fish to survive. It basically throws the ecosystem out of balance.
Zebra mussels can also damage boat motors and hulls and clog water intakes. And its razor-sharp shells are especially a risk for our kids, families, and pets who are out swimming at the beach, dock, or swim rafts. Ouch!
Ramsey County Parks & Recreation has launched an educational campaign called "Clean In, Clean Out"and it's designed to stop the spread of AIS. The county is making it easier for us all to be responsible boaters and water sport recreators by giving us three easy, convenient, and free tools, including the:
Water Recreation Web App (ramseycounty.us/AIS) that guides boaters through a complete inspection of their watercraft
Continue reading, Clean In, Clean Out to Stop the Spread of Aquatic Invasive Species from Girl of 10,000 Lakes, here.
About Jenny Anderson

Jenny Anderson, known as 'The Girl of 10,000 Lakes' is a young mom, avid angler and outdoors enthusiast. Hailing from Minnesota, there are few places she'd rather be than canoeing in the Boundary Waters, ice fishing on Mille Lacs or enjoying lake life at the cabin. But her love for all things outdoors wasn't something always instilled in her. It's something she discovered later on in life and that's why she encourages everyone to take more detours, step outside your comfort zone and try something new outdoors. View all posts by Jenny Anderson →